The ending times of any vacation are always hard especially when you are in Antalya that is considered as the most beautiful city of Turkey, not only because you have to finally return to your boring life again but this is the time when you have to figure What is best to buy in Antalya? There are a lot of suggestions that you can receive from various locals but it's hard to choose when you have to buy some extra pieces that not only make your trip memorable but become a top souvenir to buy in Antalya that you can later give to your loved ones. Hence I provide you with a list of top 10 things to buy in Antalya that are super interesting and classy.
List of Things to Buy in Antalya
1. Kilim Rugs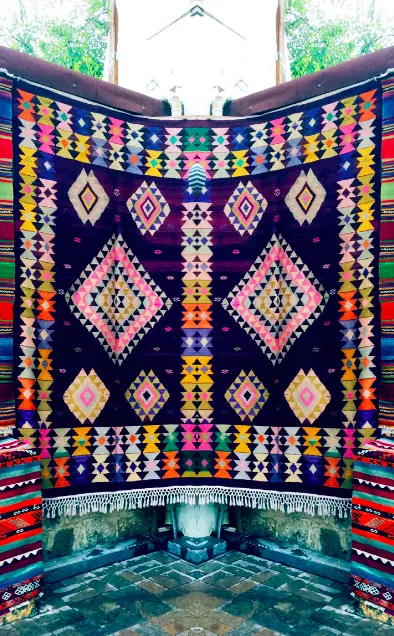 There are a lot of Turkish woven things that can decorate your houses in less than 100 dollars but the best thing to buy in Antalya that is super amazing is the famous Turkish Kilim Carpets and Rugs that are woven with different with various colorful threads to create some of the extraordinary geometric designs that are no less than perfect expensive carpet to decorate your floors or walls back at home. Hence, don't miss out on buying these especially from Lidya's Carpet Store in the Kaleiçi markets.
Read more: Beaches to Visit in Antalya 
2. Dried fruits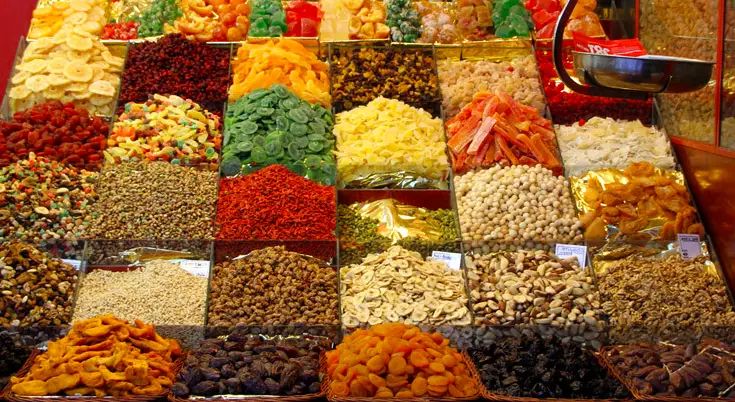 If you wanna take something for your kids back at home from this beautiful city then you can easily buy some of the delicious delights that are not only cheap but also purely organic and healthy for your kids. It's a very long tradition in Asian and Arabic countries to store the items after drying for the off-seasons. That's how you can enjoy different fruits even in off-seasons. Similarly in Antalya, you will find a lot of sugary fruits are dried and stored that even sustain their delicious flavors for long periods of time. So whenever you wonder What to buy in Antalya? Just go for these dried fruits and do try turunç (a small, yellow, sweet fruit) and orange marmalades. You can also buy the unique local honey with thyme and eucalyptus best available at the famous Çağlayan Bazaar.
Also Read: Best Foods in Antalya
3. Dried herbs and spikes
Just like fruits, you can shop for the famous Turkish spices selling at very cheap prices in the markets of Antalya. You might find it fascinating that even the small rosebuds are also used as a spice in a lot of Turkish cuisines which are sold along with other spices in these local stores. For a foodie lover or a great cook, this is the best souvenir to buy in Antalya. Try to look for the best spices at Lara Saturday Bazaar.
4. Nazar boncuğu
Well, it's the weirdest yet amazing thing you can buy in Antalya. Nazar boncuğu are actually wall hangings that even you might have seen in some ads claiming to protect you from evil eyes of people or their bad energies or vibes. God knows it's real or not but they look very artistic fitted skillfully inside the Turkish knitwears or designer wooden wall hangings that you can only find here in Antalya. What is best to buy in Antalya? for all your spiritual friends back in your hometown. Give them this as an upgrade for their dream catchers, I am sure they'll be happy to see it.
5. Leather Bags or Wallets
All the trendy stuff just lays out its hands when you carry a stylish wallet in your arms. Even it's the talk of the group whenever you return from any vacation especially among the females hence you have to buy something which stays with you for long, reminding you about your Antalya trip. The leather bags are the best choice for bags and wallets and you can buy them here at a very affordable price relative to other expensive accessories. All the perfect designs of wallets and bags following the famous stylish trends carry a touch of Turkish style as well as marking these as the famous thing to buy in Antalya Turkey. Go for Marina Leather Bags Store for finding the latest designs in bags.
6. Turkish Bath clothes
Instead of usual clothes, you might find it weird but Turkish people are very intricate in terms of relaxing time breaks and for that, they just don't get a nice bath they go for 'Hamams'. This practice has been in their culture for a very long time hence all the Hamam items are very necessary for the complete process of this relaxing bath. Out of all the unique bathrobes like clothing is very popular in Antalya which you can easily buy or take them home as souvenirs. There are various comfortable and pure varieties of cotton fabric that are used to make these robes. You must try this thing to buy in Antalya especially visit the Otantik Hamam Store for the best quality of fabrics.
Read more: best thing to buy in Antalya




7. Books
Books are always the best gifts but sometimes they are too expensive that even buying them imbalances all the travel budget. For all such book lovers who can't stop themselves from buying such expensive books, you can try your luck here and just go with the flow as the markets in Antalya are also famous for the top second-hand products and who doesn't love the smell of an old book? You can find a great collection of books even on the most local streets of Antalya and after a fine bit of bargaining you can crack up the best deals for numerous expensive latest books. When you struggle with What popular thing to buy in Antalya? That suits a better present and is brand new, you can find a huge collection of latest new books at very reasonable prices in the Terra City Shopping Mall which has the Pandora Bookstore housing tonnes of spectacular books.
Read More: Major Cities in Turkey
8. Best baklava
How can you leave Antalya before carrying this dessert for your loved ones back at home? Even in some traditions bringing sweets to home is considered a good omen. Baklava is the sugary version of a pastry where the dough is rolled skillfully along with being layered from different dry fruits such as pistachio, almonds, cashew, etc. All these make the pastry stay for longer periods of time along with the coating of sugar which protects it from rotting. Hence there's no better thing to buy in Antalya that is sweet and can even stay for many days in your kitchen snack sections.
9. Wine Gums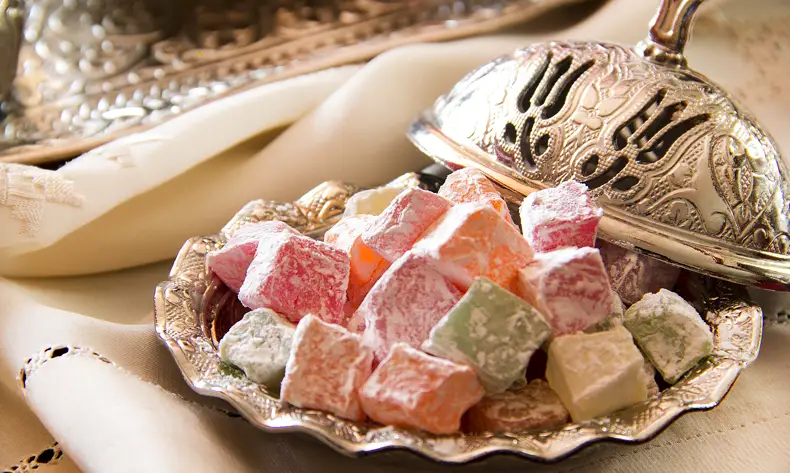 These are some of the coolest candies out of all the delights you can experience. Such chewy sugar-coated toffees of Turkish origins are the best item to rank up your sugar shelves. The ingredients in this Gum are Lokum, also known as Turkish Delight along with some wine flavors that are super tasty. It's even extraordinary to find such customizations that are so analogous with actual wines. But it has been a satisfying sweet tooth since the days of the sultans and this gum was reputed in Yenigün during 1914, that's now run by the fourth generation of candy makers. It becomes a must-buy thing in Antalya when you have nagging kids after all.
10. Nargile(Hookah)
Since you are very well familiar with the luxury-lover style of living especially in Turkish people hence one more item that is evident for a signature luxurious living are the Nargiles or Hookahs that provide cool, mild vanilla or fruit-scented tobacco smoke. These are the most popular things to buy in Antalya that are finely decorated and all the equipment are individually available at very low prices in the local markets here. They even have some extraordinary colorful glass pipes and jars that can be a super charismatic item for your house parties. You can buy everything from classic water pipes to different variants in the Kaleici Nargile Shop.
Don't Miss: Why Antalya Turkey is Famous
Hope you liked all of these fascinating things to buy in Antalya. There are lots of markets hence you don't have to worry about the price range as you can get almost all the items in every range possible. What is famous to buy in Antalya? It can be a huge struggle if you don't know what and where to buy from, therefore I suppose after reading the above article you won't have to suffer the same in Antalya. Do follow our other blogs about Antalya and share your thoughts or queries regarding these entities in our comment sections below.
The post What to Buy in Antalya Turkey | Best Things to Buy in Antalya appeared first on World Tour & Travel Guide, Get Travel Tips, Information, Discover Travel Destination | Adequate Travel.