Havana covers the largest amount of beaches in Cuba, which makes it certain to excel in the popular seafood in Havana. The seafood is prepared in a varied manner around the whole Cuban country but the famous fresh catches near the beaches of Havana province entitle great importance to the best seafood available here. Due to mass abundance, you can encounter seafood in most of their cuisines prepared near the beaches. Such top-selling seafood restaurants in Havana can be discovered only with a meticulous traveling guide around the beaches which marks the best places to find such seafood. All of such requirements are precisely mentioned here along with restaurants and their location links to reach these flavourful places easily.
Not to Miss Seafoods in Havana
1. Mariscada
It's a famous seafood restaurant in Havana serving delicious cuisine of Havana which is exclusively inspired from the Atlantic. This cuisine requires almost all the substantial elements of the well-known kinds of seafood such as lobster, shrimps, clams, squid, and scallops.
It's prepared with simmered onion and garlic under low heat in olive oil after which the lobster and clams are sauteed with wine, paprika, salt and pepper, and all the above mixture is cooked in chicken broth along with shrimps, squid, and scallops. The best seafood of Havana is served herewith a garnishing of cilantro and lemon juice thickened with extra butter.
Best served at: Alquiler Vista Mar Hotel, near El Malecon beach region Havana, Cuba
2. Tuna tartare appetizers
Since a beach is the hub of fresh and exotic marine fishes and these fishes are extremely delicious when prepared with immaculate skills and flavored herbs-n-spices. Who'd better understand this amazing combination of spices other than the Spanish people? This city is full of Spanish history which makes it the centre for the most visited seafood restaurant in Havana. Those cuisines are prepared with the best of the spices from around the world. Tuna is one of those exotic fish breeds which tastes like heaven in Havana. 
They are prepared in different styles around the whole region of Cuba but the best seafood in Havana among the locals is prepared with freshly caught Tuna during the morning and finely sliced to prepare it for further marination. The marination is done in fresh avocados flavored with scallions and jalapeno combined with olive oil, lime zest, lime juice, wasabi, soy sauce, hot red pepper sauce, salt, and pepper. All of this mixture is marinated for 1 hour to blend all the great flavors and served with crispy signature tacos.
Best served at: Riomar Hotel, 3ra Y Final #11, La Puntilla, Miramar, 
11 Avenida 3ra Havana, Cuba
They serve this popular seafood of Havana, Cuba with specialized garnishing of sesame seeds over the Tuna appetizers. Even in name of the hotel is based on the exotic species of Tuna -Rio Mare which is a Yellowfin Tuna (Thunnus Albacares) having a distinctive bright yellow color over its upper body.
Read More: major cities in Cuba
3. Grilled Octopus in garlic butter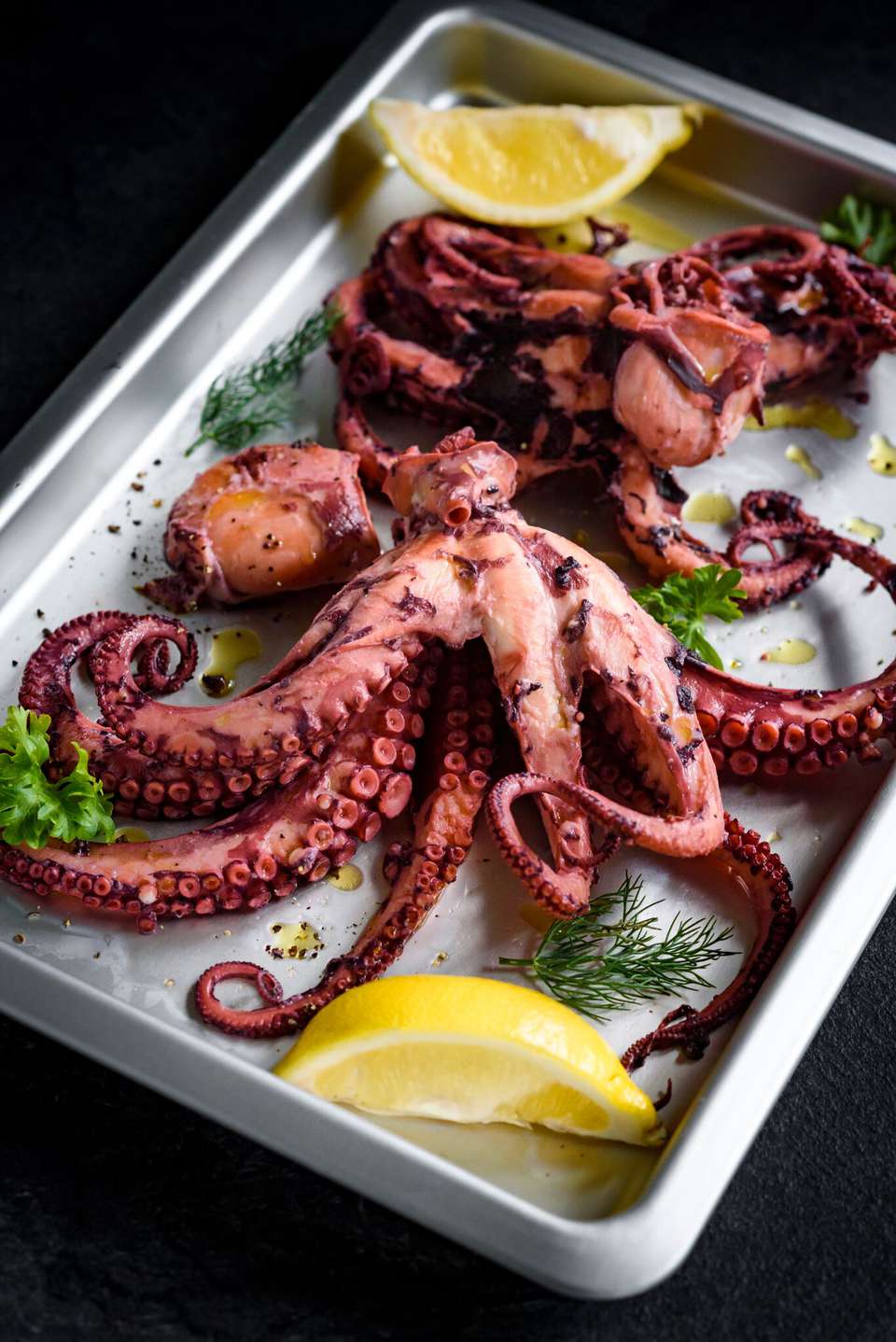 These are the specialty around the beaches in street food. Usually, most of the food trucks near Santa Maria and Playa Boca Ciega beaches serve great grilled octopus some even display the live act of preparing the cuisine by showing the live catch near the beach and then preparing the octopus for further grilling.
The octopus is often freshly caught from the ocean and boiled in kosher salt, peppercorns, wine and is made to a boil over high heat inside water. Further, it is grilled over hot simmering charcoals which give this dish a signature smoky flavor that is famous among the whole Havana. When drizzled with extra virgin olive oil and sprinkled with parsley along with seasoning of salt and pepper it earns its status among the most popular seafood of Havana.
But if accurate hygiene is your prime concern or you have a soft metabolism that finds it hard to digest the street foods, you can visit the hotels near the famous  Museum of the Revolution.
Best served at: Chacon 162 Tapas Bar & Restaurant, Calle Chacón 162 corner to Callejon de Espadas, 10100 Old Havana, Cuba
They serve this well-known seafood in Havana with their signature Greek aniseed and vodka.
4. Snapper ceviche
Ceviche is a seafood dish originated in Peru but now the top-selling seafood flavors are created in Havana, Cuba. This dish is prepared from the fresh red meat marine fishes among which the Red snapper is preferred most among the chefs along with conch and rock shrimp. The uniform pieces of snapper are soaked and blended in lemon juice, jalapeño, red and yellow bell peppers, red onion, garlic, cumin, crushed red pepper and seasoning of kosher salt.
Best served at: Hotel Los 5 Sentidos, Saint John of God 67, Esq. to Compostela, Near Cala'n Blanes Beach Havana, Cuba
They serve the dish with their signature cilantro and extra-virgin olive oil toppings and provide free wifi and home-like service at all costs.
Read More: cities in Malta
5. Home-made sashimi
It is a traditional Japanese dish that is freshly prepared via raw fish and served uncooked as an appetizer. It must be as fresh as possible and is prepared by highly skilled chefs trained for years to perfect the art of slicing the fish, accordingly for maximum enjoyment. This famous seafood restaurant in Havana, Cuba serves its cuisines with pickled ginger, daikon radish, wasabi and soy sauce. It must be eaten within 4 hours as it can lose its signature taste after a few hours. The best fishes for the preparation of this amazing seafood in Havana are tuna, sea bass, and red mullet. Usually, tuna is highly preferred among chefs.
This cuisine requires very careful handling hence its better if you try this at any reputed restaurant instead of any local street food trucks.
Best served at: Santy Pescador Restaurant, Rio. Jaimanitas, Havana
They have all the fish freshly caught by the fishermen from the nearby sea of Rio Jaimanitas every morning to maintain the deliciousness and popularity of the seafood restaurant in Havana.
Besides these well-known places in Old and Central Havana you can explore some street foods especially Grilled Lobster and Fried Calamari, Calamari is a dish prepared by deep frying the squids in hot rice bran oil having the coacting of batter prepared with flour, salt, garlic powder, and pepper. Usually, all the seafood mentioned along with their respective famous places of preparation cost you a reasonable price yet there will be a slight increase in prices during the weekends and holidays of Havana which lie during the months of July-August. Instead of that, the seafood costs a little bit higher than the normal cuisine as they are the most exotic and demanding dishes of Havana, Cuba.
For some tourists, the real love happens with food and even sometimes they do find other love of their lives around these places as well. Hence for all the food lovers – You can gain much more than just the food at these famous seafood places to eat in Havana which are already filled with the sensuous and romantic cultural vibe of authentic Havana swathing under the bright sunny beaches or enjoying a classic wine over the terrace of the famous hotels or monuments. The havan's vibe can make all the people care-free to enjoy the vacation at the maximum levels of imagination.
Sometimes, a traveler can find among the cities much more than a local so let yourself free in this mysterious Havan's vibe and experience the popular seafood at their best in Havana's restaurants. 




Who knows you might end up with many new and popular seafood besides the ones we have mentioned above. Make sure to share those amazing seafood cuisine and your thoughts about this blog under our comment section to spread this fun to many more new travelers, food lovers and enthusiasts around the world with us. 
The post Top 5 Popular Seafood of Havana | Best Seafood to Eat in Havana appeared first on World Tour & Travel Guide, Get Travel Tips, Information, Discover Travel Destination | Adequate Travel.