If you are on a holiday in Malta don't miss to visit these best cities in Malta. Put on your walking shoes and discover all. There are tons of places to visit in Malta despite its small size making this island worth visiting. We have compiled this list of cities in Malta to help you plan your trip and inspire you to see a lot of Malta's points of interest. The historical places in the cities of Malta like Valletta, the narrow and beautiful streets of Mdina and the colorful fishing boats in Marsaxlokk. Coming on holiday to Malta, despite the small size of the Maltese Archipelago,  you will notice that the islands are constellated with villages surrounded by fields and nature, busy towns animated on market days and largest cities in malta bustling with life. The top cities in Malta are all unique, beautiful and offer a lot of things to see and do: 
List of Cities  to Visit in Malta
1.Valletta 
Valletta dates back to the 1500s, one of Malta's points of interest and the island's capital. No trip to the best cities in Malta to visit is complete without a visit to Valletta, as it stands out to be one of the most authentic capital cities of Europe. The city is squeezed into one square kilometer of space. This city to see in Malta is named after its founder, the respected Grand Master of the Order of St. John, Jean Parisot de la Valette. Valletta is packed with sites of historical significance, despite its small size with buildings dating back to the 16th century. The World Heritage website of UNESCO describes it as ''one of the most historic areas in the world". The city is a proud testimony to the Knights of Malta who were granted the Maltese islands by the King of Spain in 1530.
Read more: Major Cities in Poland
2. Mdina 
This ancient capital and major cities in Malta, known as the Silent city command the rural skyline. It's a fortified medieval town enclosed in bastions with an extraordinary mix of medieval and baroque architecture. This little town is famous for some of the most beautiful churches and cathedrals, the most important of them being Cathedral of the Conversion of St. Paul. Perched on the hilltop, with its dwindling alleys the town seems to have frozen in time. Walking on the cobblestones of Mdina and inhaling positive vibes the air is filled with, and that also made me wonder, who were the ancient people who once walked on these roads? It was such an experience because the beautiful city in Malta will transport you back in time, or at least makes you feel so.
Read More: Monuments in Malta
3. St. Julian's 
The only just about 9km from Valletta, the capital of Malta, will take you to St. Julian's and Paceville – the popular city in Malta where life happens after 10 pm. Possibly the busiest place on the whole island and as well where most tourist flocks their way in for some fun. St. Julian's at night turns into a wild scene of tourists from around the world either they are there to polish their English or just passing by, just like me. There are tons of different bars and restaurants to go to which are all unique and your needs will surely be satisfied with no problem.
Read more: Major Cities in Madagascar
4. Rabat
Sprawling to the south of Mdina is the delightful city of Rabat. The old Arabic meaning of Rabat is a suburb which is how the town is situated now, lying just outside of Mdina. The area is a just walkable distance from Mdina with plenty of buildings and homes. This best city to visit in Malta is more known for its medieval churches, monasteries and numerous catacombs which makes the city more attractive and appealing for travelers.
5. Marsaxlokk 
Located in the southern part of the island, Marsaxlokk is one of the top cities in Malta where you'll find tons of colorful boats and as well the beautiful Mediterranean sea. You must check out the Sunday fish market, but you have to be early – it is all worth it though so it should be on your list of things to do in Malta. Plus, Marsaxlokk is a beautiful coastal area you'll not regret visiting so might as well do that on a Sunday where you'll see local fishermen with their fresh catch. If you have an apartment, you can even buy the product to cook yourself. We didn't purchase anything since Buġibba was a bit of a ride away from Marsaxlokk and it can be hot in the afternoons to carry fresh fish with you.
Read more: Major Cities in Malawi
6. Popeyes Village
Popeye Village is the ideal city for a family with children. It is also known as Sweethaven Village. This main city in Malta is situated just off Mellieha Bay, so it's a great place to visit in Malta before and after or whilst spending your time at the beach sides. The Village is the actual set used by Paramount Pictures and Walt Disney Productions to shoot famous comic strips based on the film by E.C Segar. The village has a lot to offer regarding attractions catering to different seasons. Summers are known for Water Trampolines, Boat rides, and Play Pool. Popeyes Village in Malta is not only for kids but also for adults who are kids inside. 
7. Blue Grotto
Another of Malta's most beautiful and marvelous cities to visit in Malta. Drawing thousands of tourists through all year, it's a series of sea caverns on the south coast of the main island. The spectacular coastline together with its pristine scenery is a feast to any nature lover. The sea has a vibrant blue color caused by beautiful shining sunlight entering from the caves to illuminate enchanting phosphorescent underwater marine life. Because of the unusual chemical structure of the water, the Grotto is famous so famous and comprises a lot of different minerals that is why the sea has this unusual bright blue color. You can easily hire a guided boat and enjoy the colorful traditional fish boats known as luzzus.
Read more: Major Cities in Mauritania
8. Sliema
Sliema is a coastal city situated in the northeast of Malta. This city is also counted in the biggest cities in Malta and adjacent to St. Julians. It has now become a major commercial area, once the home of Malta's aristocracy is very popular for shopping, bars, cafes, hotels, and restaurants. Sliema inspired its name from a chapel that is dedicated to the Our Lady of The Sea built-in 1855 and served as a reference point to the fishermen who inhabited the area. Then the name is linked to the opening words of the Hail Mary prayer, which in Maltese are "Sliem Għalik Marija". Sliem is the Maltese word which means peace or serenity. Sliema is quite a largely residential town with a population of around 15,000 locals; housing also a significant number of expatriates that reside there temporarily.
9. Birgu
Birgu or Cittá Vittoriosa is one of the oldest and most famous cities in Malta cities on the Island, and it played an important role in the Siege of Malta in 1565. This city is a land of only 2,633 people inhabits the 0.5 km2 city located on the south side of the Grand Harbour. Birgu was once the main city and has a long history of military and maritime activities. Birgu's position used to be the Grand harbor and has great importance.  Several military leaders wanted to take over the city. Along these lines, the Phoenicians, Greeks, Romans, Byzantines, Arabs, Normans and the Aragonese all formed and created Birgu. However, nobody supported the city than the Knights of St. John, who landed in Malta in 1530 and made Birgu the capital of Malta.
Read more: Major Cities in Libya
10.Bugibba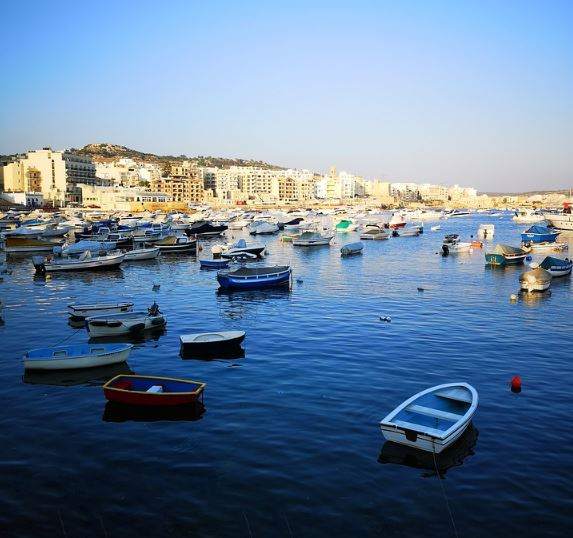 Bugibba is considered in one of the top cities to visit in Malta. Some of the places of interest here are St Paul's Cathedral, the National Museum of Natural History and National Aquarium, Palazzo Falson (Norman House) to name a few. Before they moved the capital city title to Valetta, it was the old capital of Malta. An impressive ancient walled city for the nobles that dates back to 60 A.D, there is proof that the city has been on the island for a very long time. 
So far we have discussed the cities in malta to visit. I hope you might have gathered some information related to it. If you are planning your trip to Malta then kindly go through our other articles as well which will be quite beneficial for you. Please share your views regarding the content explained above and liked it too.
The post 10 Best Cities to Visit in Malta | Major Cities in Malta appeared first on World Tour & Travel Guide, Get Travel Tips, Information, Discover Travel Destination | Adequate Travel.