Appreciate the baroque beauty of the cathedral, feel the cool air of an ancient underground burial chamber, or meet a soldier on a live re-enactment of military cooking; there are so many historical monuments in Malta that you will struggle to fit them all in. So whether you are new to the history of Malta or more versed in the culture, lose yourself in the past with our list of the top 10 important monuments in Malta.
List of Monuments in Malta
1. Hagar Qim & Mnajdra Temples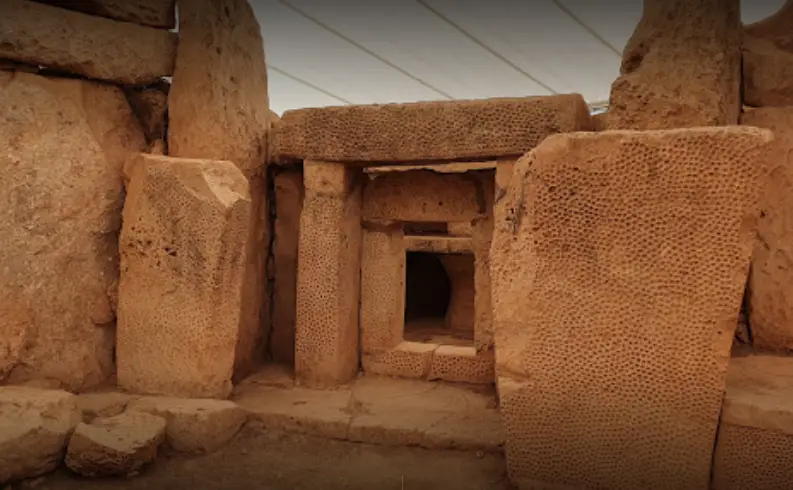 This Neolithic temple was constructed around 5000 years ago and is one of the most popular monuments in Malta. It is thought to have been used for fertility rituals although very little is known about what happened here. The temples are around 500 metres apart and there is a steep hill between the two, unfortunately, a roof covering has been added to protect the ruins but it is still possible to walk among the stones and the roof does not detract from its historical significance. The entrance fee to see Hagar Qim and Mnajdra Temple is 10 Euro. Souvenirs and food available as well as toilet facilities. Show the ticket at the entrance and there are information panels including audioguide. The free information pamphlet is detailed enough so there is no need for a guide as well. Easy to get to from Valletta- Bus 72 takes you to Qrendi then a very enjoyable 20-minute walk to what feels like the edge of Malta.
Address:  Hagar Qim Street, Qrendi, Island of Malta QRD 2501 Malta.
Read more: Famous Haunted Places in Amsterdam
2. St John's Co-Cathedral
Commissioned in 1572 but it wasn't until the 17thcentury that the distinctive redecoration of St John's Co-Cathedral was ordered and it became the Baroque beauty that you find today. Anybody with an interest in the Knights of St John should visit the St John's Co-Cathedral as it is steeped in the history of the Knights. There is much on offer from this stunning structure and, aside from the beautiful baroque architecture, you can also see works of art by Caravaggio among the numerous fine art pieces. The museum also houses some exquisite 16th century illuminated manuscripts. This religious monument in Malta is a must-see when in Malta, there are handy audio guides that lead you around it and explain the history of the Knights and their various chapels in this church, and the lavish decoration – from floor to walls to vaulted ceilings – is a true sight to behold. Here also you get to see a very famous painting by Caravaggio. It's hard to find a quiet moment for prayer while tours go on, but it definitely can't be missed if you are visiting Valletta.
Address: St. John Street, Valletta, Island of Malta Malta.
3. Grandmasters Palace
Also known as The Palace, you can find this impressive building in Saint George's Square, Valletta. Built in 1571, The Grandmasters Palace is a place where you can walk through the political history of Malta as this building has always been the seat of government.  Among the other stunning rooms you can visit the Palace Armoury, which holds weapons from the period of the Knights of Malta, and this famous monument in Malta is recommended to take a look at the spectacular Throne Room. The State Rooms are undergoing renovation so only a few of the rooms were open. The things that may stand out in your memory are the chandeliers and a painting of Queen Elizabeth second. The Armory was quite interesting with knights, armor, cannons, crossbows, rifles and other weapons. 
Address: Republic Street, Valletta, Island of Malta VLT 1191 Malta
Read more: Best Theme Parks of Amsterdam
4. Medieval Mdina
Mdina was the medieval capital of Malta and is a fantastic example of an ancient walled city; it is a must for history buffs. Throughout the Old Town, there are guided tours available and even self-guided audio tours to make sure that you don't miss any of the histories that surrounds you. The narrow stone-paved streets, elegant churches and palaces, and the restriction on cars within the city make it a peaceful walk through history, almost as if you have taken a step back in time. Some famous sights to visit are the St. Paul's Cathedral and Palazzo Falson. Although you would have to buy a ticket to visit St. Paul's Cathedral and its museum, it is worth it. Another cool place to visit if you have time is the National Museum of Natural History. If you happen to visit this historical monument city in Malta on a full moon night, you will enjoy a magical view of the moon. The moon as seen from Malta is brighter and bigger than in most other places.
Address: Mdina, Malta
5. Hal Saflieni Hypogeum
Here in this monument, you will see the three levels of rock-cut chambers in the UNESCO World Heritage-listed which is an ancient underground burial site too. The earliest remains found at the complex were dated to around 4000 B.C. and this is one of the few ancient burial chambers that it is possible to visit, due to which it is very popular with visitors. Bear in mind that for preservation purposes only 10 visitors are allowed into the Hypogeum per hour so book ahead. Due to its uniqueness, the site became very popular with visitors. Unfortunately, this had a negative impact on the delicate microclimate of the site. For this reason, a conservation project was conducted that also included the closure of the site for 10 years between 1990 and 2000. As a result of these studies, a new visiting system was established. Nowadays, only 10 visitors an hour are allowed inside the Hypogeum for a maximum of 8 hours a day. This system is also complemented by an environmental control system which keeps temperature and humidity at required levels. Tickets for this unique monument in Malta should be purchased well in advance.
Address: Burial Street Triq Ic Cimiterju, Paola, Island of Malta PLA 1116 Malta.
Read more: Most Visited Museums in Amsterdam
6. Auberge de Castille
Another link to the Knights of St John, the Auberge de Castille was built in 1574 as a residence for the Knights and it can be found at the highest point in Valletta. Although it was damaged quite badly during World War II it has been carefully restored and the architecture remains spectacular. This national monument in Malta is an impressive building in a commanding position at the entrance to Valletta, also it is very well maintained. Formerly an auberge, it is presently occupied by the office of the Prime Minister of Malta, so it is private. Sitting on a square close to the Upper Barocca Gardens you will pass it naturally as it's in a touristy area. Pretty imposing with its 2 cannons pointing outwards and worth a photo shot.
Address: Triq Il-Merkanti, Valletta, Island of Malta Malta.
7. The National Museum of Archaeology
The National Museum of Archaeology is situated in Republic Street, Valletta and is a great place to start your historical journey through Malta. With artefacts dating back to around 5200 B.C., many of the most important finds from around Malta are held here. Many of the sites on this list have contributed some artefacts to the National Museum of Archaeology, which has sculptures, pottery and many other important exhibits, including some from the Hypogeum, Hagar Qim and Tarxien temples.  
This heritage monument in Malta is very well curated and has captured the pre-history of Maltese islands in a very informative manner. The ticket price includes an audio guide (you have to leave a refundable deposit but it is worth it). The audio guide commentary is well balanced. I recommend you to spend more time on the ground floor of the museum seeing artefacts from 6000 years ago. The building itself was built and used by the Knights of St.John originating from Provence.
Address: Republic St Auberge de Provcence, Valletta, Island of Malta VLT 1112 Malta.
Read more: Reasons to Visit Amsterdam
8. Fort Rinella
Fort Rinella was built in 1878, situated in Kalkara,  and is the world's first mechanical fort. A vestige of Malta's British Colonial past it is a testament to the mechanical advancements of Victorian industrialisation. This popular monument in Malta has recently undergone a restoration programme and there are animated tours available that have live reenactments such as military cooking or bayonet practice among others. 
Fort Rinella is a hidden gem of Malta. A fascinating trip back in time and a chance to explore the largest gun. The museum is well laid out giving real incite to military life. The staff and volunteers here are friendly, enthusiastic and knowledgeable, bringing the fort to life with their well-informed tours, demonstrations of historic guns & bayonets including the chance to fire them. I highly recommend this as a great day out. Arrive by 11 am to enjoy everything the fort has to offer.
Address: St.Rocco Road, Kalkara, Island of Malta CSP11 Malta.
9. Historic City of Valletta
Valletta is steeped in history despite being no more than one square kilometre in size as the capital city of Malta. The city is a UNESCO World Heritage Site in Malta itself because of its rich and fascinating past from Byzantine and Roman through to military and the Knights of St John. Valletta is described by UNESCO as one of the most concentrated historical areas in the world. While you can find the St John's Co-Cathedral here and the National Museum of Archaeology there are numerous other museums as well as the fortifications, the Grand Harbour, and the historic Manoel Theatre which has been central to Maltese history for centuries.
Address: Valletta, Malta
Read More: Monuments in Benin
10. Ggantija Temples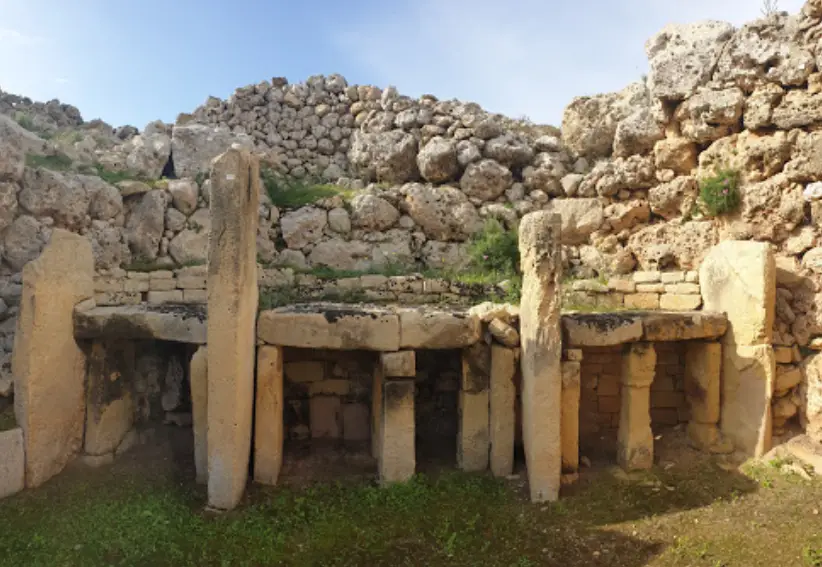 This ancient monument in Malta has found its way onto the UNESCO World Heritage list and is one of the most important archaeological sites in Malta. Located in Xaghra, Gozo, the two temples date from between 3600 and 3200 BC and are among some of the oldest of their kind in the world; they are even older than both Stonehenge and the pyramids in Egypt. Despite their antiquity they are fantastically well preserved and very highly rated by travellers. It is said that the Ġgantija temples are older than the pyramids of Egypt. The temples were elements of a ceremonial site in a fertility rite. The site was excavated in 1827 but it took more than 100 years before the land was bought out by the government and archaeological work started. The entrance fee is 10 euros and includes entry to Ta Kola windmill.
Address: John Otto Bayer Street Xagħra, Ggantija, Island of Gozo Malta.
So far, we have discussed the best monuments in Malta, which contains the proper information regarding all the most visited monuments in Malta. I hope you might have loved reading this article and if you love to know more about Malta then kindly head to our other articles as well which will help you to get knowledge about.
The post Most Visited Monuments in Malta l Famous Monuments in Malta appeared first on World Tour & Travel Guide, Get Travel Tips, Information, Discover Travel Destination | Adequate Travel.