Diwali is one of the biggest festivals and events in India. But this magnificent festival is not limited only in India but now becomes the biggest festival across the world. Many of us usually think about how is Diwali celebrated in the UK? In the United Kingdom cities like London, Birmingham, Belfast, Edinburgh, Leicester and other multicultural cities, British Asians celebrate Diwali. Celebrations include fireworks displays, Diwali lanterns, music, dancing, plays, as well as delicious traditional Indian food and sweets. It is celebrated around the world by not only Hindus, Sikhs, and Jains but many Britishers take part in this auspicious occasion. So in this blog, we are going to tell you about Diwali celebrations in UK: 




Why Diwali is Celebrated?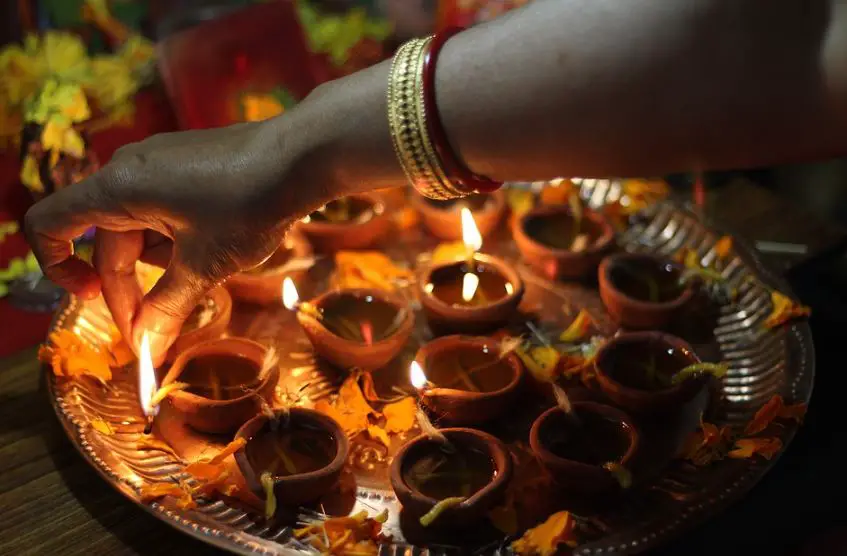 Before we tell you about the Diwali festival in UK, you must know why Diwali is celebrated? Celebrated by Hindus, Sikhs, and Jains, each of these groups honors some historical figure. The Hindus, for instance, honor the memory of Lord Rama and his wife Sita who, according to legend, defeated the evil king Ravanna and returned after 14 years in exile to their kingdom in northern India. This happened in the 15th century B.C. In honor of their safe return, firework displays can be seen in many parts of the world where the festival is celebrated. Others believe Diwali is celebrated in honor of the union of the goddess of wealth, Lakshmi, with Lord Vishnu. Therefore they leave the doors and windows to their homes open, thereby inviting Lakshmi in to spread the wealth and good luck. Whatever one's belief, it is a celebration of good over evil and heralds new, positive beginnings.
Read More: United Kingdom Facts and Information




Reason Why Diwali is Celebrated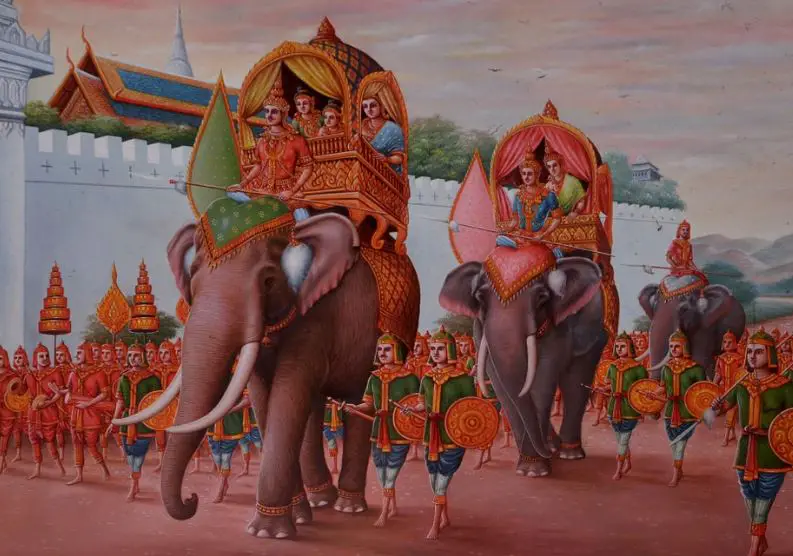 Krishna killed Narakaasur: Narakaasure who invaded the three worlds was defeated by Lord Krishna a day before Diwali. The next day of Diwali is celebrated as Naraka Chaturdasi. 
Goddess Laxmi's birthday: Goddess Laxmi is one of the most principal deities of Hindu religion and also the 'Goddess of Wealth'. On this day. Goddess Laxmi is worshipped for wealth and prosperity. 
The Return of Pandavas: As mentioned in Mahabharata, Pandavas defeated the Kauravas and returned from the 12 years of banishment on the day of Kartik Amavasya i.e. Diwali.




Diwali Celebration in United Kingdom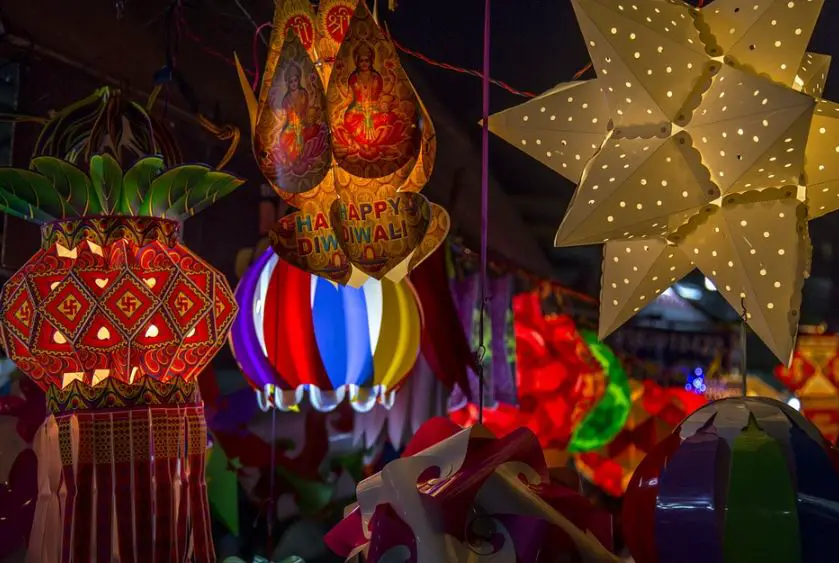 Census of 2011 reveals that the cities of the UK with the most Indian-born residents are London, Leicester, Birmingham, Sandwell, Wolverhampton. So it is obvious the celebration of Diwali in Britain takes place with pomp. 
Visit: United Kingdom Facts and Information
London
If you have ever visited the capital of England, London you will know that it is a truly multicultural city where people of different ethnic groups and religions live, work, study and go to school. Depending on the time of year you can join in with celebrations in London's Trafalgar Square. Diwali is celebrated every year in this world-famous square with Bhangra dancing around the fountains, vegetarian food sold at stalls, and free performances of South Asian contemporary and classical music and dance. 
Leicester
If you want to see the Diwali festival in UK come to Leicester. It has one of the most important Diwali celebrations outside of India. The Festival of Light in Leicester starts with 'The Golden Mile' It is a display of thousands of lights along Belgrave Road. If you ever get a chance to visit this city you would love to see Bollywood singing and dancing. People go to late-night shopping and restaurants stay open late too. All this is followed by spectacular fireworks. Local residents, visitors, and Tourists are all welcome to enjoy the fun. Leicester's Asian community say that this is the best Diwali celebration outside of India.




Birmingham
Like London and Leicester, people in Birmingham celebrate Diwali in the same way. Birmingham celebrates the Festival of Light with electric fairy lights instead of old-fashioned oil lamps. Instead of gold and silver gifts, it is common to give money to put electronic gifts or iTunes credits. Like a Londoner, people here also go to late-night shopping and restaurants stay open late too. All this is followed by spectacular fireworks. 
Wolverhampton
The biggest Diwali celebration in UK celebrated in Wolverhampton City. Here in this city people from different regions teamed up with the Shri Krishan Mandir and Shri Durga Bhawan temples for the annual Diwali Festival. The Diwali event is celebrated at Phoenix Park, in Blakenhall from 3 pm to 9 pm. The day features music and dance with guest performers like many Indian and Punjabi singers, dancers and celebrities culminating in a spectacular firework display as the lights are switched on at 8 pm. They're also a wide range of stalls and refreshments with India cuisines and sweets.
Get: What to do in UK




What does Diwali mean for the UK?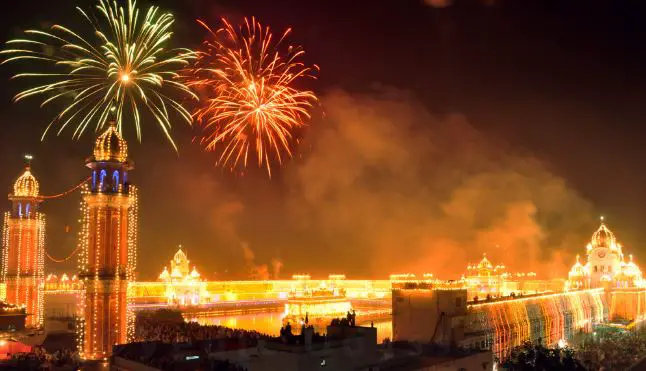 Diwali is also known as Deepavali or the Festival of Light. The word Diwali comes from the Sanskrit language which means  'row of lamps'. In the UK you would love to see, homes, shops, and streets are decorated with small oil lamps called Diyas. During Diwali, patterns people are drawn rangoli on floors. The lotus flower is one of the most popular patterns to draw. Diwali is celebrated every year on the darkest night of the month in October or November. With the new moon, Diwali marks a new beginning and for many people, it symbolizes joy, love, reflection, resolution, forgiveness, light and knowledge. Diwali is traditionally a time for cleaning, decorating your home with lights and candles. People wear new clothes, painting henna tattoos) on hands, giving presents, and getting together with family and friends. 
So after reading you must be thinking when is Diwali celebrated in the UK. Like every year UK will celebrate this festival of light with pomp and this festival symbolizes forgiveness, goals, euphoria, love, reflection, learning and light. The lights commend the triumph of light over the murkiness, symbolizing great prevailing upon insidiousness. Because of the festival generally occurring when the new moon ascends in October/November, the real date for Diwali this year would be the nineteenth of October, however, the Trafalgar festivity is occurring on the fifteenth, which is a Sunday, enabling more individuals to go to the celebration.




So here in this article, we have described all about the Diwali celebration in the UK and also briefly how is Diwali celebrated in the UK.  I hope you will love reading this content and if you love to know more about Diwali festival the world then kindly read our other articles as well which will help you to get some information about heritage sites. 
The post Diwali Celebration in United Kingdom I How Great Britain Celebrate Diwali appeared first on World Tour & Travel Guide, Get Travel Tips, Information, Discover Travel Destination | Adequate Travel.