There are a lot of things which can grab your attention in the glittery markets of Seoul but it's very necessary that you spend your precious money on some good useful things to buy in Seoul, Korea that does not seem a trick of a sales guy later when you inspect them back at home. Therefore I mention the 20 famous souvenirs to buy in Seoul that are super classy and budget-friendly as well. Just follow along the given below list.
List of Things to Buy in Seoul 
1. Hanbok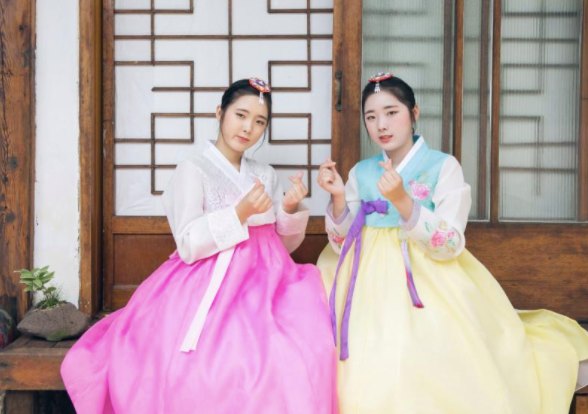 The very first thing which catches your attention in any city is the traditional clothing. Similarly, you can see a lot of Korean traditional dresses being sold at various places. These dresses are majorly made of silky shiny fabrics but the fashion keeps on changing according to the demands. Therefore the best thing to buy in Seoul is 'hanbok', or the traditional South Korean dress. This popular beauty is definitely worth the money. Hanbok can be relatively expensive, therefore try to drop by several shops and compare the price before you buy it.
Read More: Best Water Parks in Washington DC
Read More: Monuments in North Korea
2. Tumblers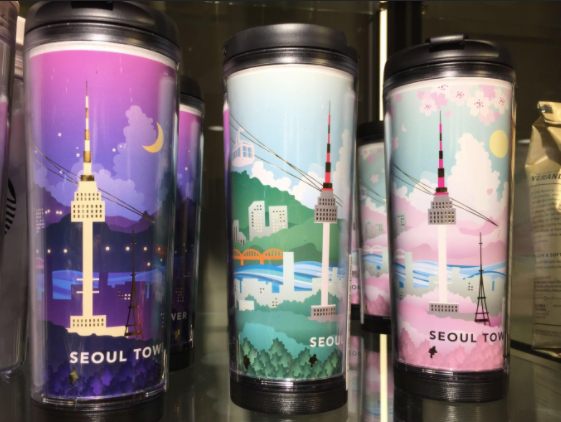 The next idea which hits your mind when you think about what to buy in Seoul, Korea?  Are the house decor items out which the cutleries rank always on top, if not then for sure you are not travelling with your wife. As there are a lot of people who love to collect tumblers from different cities marking them as their mementoes of travelling. Hence, these tumblers with Korean traditional design are perfect for you. They are the most practical items that you can use in your everyday life as well
3. Hangover Cure Products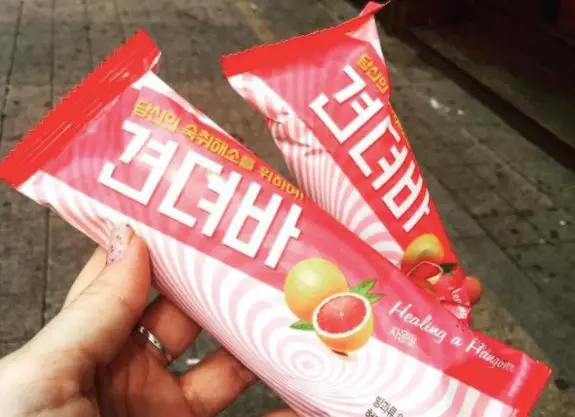 As a lot of travellers know Koreans are one of the heaviest drinkers in the world. That is why you can find plenty of hangover products in the market that are not illegal to buy of course! These items are the core necessity for those travellers who have a habit of partying till the morning especially. So, if you are wondering what things to buy in Seoul, Korea? that can make you sober again faster then try out buying "Gyeondyo-bar"  which is a hangover-fighting ice cream bar that is available at most of the groceries stores. Along with that, you can also try a variety of other hangover recovery drinks too.
Discover: Why Chicago is Famous For
Read More: Night-out Places in Seoul
4. Ramyeon (Instant Noodles)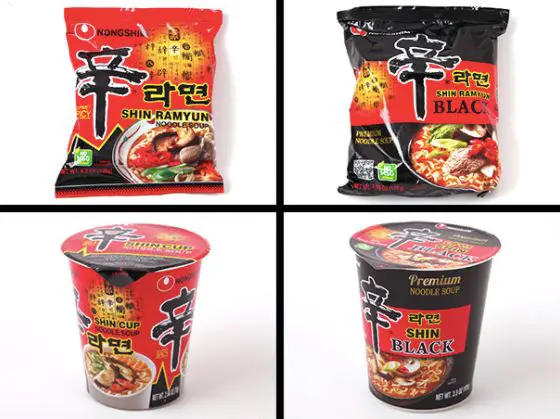 These are a lifesaver for Korean bachelors who are terrible at cooking. If you are trying to create an analogy of this noodle with maggie don't even try! These noodles are way more delicious and filling in comparison to other instant noodles. They also provide a thick curry specialisation in some Ramyeon for more taste. That's why whenever you think about what to buy in Seoul?  Just stack up dozens of these instant noodle packets of 'Ramen' named after rice before your transit from this city. There are various kinds and tastes that take even less than 5 minutes to cook. The latest flavour of spicy hot chicken Ramen is the most famous one to buy nowadays
5. Soju & Makgeolli (Korean Alcohol Drinks)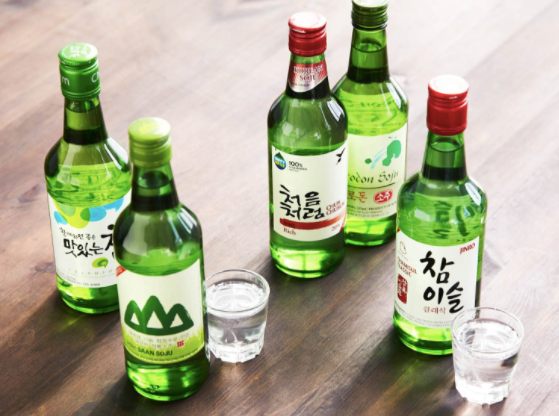 If you are exploring the city of drinkers then definitely this place will have the top-notch quality of drinks that are relatively cheaper than those outside the country. So try to fit one of these bottles into your carrier no matter what! As this is one of the most famous things to buy in Seoul, Korea. In recent years, soju companies have launched fruit flavours such as grapefruit, peach, and blueberry flavour to balance out the bitterness of the drinks. But you can go for the strong ones too, just that you have to face some extra questions at the airport check-ins if you are taking it back home with you.
Read More: Historical monuments in Singapore
6. Korean Beauty Products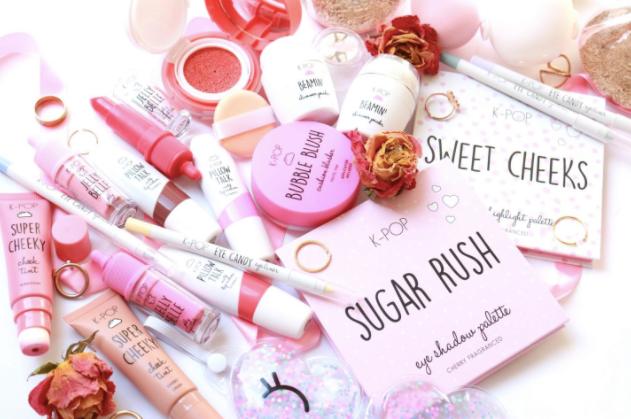 The whole world nowadays has been totally hypnotised with the Korean BB Creams, cushions, facial packs and mask sheets that rank on the top, among some of the most beloved beauty products worldwide. So when you think about what beauty products to buy in Seoul? Then explore the drugstores like Olive Young, Lavalla, and beauty brand stores such as Innisfree, Etude House, Missha, all of which are clustered in Myeongdong district of Seoul 
7. Cute Stationery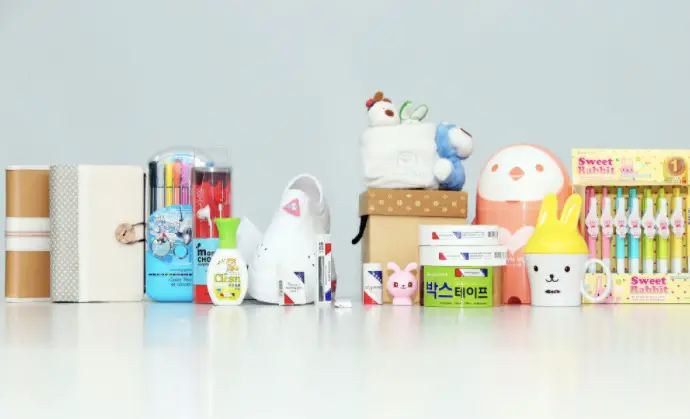 I don't know what strange infatuation Koreans have with their stationery? but they do have some incredible and creative stationery items that you can't even imagine. Not only these things to buy in Seoul are unique but hold a very pretty look based around the cute cartoons and pastel colours symbolizing Korena culture too. Just stock up some of these unique and hip design products and give them to your kids or you can keep it for yourself too. Who will recognise? The stationary stores are usually located inside large bookstores such as Youngpoong Bookstore, 10X10 Ten by Ten, and Art Box.
Read More: Water Parks in San Francisco
8. Gim (Dried Seaweed)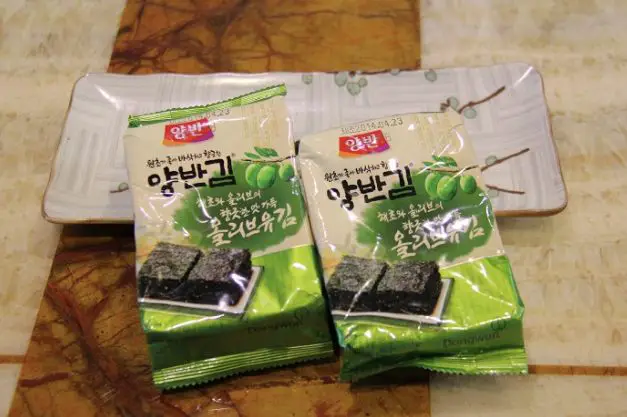 Yes, it is the same green sheet that you look in various sushi rolls and other rice ball cuisines of South Korea. This is actually a paper-like dried seaweed with a bit of salt sprinkled and spread with sesame oil that is full of calcium, vitamins, and carotenes. Such a food item is the best thing to buy in Seoul as you can get them at very inexpensive rates as they are made in the same city. Along with that Gim is relatively little weight so that you can easily carry it with you back at home 



9. Traditional Handicrafts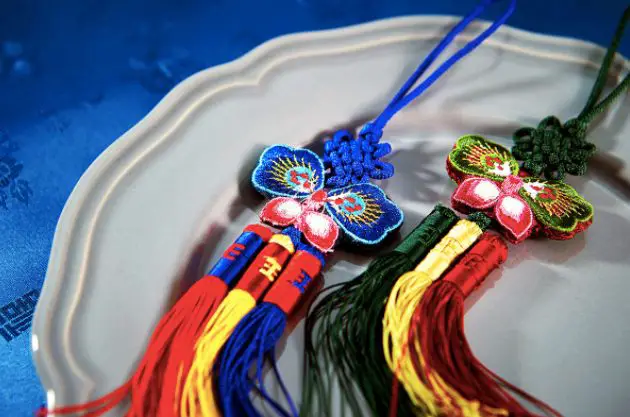 Koreans have a long history of wooden crafts which can also be seen in the various temples of Seoul as well. That's why you can fascinate your other friends back at home through traditional crafty utensils from Korea. Therefore, whenever you think about what souvenirs to buy in Seoul?  Just have some decorated plates, spoon, chopstick sets, ceramics, teacups or even Korean folk facial masks. You can find plenty of traditional items around Insadong and Bukchon Hanok Village areas.
Read More: Famous Monuments of Colombia
10. Dojang (Korean Traditional Stamps)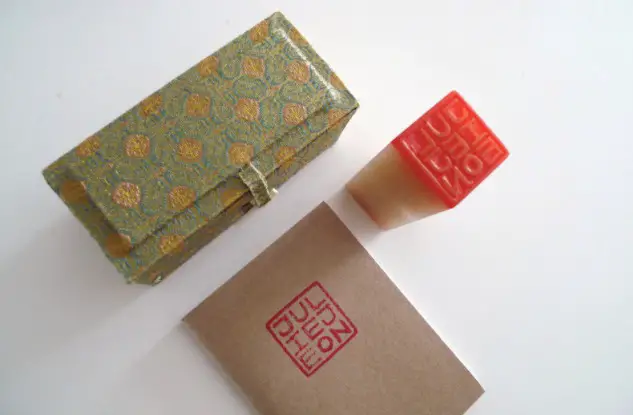 Sometimes, it's amazing to have your name written in some other language. Even nowadays people have some strange obsession with having their name tattooed in different languages over their body. Well, how about your name initials? Yes, the Dojang or Korean stamps can do that. These are some of the most beautiful things to buy in Seoul, Korea. Even proves to be a versatile souvenir for yourself and a special gift for your friends back home
11. Pepero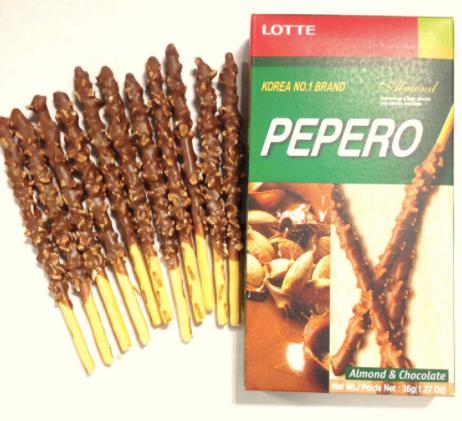 For the flights or for your kids it's very hard to find something in a strange city as you keep on wondering what to buy from Seoul? That is healthy and tasty at the same time. Therefore these cookie sticks known as Pepero are very popular in Korean snacks. These can be easily taken back at home just keep an eye out for flavours that you don't often like and those with colourful sprinkles which are not always of the same flavours you think about.
Read More: Monuments in Mumbai
12. K-pop Albums and Merchandise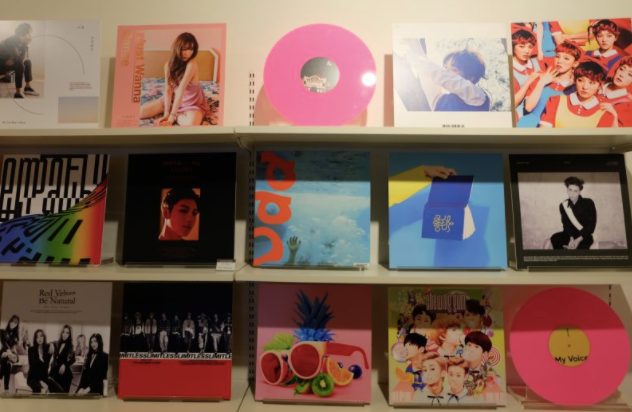 The whole world has been recently introduced with K-Pop on a very large scale and a lot of people are relating to their music as well. Hence their latest albums along with exclusive merchandise are available in Seoul much earlier than any other city. Therefore whenever you have some K-Pop fan friend at home this is the best souvenir to buy from Seoul. You can even get these merchandise at very low prices in comparison to other countries
13. Cute Socks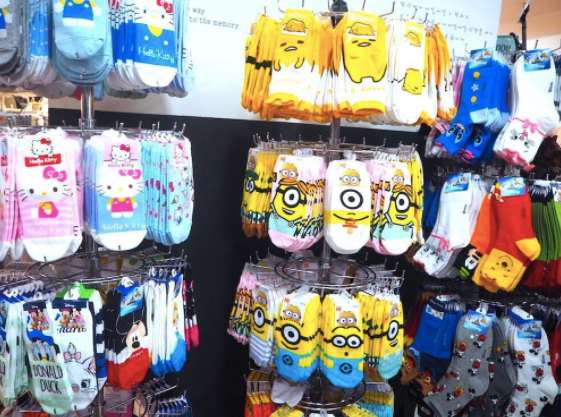 Well it sounds very weird but yeah Koreans design some amazing cute socks which include famous animals and cartoon character images that are super trendy in today's life such as you can find all the collection of avenger cast in the form of your socks, you can get all kinds of villains as well from various thriller movies. Therefore the popular thing to buy in Seoul, South Korea ranges from cute to crazy, that is what makes these regular socks a fun face. You can look around for the best varieties in the shopping districts of Seoul like Myeongdong.
Read More: Buildings in Jaipur
14. Ginseng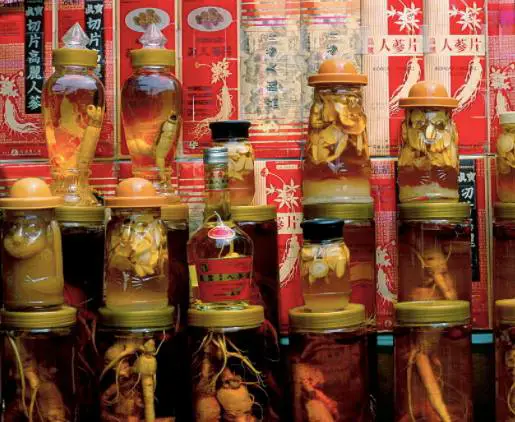 This is a very old Asian traditional medicine which definitely holds some many health benefits which Koreans are very sure about. There are three types of Korean ginseng things to buy in Seoul, Korea you can find in the market: Most organic form is called 'Susam', the dried form is known as 'Baeksam', and steamed-dried ginseng is called 'Hongsam'. You can also try this in ginseng tea, ginseng candy, and ginseng health supplement instead of pure ginseng. Try buying these from Namdaemun Market or Gyeongdong Yak Yong Market in Seoul
15. Hanji Products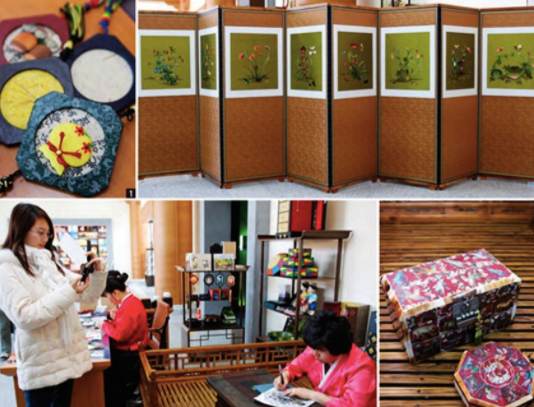 Since Koreans have a great love for wooden products Hanji refers to the traditional Korean handmade paper made of mulberry bark. This paper is used to make various products like wallpaper, lamps, boxes, hand fans, and stationery. One of the most useful souvenirs to buy in Seoul that you can gift to anyone are these crafts that hold an Old Korean culture within themselves. Try out from Hanji Chueok shop in Seoul they have some of the refined decorative Hangi products to offer.
Read More: Monuments of Chile
16. Korean Face Masks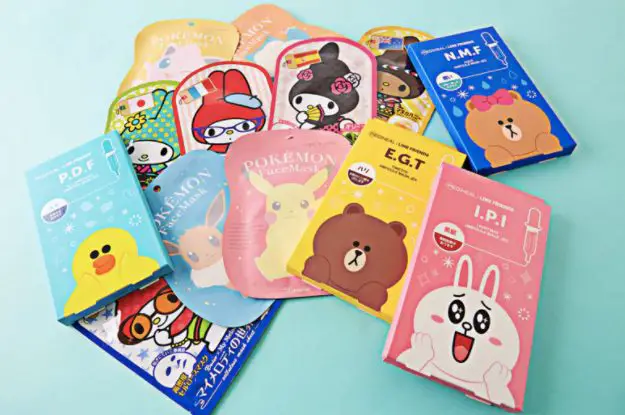 These masks are so revolutionary nowadays that they're not just a part of a Korean beauty product but hold their own audience. These are even some of the incredible things to buy in Seoul for guys also. As these beauty masks are amazingly cheap and work wonders for the skin. These are actually sheets of gel, paper, or fabric that contain natural ingredients to nourish the skin. You can have lots of varieties that are suitable for various types of skins in the beauty shops of Myeongdong in Seoul
17. Korean Tea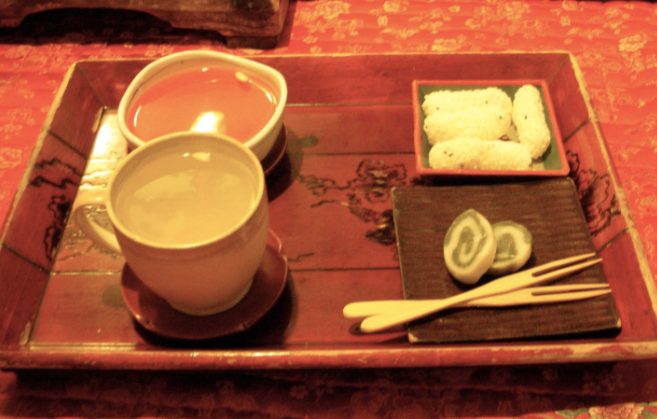 How come you visited Seoul and never tried Korean tea? This is definitely an acquired taste but the Korea tea is not just tea, it is a herbal mixture of a lot of things that medicinally works wonders for your body. There are dried parts of health beneficial plants such as peppermint leaf, citrus flower, plum fruit, and ginseng root in this tea. The grains, beans and seeds are also commonly used ingredients in the tea-making art of the Koreans. Therefore I suggest this is a must-buy thing in Seoul, South Korea.
18. Tteokbokki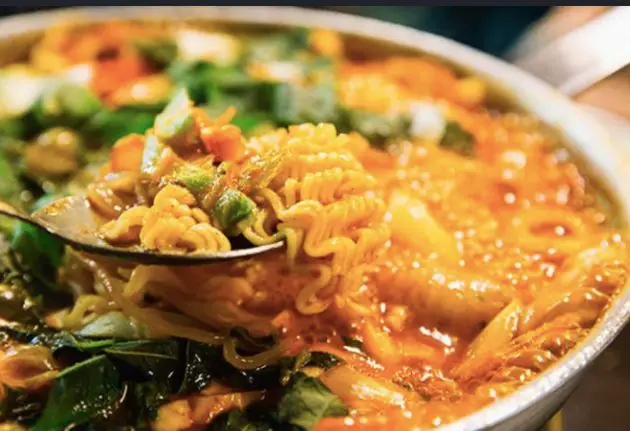 If you don't know what Tteokbokki is? So these are popular rice cakes with a sweet-spicy sauce that is sometimes served separately while sometimes you can have them mixed thoroughly.  This is definitely a must-try street food of many foodies when exploring Seoul. But you can also get these top things to buy from Seoul and take them back for your loved ones back at home especially those who love to feed over tube-shaped chips that are comparatively sweeter and less spicy than the actual Tteokbokki but the taste is still the same. Therefore it's the best snack to buy in Seoul for your journey
Read More: Best Theme Parks in Seoul
19. Kimchi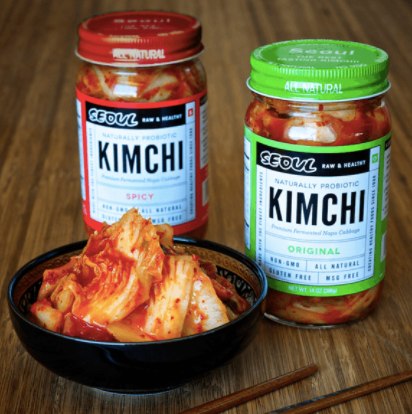 Well, you might have tried these everywhere you order any Japanese or Korean food but when you wonder about what to buy in Seoul, Korea? These Kimchis are not the usual spicy cabbage or radish variations we usually get everywhere, you will find way more varieties or flavours in Seoul, such as kimchi made of cucumber, spring onions, and even non-spicy ones that can definitely increase your Korean cuisine palate back at home after all.
20. Lotte Choco Pie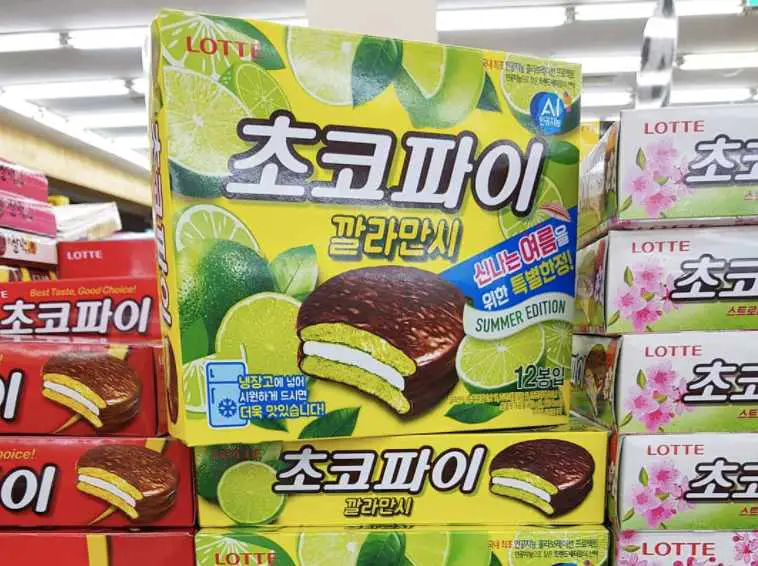 The similar fact applies with these regular chocolate-filled cookies too, you might get only the chocolate flavours in all over the world but here in Seoul you'll be surprised to know Lotte Choco Pies also come in funky flavours like green tea, strawberry, cacao, red velvet, and in the summer, Calamansi(Philippine lime) too. Isn't it a famous thing to buy in Seoul? That you can even brag about later to your friends who haven't tried these incredible flavours before
Hope you enjoyed these 20 top things to buy in Seoul, Korea that you not only decorate in your houses but also enjoy eating them back at home with your loved ones. I have mentioned a lot of regular products as well that are available everywhere but the customisations you are offered here in those popular things to buy in Seoul perhaps you might not get anywhere else. So keep following our website for more engaging articles like these who offer you inside details of travel and if you enjoyed this article do share and comment.
The post 20 Best Things to Buy in Seoul | What to Buy in Seoul South Korea appeared first on World Tour & Travel Guide, Get Travel Tips, Information, Discover Travel Destination | Adequate Travel.