There are a lot of struggles we face while returning back from this lovely city which sits so deep in our hearts but then we can't describe it through any hard items. For such feelings, we meddle up ourselves into buying different unnecessary things that are expensive and don't fit later into our budgets as well. Hence to combine all the Salzburg which you can take back home with you can only be achieved through the top souvenirs to buy in Salzburg but how to decide What are the best things to buy in Salzburg? Just follow along with our list of top 10 items that can suffice all your desires for shopping in Salzburg.
List of Things to Buy in Salzburg
1. Mozart Balls
These are the perfect confectionery you can take back home for kids or even adults. These are Austrian sweets that are made from smooth chocolate spheres containing a marzipan or pistachio center that just melts when you put that into your mouth giving you the richness of their creamy flavors.  The foil featuring the famous composer's face wrapped around these balls are stamped with red Mozart face for milk chocolate, and blue face for dark chocolate; these are the best things to buy in Salzburg. You must land only at Café Konditorei Fürst, located on Mirabellplatz selling the original Mozart balls(not 'those balls' your dirty mind is imagining!). 
2. Schnapps
This isn't some word landed from comics it is an authentic name given to the famous home-made liqueurs in Salzburg, made by using juicy fruits produced in the local farms of Salzburg. This is a popular present to pick up at Christmas markets as the beautiful packing during Christmas makes it even more adorable in those thin colorful bottles. Sporer, located on Michael-Walz-Gasse, has been the most primitive manufacturer of these liqueurs since 1903 and the family business still exists today. Now you can easily figure out about What to buy in Salzburg Austria? Just grab some Cacao Nut Liqueur, Beer Punch, or Apricot Schnapps from Salzburg markets.
Read More: Famous Foods to Eat in Salzburg
3. Snow Globe
Well, this is a very beautiful fact that the enchanting snow globes, you have been giving endlessly in every birthday party or on valentines to your loved ones, were actually created in Austria by a surgical instrument mechanic Mr. Perzy I in the 1900s. He had this amazing idea from his blown light lamp. There are few Salzburg landmarks from where you can choose one of these best souvenirs to buy in Salzburg where even the setting inside your globe can be made as per your preferences. Such fabulous places to find customized snow globes are the Cathedral, Mirabell Palace or the Fortress. The Mozarthaus shop on Makartplatz also has one of the largest collections of snow globes in the city.
4. Handcrafted Christmas Decorations
When Christmas arrives it's a treat to watch the beautiful shops of Salzburg that transform all the streets into a winter wonderland. You can pick tonnes of desserts for your treat back at home but it's not easy to carry food items especially when you have a long flight to catch. So why not travel back with well-prepared items that can make your Christmas more easy and glimmery? When you can't decide What to buy at Salzburg Christmas markets,  go for the handcrafted tree hangings which include miniature Mozarts or cute little Tracht-clad animals, all delicately and lovingly handcrafted.
Read About: Best Cities in Austria to Visit
5. Mozart Rubber Duck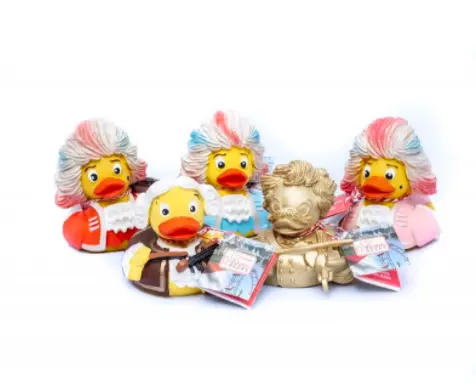 Even Mozart himself couldn't have imagined that his face will appear over a duck's body that would be bought extensively by the Austrians. You can find his face on almost every inanimate object imaginable – chocolate balls, fridge magnets, and now rubber ducks, which can't be complete without a  rubber violin and are ready to perform Sonata or in these cases the 'Quack-Quack' songs. You must not miss the best thing to buy in Salzburg which will eventually become your kid's favorite toy.
6. Tracht Doll
These are actually the representative toys that display the incredibly old-fashioned and antiquated piece of attire worn by the Austrians. But now you will find them moreover the miniature dolls of men and women wearing such traditional attires. Originally these signature clothes were worn by the ancient farm workers during the 19th century in the Alps and were later adopted by women of the upper classes. These can be a very good thing to buy in Salzburg Austria for a blissful memory of your entire trip in Salzburg.
Get: Best Places to Eat in Austria




7. Handcrafted Easter Eggs
The Open Air Museum annually hosts a large market from April 8th that is during the Eastern month, with stalls selling a range of seasonal fodder and souvenirs. Out of those, beautifully hand-painted eggs are the best souvenirs to buy in Salzburg. You can even try your hand at creating one yourself at these decorating stalls which are the favourite activities of kids, especially in these times.
8. Sachertorte
If you don't have any problem regarding carrying the food items during flights then there is an extremely delicious dessert you can take back home that will be loved by everyone. Sachertorte is a complete chocolate pastry which has a layering of apricot jam in the middle and an outer glazed coating of thick chocolate. Such incredible food can't be enjoyed alone hence this is among the perfect things to buy in Salzburg, especially for your homes to reminisce about the fun and delicious taste of Salzburg, especially with your loved ones.
9. Pretzel
You might have bought tonnes of pretzel packets for your flights or for a snack-time at your homes but the size and taste of pretzels you are offered here in Salzburg is unimaginable. You get a variety of cherry, blueberry, coconut shredded toppings on pretzels that are around the size of your head. Isn't it amazing to bring these extraordinary things to rectify all your problems while struggling with What to buy in Salzburg?
Visit: Water Parks in Salzburg
10. Bear Wearing Lederhosen
You might have seen these a lot in Salzburg markets and left it just thinking it is a stuffed toy. This is a very crucial display or home decor piece that wears the outfits, known as Tracht, comprising leather breeches for men and frilly corset dresses for the women, which were originally worn by the Alpine region people of Austria. These are the most popular things to buy in Salzburg but when you struggle with where to buy the best lederhosen in Salzburg? just land at any toy store instead of gift shops, you can easily find it at the centrepieces.
I hope you enjoyed the above-stated Top 10 things to buy in Salzburg that are amazing and delicious to take back home as a Christmas gift or just a memento. All these items soak the themes of Salzburg inside them to such an extent that you can never forget your amazing experiences in Salzburg after looking at them back at home.
The post What to Buy in Salzburg Austria| Best 10 Things to Buy in Salzburg appeared first on World Tour & Travel Guide, Get Travel Tips, Information, Discover Travel Destination | Adequate Travel.