Here we are recommending you the things to do in Winter, It's true that winter in Paris can be a little breezy. Visiting Paris in winter will be a magical and memorable experience you won't forget. The average temperature is around 7°C. Winter in Paris is mostly defined as December to February, but months such as November and March can experience winter weather in Paris as well.  Winter in Paris means Christmas decorations and Valentine's celebrations. Therefore if you are visiting Paris in the winter, here we recommend some tips to enjoy your winter in Paris.
A Complete Guide To Visiting Paris In Winter
Average Winter in Paris
Average Winter in Paris is a little rainy and chilly. It does snow in Paris but you won't find it every year and it won't snow until the end of January or February.
The temperature of Paris in the winter is actually reasonable, especially for a northern city. The average temperature of Paris in December is 42°F, in January is 41°F, and in February is 38°F.
Find: Best time to Visit Paris
Check out these average Paris winter weather highs and lows to get an idea:
November Temperature: 52°F high and 43°F low

December Temperature: 46°F high and 37°F low

January Temperature: 45°F high and 37°F low

February Temperature: 46°F high and 36°F low

March Temperature: 54°F high and 41°F low
How To Get To Paris In Winter
Visiting Paris in winter is quite easy because transportation prices will be at a yearly low during the winter through which you will save a lot of money by booking your trip to Paris in the winter.
Getting Around Paris In The Winter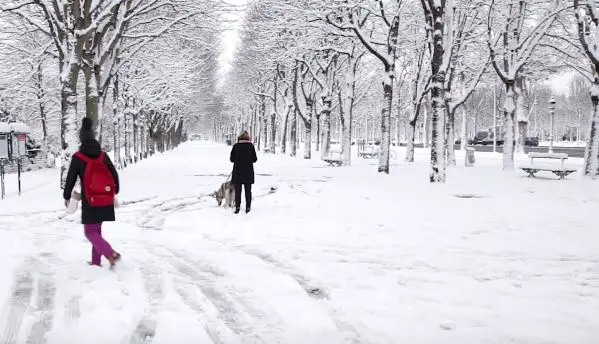 If you are in good fitness then take the Paris Metro. The Metro is a fast as well as affordable, and easy way to get around, even in winter. You can buy a metro ticket for 1.90 Euros, a booklet or 10 tickets, or a weekly metro pass, depending upon your needs. If you are not able to walk up and down a lot of steps or you are in a wheelchair, we highly recommend you taking an Uber as it may be easier and safer.



Paris is a quite large city, so if you plan to walk, remember to wear good walking shoes and to dress properly. Finally, depending on the weather, you can also choose to rent a bike because biking is very popular among Parisians and there are many local bike stands where you can rent from.
Read Also: Paris in 2 days
Things To Pack For Paris In Winter
There are a few packing tips we suggest to you, Visiting Paris in winter is enjoyable and magical as well, but you need to stay warm and dry. Since it is Paris, so you want to do all these things while looking a bit fashionable too. Dressing in layers is key which helps you to go from warm out on the streets of Paris to comfortable inside a building.
Here are some useful things to be carried:
Fleece-lined leggings

Warm winter dresses

Thin Long Sleeve Thermal Tops

Comfy Knit Hat

A Solid Pair Of Waterproof Boots/Shoes

A Winter Jacket

Warm Gloves

A Balaclava

Dark Denim Jeans

Pull-Over Sweaters
Things To Do In Paris in Winter
Here we suggest things to do in Paris during the winter. Which will make your trip, even more, better and memorable.




Explore Paris By Bike
As already we have told you to rent bikes at the Velib Bike Stations in Paris for very little money. It costs $8 to rent a bike for a week and the first 30 minutes of each ride is free. Even if you end up having to pay by the hour, still it will be cheaper than renting from a bike shop. Make sure that you are dressed in warm clothes and make sure it is windproof, if possible. Wear gloves to keep your hands warm and get ready to explore the winter in Paris by bike.
Go For Window Shopping Along The Champs-Elysées
There is nothing magical than a walk along the Champs-Elysées during the winter. Winter in Paris means stores decked out for the holidays, Christmas trees galore, and maybe even a little snow if you are lucky. Parisians love to window shop, especially during winter. Take the Metro to the end of the Champs-Elysées and window shop your way up and down the streets.
Enjoy The Parisian Museums
Make sure to visit Museums in Paris, as it will be warm during winters so if you are feeling cold outside and need to make yourself warm, kindly visit museums especially the Louvre Museum.
Go Ice Skating For Free
Actually ice skating during winter in Paris is free, all you have to do is rent ice skates which will run about $7. We can't think of feeling more magical than strapping on a pair of skates and Ice skating around Paris in winter.  The famous Paris winter ice skating locations are in front of Hôtel de Ville and at the base of the Montparnasse skyscraper.
Go To A French Christmas Market
Head to one of the original Christmas markets in Paris and shop at the stalls, eat delicious food, and enjoy the holiday cheer. People love Christmas markets and there are some fantastic ones in Paris during the winter. Try the mulled wine to warm up while browsing the handcrafted goods and homemade cookies. There are many Christmas markets around Paris in winter so make sure to visit a few.




Have a look from Top of The Eiffel Tower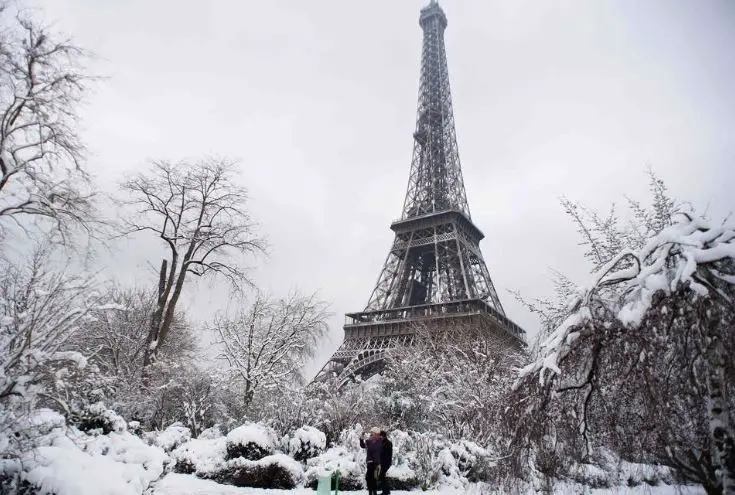 Just because it is winter, does not mean that you should forgo a trip up the Eiffel Tower. If you have never gone up the tower, don't skip it due to winter. Going up to the Eiffel Tower in winter is actually more enjoyable than in the summer because you won't be fighting with long queues of people and you will have more open space to take in the view without the crowds.
Don't miss: A Complete Travel Guide for Paris
Where To Stay In Paris During The Winter
Where To Stay In Paris is again a tough decision to choose. Tourists prefer to stay near the Eiffel Tower as we like to be able to walk a few blocks and see it in the distance.
Here are some top most recommended hotels are:
Hôtel Elysées Bassano, Paris:
This is a  four-star hotel,  located in a fantastic area in between the Arc De Triomphe and the Seine river. It is not very expensive in Paris, and the rooms are spacious and modern. It is 0.8 miles away from the Eiffel tower which is an easy walking distance.
Mercure Paris Centre Tour Eiffel, Paris:  
If you are looking for a hotel in Paris right next to the Eiffel Tower then it will be good. Just steps away from the base of the famous Eiffel Tower, this four-star hotel delivers the Parisian charm. If you are visiting Paris in winter, be sure to walk along the Seine River and share some delicious crepes under the Eiffel Tower.




Hôtel Eiffel Petit Louvre, Paris:
If you are looking for a more affordable Eiffel Tower hotel in Paris then check out this one. It is only a few blocks further from the tower but it is a little bit cheaper. The rooms are clean and modern and pretty for the price.
District République, Paris [Budget Hotel]:
If you are in the market for a good budget hotel, we would suggest it to you, this one located in the 10th district. It offers free wifi and is located near metros and bus stations through which you can easily get around. Here rooms are clean and many attractions are within walking distance.
Here we have included everything related to Paris visit in winter, I hope that you would get the information required for Visiting Paris in Winter.
Also, we have concluded the things like the climatic condition of Paris in winter, how to get rid of it, things to do in winter, and other related information. If you are planning your vacation to Paris then visit our other blogs as well, surely it will be beneficial for you. If you liked our blog please like it, comment in the below section, and share it.
The post Visiting Paris in Winter- Best Things to do in Paris in Winter appeared first on World Tour & Travel Guide, Get Travel Tips, Information, Discover Travel Destination | Adequate Travel.