Summer of Mumbai has the ability to soak up your hold body. The amazing water parks in Mumbai gives you opportunities to stay cool this summer. Beat the summer sun in style at these best water parks in Mumbai from the fun-filled water slide to luxurious outdoor pools. Out in the sun, these water parks are an ideal way to spend a day and escaping the scorching heat. To put a lot of sunscreen before leaving the house and gear upMake sure for lots of fun and excitement. Read our top picks of top water parks in Mumbai.
List of Water Parks in Mumbai
1. Adlabs Imagica Water Park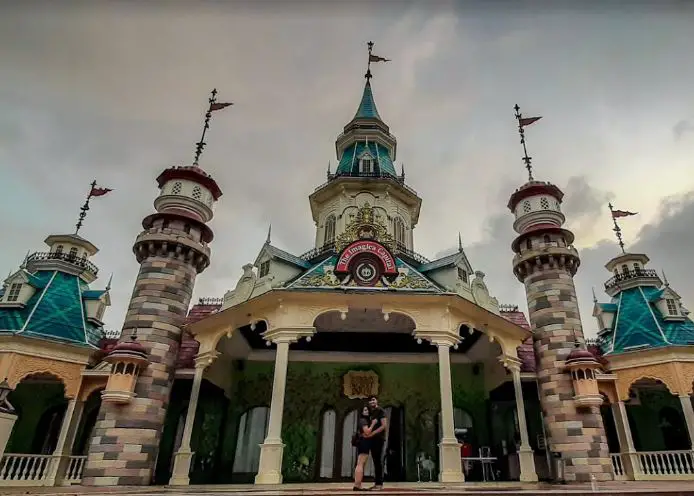 Adlabs Imagica is a great place to visit, renowned as the most popular water parks in Mumbai now. But it is the water park here that makes during the humid weather it the best spot to hang out. Like the wave pool, loopy woopy, and more. The Mykonos-themed park has got unique & thrilling water attractions. You can eat at one of the top restaurants and shop a bit to put a perfect end to your day after chilling at the park.
Address: District Raigad, Sangadewadi, 30/31, Khopoli-Pali Road, SH 92, Maharashtra
Official Website:  www.imagicaaworld.com
Visit: most popular beach in Mumbai
2. Sargam Water Park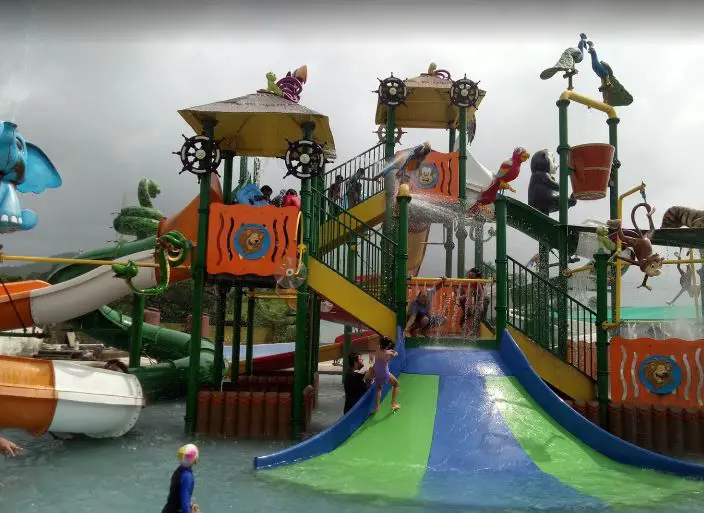 The Sargam Water Park is the ideal place to pick for your getaway if you're looking for the best water parks in Mumbai with rooms in Mumbai. This place a complete entertainment destination, but it is not any ordinary water theme park. You can also take a tour of the mango farms, savor their delicious food, and even dance the night away at the DJ floor apart from having fun at the water slides.
Address: Survey No. 52, Chinchoti, Village Nagale, Vasai East, Thane, Maharashtra
Official Website: www.sargamwaterpark.com/




3. Great Escape Water Park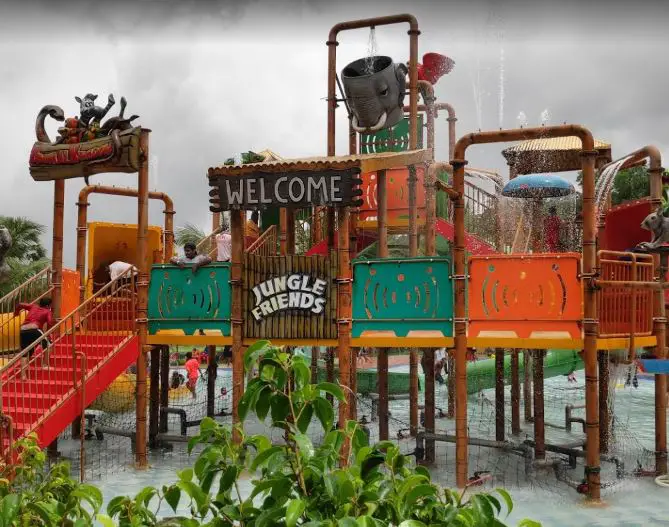 This water park in Mumbai offers true value for money experience with exclusive deals for every day. It has more than a dozen water slides and games and it is situated amidst the spectacular mountains of Pelhar. You would surely have the most refreshing break hereBe it an outing with your friends or a day out with your family.
Address: Parol – Bhiwandi Road, Bombay-Ahmedabad Highway, Thane, Maharashtra
Official Website: www.greatescape.co.in/
Visit: Popular Water Parks in Jaipur
4. Water Kingdom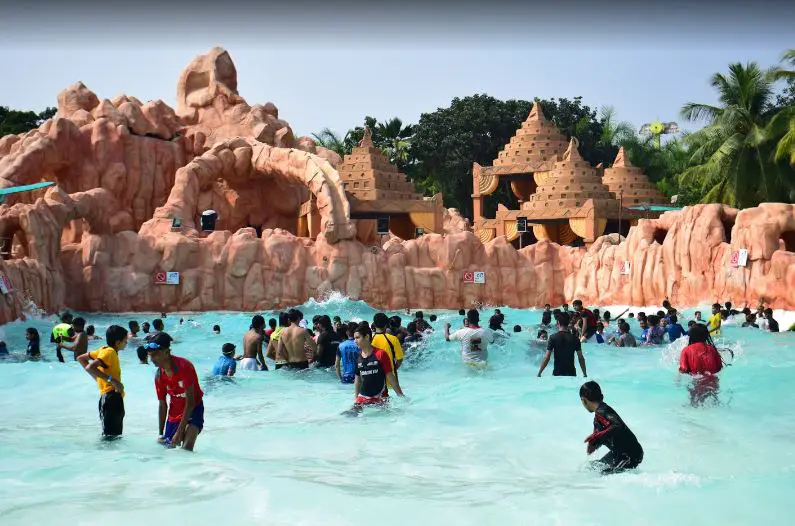 This is undoubtedly one of the oldest and the top water parks in Mumbai located right next to the Essel World. Exotic attractions like What A Coaster, Bratzone, Lagoon, Adventures Amazonia, and more with interactive. The Water Kingdom would surely make your outing one of a kind. So, if you are still confused about where to go new to the city and head here as we can vouch that this place would never disappoint.
Address: Gorai, Borivali West, Global Pagoda Road,  Mumbai, Maharashtra.




5. Ammu Water Park
Ammu Water Park is the best place to visit if you're looking for the cheapest water park in Mumbai. This best water theme park in Mumbai offers a serene ambiance to chill in the lush green surroundings and a river flowing nearby. You can beat the Mumbai heat in the most unique way here from taking a dip into the pool to sliding from the water rides with your loved ones.
Address: District Thane, Apti Road, Off Kalyan Murbad Road, Vaholi, Maharashtra
6. Royal Garden Water Park
This place offers a completely fun-filled experience being another popular water park in Mumbai. It has attractions like a wave pool, 5 swimming pools, a waterfall, rain dance,  20 water slides & more. To quench your thirst for thrill and adventure that are impeccable enough.
Address: 118, 1st Floor, Goyal Shopping Centre, Borivali West, Mumbai, Maharashtra
Discover: Why Jaipur is Famous For
7. Anand Sagar Resort & Water Park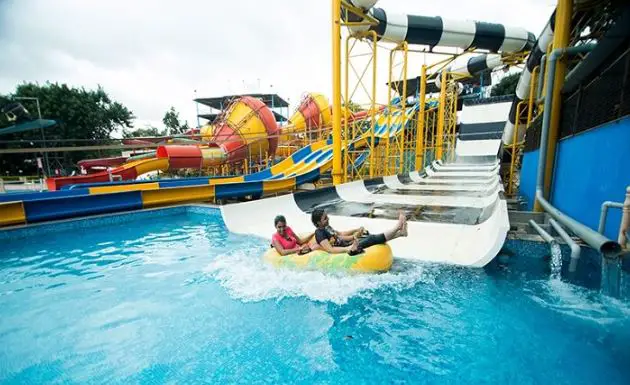 The water park at Anand Sagar Resort is an ultimate place to enjoy a respite from the heat, of all the water theme parks in Mumbai. This place has one of a kind experiences in store for you, be it its thrilling water rides & slides or be it the slide tower here.
Address: Off Anand Nagar MIDC Highway, Ambernath East, Thane, Maharashtra
8. Shangri La Resorts and Water Park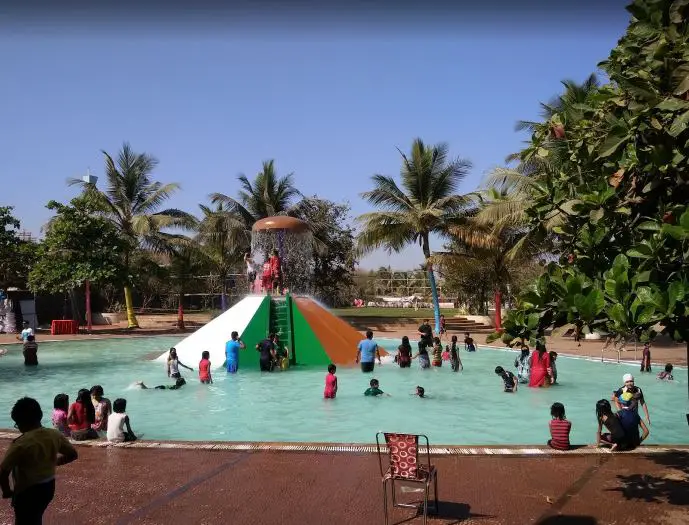 This place is where you need to be if you're looking for a surreal escape from city life and famous as one of the perfect retreats for a getaway near Mumbai. The biggest water park in Mumbai through its fun attractions offers a super splash of excitement & thrill and takes you back to your childhood days. What's more? by stepping into the rain dance party you can also experience the joy of Mumbai monsoons.
Address: Mumbai-Nashik Highway, Bhiwandi, Thane, Maharashtra
Official Website: www.shangrilawaterpark.com
Visit: Water Parks of New Delhi
9. Suraj Water Park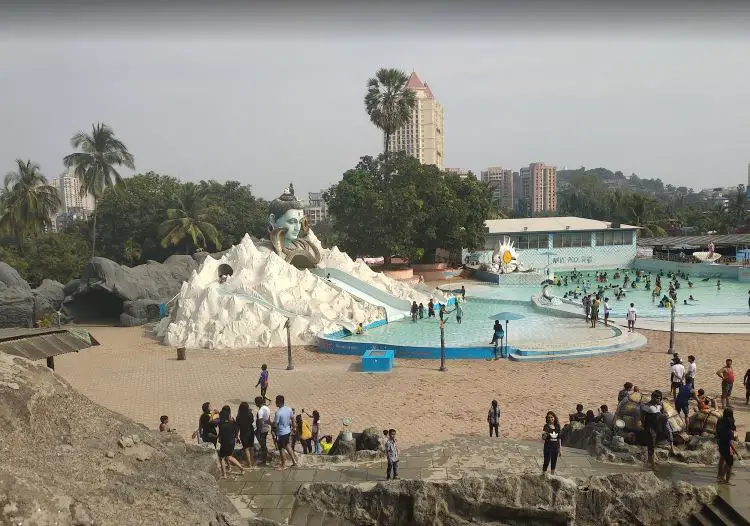 The Suraj Water Park is an award-winning recreation spot in Mumbai and also known as a paradise for water lovers. For people of all age groups make it an ultimate place to chill with your loved ones, Its fun rides, and thrilling challenges. So, rest assured and plan your day out here if you're looking for an adventure-filled escape from the humidity in the city. It is one of the famous water parks in Mumbai.
Address: Ghodbunder Highway, Thane (W), Thane, Maharashtra
10. Tikuji-ni-wadi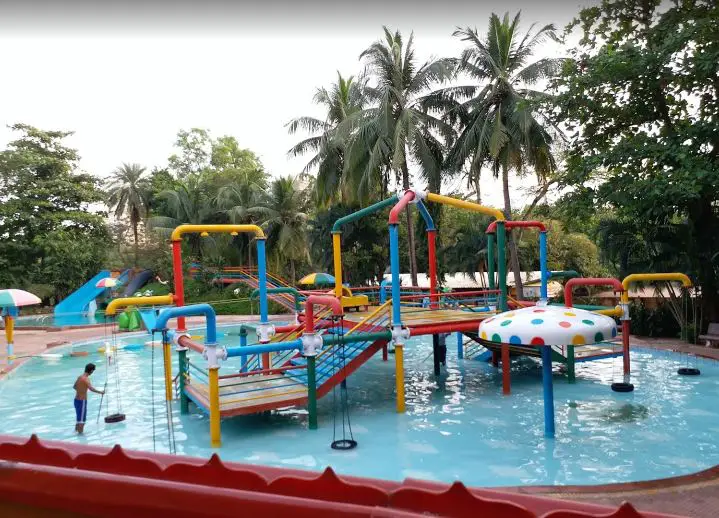 A list of water parks in Mumbai would always stay incomplete without it.  The water park here would make sure that you have the best time of your life with giant slides, a wave pool & lazy river, and an aqua playshop.  Treat your taste buds at its Blue Water Cafe that serves lip-smacking cuisines and when you're done calming the adventurer in you.
Address: Manpada, Opp Tata Power House, Ghodbunder Road, Thane, Maharashtra
Official Website: www.tikuji-ni-wadi.com/ocean_park.html
Read More: Famous Monuments in India




So far we have discussed the water parks in Mumbai. If you are planning your trip to Mumbai then kindly go through our other articles as well which will be quite beneficial for you. Please share your views regarding the content explained above and liked it too.
The post Top 10 Water Parks in Mumbai India | Popular Water Parks in Mumbai appeared first on World Tour & Travel Guide, Get Travel Tips, Information, Discover Travel Destination | Adequate Travel.