If you want to explore the history of Kazakhstan through the ages there are a number of historical monuments in Kazakhstan including the time-honored buildings, palaces, and parks where you can learn about the glorious past of Kazakhstan. The presence of these monuments of Kazakhstan will take you on a walk through the country's rich history. If you are willing to have in-depth historical information about Kazakhstan, we recommend that you take a wonderful guided tour to cover the major historical attractions. Also, check the opening and closing time for each so that you can organize your time. Make sure that you go through the complete list of historical sites in Kazakhstan for a great trip:
Monuments in Kazakhstan 
1. Bayterek Tower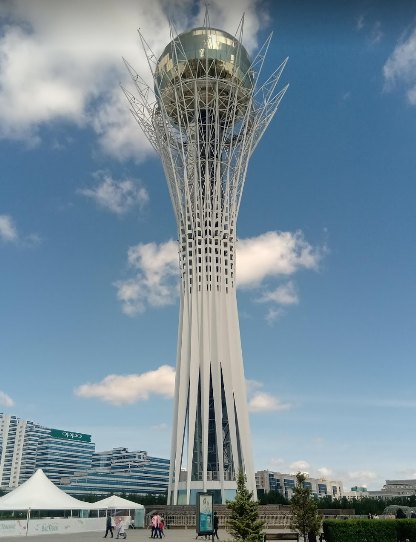 Located in Astana, Kazakhstan, with the intention of imparting meaning to visitors and citizens alike. Every element of Bayterek Tower was designed, right down to the height of the tower, to represent 1997, the year in which Astana was named the capital of Kazakhstan which stands 97 meters tall. More than just a unique artistic flourish, the unusual construction of the tower is worth visiting. The golden sphere that rests on top of the pointed spires of the tower is meant to symbolize an egg nestled amongst tree limbs – a nod to an age-old local folktale about happiness and beginnings, focusing on a bird who laid its egg in the sacred tree of life. This famous monument in Kazakhstan provides visitors sweeping views of the city skyline of Astana. It also has a small cafe where you can take a rest to enjoy a coffee and ice cream. Worth a visit if you are in Astana.
Read more: Famous Haunted Places in Amsterdam
Address: Vodno-Zelyony Blvd., Nur-Sultan 010000 Kazakhstan.
2. Independence Square and Kazak Eli Monument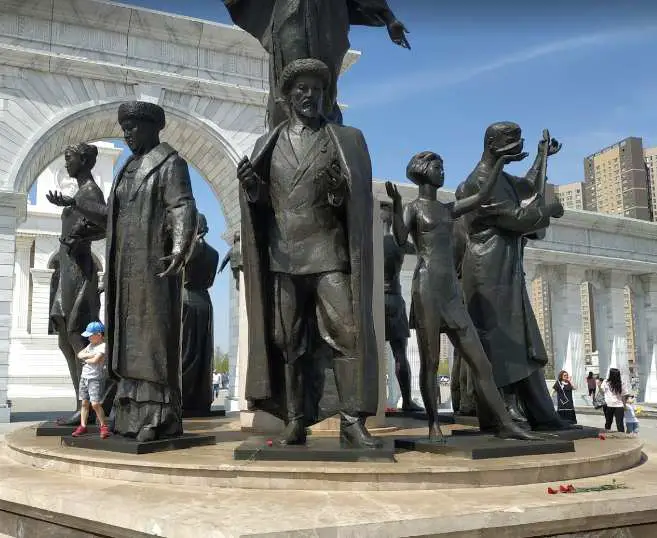 On the Independence Square, there is an independent Memorial pillar up to 91 meters, which symbolizes Kazakhstan's independence in 1991. At the top of the memorial pillar is a gilded bird named Samruk. Hebei manufacturers shipped the bronze works to Beijing and then from Beijing to Astana for assembly, gilding, installation and final products. A large square with the main attractions nearby such as the Hazrat Mosque and the National Museum. This popular monument in Kazakhstan follows the grandness of the other structures across Astana and a nice place to relax to pass some time. The major military procession takes place here and other events
Address: Prospekt Tayelsizdik, Nur-Sultan Kazakhstan.
3. Glory Memorial (Almaty)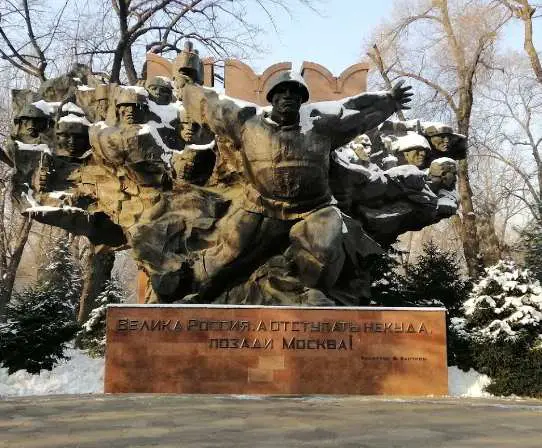 During the second world war over 600,000, Kazakhstan soldiers were killed. The wall on the right-hand side is dedicated to the soldiers who died in WW2. The wall on the left-hand side is dedicated to Red Army soldiers who died in the Russian civil war. In the central section of the memorial area, is the eternal flame, which is on a rectangular black tiled base. A white marble slab with Russian inscriptions is also placed here. Near to the wall on the right is another small black tiled area with two plaques, one of which has the dates 1912-1960. The inscription was only in Russian here. At the eastern end of the memorial, was quite a few square concrete structures with stars on them. We assumed that this area was dedicated to the soldiers who received stars for bravery. There are other attractions nearby in this most beautiful monument in Kazakhstan, including the Afghan monument, Museum of Musical Instruments, Military Museum, and Alley of Heads of State.
Address: Park Named After Panfilov's 28 Guardsmen, Almaty Kazakhstan.
Read more: Best Theme Parks of Amsterdam
4. Independence Stele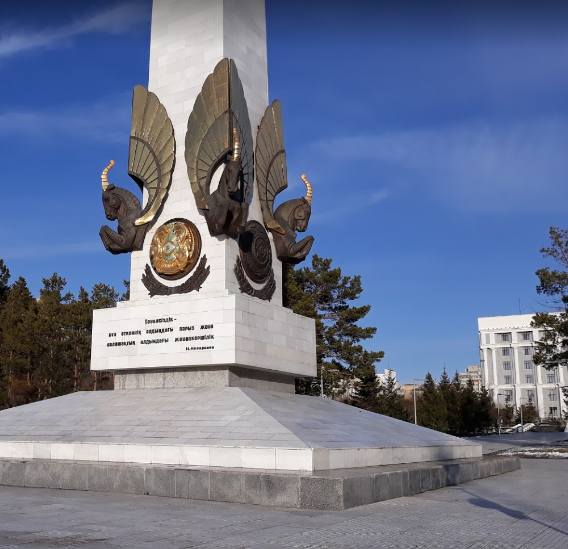 Independence Stele celebrates Kazakhstan's independence, achieved in 1991 basically it is a tall pillar that serves as an ideal marker for finding your bearings in the city. This Important monument in Kazakhstan is 154 ft tall and features a golden eagle with spread wings on top. Above it, you can see an orb that represents the sun, making it seem like a 3D image of Kazakhstan's flag. High above in the sky, the eagle spreads its wings wide and far, signifying warmth, openness and the welcoming people of Kazakhstan. This makes a useful marker of where you are in this large city seen from a distance. At the top is a national symbol of the nation and this national monument in Kazakhstan marks the independence of the country on 16 December 1991; the last Soviet republic to declare independence
Address: Bukhar-Zhyrau Ave., Karaganda Kazakhstan
5. Monument Mining Glory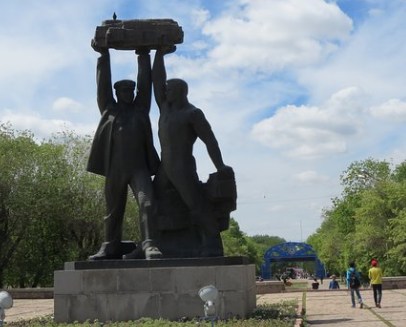 This monument is a must-see in Karaganda. It is the symbol of the city, and many tourists come here to take photos. Monument Mining Glory is located opposite the miner's cultural palace, which is an impressive piece of architecture. This iconic monument in Kazakhstan depicts two coal miners proudly holding a large piece of coal aloft. It is a city that was primarily built on coal mining, this is the perfect sculpture. It has been standing at the entrance to the park for over forty years with lots of activities for children, the park directly behind the monument is a family park. Including the Independence Stella, Eco-Museum and Pushkin statue, these are the other nearby attractions.
Read more: Most Visited Museums in Amsterdam
Address: Bukhar Zhyrau Avenue, Karaganda Kazakhstan.
6. Fountain Circus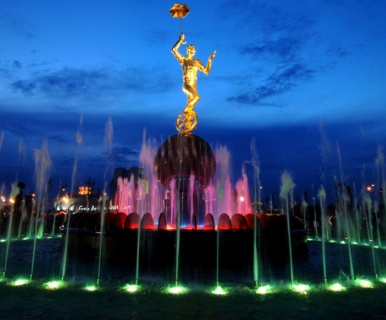 An inexpensive entertainment, Fountain Circus is the venue for both local and international circuses. The Circus building looks like a huge alien spaceship placed in the center of the city. The circus includes the art of clownery, gymnastics, acrobatics, illusions and tricks, animal shows and so on. Fountain Circus housed in a saucer-like building with flashing lights on the roof displaying the dramatic part of the city skyline. The inside part of this unique monument in Kazakhstan consists of a large ring and 2,000 seats. In recent years, Astana has hosted a number of award-winning international circus shows. The aerial artists are the show stars who perform an unusual act of flip-flop above the ground. Another entertainment part of the circus are clowns whose act can easily make people laugh. Most beautiful place with sculptures of animals, Kazakhstan national tale heroes and also graced by a lovely fountain.
Address: Kabanbai Batyr Ave., 5, Nur-Sultan Kazakhstan
7. Beatles Monument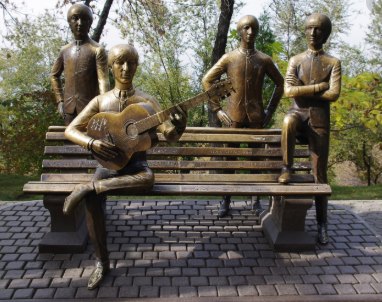 The monument to the famous British rock band name 'The Beatles', was erected on Mount Kok-Tobe on May 15, 2007. Made of bronze, sculptor Eduard Ghazaryan. On the composition, sitting with a guitar in his hand, John Lennon, George Harrison, Ringo Starr and Paul McCartney are depicted standing. With their music playing as you walk nearby you will see the nice sculptures of the Beatles. It's in a park/play area that appeared to have lots of activities that would be open "in season", but were not open in snowy November. At the top of the funicular ride, so it's fun getting there and it is located in the upper part of Almaty.
Read more: Reasons to Visit Amsterdam
Address: Park Kok Tobe, Almaty Kazakhstan.
8. Triumphal Arch Mangilik El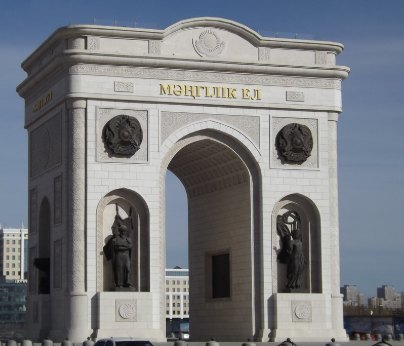 Although quite a walk from the center, about thirty minutes from the Bishkek Tower, it's well worth taking the time to admire this monument. The monument is located between 2 busy streets and situated a fair distance from the main center. In the center of a busy roundabout, it still has moments of serenity and it's easy to cross the road and admire up close. There are some great photo opportunities and the detail on the arches structure is impressive with the city's welcoming sign. Spotlessly clean and peaceful at times, standing in the centre can be a moving experience and makes the long walk worthwhile. Just to the West of the arch, there's a lovely area with sculptures and planting which make the area really presentable and gives a good perspective of the arch.  There are underground passes to get to this old monument in Kazakhstan, and this is your best chance to take a pic with a 'I love Astana' sign in it. The arch is fairly large and has Kazkah warriors on the sides.
Address: Orynbor Street, Nur-Sultan 010000 Kazakhstan
9. Fountain Drevo Zhizni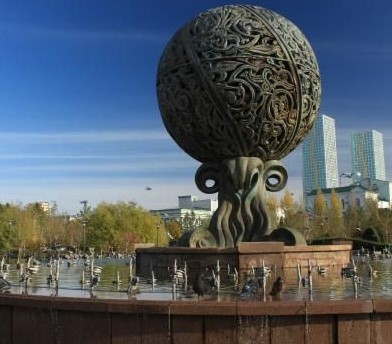 With kids and those who just want to enjoy warm sun, it is a small park very popular among locals near an authentic Fontaine. This top monument in Kazakhstan is located in the old part of the city that is very clean and nice and it is also near the old central city square and Russian Drama Theatre. If you critically analyze this place, there is not much to see, it's just a small fountain in a small and nice park in the city center. The thing that makes it famous is that it is very close to the president's museum and other touristic spots.
Read more: Beautiful National Parks in Amsterdam
Address: Zhana Alana Square, Nur-Sultan 010000 Kazakhstan.
10. Monument to Cosmonautics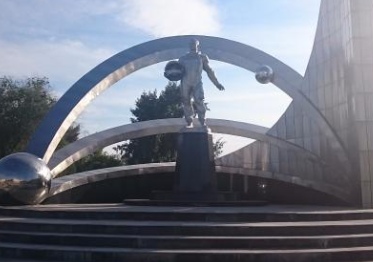 Monument to Cosmonautics is a monument that is reflecting the explorations of Gagarin and other cosmonauts. Most of them stayed in the beautiful Hotel Chaika to relax, which is not far from the monument. For cosmonauts coming back from ISS (International Space Station)in Karaganda, there is still a landing zone. Very few know that this most important monument in Kazakhstan is part of the old Soviet propaganda. In 1961, Yuri Gagarin was the first human in space and lived between 1934-1968. Vostok 3KA-3, the name of his spaceship, took off from the Baikonur Cosmodrome in Kazakhstan. After achieving this he received many honors and awards during his life, unfortunately, crashing a jet fighter during a test flight his life ended in an untimely manner and he had only one trip into space. On Erubaev Street, this monument is a short walk after taking bus # 7. On the opposite side of the street, then run north on Prospekt Lenina, there are marshrutkas that park, the Abay statue is a short walk behind the Gagarin monument.
Address: Gagarina Sq., Karaganda 100422 Kazakhstan
So far we have discussed the best monuments in Kazakhstan, which contains the proper information regarding all the most visited monuments in Kazakhstan. I hope you might have loved reading this article and if you love to know more about Kazakhstan then kindly head to our other articles as well which will help you to get knowledge about.
The post Most Visited Monuments in Kazakhstan l Famous Monuments in Kazakhstan appeared first on World Tour & Travel Guide, Get Travel Tips, Information, Discover Travel Destination | Adequate Travel.