Historical monuments in Hong Kong are considered the Name Card of this bustling city, which could be majestic architectures, amusement parks or skyscrapers, ancient and new. This whole article would like to introduce the most representative landmarks, famous buildings and top monuments in Hong Kong, like the Victoria Peak, Repulse Bay, and Ocean Park, etc. for you. History buffs and tourists with a fondness for interesting architecture and Hong Kong monuments will find plenty to please their eyes in Hong Kong. Victoria Peak, the territory's best-known landmark offers the best views over the city, and so is a must on any sightseeing itinerary.
List of Monuments in Hong Kong 
1. Hong Kong Museum of History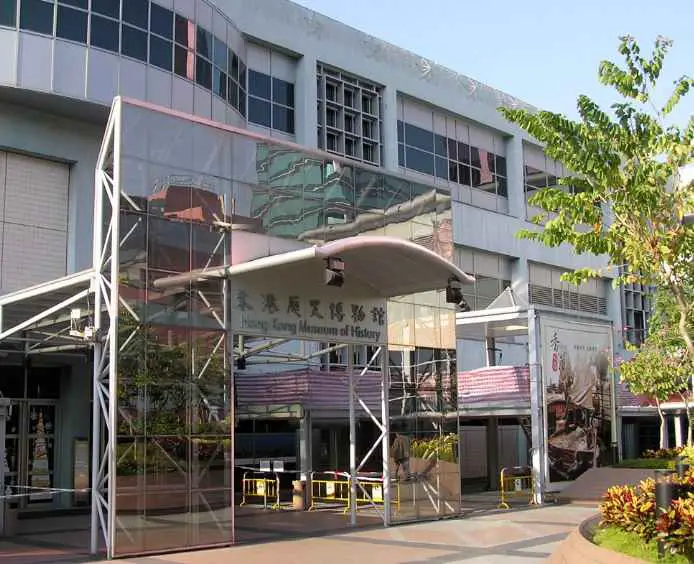 Among the cultural monuments in Hong Kong China, the Museum of History gives you great insights into the natural history, local history, archaeology and ethnography of the region. Depicting the older life and times, the eight galleries in the museum have on display various items. Some of them are replicas of village houses, a recreation of Chinese localities,  extremely significant footage from the Second World War, traditional Chinese costumes, to name a few. History buffs will love each and every exhibit here.
Read More: Monuments in Bulgaria
Discover: complete route guide to reach Disneyland
2. Victoria Peak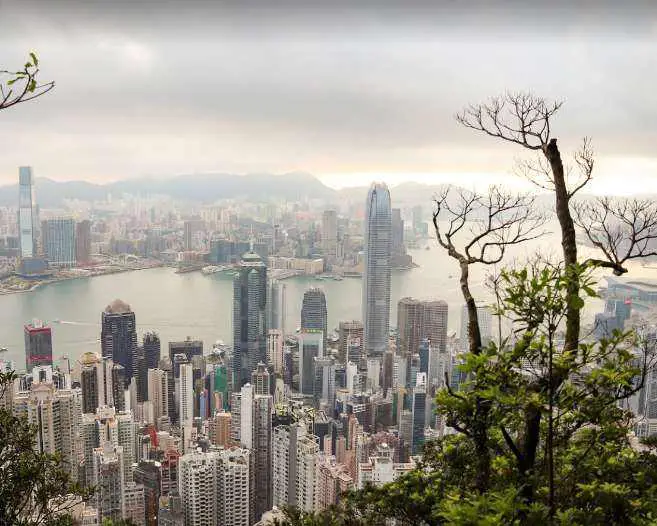 You will see the spellbinding cityscapes and rugged countryside come together to form a masterpiece as you take a leisurely walk to the summit of Victoria Peak. With cruises setting sail from the piers on either side of Victoria Harbour as darkness falls and a dazzling neon cityscape emerges. The spectacular backdrop of the Hong Kong Island's will fire your imagination  Better known as The Peak, this declared monuments in Hong Kong is situated at an altitude of 552 meters and is the highest point on the island of Hong Kong
3. Clock Tower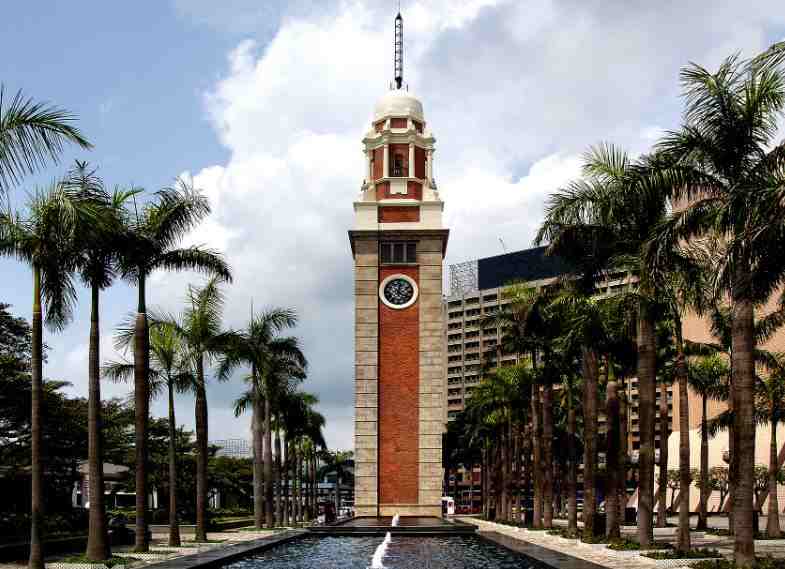 Standing at a height of 44 meters, this distinctive red brick and granite tower is a graceful reminder of the Age of Steam and is also known as the Canton Railway Clock Tower. This monument in Hong Kong China was erected in 1915 as a part of the Kowloon-Canton Railway terminus, it is a declared monument and a memorable landmark for millions of Chinese immigrants for whom the former terminus was the beginning of their new life not just in Hong Kong, but in other parts of the world via the city's harbor. A wooden staircase leads to the top of the tower where you can find a 7-meter lightning rod.
Read More: Monuments of Zurich
Read More: Monuments in Mauritius
4. Wong Tai Sin Temple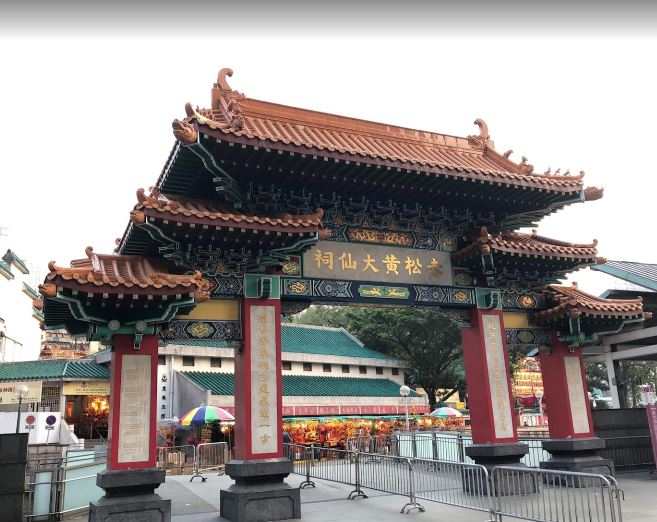 If you are looking for an exquisite example of fine architecture and cultural blend, how can you miss this temple?  It is not just a religious place for the locals but also for their pride. Everyone who believes or doesn't believe in God should visit this place as you may not find such magnificent work of art at any other place. The monuments of Hong Kong reflect the essence of the tradition and rich Chinese culture is enough to leave you mesmerized for a long time
5. Tsz Wan Court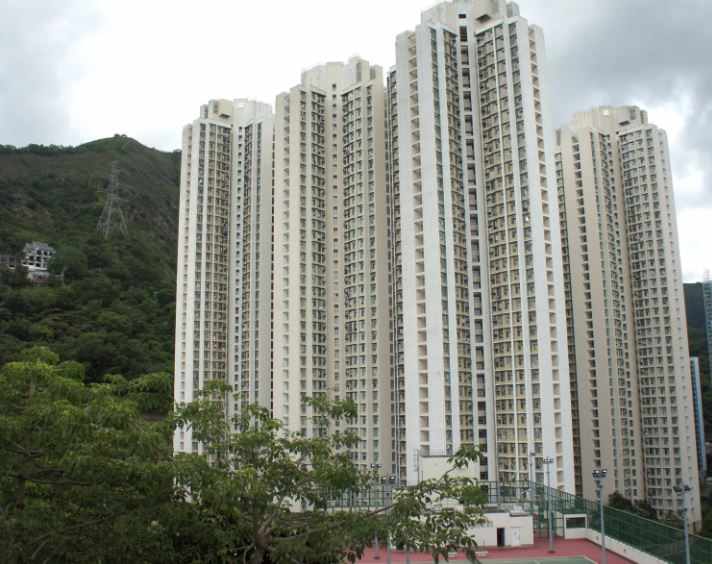 This temple is quite interesting for many reasons although it hasn't much been explored yet. So it can be said that it is a hidden gem for now and. The architecture of this famous monument in Hong Kong lets you experience the ancient Chinese mythologies that too with their explicit monument design. Earlier it was a worship place and one can still feel that positivity here even after so many years. The design of this place has an essence of the local culture and one of the most mesmerizing places in Hong Kong. 
Read More: Monuments of Botswana
6. Man Mo Temple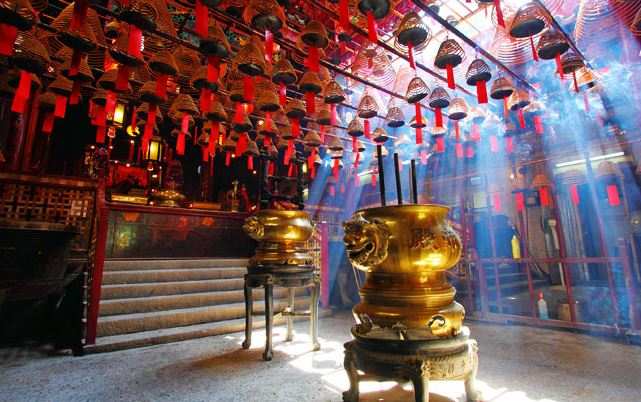 With the architecture looks like, this is yet another fine example of the blend of religion and culture! With divine aura and tranquility, the temple is filled and the fine architecture of this place only makes things better. It is one of the monuments to visit in Hong Kong. The interiors are decorated in a way that will make you forget everything and be in complete awe with the beauty of this place. All reflect the rich Chinese culture whether it is the designs on the walls, ceilings, and doors and are a place of pure divinity
7. The Big Buddha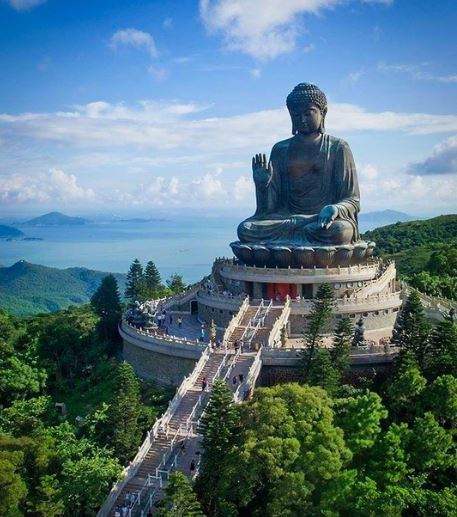 As the second-largest bronze statue in the whole world, The Big Buddha is recognized globally. This place has been serving as a popular tourist location since it was established in 1993 and people love to come and click selfies with the magnificent statue. You can reach this place by first taking a bus and then later a ferry ride. There is also one another option to reach here. First, you can take a ferry and then the skysail. This best monument in Hong Kong is easily reachable and is worth the time and effort that you have invested in reaching here. This statue symbolizes harmony between nature and human beings. 
Read More: Monuments in Brunei
8. Sam Tung UK Museum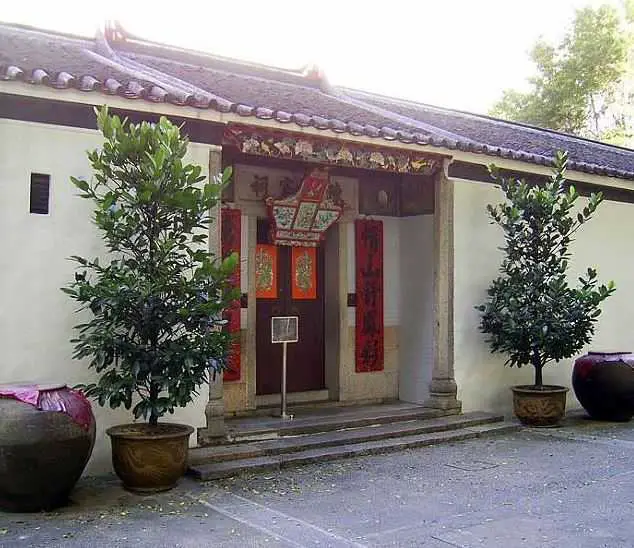 For people who are history lovers, this is the ideal place for you to come. It has not only its splendid architectural design but has to offer a lot of significant knowledge about the history of the pre-ski rise. It sets an example of being one of the finest architectural designs.  It was opened in the year 1980 and has an essence of that decade in every nook and corner of this place. To appreciate the magnificent interiors and captivating decors you must stop by these popular monuments in Hong Kong
9. St. John's Cathedral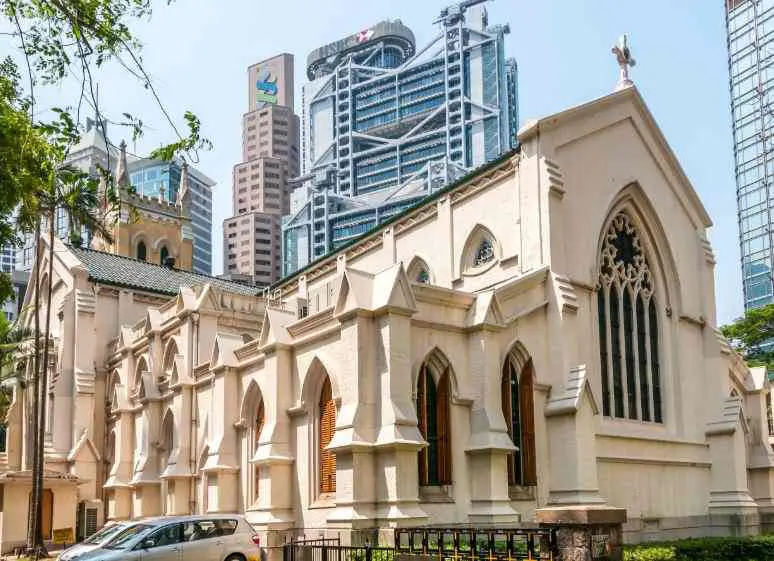 As it was built in the year 1849, this is one of the oldest standing churches in entire Hong Kong. The fine architecture of this place reflects the Gothic style in its entire interior. Also, one more specialty of this place is the stained windows which one can open easily as while building this place the tropical climate scenarios were kept in mind. Overall this ancient monument in Hong Kong is a pristine example of traditional architecture and deserves all the appreciation it gets.
Read More: Monuments of Vancouver
10. Wanchai Livelihood Museum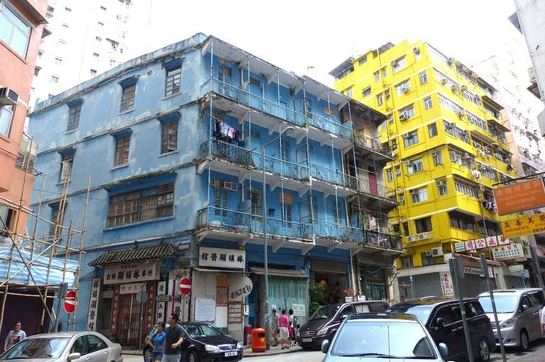 Showcasing the rich culture of China, this is yet another example of a breathtaking monument through its exquisite architecture. The essence of the whole city, this place holds in the form of ancient cultural heritage. With the beauty of this majestic place, you can take a tour of this place to get up close. It is known to be the first livelihood museum of Hong Kong and was built around the 1920s'. Also since the whole theme of this museum is based on a blue color, this old monument in Hong Kong is also often known with the name The Big Blue House
11. Po Lin Monastery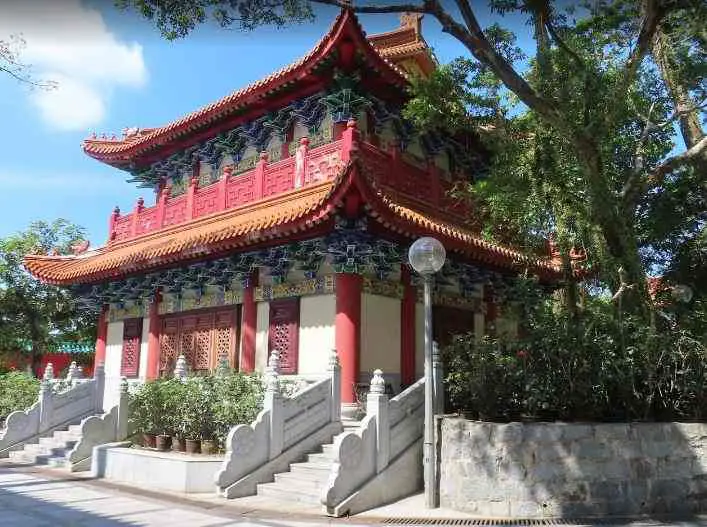 This is a popular Buddhist monastery that was founded in the year 1906. Initially known as the 'Big Hut' today this monastery is one of the most popular tourist places in Hong Kong. This iconic monument in Hong Kong is located amidst the lush greenery and creates a perfect contrast with the neighboring environment. The beauty of the statue is so alluring and captivating that you may lose track of time when you will come to visit this place. 
Read More: Monuments in Bosnia
12. Former Central Magistracy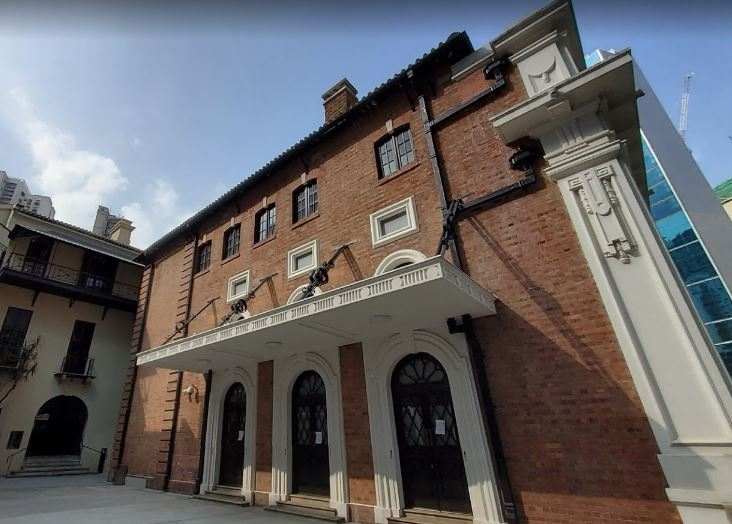 This monument has a little bit of a different touch to it. This place has got a touch of the Greek revival style instead of the traditional Chinese style, unlike all the other monuments. With large chunks of granite rocks, the huge walls of this place are built.  It is considered as one of the beautiful monuments in Hong Kong. Built in the early 20th century, as you visit this place you can automatically feel the rich vibes of that era though their awe-striking design of the monuments
So far we have discussed the best monuments in Hong Kong, which contains the proper information regarding all the most visited monuments in Hong Kong. I hope you might have loved reading this article and if you love to know more about Hong Kong then kindly head to our other articles as well which will help you to get knowledge about Hong Kong.
The post Most Visited Monuments in Hong Kong | Famous Monuments of Hong Kong  appeared first on World Tour & Travel Guide, Get Travel Tips, Information, Discover Travel Destination | Adequate Travel.