Seoul is the capital of South Korea. You might find it fascinating but this city is filled equally with the modern buildings and oldest temples or palaces that denote the star features for which Seoul is best-known for in the whole world. There are a lot of places in this city that just shocks every new traveler with its huge collection of every possible entity to wonder what is Seoul known for? But you can easily cover up every popular landmark through the given list of top reasons that make this city extraordinary.
List of Reasons Why Seoul is Popular
1. Bukchon Hanok Village

If you think this metropolitan city of South Korea would be just a concrete jungle then you are entirely wrong. As Koreans are very classic in their choices no matter how many pop trends they create they will still end up over the ancient relics of their culture. That's why Seoul is famous for the Gyeongbok and the Changdeok village which comes under Bukchon Hanok Village who are yet maintaining hundreds of traditional and privately-owned Korean wood homes. These are some of the perfect places to explore the combination of fascinating restored Korean architecture and cute cafes, art galleries and popular eateries that are standing firm from very old times.
2. YTN Seoul Tower
How can you move ahead in the exploration of Seoul without visiting this famous tower? that was built-in 1969 as Korea's first radio and television transmission tower. But now it has become beloved and famous Seoul landmarks that have installed more features to attract many tourists every year. As now you can spend a romantic evening and dine at one of the tower's famed restaurants, then admire the digital art projected on the tower after dark.




3. Museum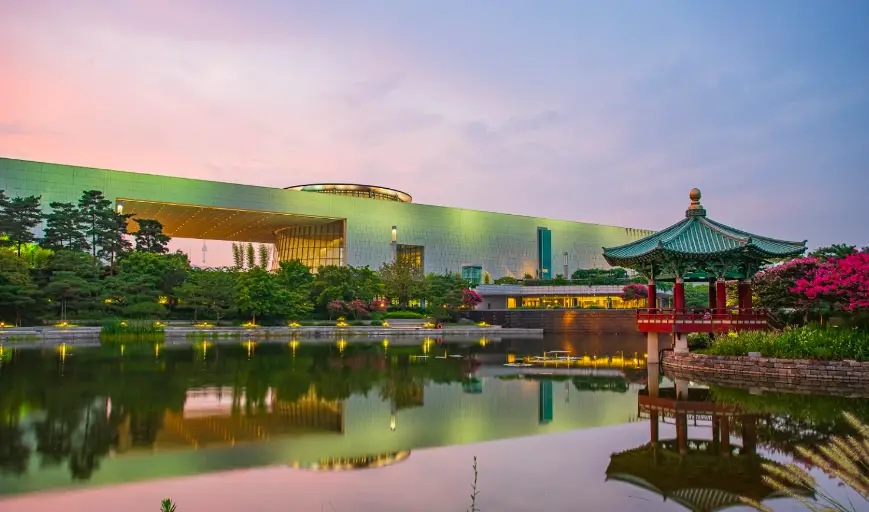 Any city can't be complete without its ancient roots. These roots can be easily traced back to the museums. You will be surprised to see the extraordinary museums in Seoul that can be guaranteed for sure to be the best highlights of your trip. The National Museum of Korea in Seoul is a grand, modernist-style building that displays some of Korea's most fascinating ancient treasures. The famous museum's picturesque gardens for which Seoul is known for are infused with ancient pagodas made for one of the most scenic spots in all of Seoul.
Discover: What Guangzhou is Known For
4. Temples
The relics never lose their significance as people are aware to restore them on time which can be seen perfectly in Seoul. As they provide you with a tranquil getaway in the heart of Seoul through their breath-taking temples such as the Bongeunsa temple which dates back to 794 AD. Some of the buildings have been reconstructed multiple times along with many ancient Buddhist symbols and art remains in this temple that definitely displays Seoul's famous places to visit when you need a total escape from the running lives of the cities. You can visit this temple on Thursdays and enjoy the best meditation, temple tour, lotus lantern making and a tea ceremony provided in English by the monks and volunteers residing at these temples.




5. Old Palaces
When the classic love of Koreans over-flowed they just can't let go of anything dear to their ancestors! That's why even the oldest palaces that belong to ancient emperors of the city are yet standing with their restored beauty which definitely shows what Seoul is famous for. You must explore the Deoksu Palace, which is a 15th-century palace that shows the best examples of royal architecture from the Chosun Dynasty that lasted from 1392 to 1910. The palace is closed on Mondays, therefore, be aware of their timings of opening. Another well-known landmark is Changdeokgung Palace which has been a UNESCO World Heritage Site since 1997. This is a serene palace that perfectly blends in with its natural ambiance at the foot of the Ungbong Peak of Mount Bugaksan.
Visit: Famous Foods of Guangzhou
6. War Memorial of Korea
If you are a nerdy or love to explore wartime stories, trust me you are going to love this place in Seoul. It might be a very extraordinary and bold step to show major war items and weapons so openly to the public still Korea's difficult history and its troubles with its neighboring country(North Korea) definitely embellishes every side of this city that you must-see. War Memorial of Korea is a massive history museum which displays the guns, planes and even tanks on display. The museum is closed on Mondays so save your time on other working days to explore these landmarks that are definitely a must-see place in Seoul, Korea.
7. Beautiful Park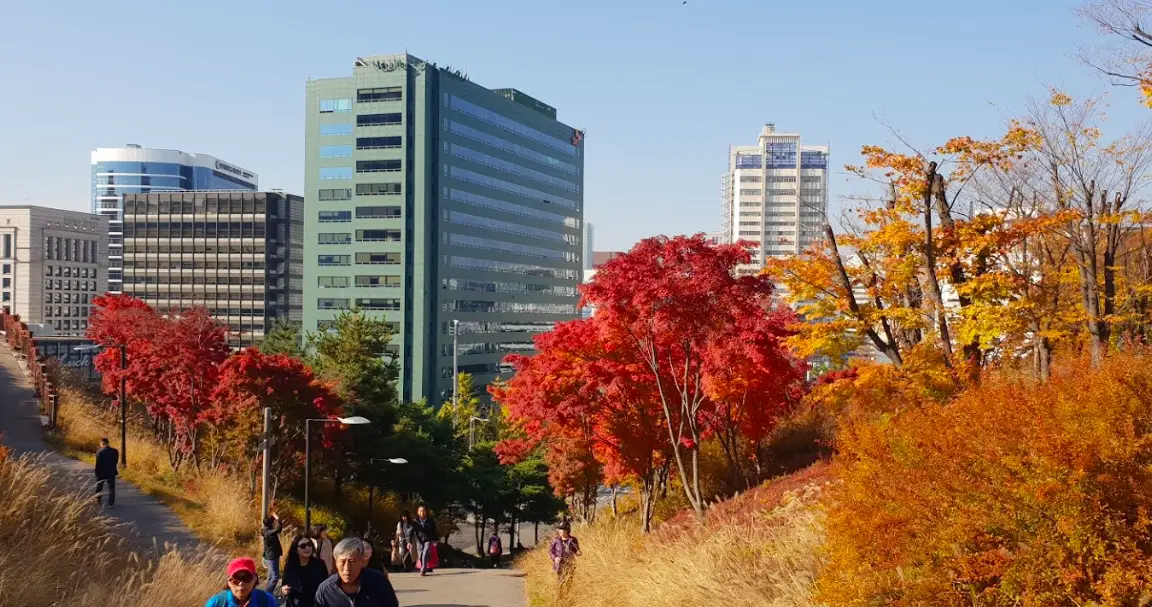 If you are more of a nature lover and don't enjoy your time between the hustle and bustle of the city then you can take refuge at these relaxing parks in Seoul where every vibe tells you to calm down. There are a number of charming green spaces in the city for which Seoul is best-known for. You can try out the Namsan Park which is even the largest park in the city and hosts roughly 23,000 people per day. They even run a cruise on the Namsan Cable Car for breathtaking views of Seoul from above. Another famous Olympic Park which was constructed in 1988 during the Summer Olympics but now offers locals and visitors some of the top sports and leisurely activities inside their premises. The Olympic Park also comes under the top five sculpture parks in the world and proves to be the best vacation place in Seoul due to its Peace Plaza, the Olympic Swimming Pool, walking trails and countless other attractions.
Suggested: Seoul Popular Monuments




8. Street Food
You might miss out on this popular delicacy in Seoul that is super cheap and tasty. They have some of the nicest accommodations that are abundant throughout the city and get you a mouth-watering food for less than $10. Then why are you still hesitating? just go out for the famous street foods in Seoul and experience the best flavors at affordable prices.
9. Non-Stop Nightlife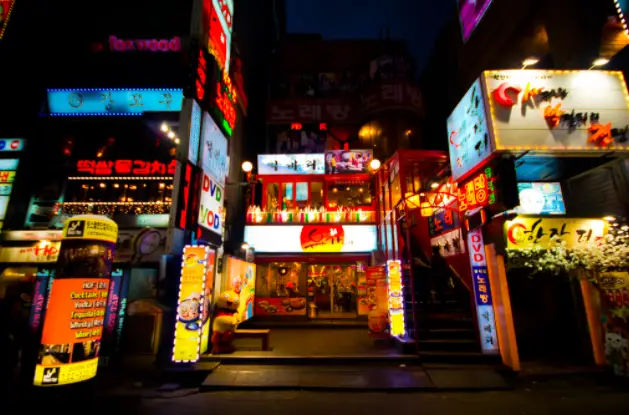 The metropolitan city offers some of the famous local rice liquor which is known as soju. If you wanna enjoy these popular drinks along with partying in Seoul then visit Hongdae, Itaewon and Gangnam that offer a spectacular nighttime hot spot which typically doesn't close until sunrise. What can be a better place to party? when the party keeps its pace until the sun rises and has the best drinks to serve and marks this city as the must-go place in Seoul for all the party freaks.



10. Huge Market Zones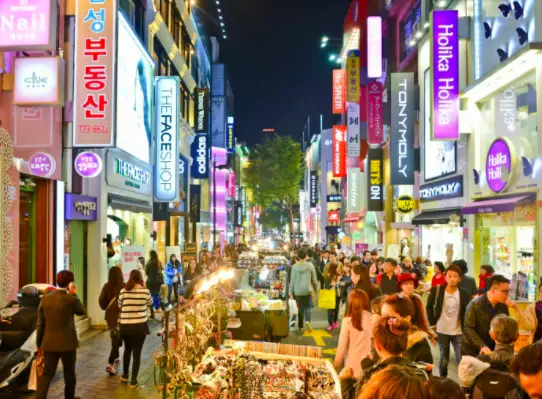 If you are also baffled and lost between dozens of market places in Seoul then don't worry it's common here, as this city has an end number of markets that sell every possible thing you can imagine about. For your ease, I will break it down, so if you want to shop for the latest modern items for which Seoul is well-known and you wanna be surrounded by the glittery neon lights visit Myeong-Dong Market. But if you have an eye for the classy old Korean looks offering traditional items like silk, linen, bedding and second-hand clothing go for the Gwangjang Market, Dongdaemun Market and Namdaemun Market. Whereas the Noryangjin Fish Market sells nearly every type of aquatic life form that is available for purchase over a myriad variety of range.
Visit: Famous Monuments in Guangzhou
11.Heavenly Spas
After every possible tour in Seoul, your body will need a complete massage and relaxing time to renew its lost energy and enthusiasm. Therefore you can try out the famous Korean body scrubs, heat soaks, facials, manicures, pedicures and massages that are super famous worldwide due to Seoul's famous services available at these luxury spas, also known as jimjilbangs. You can also go to the Chunjiyun Spa that is a popular jimjilbang among the locals and tourists, but if you're looking for something more extravagant, visit the massive Dragon Hill Spa that owns several floored buildings all dedicated to these luxuries.
Hope you like the above-mentioned top 11 reasons that are necessary for exploring Seoul's famous places to visit. You will be fascinated with such a huge amount of collection that rangess from famous towers, temples and places for which Seoul is known for, for a very long time. Just add a sweet reply if you like this article and head to our other blogs for more info regarding Seoul.
The post Discover What is Seoul Know for | Why is Seoul Famous ? appeared first on World Tour & Travel Guide, Get Travel Tips, Information, Discover Travel Destination | Adequate Travel.