Mexico City is blended with a lot of cultures and traditions from different tribal and urban groups of Aztecs, Mayan, and North American colonisations. But all of these cultures left a great stringent impact on the food culture of Mexico City which can be experienced now as well. Mexico City's best-known foods combine all those flavors in one to provide an all total experience of Mexican cuisines. You can have all the rich notes of gastronomy in the foods of Mexico City which are blended with different seasonal fruits and vegetables to provide a great Mexican meal. You can find all the popular foods to eat in Mexico City suggested in the below list of tasty and delicious Mexican foods.
Foods to Eat in Mexico City
1. Tamales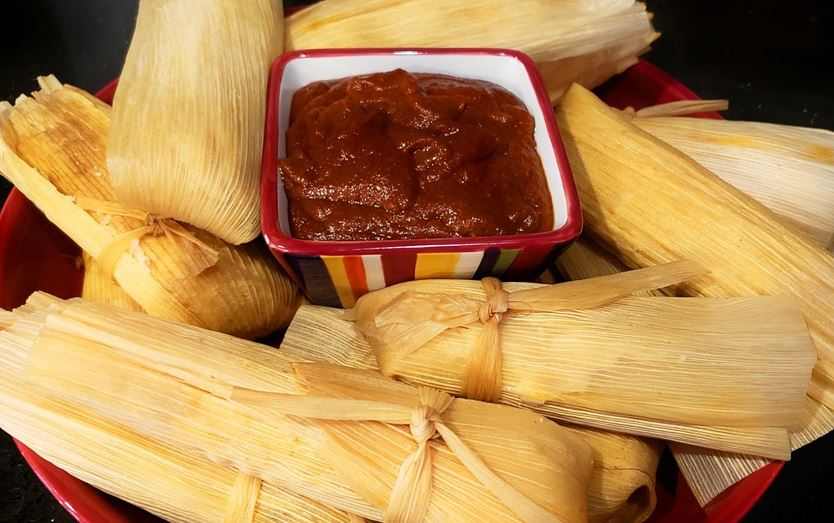 This food in Mexico City is famous for a very long time as they were first developed by the Aztec, Mayan and Inca tribes who needed nourishing food on the go to take into battle(well it was the 2-minutes maggie for Aztecs!). This famous food in Mexico City is made from corn-based dough and can be cooked with herbs or stuffed to the brim with chicken. All of this delicious patty is wrapped in corn or banana leaves before cooking them into the simmering hot steam of water(just like momos). Such quick preparation makes this into food to eat Mexico City which can be easily sold by the street vendors across Mexico as a freshly prepared cuisine. 
Read More: Mexico City is famous for
2. Quesadillas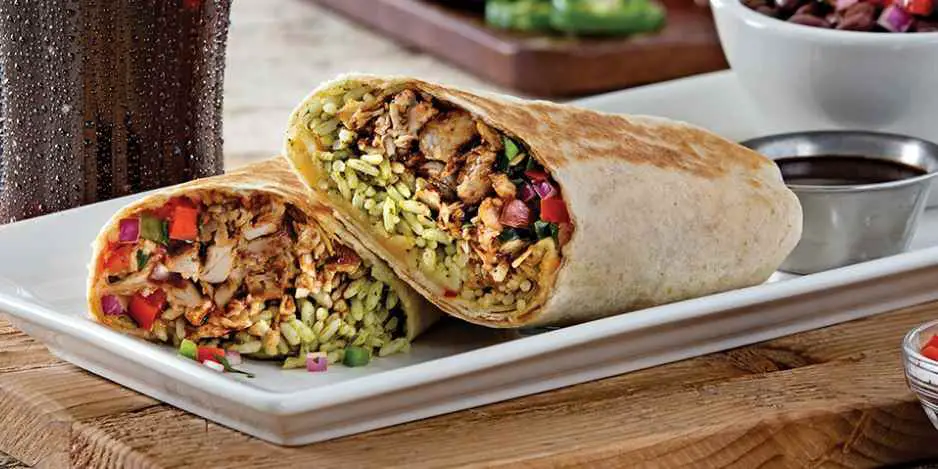 There is a huge misconception worldwide about this very popular food in Mexico City which is that Quesadillas must always be filled with cheese. In fact, you will normally end up with cheeseless quesadillas in Mexico City if you don't tell the vendor you want the queso(cheesy appetizer) in your quesadilla. As Mexican people enjoy this famous food in Mexico City as grilled tortillas filled with mixed beans, meat, and spices you might end up with huge big-size Quesadilla at Los Machetes de Amparito restaurant in Mexico City
3. Gorditas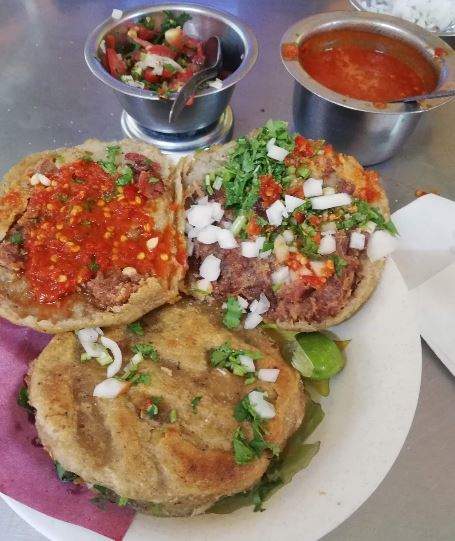 The literal translation of the dish is "little fatty". Well, a little fatty Mexican paratha stuffed with delicious fillings can never be bad of course! Especially when Mexico City's famous food to try line up this food always at the top in their priority tables. This spectacular food is prepared from corn tortillas which are double fried before being sliced open and stuffed with beans, chicharrón, potato or nopales (cactus)and cheese along with the fillings of your choice. This is stuffed to such fullness that even the appearance of the dish will suffice your hunger and then the first bite will ooze out all the fillings so please don't try and eat one while you're walking. You might not enjoy your tasty fillings in Gorditas being eaten by the roads instead of your mouth.
Read More: Water Parks in Mexico City
4. Tlacoyos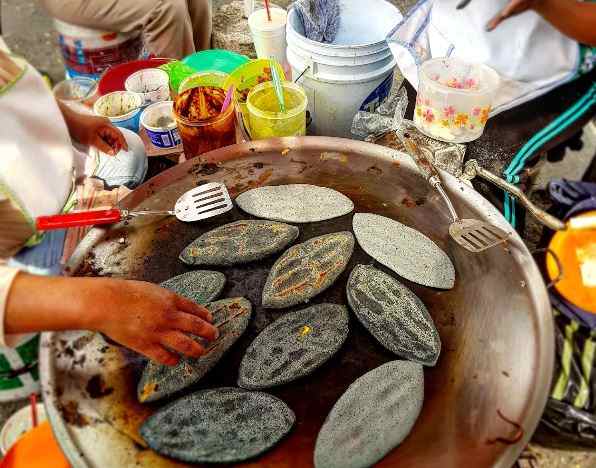 If you have ever heard or seen the blue tacos and wondered why and how they are made. This is the ultimate food to eat in Mexico City which answers all those queries. Tlacoyos are prepared with a blue corn dough of tortilla and traditionally filled with chicharrón (pork crackling), requesón (soft cheese) or a bean paste to line up all the notes of best flavors into a dish which is crunchy, creamy, spicy and textured all from the first bite of Tlacoyos.This amazing food to try in Mexico City is prepared just like the Indian paratha where the ingredients are stuffed into the center of the dough shaped and rolled into a triangular sheet before cooking and are served with, salsas, cheese and nopales loaded on top
5. Mole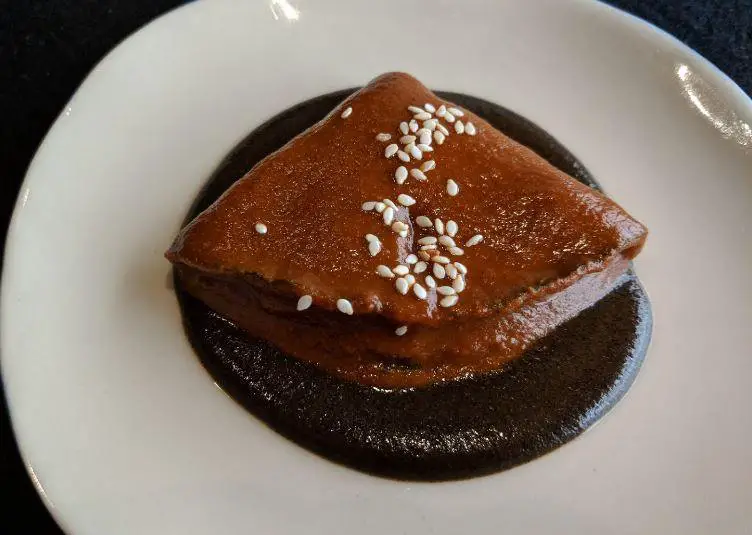 This typical food in Mexico City pronounced as 'mol-eh' is the best-known cuisines which are prepared by the constant stirring of the mixture which might vary in the whole city, some love red chilies in their paste, while some enjoy it with a little bit of chocolate mixed with chilly. The best-known mole is poblano, a rusty red sauce typically served over turkey or chicken. But some like this distinct mixture of the brown chili-chocolate mole which is a spectacular food to eat in Mexico City, usually served with seasoned rice and textured chicken, topped with crunchy sesame seeds. 
Read More: Monuments in Mexico City
6. Guacamole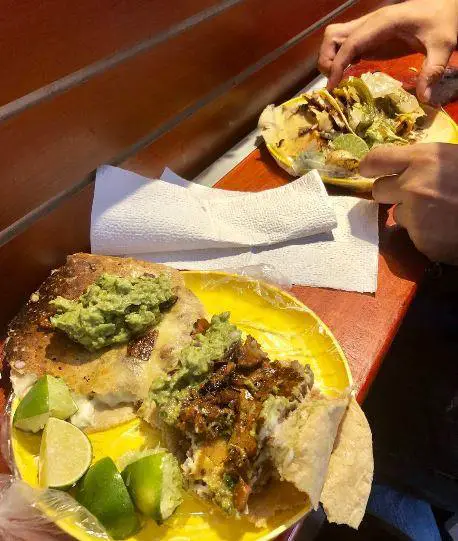 This popular food in Mexico City is prepared from mashed-up avocados, onions, tomatoes, lemon juice and chili peppers (and sometimes a clove or two of garlic). Usually, people serve it in breakfast due to its high nutritional index due to the fresh avocados. This side dish can also be eaten as a regular paste of fresh zesty ingredients or eaten with tortilla chips as a side chutney
7.  Chiles en Nogada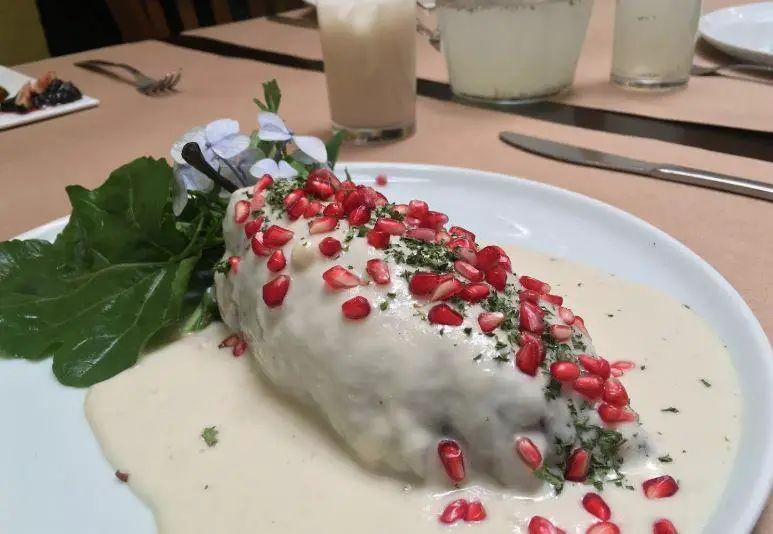 This patriotic food in Mexico City is popular during the time of Mexican Independence Day and holds interestingly featuring the red, white and green coloring of the Mexican flag, in its color theme. You will find these at every corner of the street (sometimes as a free offering during the Independence day) filled with picadillo (seasoned ground meat) before being topped with their distinctive, creamy walnut sauce(for white color), pomegranate seeds(for red color) along with fresh leaves of coriander or cilantro(for lusty green).
Read More: Mexico Facts and Information
8. Pambazos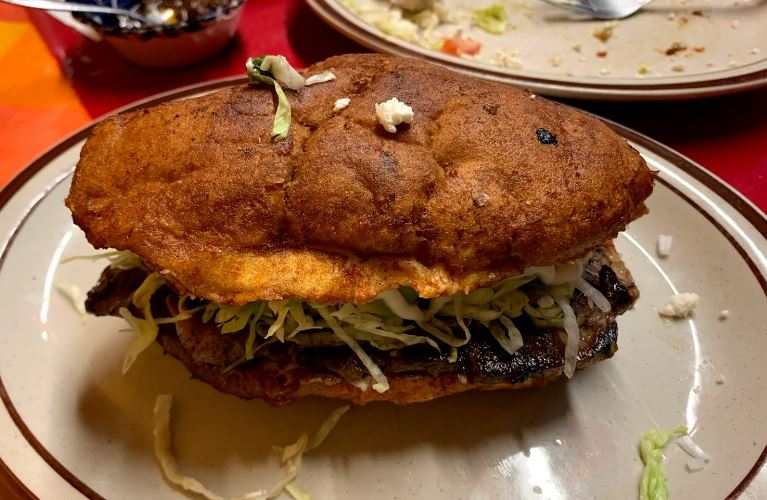 These are one of those newcomers in the traditional food of Mexico City which are incredibly famous due to their newly discovered style of cooking. These are the Mexican take on the traditional torta, where the bread is pre-soaked in a guajillo chili sauce and the lovely filling of chorizo, potatoes, crema and queso fresco is filled so densely that it will keep going as you explore the city. Such amazing food to eat in Mexico City is served as a tasty take, over the boring sandwiches. Do try these along with salsa and mole
9. Enchiladas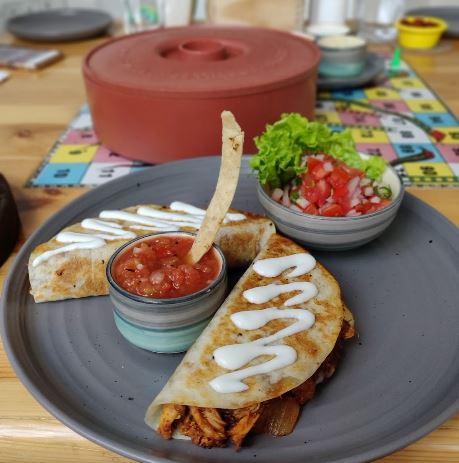 These are kind of the lasagna of tortillas that are topped with cream and chili sauce served generally in breakfast. This well-known food of Mexico City dates back to Mayan times when people would eat corn tortillas wrapped around small fish. But now you can customize the fillings as you like, they can be meats, cheese, beans, potatoes, vegetables or combinations of all of them. These stuffed tortillas are then covered in a chili sauce along with gentle toppings of fresh cilantro to provide the zest of spring in these morning foods of Mexico City.   
Read More: Restaurants in Mexico
10. Camotes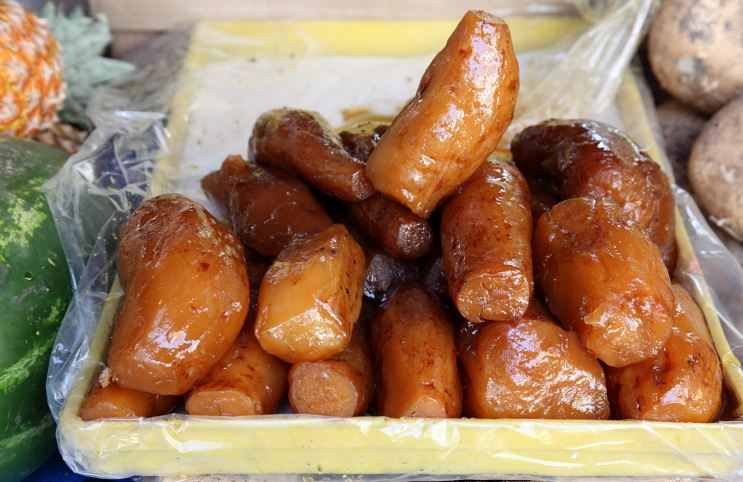 The normal stereotype for Mexicans doesn't halt them from making a well-known food in Mexico City which is a sweet dish and considered as Mexico's oldest and sweetest street food tradition. This is prepared from sweet potatoes and served with piping hot condensed milk and strawberry jam. They are usually served by the street vendors on every corner of the city. This is a luxurious food to eat in Mexico City that can also be enjoyed by the people who don't like extra sweet snacks. As the sweet potatoes aren't that much sugary and the intricate preparation of the dish doesn't make it too much sugary to digest as well
All the above mentioned delicious cheesy, crunchy Mexican cuisines are among the top foods of Mexico City which are enjoyed by the locals and tourists. These extremely flavourful cuisines are available mostly on the streets so don't worry about spending a lot over these famous foods to eat in Mexico City. You can enjoy the steamy hot crunchy tortillas and heavily stuffed quesadillas all nearby the road(just don't end up filling them in during a walk!) which are the best foods to try in Mexico City.
The post Best Foods of Mexico City, Mexico | Famous Foods to Eat in Mexico City appeared first on World Tour & Travel Guide, Get Travel Tips, Information, Discover Travel Destination | Adequate Travel.