Bangkok is noisy, crowded, colorful, exciting, infuriating, smile-inducing and everything you'd expect from the capital of Thailand. There are temples, ancient sites, and monuments in Bangkok to be visited. Bangkok represents Southeast Asia's tension between the developing and developed worlds and a fascinating city. Many other parts of Thailand, Bangkok also serve as a gateway. You can hop a short flight to Phuket, Chiang Mai, Koh Samui, and other popular destinations from here. You can also board a train or hop on a bus for little money, and visit historical monuments in Bangkok such as Ayutthaya, Lopburi, and many other gems around the country. Discover our list of the famous monuments in Bangkok.
List of Monuments in Bangkok
1. Wat Arun
A stunning temple named after India's famous God of Dawn, Aruna, the Wat Arun can be found in the Thonburi city on the winding Mae Nam Chao Phraya River. It is known as one of the important monuments in Bangkok. On the site of the 17th-century,  the present building was constructed.  Wat Jaeng, palace, a royal temple and was the last home of the iconic Emerald Buddha before it was moved to the Wat Phra Kaew, located across the river.  During the first part of the 19th century by both King Rama II and also King Rama III, the 82-meter 'prang' tower was built.
2. Wat Suthat
Wat Suthat is one of the oldest and most beautiful Buddhist temples and one of the monuments of Bangkok adjacent to the Great Swing. It was begun soon after the founder of the Chakri dynasty coronation of Rama I in 1782, continued by Rama II and completed 10 years later by Rama III so Three kings had a hand in its construction. The temple boasts some exceptionally interesting wall paintings apart from its delightful architecture. You'll enjoy a more peaceful and intimate experience here, Wat Suthat is less popular than some of the other temple complexes in the city.
Visit: Ultimate Route Guide to Reach Wat Arun, Bangkok
3. Giant Swing
In the center of the busy square in front of Wat Suthat stands one of the top monuments in Bangkok: the 27-meter-high teak frame of the so-called Giant Swing. The swing was later damaged by lightning and became just decorative, built in the 1700s to be used as part of traditional Brahmin (Hinduist) ceremonies. This every year in December used to be the focus of a religious ceremony held after the rice harvest. On a dangerously narrow board team of three took turns to balance and be swung 25 meters or more off the ground "up to Heaven," at which point they would attempt to catch in their teeth a bag of silver coins. Following a number of fatal accidents, King Rama VII banned the contest in 1932.
Also read: Monuments in Berlin
4. Jim Thompson House
The list of national monuments in Bangkok is incomplete without it. Now stands as a relic of an older time in Bangkok historic home of a "self-made American entrepreneur" who disappeared while traveling in Malaysia. After spending time there as a serviceman around the end of WWIIJim Thompson settled in Thailand and quickly became a well-known name in the Thai silk industry. An important honor is given to foreigners who have made significant contributions to ThailandThompson was awarded the Order of the White Elephant. As well as the history of the city and the Thai silk industryThompson's home has been turned into a museum offering insights into his life and business.




5. National Museum & Wang Na Palace
 At least half a sightseeing day to the national museum history buffs will want to devote. This historic landmark in Bangkok was Thailand's only museum, which explains why its collection is so big and diverse until the mid-1970s.  Guided tours are also offered in English. Every exhibit is labeled in Thai and English so you won't miss out on any of the country's fascinating ancient and contemporary history. Located within the grounds of the museum, King Rama I's Wang Na Palace remains essentially as it was, and stands as a testament to Thai history. Travelers can see weaponry, regalia, ceramics, games, musical instruments, the Viceroy's throne, and religious and ceremonial artifacts as well as an impressive collection of Buddha figures arranged according to period.
Read More: Famous Monuments in Tokyo
6. Neilson Hays Library
The Neilson Hays Library is currently housed within a particularly grand building founded in 1869 and located in the very heart of Bangkok city center, which dates back to 1922. Many by famous western authors and now completely air-conditioned, with 20,000 different volumes the library's architecture is as impressive as its extensive contents. This national monument in Bangkok also includes many local documents and a number of visiting exhibitions.
7. Victory Monument
A prominent military monument located within the Ratchathewi district, the eye-catching Victory Monument lies on the north-eastern side of Bangkok and is the centerpiece of an enormous roundabout. This much-loved local ancient and historic landmark in Bangkok consists of a tall obelisk surrounded at the base by a number of military statues, commemorating Thailand's victory in a war with Indo-China constructed in 1941.
8. Phra Sumeru Fortress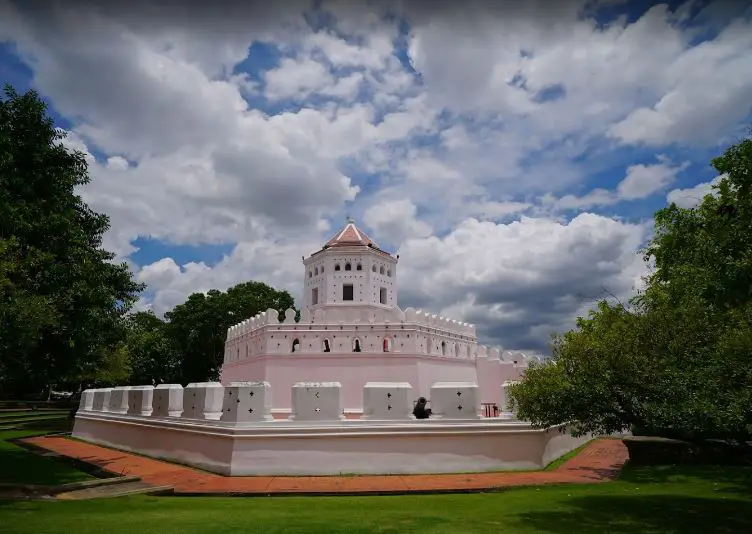 Within the Banglampoo district, the Phra Sumeru Fortress is a particularly historic eye-catching building and one of the monuments to see in Bangkok located alongside the Mae Nam Chao Phraya River banks.  Instantly recognizable by its octagonal walls and ornate white facade with detailed carved figures. In the center of Bangkok's Phra Sumeru Fortress, you will find a tall watchtower. Where regular pleasure cruises are available, nearby the riverside walkway leads to a pier.
Don't Miss: Most Visited Monuments in Istanbul
9. Grand Palace  (Temple of the Emerald Buddha)
One of Bangkok's most famous, noteworthy architectural landmarks and best monuments in Bangkok, the Grand Palace was the official residence of Thailand's king and royal family, right up until the middle of the 20th century. With detailed mosaics, surrounded by beautiful gardens boasting many neatly clipped trees, the palace lies on the eastern side of the Mae Nam Chao Phraya River built in the 1780s and comprises a series of separate buildings and pillars clad. 



10. Wat Pho
The biggest and most historic 'wat' temple in the whole of Bangkok, the Wat Pho is known for its huge reclining Buddha and also its extensive collection of Buddha images. It is one of the iconic monuments in Bangkok. This magnificent structure stands on the site of a previous temple dating back to the 16th century and completed in 1781.
11. Wat Bowonniwetwihan
The Wat Bowonniwetwihan was founded in the early 19th century and one of Bangkok's most notable temples and ancient monuments in Bangkok. Including a Buddhist university and the Buddhist Thammayut Monastic Sect headquarters today it houses many important organizations. As part of their monkhood, such as both King Rama IV and also King Rama VII A number of Thailand's kings once lived within this temple.
12. Wat Benchamabophit (Wat Ben)
The Wat Benchamabophit was built during the latter part of the 19th century standing proudly in central Bangkok and constructed of white Carrara marble. This most visited monument in Bangkok has a large contemporary cruciform 'bòt' and also the ashes of King Rama V, highlights include 53 images of Buddha in the courtyard area, which reside at the base of the central Buddha image.
Read More: Monuments of Beijing
13. Wat Traimit
The Wat Traimit is a particularly famous local landmark since it is home to a huge solid-gold Buddha, which is 3 meters / 10 feet in height and weighs more than 5 tonnes. It is one of the popular monuments in Bangkok.  The temple itself is believed to date back to the early part of the 13th century and particularly old.




So far we have discussed the best monuments in Bangkok, which contains the proper information regarding all the top monuments in Bangkok. I hope you might have loved reading this article and if you love to know more about Bangkok then kindly head to our other articles as well which will help you to get knowledge about Bangkok.
The post Top 13 Most Visited Monuments in Bangkok | Famous Monuments in Bangkok  appeared first on World Tour & Travel Guide, Get Travel Tips, Information, Discover Travel Destination | Adequate Travel.