Lisbon has become a hub of immigrants for a long time due to which a large range of distinct foods is added in the Lisbon famous food restaurant's menu every year. Perhaps, it is a hard task to change the menus so frequently but this also brings a wide range of taste to all the people who either live in Lisbon or the tourists who want to explore new and extraordinary cuisines frequently. Such a high amount of flavor palette is hard to handle hence here we provide you with the list of top restaurants in Lisbon which serve the most popular food in Lisbon, Portugal.
List of Restaurants in Lisbon
1. Feitoria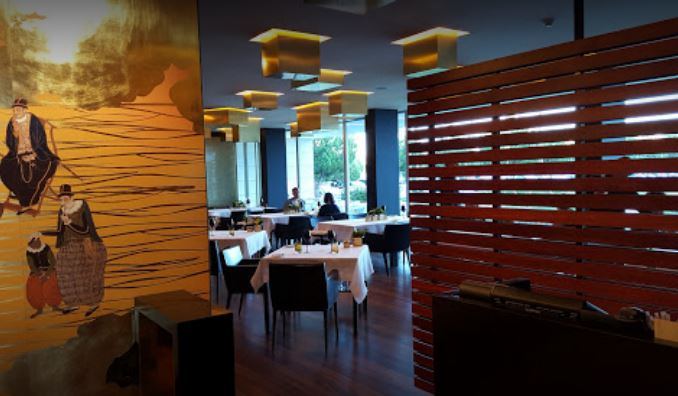 This is one of the best restaurants in Lisbon with an amazing menu palate which ranges from the traditional Portuguese dishes to the experimental new cuisines served by the famous chef João Rodrigues. This restaurant lies close to the famous monuments of Lisbon and the Tagus river of Portugal. This restaurant in Lisbon is a Michelin-starred restaurant that are passionate to provide Portuguese traditions to the plate through their amazing organic cuisines.
Address: Altis Belem Hotel & Spa, Doca do Bom Sucesso, 1400-038 Lisboa, Portugal
Visit: Lisbon Known for
2. Pastéis de Belém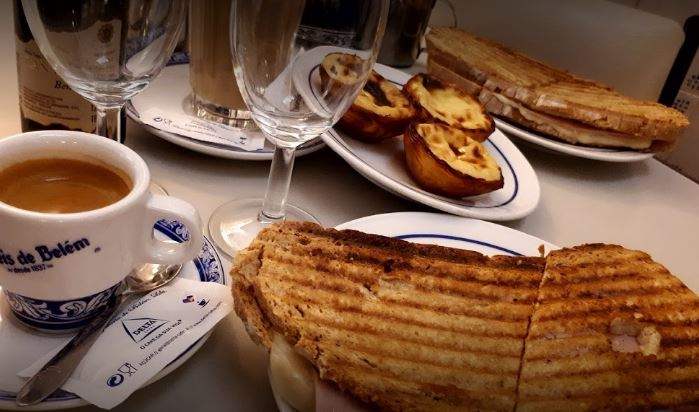 Through the name of this popular restaurant in Lisbon you might get the idea that they serve the famous dessert of Lisbon- the pastries out of those pastries you might get confused in pastel de Belém and pastel de nata (custard tart), don't worry both of these are the same. These famous desserts are served along with cinnamon powder to enhance their taste. You can find the best pastries near the Jerónimos Monastery where this restaurant dates back to 1837. Such famous restaurants in Lisbon can provide you the best range of pastries and other desserts of Lisbon at reasonable prices possible.
Address: R. de Belém 84 92, 1300-085 Lisboa, Portugal
3. Prado
This is a newly structured restaurant in Lisbon opened by the famous chef António Galapito in 2017. He worked for seven years in London with acclaimed chef Nuno Mendes and returned to Lisbon to finally put his knowledge into motion. He came up with the idea of a completely organic restaurant where he uses only organic ingredients from Portuguese producers and changes the menu seasonally to utilize the ingredients at the height of freshness. You must try the dry-aged beef tartar in charred cabbage "tacos" paired with the famous wine collections personally selected by chef Antonio.
Address: Tv. Pedras Negras 2, 1100-404 Lisboa, Portugal
Read More: Best Theme Parks in Lisbon
4. Cervejaria Ramiro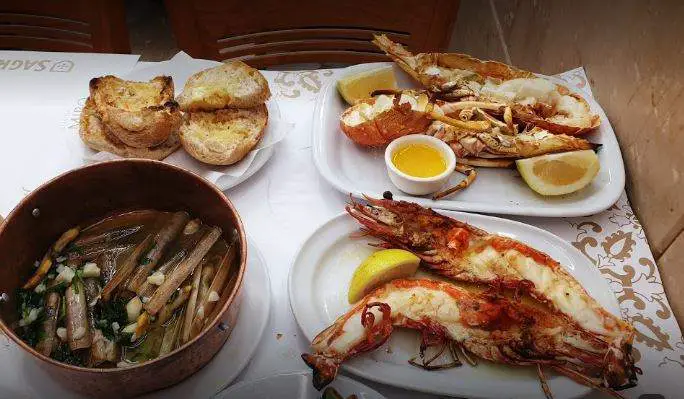 This restaurant in Lisbon is among the top seafood restaurants in Lisbon who own a variety of seafood cuisines in their creative and skilled fashion that the dishes become another art piece holding a glamorous beauty for representation before heading into your mouth to create a flood of flavors. Some of the most popular cuisines of this seafood restaurants are gambas da costa (amazingly savory small prawns), carabineros (giant red prawns), percebes (goose barnacles), or amêijoas à bulhão pato (clams simmered in olive oil and garlic, garnished with cilantro leaves). All of these include olive oil as the signature remark of Lisbon.
Address: Av. Alm. Reis 1, 1150-038 Lisboa, Portugal 
5. Zé dos Cornos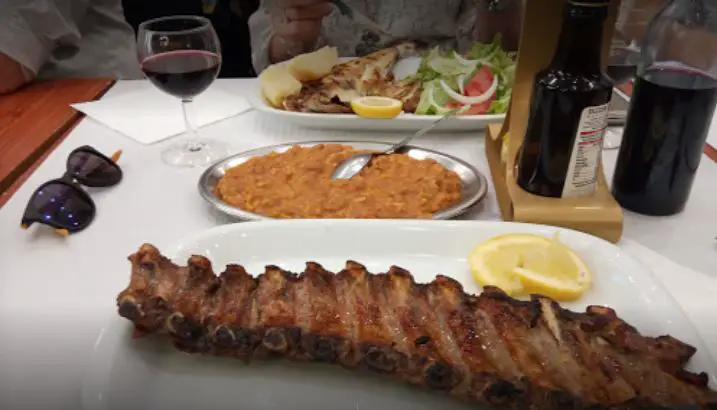 This is one of the coolest restaurants in Lisbon which is mainly visited by the locals who love to eat from outside places daily. Their cuisines are ridiculously cheap and easy going. The place smells with the aroma of grilled and smoky meat dishes which are garnished with various herbs and signature olive oil. The pork spare ribs with rice and beans are a must-try at this most visited restaurant in Lisbon.
Address: Beco dos Surradores 5, 1100-591 Lisboa, Portugal 
6. Alma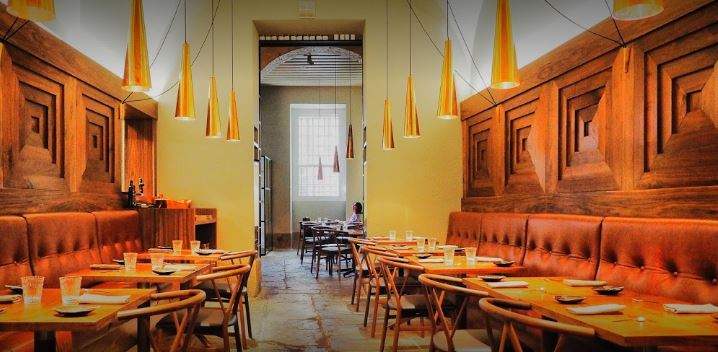 They hold nine years of experience to rank in the best places to eat in Lisbon and achieved one Michelin star resulting in diverse popular dishes like Alentejo pork presa with banana chutney, passionfruit, and spiced molasses jus, and local sole with chorizo and noisette hollandaise. All of these best foods in Lisbon are served at reasonable prices along with strong beverages like the famous Ginjinha drink of Lisbon at this popular restaurant.
Address: R. Anchieta 15, 1200-224 Lisboa, Portugal
Read More: Most Visited Monuments in Lisbon
7. Pesca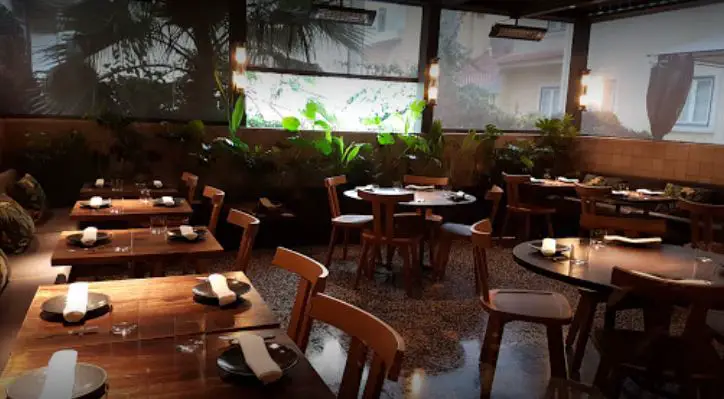 These restaurants in Lisbon are among the top-rated restaurants which take the art of seafood preparation to another level through their artistic and creative skills. Therefore the seafood served at this popular restaurant in Lisbon is extremely photogenic. The Chilled oysters arrive with a dressing of almond crumbs and beautiful exotic flowers that are edible along with the super tasty meal. And don't miss the lobster rice with toasted buckwheat and herbs and the anchovy (a Portuguese classic) with sweet corn bisque. Their refined desserts are also a classic dish to watch and eat.
Address: R. da Escola Politécnica 27, 1250-099 Lisboa, Portugal
8. Arkhe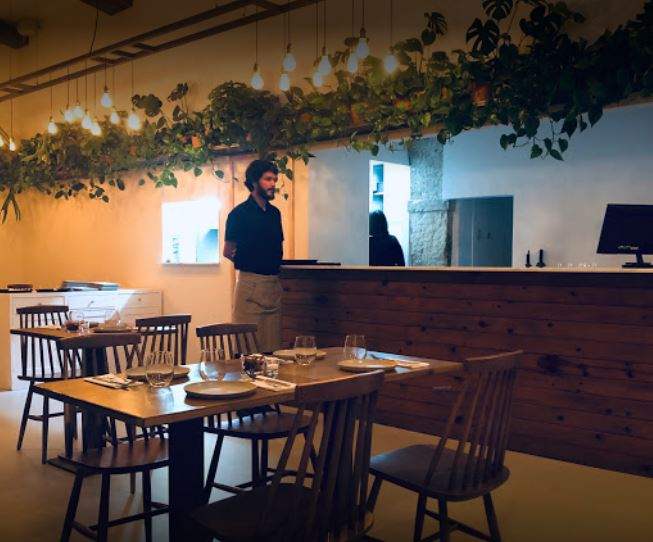 This is one of the top-visited restaurants in Lisbon, especially heaven to vegetarians. This restaurant carves the journey of its creator who was primarily a food artist, traveled a lot in his life and took a hardcore journey from being the butcher in France till becoming the vegetarian head chef of his own restaurant. Chef João Ricardo now serves a lot of cuisines that are exclusively vegetarian and are prepared with organic vegetables. But the tastes of the popular places to eat in Lisbon are so much similar to all those famous meaty dishes of Lisbon in spite of being vegetarian. This famous restaurant in Lisbon is located in the Santos district. The shiitake mushrooms with roasted cauliflower cream are a must-try cuisine of this restaurant.
Address: Boqueirão do Duro 46, 1200-163 Lisboa, Portugal
Read More: Best Beaches in Lisbon
9. Café de São Bento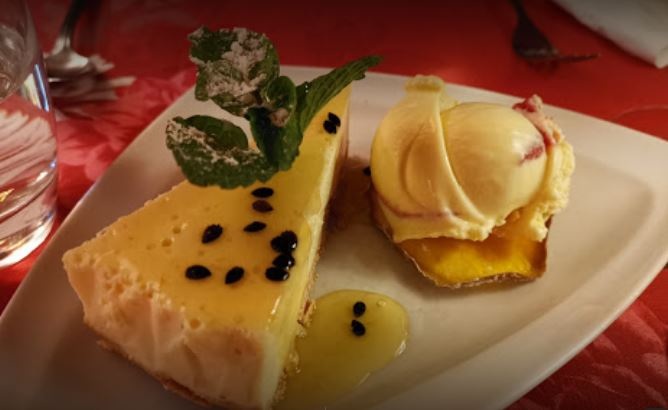 This restaurant in Lisbon lies close to the national parliament. Hence a lot of tourists visit this restaurant to explore Lisbon's famous foods. This heavily visited restaurant of Lisbon, Portugal is a hub for late-night dining, especially heaven for the steak lovers who enjoy this place with tasty meals paired with chips (or french fries) and esparregado (spinach puree). This is among the best restaurants in Lisbon who serve food late at night.
Address: R. de São Bento 212, 1200-821 Lisboa, Portugal 
10. A Valenciana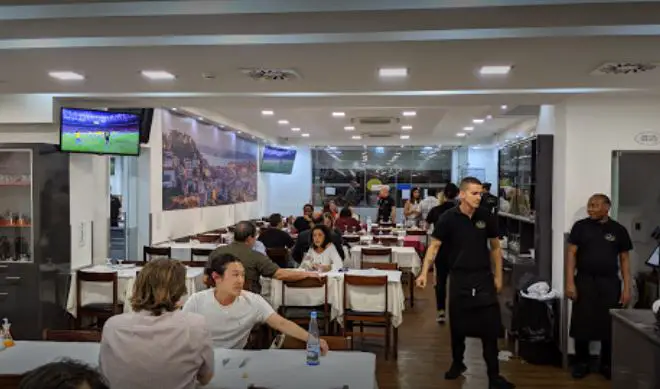 This is another local dining restaurant in Lisbon which serves meat dishes prepared with full traditional methods. This restaurant ranks among the top restaurants of Lisbon only due to their traditional meat preparation which provides a distinct flavor to their meat dishes which is hard to find anywhere in Lisbon. These best foods of Lisbon are served at such a price that till evening they sell most of their dishes. The tasty charcoal-grilled Piri-Piri chicken is favored by the whole Lisbon along with the chilled beers available at this place to stuff all these heavy spicy chicken meals. 
Read More: Famous Street Food in Lisbon
Address: Rua Marquês de Fronteira near feitoria restaurant 157, 1070-294 Lisboa, Portugal
Visit these top-notch places in Lisbon which will serve your tummy and imagination through the best artistic food restaurants of Lisbon and the amazing range of main course meals, dinners, and desserts served at this place will fill your table with most unbelievable taste from the entire world with a reasonable price possible.
The post Best Restaurants in Lisbon | Places to Eat in Lisbon appeared first on World Tour & Travel Guide, Get Travel Tips, Information, Discover Travel Destination | Adequate Travel.