Lisbon is surrounded by four amazing coastlines that are distinctively famous for different beach activities in Portugal. This city is washed up by the Tagus river which provides coarse sand to the amazing beaches of  Lisbon. The river later ends into the huge Atlantic Ocean which acts as a major attraction for the surfers due to its heavy tides especially during the winter season in Lisbon. We provide you a list of famous beaches in Lisbon, Portugal along with their easiest local routes if possible that can serve you best under tight budget problems while traveling in Lisbon.  
List of Beaches in Lisbon 
1. Praia de Algés
This is the nearest beach from Lisbon. This exotic beach is infused with adorable coarse white sands and local habitation which increases its scenic view along with the companionship of the fresh flowing Tagus river. This beach in Lisbon also lies close to a major tourist attraction Torre de Belem and you can walk from here for about 20 minutes to enjoy this great beach in Lisbon along with Lisbon's famous buildings. There are tonnes of activities in this area such as surfing, snorkeling, kite-surfing, etc. There is also an annual Nos Alive music festival celebration to conduct global rock band performances for continuously three days every year in July. If you want to skip the walking in the hot summers of the city you can either take a taxi or catch the Cascais train to the Algés Station to reach here easily.
Read More: Beaches in Israel
2. Guincho Beach- Cascais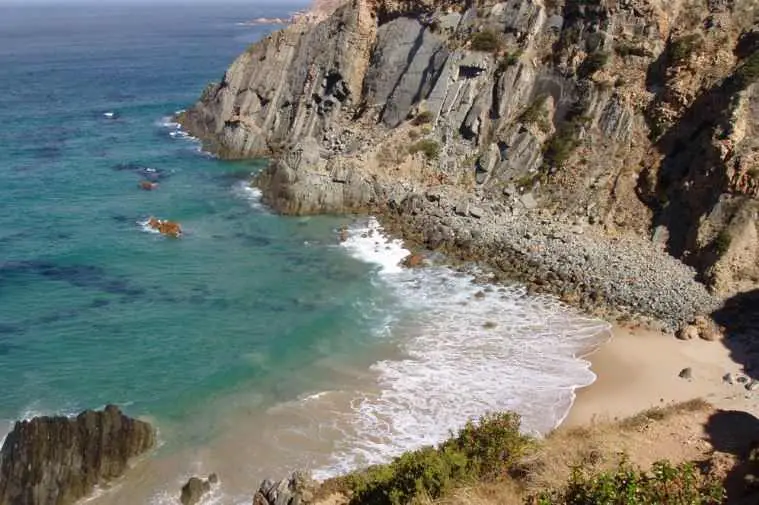 This is one of the biggest beaches in Cascais Lisbon. This beach lies between Sintra and Cascais coastlines. It is such a huge beach that most of the area of the beach is still left undeveloped despite its omnibus popularity. This beach might not be able to provide you a sweet spot for swimming as the strong waves coming off the Atlantic Ocean make Guincho a tough place to dive into the sea but you can surf on these bigger tides in winter season as the waves are highest and best suited for surfers in this season. A popular Sintra Cascais Natural Park is nearby this beach to explore more in Lisbon's amazing famous places. There are various other water sport activities along with surfing that you can explore on this famous beach in Lisbon, Portugal. For the easy travel, you can take a train from the Cais do Sodré station in Lisbon to the Cascais stop, about 30 minutes away from this beach. In the summer season, even regular buses run every minute from Lisbon to this beach so it might not be a hard struggle to reach here
3. Adraga Beach- Sintra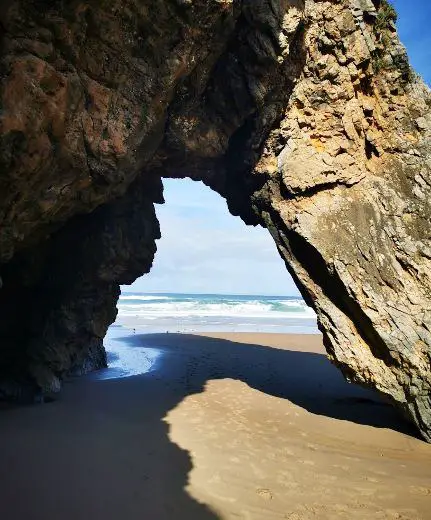 This famous beach in Lisbon is surrounded by sheer cliffs and rocky mountains which hides amazing caves inside their structures. So along with a sandy beach and crystal clear blue seawater, you can explore the caves of Pedra de Olvidar rock which drops almost vertically into the sea to create this amazing photogenic place for all the insta-wanderlust travelers. These caves comprise of the local delicacy percebes (goose barnacle), which grows in these caves and are on a major tourist demand in recent years.
Read More: Best Beaches in Northern California
4. Meco beach- Sesimbra setúbal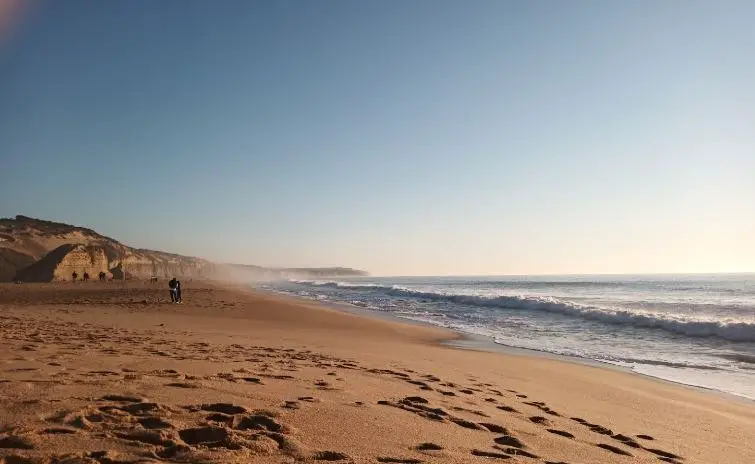 This is another top beach in Lisbon which is famous for its huge cliffs and waterfalls. This place became a destination for hippies who started arriving at this coast in the 1960s and now it became a hotspot for naturists and free-minded souls in the LGBTQ community. By naturist, if you couldn't contemplate it means part of this beach is a nude beach. Yes, don't get in shock European states aren't the only spot for nudist beaches. You can find such fantasies in Arabian-influenced countries as well. But you won't find a lot of services or refreshment options on this side of the beach for that you have to reach the regular textile side of the beach which is divided by a huge sand dune standing between these beaches. For reaching this coolest beach in Lisbon you can either book a taxi online which can drop you at this exact beach or you can hop-on these two buses out of which one travels from Lisbon to Sesimbra, then another to Meco village. Or with private vehicles use Vasco da Gama bridge to avoid heavy traffic during summer
5. Tamariz beach- Estoril Cascais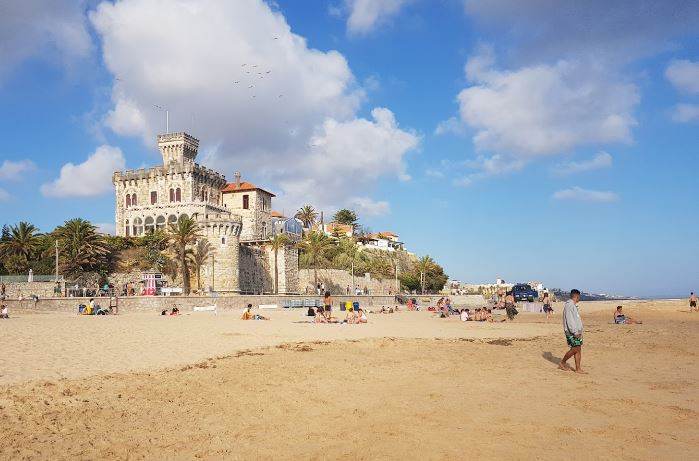 This is the nicest beach in Lisbon for all the casino lovers. As with the refreshing sunny sands and seashores, there's an Estoril Casino whose luscious garden separates the casino from the beach. There's even an Estoril train station which might be easy access to a lot of tourists who don't know the local routes in Lisbon. This beach even provides you free access to the ocean pool for an after-shower from the beach. This is among the most visited beaches in Lisbon for its Casino attraction. For local transportation, you can take the train to the Estoril station, which takes about 30 minutes from central Lisbon. Or drive on your own to enjoy the beautiful coastline and their landscape view on the way.
Read More: Best Beaches in Barcelona
6. Costa de Caparica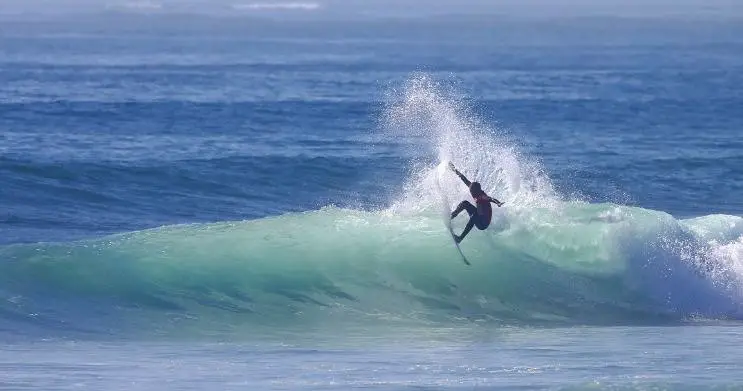 If you have heard about Lisbon's famous beach, this beach will always be on the list of those popular attractions. You can find a survival kit just across the river which is necessarily required after 25 de Abril bridge.Praia da Mata and Praia da Morena are some of its popular beaches that follow along this coastline and this chain of best beaches in Lisbon ends at the Fonte da Telha beach which is another nudist beach in Lisbon. As you head over towards the south you will find more isolated beaches on this coastline of Lisbon
7. Galapagos beach- Setubal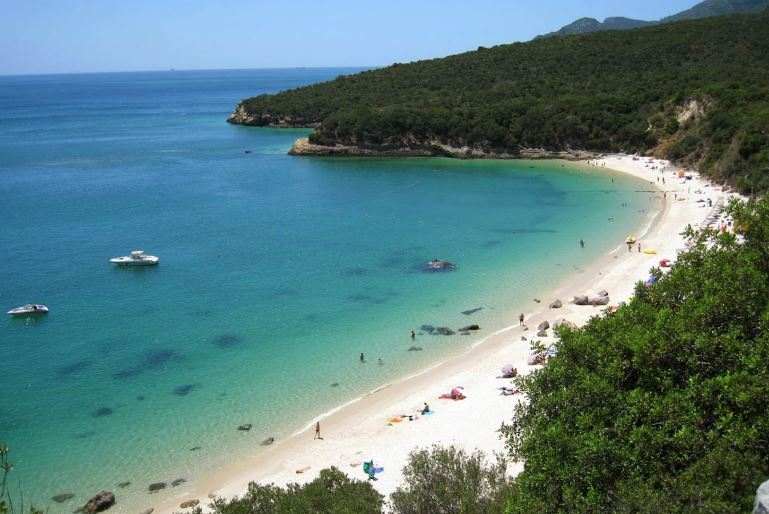 This beach is exclusive for science geeks and they might know the significance of this place already. Besides that it is the perfect beach in Lisbon which is suitable for swimming and underwater diving. The amazing turquoise water and the golden sand combine to provide the amazing effect of soothing landscapes and photogenic beach lines. From this beach, you can also relish the Serra da Arrabida coastline surrounded by crystal blue ocean and beautiful cliffs.
Read More: Beaches in Amsterdam
8. Ursa Beach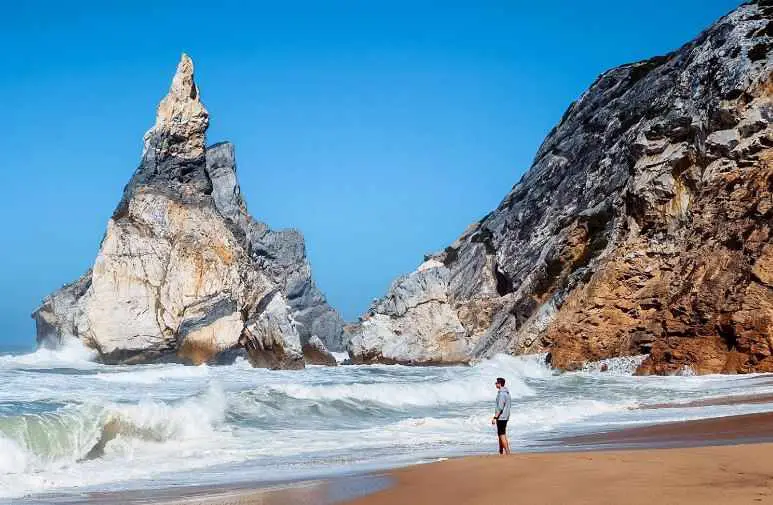 This beach comes under the Sinatra's coast and lies about 30 kilometers (20 miles) away from the northwest side of Lisbon. This is a bit rugged and wild beach which has rare inhabitants in its surroundings due to high cliffs. This is among the most attractive beaches of Lisbon due to its naturist qualities and unlike Meco Beach, there is no division between naturists and textiles so it might be the best vacation if you are planning for any bachelor parties in future(You know what I mean!) Since, this beach is part of a national park hence it does not have any bins or clean-up crews so help yourself and try to make the beach clean by not throwing your stuff on the shores 



9. Carcavelos Beach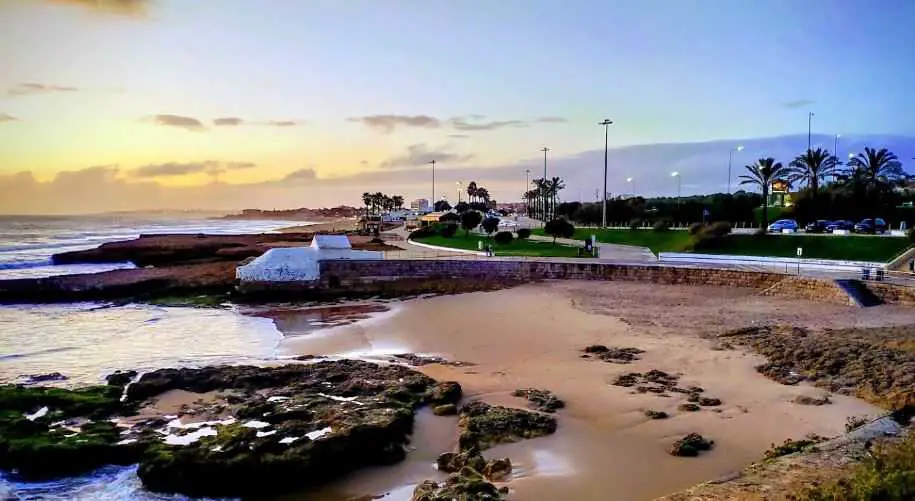 This is among the tourist-friendly beaches of Lisbon which stretch long into the Lisbon's coastline and takes about 30 minutes to reach here from Lisbon city center by train. But just like some the Cascais and Sintra beaches, it is not an ideal spot for swimming, due to the heavy tides coming from the Atlantic but such scarcity if filled by the Lisbon's local markets and restaurants which lie close to this beach. To explore this best beach of Lisbon you can walk to the northernmost end of the beach and check out the façade of the São Julião da Barra Fort, which is the home of Portugal's minister of national defense. You can also enjoy different water sport activities provided by the various vendors on this beach and might crack up a great cheap deal for water rides due to tonnes of tourists in this region.
Read More: Beaches in Miami
10. Portinho da Arrabida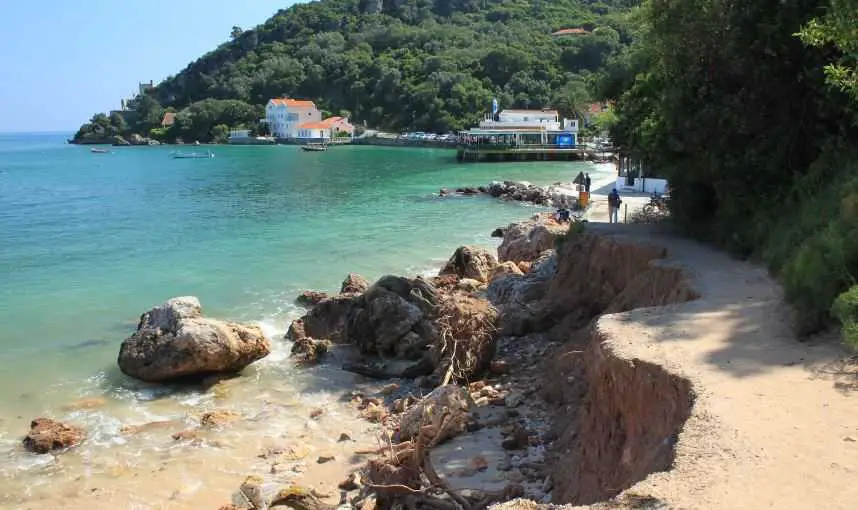 Most of the beaches in the Arrabida coastline are nearby to the famous tourist spot of Arrabida natural park. Along with clear white sand and hustling tides of the sea, you can sunbathe in this calm beach without any trouble and even the fishing crews might not disturb you in this region as it was stated among a protected area, therefore, fishing is no longer permitted here. But a former village lies nearby who used to be a fishermen community and used to catch fish from a long generation in this region but are now a popular talk among the foreign visitors each year. This is an excellent spot for scuba-diving (equipment is available for rent from the Centro de Mergulho diving school). This popular beach of Lisbon lies close to Galapagos hence if you feel overwhelmed with people here, you can relax in the isolated region of Galapagos beach
The list of mentioned top 10 beaches in Lisbon, Portugal covers a great variety from being nudist to being heavily crowded for water sports and surfing on the humongous tides of Atlantis. All these beaches are also a huge attraction for Lisbon's famous seafood which are sold by local trucks and vendors living nearby these beaches. This tour of Lisbon for famous beaches will serve you with all the other attractions without any extra costs. Even some famous monuments of Lisbon are part of the beaches which take no extra money for their visitation. So it can be a complete package of vacation even if you wish to explore only the best beaches of Lisbon.
The post 10 Best Beaches in Lisbon | Beautiful Beaches Near Lisbon to Visit, Portugal appeared first on World Tour & Travel Guide, Get Travel Tips, Information, Discover Travel Destination | Adequate Travel.