Osaka is an amazing city which is even famous for its food in Japan. The amount of variety you get in this city is beyond imagination. From the top street foods in Osaka to the best-themed restaurant cuisines you will be thrilled to experience such a wide array of Japanese flavours that are skillfully renovated nowadays with more new continental flavours in their palette. You must try the foods of Osaka, Japan which are not only a symbol of the city's history but also represent several Japanese traditions with which the foods are prepared. Hence, given below is the list of top foods in Osaka that no one should miss on their 'Nihon No tabi' or Japanese trip.
List of Osaka's Foods to Try
1. Sushi & Sashimi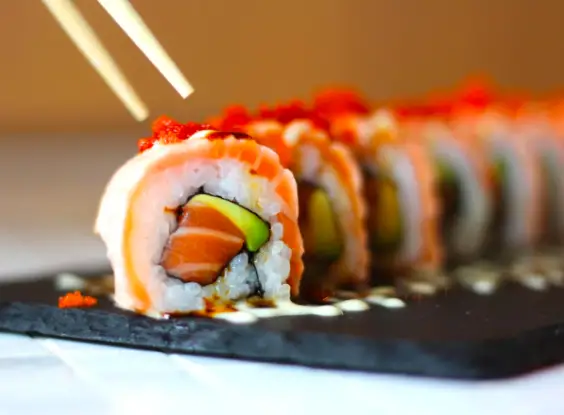 You might have heard about this a lot of times but it's obvious that the whole country is famous for the freshness and quality of Japanese sushi and sashimi. Therefore beating that food in Osaka is impossible. Along with that you get new versions to try out as till now you might have tasted only that nigiri sushi that includes a ball of rice and a slice of fish on the top, but Osaka is famous for its old-style box sushi, known as Hako-Zushi. You can try out the best Hako at the famous restaurant in Osaka called Yoshino Zushi.
2. Yakiniku & Horumon (Japanese BBQ)
These are other traditional foods of entire Japan that are everyone's favourite. Yakiniku is the basically the Japanese style of grilling beef, where you grill the meat yourself on a tabletop charcoal grill fitted in the middle of your table. And be sure it would not be the boring gas-powered grill which makes so much difference in the flavours of the meat. These are one of the best food to eat in Osaka. Try the Kobe beef as it is one of the world's most famous meat along with Matsuzaka beef, consider superior to Kobe beef by some local people but it's your choice whichever you like to eat.
Discover: What Osaka is Known For
3. Ramen
It's just like the Maggie of Japanese people, and the only difference lies in the soup or broth of the noodles used. Ramen in Japan definitely has a cult following as everyone has their own favourite spot, and when you want to eat a bowl of ramen, nothing can deter your craving. There are a lot of flavours available for this famous food in Osaka, but the regularly consumed ones are Shio Ramen which has, a salt-based broth, Shoyu Ramen having a soy sauce-based broth while tonkatsu ramen having heavy creamy with pork bones that are boiled until their marrow comes out. So enjoy all these delights easily available in the market at very low costs. 
4. Udon
This is a thick and chewy Japanese noodle made with wheat flour and usually served in a variety of different ways. You can find all types of Japanese udon dishes available in the restaurants of Osaka. But don't miss out the local favourite styles of udon which originated in Osaka and are called 'Kitsune Udon'. This top food to try in Osaka comes in a light dashi stock flavoured broth, and the main topping is a piece of sweet stewed tofu which will make you drool only from its looks.
Visit: Best Theme Parks in Osaka
5. Japanese Curry
Usually, curry is stereotyped for Indian cuisines but you can find a Japanese curry in Osaka that has a familiar curry powder blend flavour, but the sauce is dark and thick which is more like a typical saucy curry. You can consume this Japanese curry in the most popular fashion which is right over a bed of Japanese steamed short-grain rice along with a short cup of rice wine if you are a drinker otherwise this popular food in Osaka is enough in itself to win your heart.
6. Takoyaki
You can eat these as a snack or as a meal this cuisine of Osaka is flexible in every manner. These are basically little golf ball-sized batter balls stuffed with a piece of octopus. Typically these are served into a boat-shaped tray, and then you can order a selection of different toppings which includes Japanese mayonnaise, takoyaki sauce (which kind of tastes like sour teriyaki sauce), seaweed flakes, cheese, and the mandatory sprinkle of bonito fish flake shavings. All of these items make these small crispy balls a must-eat food in Osaka, Japan.




7. Okonomiyaki
This is a homie dish of this city as it was originated in Osaka as well. The people passionately love to eat this big Japanese pancake. The batter mixture recipe of this famous food to eat in Osaka includes flour, eggs, sometimes dashi stock (dry fish stock), and often a heap of finely shaved cabbage.
Read About: Most Beautiful Cities in Japan to Visit
8. Oden
This food in Osaka gains its fame during the winter seasons as there are lots of heavy brothy items used in the preparation of the Oden. This incredible food in Osaka, Japan includes an assortment of ingredients simmered in a broth prepared with a hint of both dashi and soy sauce, giving it a light and soothing flavour.
9. Kushikatsu 
Kushi in Japanese means skewers, and katsu which means breaded and deep-fried things. Therefore by far now, you might have pictured those spicy, crispy street fries you enjoy every time. Well, this popular street food in Osaka use a bunch of vegetables and even meats, all skewered, coated in a light batter, and deep-fried until golden brown. You can enjoy these crispy fries with different sauces available in Osaka.
10. Yakitori
Another skewered item, but you might not find this as good over the streets in Osaka. Yakitori is a Japanese grilled skewer of chicken, and I prefer you must try this only from the Izakaya foods in Osaka. As the chicken will likely be some of the juiciest and most flavorful chicken you've ever had in your life which is always cooked over charcoal to maintain the smokiness of this top food in Osaka.
Visit: Famous Monuments of Osaka
Hope you enjoyed this delicious food tour of Osaka that includes the popular gems of this city. Japanese take their food very seriously. You can see their sincerity to such extent that Osaka is named as the "Nation's Kitchen" of Japan due to its incredible food relative to other cities of Japan. Hence, you must explore their intricately prepared cuisines that holds way more splendid flavours than your regular size pizza. Just try our above-mentioned foods to try in Osaka and comment if you have any more suggestions. 
The post Top 10 Famous Foods of Osaka, Japan | Best Foods to Eat in Osaka appeared first on World Tour & Travel Guide, Get Travel Tips, Information, Discover Travel Destination | Adequate Travel.