Milan is the hub of trendiest style and fashion, therefore, you will find lots of famous celebs love to shop from this city. There are various best things to buy in Milan but walking completely out of ideas over the shopping streets in Milan is lethal, trust me you will buy something super expensive that you won't even use as there are very skilled sellers and very glittery things that can tempt you in a single look. Therefore, I have curated a list of famous things to buy in Milan, Italy that is definitely super classy but you have to lose the rope of money as some things are going to be expensive but they are worth the money for sure.
List of Things to Buy in Milan
1. Jewellery
If you landed in some of the best fashionable cities in the world it's obvious that you have to check out their accessories. These are some of the top purchasing items which come to your mind when you wonder what to buy in Milan? The designer wristwatch or jewellery from leading brands, like Swatch, Ralph Lauren, Lacoste and much more can definitely fit in your fashion if the designs are being offered from the trendiest city of the world.
2. Designer Umbrellas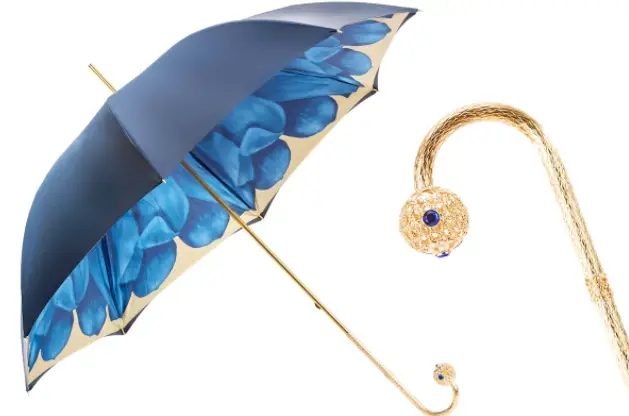 It's an old fashion now that you carry an umbrella which goes with your style and dresses. But I do know some old classic lovers who love to buy such stuff. Therefore you can find the best designer umbrellas that are incredible in quality and looks. As you can realise now that design in Milan is applied to almost every object therefore even the umbrellas are the best souvenirs to buy in Milan that might make people green with envy on admiring your style. Try out the popular handiwork of Francesco Maglia Umbrellas, which would be a perfect addition to your wardrobe.
Discover: What is Milan Known For
3. Porcelain products
Milan is also famous for its porcelain industry which manufactures living space cutleries by the best quality of porcelain pieces. These are some of the best things to buy in Milan, Italy especially when you want something more memorable about your trip. Colourful ceramics and porcelain can be found in Milan's historical workshops and come in many different shapes, for a variety of purposes that you can choose according to your preferences. 
4. Panettone
This is one of the famous desserts that you will come across the bakeries in Milan during Christmas. This is the most popular souvenir to buy in Milan that many travellers love to take back home for their loved ones to try the incredible taste of Milanese cakes. This is a traditional local cake of the holiday season which is sweet and fluffy. These soft bread loaves, whose cupola shape is quite characteristic are filled with various raisins and fruits. 
Visit: Historical Places of Milan
5. Designer Bags
The top accessory that men and women both love to carry are the designer bags so if you are still thinking about what to buy in Milan? Just try out their elegant, casual, trendy bags. If you ask a fashionable woman what are bags for here? She will say they are not just bags these are the substantial fashion statements for your whole look. So, choose the best look, by choosing the best bags from Milan's collections.
6. Football Accessories
For all the football fans Milan is like heaven, as you get all the top merchandise of the famous football teams in the markets of Milan. Getting an official accessory from each of the football clubs is a must if you want to demonstrate you're having perfectly gotten into the Milanese spirit for football. So get the top things to buy in Milan which can carry your sporty spirit in your stylish jerseys.




7. Embroideries
When the whole city is dipped into fashion what can you expect from their art of embroideries! You can find lots of places in Milan where you can find modern furniture, porcelain and hand-embroidered fabrics designed to add warmth to an interior. These embroideries can provide a chic touch of Italian style in all the things to buy from Milan. Therefore the best to have this embroidered touch is the La Gallina Matta. 
Read More: What Maldives is famous For
8. Clothing

When everyone buys from Milan why not you? Yes obviously the buying people are celebs and they spend a lot over designer clothes from Milan. Therefore whenever you wonder what to buy in Milan? That can't be matched by anyone, just find designer clothes in Milan. They own some incredible designers that you might not like regular clothes later. However, there are a lot of copies available in local markets of very famous brands like Gucci, Louis Vitton etc. so you can opt for that too.
9. Wooden Toys and Decorations
A long tradition of wooden toy-making is famous in Northern Italy and in Milan, it's far from being forgotten. You mind jumps to the best cartoon character of Carissimo Pinocchio, which evokes an association with something made of wood. Therefore these are the most famous souvenirs to buy in Milan that travellers love to buy for their kids. 
10. Leather Items
You can find the peculiar leather items, ancient prints in Milan that are manufactured only in this city. The luxurious and artful leather desk, rare leather waste paper baskets, leather glass holders, magazines racks and leather coloured envelopes all of these things are the best answer for what to buy in Milan?
Hope you enjoyed the top 10 things to buy in Milan that are super classy and call for the best fashion statement. You can buy as par items whichever is preferable according to your budget. As I have curated such items for what to buy in Milan Italy? That ranges from cheapest to most expensive. So Like, share and comment if you enjoyed this blog and head to our other blogs for exploring more about this city.
The post Top 10 Things to Buy in Milan Italy | What Souvenirs to Buy in Milan appeared first on World Tour & Travel Guide, Get Travel Tips, Information, Discover Travel Destination | Adequate Travel.