Synopsis: Preeti Maske, a 45-year-old cyclist, became the first Indian woman to complete the 428 km long Leh-Manali route in 55 hours. She is a proud mother of two children, and now she is making India proud with this Guinness Book of Records entry in her name.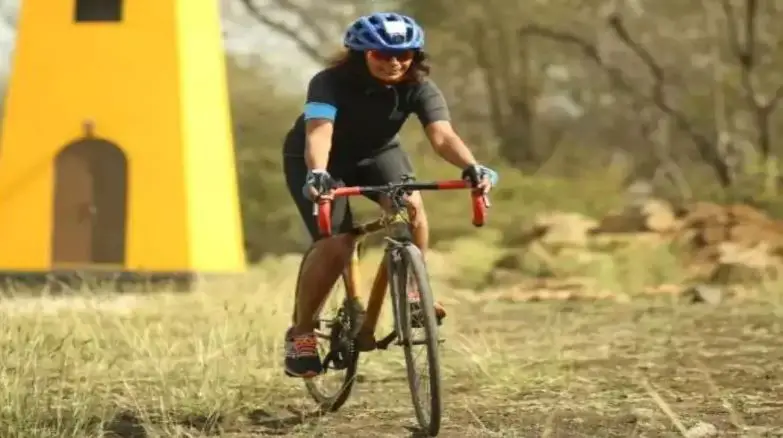 Preeti Maske A Pune girl is making India proud with a new Guinness Book of Records on her name. She makes this entry by completing the 428 km long Leh-Manali route in 55 hours on cycle! She is now the only woman in India to complete the arduous journey of covering the entire length of the famous Manali-Leh highway in just 55 hours.
Earlier this year, Preeti gained notoriety for paddling continuously for 430 km. In an interview with the media, she expressed her joy in the accomplishment of this milestone and asserted that one's age should not be a barrier to pursuing one's passion.
Indeed! Leh-Manali highway is one of the highest roads in India with numerous hairpin bends, and it is not everyone's cup of tea to complete this trek in a single go. It's quite difficult to climb up the steep passes and then climb down. Most of the passes in the Leh-Manali route remain covered with heavy snow throughout the year.
During this cycle journey, Preeti crossed several high passes on her route, most of which were higher than 16,000 ft. She crosses the Tanglangla pass, which is the second highest pass in India. Tanglangla Pass is 17,582 ft in height. 




Preeti stated that she had to use oxygen twice during this cycle journey due to breathlessness at high passes.
Preeti has set numerous other records in long-distance cycling. As not many solo cyclists would attempt such a high-altitude road challenge in severe weather, she has become an inspiration for everyone as a result. 
The post Pune cyclist becomes the first woman to cover the 428 km long Leh-Manali route in 55 hours! appeared first on World Tour & Travel Guide, Get Travel Tips, Information, Discover Travel Destination | Adequate Travel.