Macau is a golden city of casinos and luxurious hotels. Filled with neon lights at night this city glows into a 'Las Vegas of Asia' but that doesn't mean you can't catch up a relaxing time closest to the natural wonders. They administer a perfect balance between modern buildings and unique parks or even two exclusive beaches in Macau. Some parks of Macau even sustain endangered species of the world like pandas. So if you desire to catch up a sunny vacation basking near the beach while enjoying the best seafood you can visit one of the two famous beaches in Macau known for their luxurious weather and facilities. As the  Old Macao area does not have any beaches, it is mostly a port and has tallest skyscrapers and old buildings all the way to the water. Since there are only two beaches which offer all the incredible experiences in Macau much more than what other typical beaches in the world offer. Hence, I have provided every detail regarding these beaches so that you can enjoy all the best things, these beaches offer to their visitors. Just take a look below! 
Two Famous Beaches in Macau
1. Cheoc Van Beach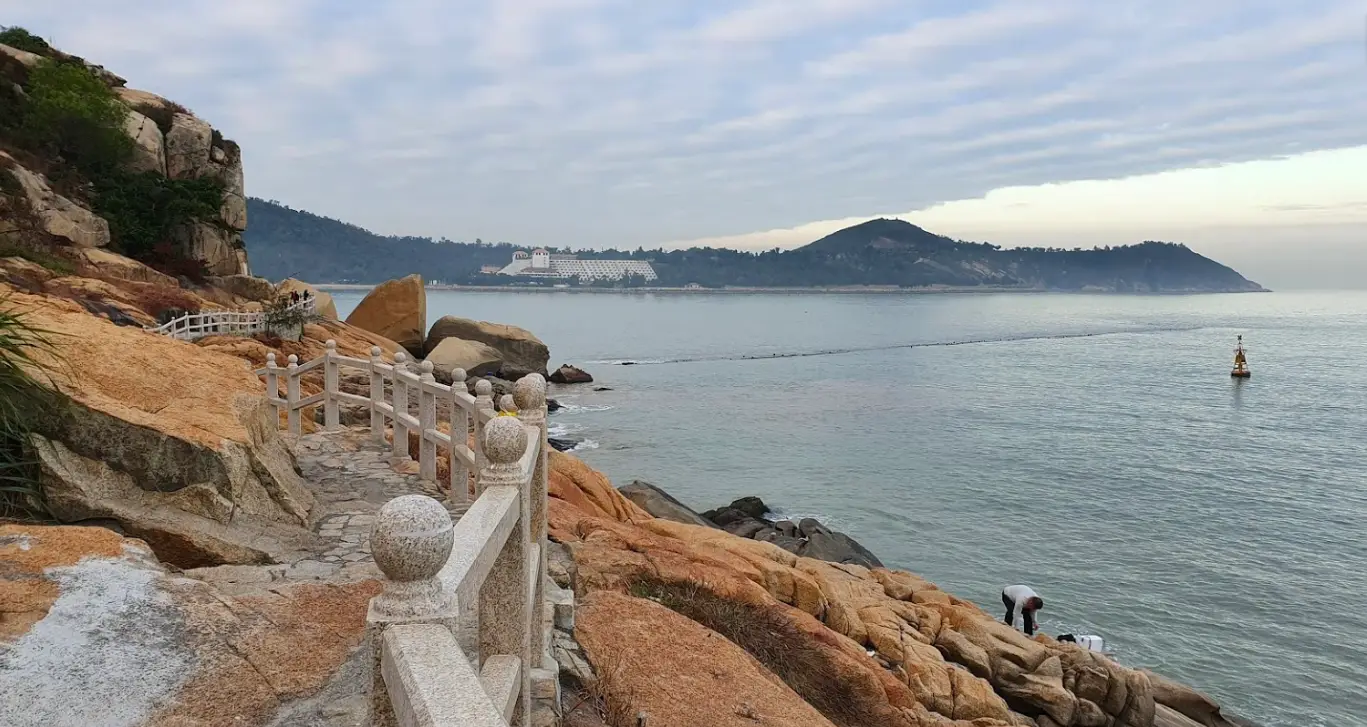 Cheoc Van Beach, means Bamboo Bay Beach in Chinese, is a very photogenic beach which offers amazing golden sand and clean water located in Macau's Coloane island. This top beach in Macau is famous for its half-moon shape surrounded by luscious green trees and has all-time lifeguard facilities on duty. This beach in Macau will give you all the cosy feel that you need along with various other enthusiastic trips to follow ahead. Just keep following the below info that offers you all the detailed experience of this spectacular beach in Macau.   
Food and Lodging
You will find a lot of local lodging rooms offered by the locals in this area but if you desire to have a nice fancy stay then hop on a local ferry to take you to this famous beach hotel in Macau that every ferry driver knows easily if you just pronounce it correctly. Pousada de Coloane hotel or 'Posada De Gwo Lou Waan' hotel offers amazing Portuguese food and incredible lodging, sufficing all your luxurious desires. It also has a beautiful terrace overlooking the shorelines which is a sweet spot for a great panorama view of the entire beach. 
Another amazing hotel is La Gondola restaurant which serves delicious Italian food and a perfect place for having an alfresco lunch or dinner. It is located right onto the beachfront. This restaurant even surpassed the famous Kitchen Nightmares of Gordon Ramsay which you can easily watch over youtube to get a more inside review from Gordan Ramsay-the world-famous and bad-ass chef of all time.
Read More: Best places to Eat in China




Fun Activities:
If you are fond of hiking, the neighbouring Coloane village near this beach houses up to 11 walking trails which offer various length and difficulty reckon to hikes that will keep you on the edge of your feet all the time and completely busy for over a weekend. Whereas if you're on a family vacation and want some fun place for your kids, there are four family trails that lead around the Giant Panda Park to stare these cute fluffy creatures while they play with their keepers endlessly. There's also a Coloane Fitness Trail, which includes pieces of exercise equipment along the route to keep all the fitness freaks happy signifying it's one of the best beaches in Macau after all.
2. Hac Sa Beach 
You might've heard this name a thousand times by far now if you ever searched for beaches in Macau. But this beach does earn such all-time fancy status as it's one of the longest of the two popular beaches in Macau measuring about 1 km in length that even in the summer months, you don't feel crowded due to its wide area. Hac Sa translates from Chinese words into 'black sand' and as expected, the sand is blackish at this beach due to the minerals flushed by the water over the island. But don't expect complete black as due to various tornados and erosion it is losing this legacy and the administration has mixed in some yellow sand to maintain the thickness of the beach. Located on the south side of Coloane Island this beach is famous for its public swimming pool and much more incredible beach sports. For knowing more about them, just follow along with the useful details shown below. 
Don't Miss: Cities in China to be Visit
Food and Lodging:
Fernando is one of the famous names in the local institution and is highly regarded for serving some of the best Portuguese food in town. You can go to Lord Stow's Garden Café also which serves the most famous eggs tarts in entire Macau or for the best nightlife experience try China Rouge. La Chine-The Parisian Macao hotel near this beach offers the best panoramic view of Cotai Strip and an amazing French-influenced Chinese dishes. When you can't find an answer to the best beach resorts in Macau just go for the Grand Coloane Beach Resort a 5-star resort with incredible accommodations and a spectacular view of the South China Sea. For having a bit more than just relaxation you must try this beach hotel in Macau known as the City of Dreams. This hotel has everything you need to enjoy the best vacations ever of your life. This 5-star  hotel has accommodation of a casino, an outdoor swimming pool and a fitness centre with lots of leisure activities that need exploration for sure while coming back from the most-visited beach in Macau.
Read More: Best Things to do in China
Fun Activities
As mentioned earlier about its famous tourist spot, the public swimming pool to the rear of the beach which opens from May to October. There are some barbecue pits to enjoy some social time while tasting the juicy seafood and meaty pleasures of Macau that tend to get busier on weekends due to incoming of local people near this beach in Macau. If you are a sporty person or your kids don't let you rest on the vacations, there's a perfect place to overwhelm them. Hac Sa Sports and Recreation Park, where you are offered with facilities that include a pool, tennis courts, golf course and various other kinds of sporting and leisure fun which you can enjoy with your beach buddies or your family all throughout your stay at this top beach in Macau. For all the history geeks and social explorers, there's a whole Coloane Village which was a favourite base for the long old pirates until 1910 and houses some of the famous landmarks of Macau such as the Hung Shing Temple or the famous world heritage site of  A-Ma Statue all offered nearby this famous beach in Macau.




Hope you enjoyed and gained a lot more about these beaches than just sand and waters and have the best guide possible to explore these beaches in Macau.
The post Top Beaches in Macau, China | Best Beaches to Visit in Macau appeared first on World Tour & Travel Guide, Get Travel Tips, Information, Discover Travel Destination | Adequate Travel.