Fish, Lamb, mushroom, and potato– these all are the main dishes which take Iceland food scene to the next level, in this article we will discuss the best places to eat in Iceland. As per the climate atmosphere of Iceland which includes a large section of lava fields you will see fewer vegetables and spices but more animals there, however, the nation is heaven for those visitors who love to eat lamb and fish. Icelandic sheep are brought normally up in the wild of the nation. In most of the restaurants, the fishes which are served and sold are caught in the wild. Furthermore, there are various eateries that are utilizing conventional and new techniques to add more flavor to the fish. As Iceland is rich in different kind of eating fishes you will see a lot of flat, herring, and codfishes in the menu bar of almost every eatery.
Where to eat in Iceland
1. Grillmarkaðurinn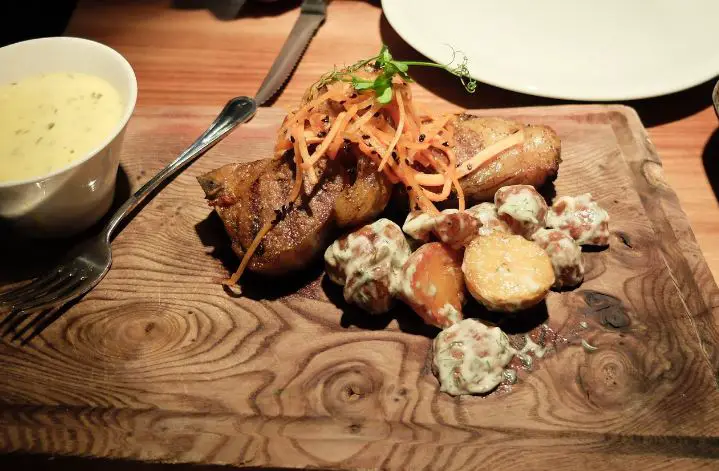 By reading the name you will understand that this place is famous for its grilled dishes.  Here a couple of dishes are made on a charcoal grill. The eatery offers heavenly nourishment and highlights a tasty menu, perfect atmosphere, friendly service, and an awesome setting. As the restaurant is very popular the spot is mostly jam-packed even at the time of lunch. Their top-notch dish is delicious lamb.
Address: Lækjargata 2a, 101 Reykjavík, Iceland
2.  Fiskfelagid Fish Company
If you want to visit one of the most popular seafood restaurants in Iceland then Fiskfelagid Fish Company is a place for you to visit. The restaurant highlights beautiful indoor decor, awesome outdoor atmosphere with several options to choose from seafood. Situated in Reykjavik this eatery is known for its awesome atmosphere. Fiskfelagid  Fish Company's menu includes a combination of seafood presented with the world's best recipe flavors and with some top-notch recipes from Iceland also. You just can't miss this restaurant on your trip to Iceland as they offer the best mouth-watering salmon fish all over the Country.
Address: Vesturgata 2a, Grófartorg, 101 Reykjavík, Iceland




3. Forréttabarinn
Forréttabarinn is one of the Famous places to eat in Iceland. An ideal spot for a snappy evening nibble or a four-course feast in a laid-back. This restaurant is famous for its horse and lamb dishes, the main reason why visitors and locals prefer this restaurant is that Forréttabarinn serves tasty food and the prices are also not expensive here. The bits of 'amazing' and 'classic' starters are sufficient for a meal.
Address: Nýlendugata 14, 101 Reykjavík, Iceland
Read More: Best Things to do in Iceland
4. SushiSocial
Don't miss the sushi in Iceland as the country is famous for its fish and seafood. This spot serves nourishment that is a mix of South American and Japanese cooking, which is interesting. As the name proposes, the spot is popular for its sushi and it really is mouthwatering and juicy. Their menu includes different kinds of fish dishes like whale, shark, and arctic char. Henceforth, it is a standout amongst the best places for those people who love to eat fish.
Address: Þingholtsstræti 5, 101 Reykjavík, Iceland




5. Apotek
With six sorts of juices, bread, cheese, Icelandic Skyr, and fruits, Apotek is known for its large and top-quality breakfast in the city. Apotek stands for chemist shop in English, likewise has an excellent parlor and a fascinating rundown of mixed drinks. It is also known for its special 'Sunday Roast' at the time when they serve the leg of a lamb with garlic and rosemary.
Address: Austurstræti 16, 101 Reykjavík, Iceland
6. Kaffivagninn
If you're feeling hungry early in the morning then head towards this eatery as they serve the traditional Scandinavian foods before seven in the morning. While the morning meal menu isn't excessively unique in relation to an American menu with ham, bacon, and cheese, their dinner and lunch menu deals a lot in their traditional Icelandic dishes like fish balls, flatbread Arctic char, and cod. The menu also incorporates Icelandic porridge, European scones, and American bacon.
Address: Grandagarður 10, 101 Reykjavík, Iceland




7. Gló
If you don't want to eat more seafood and lamb and want to eat some veg food the visit this restaurant as it is one of the most famous vegetarian restaurants all over this country. The bistro-like setting and its interesting menu with different kinds of salad plates to serve a significant vegan populace of Icelanders and voyagers make this spot one of the top spots among eateries to visit in Iceland.
Address: Laugavegur 20b, 101 Reykjavík, Iceland
Also Read: Best Cities, Towns in Iceland
8. Laundromat Cafe
A charming bistro that has a pantry, a colossal play space for kids, a wide assortment of books to peruse while tasting espresso, and a one-of-a-kind stylistic theme. The bistro has an assortment of choices for breakfast, lunch, and supper, and it is incredible for families with children and individuals who need to do their clothing without getting exhausted. Laundromat Cafe is one of the unique places to eat in Iceland.
Address: Austurstræti 9, 101 Reykjavík, Iceland




9. Bombay Bazaar
If you want to eat delicious Indian food then visit this restaurant as it is one of the few Indian-style restaurants available in Iceland where you can eat full-course meals and traditional snacks. Since it is an Indian café, it additionally has a reasonable number of veggie lover choices. It is situated in Kópavogur, which isn't excessively a long way from Reykjavík.
Address: Ármúli 21, 108 Reykjavík, Iceland
10. Súpubarinn
Iceland is not all about non-veg dishes this eatery is famous for its veg soups all over the city. This spot likewise has a lot of veggie lover choices. Thus, it is adored by veggie lovers and vegetarians similarly. The spot isn't for high-end food, yet useful for getting a brisk chomp or to taste a warm soup toward the evening. It is one of the top places to eat in Iceland.




These all are the top 10  places to eat in Iceland where you can eat delicious food as per your choices. The list includes a collection of some veg and nonveg dishes, Iceland is known for his fish and lamb dishes in this list you will know the best restaurants where you can eat all these famous and traditional dishes which will not impact on your wallet too much.
The post Top 10 Best Places to Eat in Iceland appeared first on World Tour & Travel Guide, Get Travel Tips, Information, Discover Travel Destination | Adequate Travel.