What Taj Mahal is to India, same as the Eiffel Tower is to Paris. As you know that Eiffel Tower is a symbolic monument of Paris, millions of travelers love to visit Paris in order to enjoy their evenings at Eiffel Tower. In order to create more interest in visiting the Eiffel Tower, we are going to tell you some Eiffel tower facts and history. Read on to find out some crazy facts about Eiffel Tower, I assure, you won't be knowing it before.
Surely you all must be curious to know, Why was the Eiffel Tower built?
In 1989 an exhibition was conducted which was a show of engineers, arts, and great achievements. Most of the different countries participated in this exhibition and shown their talent. Therefore in such a way, the engineers started showing their talent in different ways. This exhibition was going on like a Cold War but in a proper way. At this time Eiffel Tower was the masterpiece of engineering and decision came out to build the Eiffel Tower.
Eiffel Tower was meant to be DEMOLISHED
Eiffel Tower was constructed only for 20 years because the Persian of that time hates this Tower and declared it as a useless and monstrous. But Gustave Eiffel didn't want it to be destroyed, so he has a new purpose for this Tower, ie Radio Antenna.  Through which  French Military use it to send and receive a wireless message.
Most Parisians Even did not Climb the Tower
As you all know that when we have anything then we don't value it but we more value to those things which are not available to us.
The above line indicates the Parisians nature because there are most of them who didn't climb the Eiffel Tower until today because they think that they can climb whenever they want to. As the Eiffel Tower is situated in their own city, but they are not getting the right time to climb up.
This tower is Repainted after 7 years.
It takes a lot of work to maintain the beauty and elegance of this Tower. Around 60 tons of paint are required for the painting of the tower. It took 18 months to paint the Tower completely by hand. It is again painted after every 7 years.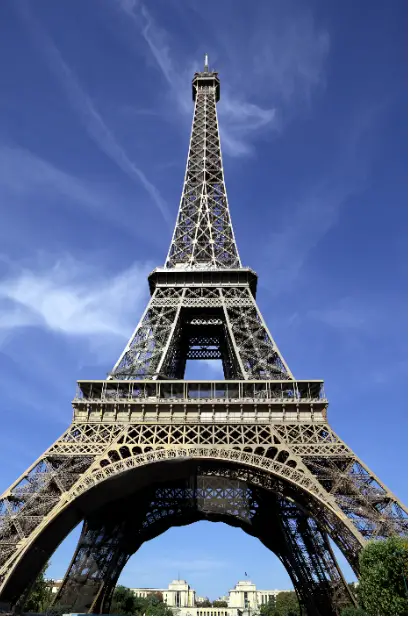 Gustave Eiffel didn't Design the Eiffel Tower
Here we have the most interesting facts about the Eiffel Tower,  it was designed by Gustave Eiffel, which is absolutely wrong because it was designed by 2 engineers-Maurice Koechlin, Emile Nouguier. They were the two senior engineers in Gustave Eiffel's Company, he has only put some investment and later gave his name to the Tower.
Someone Married the Eiffel Tower




You might be thinking that Mrs. Eiffel is the wife of the late Mr. Eiffel but you are wrong because there is an American woman named Erika Aya who married the tower in 2007 in a commitment ceremony. She described herself as "objectum sexuality". Eiffel Tower is not the only object she has fallen in love with, But there are more, like Lance which was actually a bow.
Illegal to Photograph the Eiffel Tower at Night
You all have seen so many photos of Eiffel Tower, people use different pose with the Eiffel Tower and upload it on social media but have ever noticed that those photos were clicked only during the daytime because it is illegal to take photos at Eiffel Tower during the night. If anyone could try to do this, will be claimed by the government that the illuminated light of  Eiffel Tower is not for the show-off because it's an "artwork".
Over 250 Million people have visited the Eiffel Tower
Here we represent you the graph which shows the rate of visitors to the Eiffel Tower.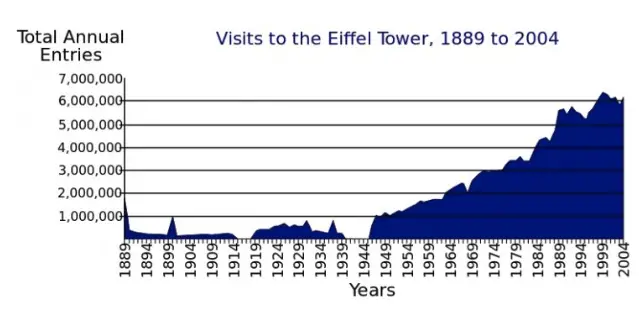 Gustave's Penthouse is at the top
On top of the Tower, there is a private apartment of Gustave. During its design, he demanded a living space for himself on the top of the Tower.
This can be now visited by the members but during his lifetime even no one was allowed to have a look of it. Sometimes he chooses people as a guest to entertain. Thomas Edison was his notable guest.
Here we have provided all the facts about the Eiffel tower, which creates interest to know the history of Paris. If you are interested to visit Eiffel tower then it indicates that you are planning a trip to Paris then go to my other blogs as well because from there you will be able to get the best tourism places in Paris, restaurants in Paris and other related things as well. If you liked our post please like it and comment in the below comment section.
The post Some Interesting Facts About Eiffel Tower appeared first on World Tour & Travel Guide, Get Travel Tips, Information, Discover Travel Destination | Adequate Travel.