Synopsis: Bangladesh's most awaited Padma Bridge was inaugurated by PM Sheikh Hasina on Saturday. It is one of the most promising and biggest infrastructure projects of Bangladesh since its independence. Designing of this bridge was initially started in 2009 and it took more than a decade to complete this bridge.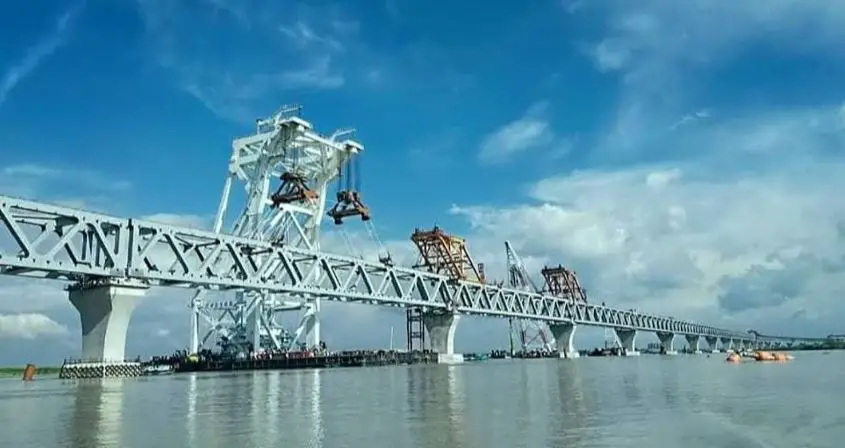 Bangladesh is all set to become a developed country soon as it has achieved its first-ever benchmark since its independence by constructing the Padma bridge. On Saturday, PM Sheikh Hasina, herself inaugurated this most awaited bridge in Bangladesh that will reduce the Dhaka-Kolkata Travel Time By Half. 




Yes, you heard it right! Now, Indians can now conveniently travel to Bangladesh that too in half time.  The Petrapole-Benapole border that connects the southern part of Bangladesh to West Bengal has now become an easy task for daily commuters. 
The construction of the Padma bridge will bring a big boost to the development of Bangladesh as the travel time between these two countries has now been reduced to half. 
The actual distance from Dhaka to Kolkata via Jessore Rd is 332.4 km. However, after the construction of the bridge, the distance will be reduced by 70km. This will eventually save around 4.30 hours for daily commuters. Also, the train journey time from Kolkata to Dhaka will be reduced by half. 
The Padma Bridge is 6.15km long and will connect India to Dhaka, through road, rail and ports. Also, it will connect India to Nepal, China, Myanmar, Singapore, and Thailand. 
Mohammad Shafiqul Islam handled the designing and construction process of the Padma Bridge. He added that the accomplishment of Padma Bridge is not dedicated to a sole person but many individuals have contributed a great deal to make this an achievement.
Initially, the plan to design the Padam bridge was shared with AECOM Engineering Company of New Zealand. However, construction work started in 2009 in Hong Kong. 
'ACME International' an Australia-based property development company along with Canada-based Northwest Hydraulic Consultants and Bangladesh-based ACE Consultants Limited' take the charge of the design of the Padma bridge in Hong Kong. During the designing period, a British citizen 'Robin Shyam' led the AECOM team to finish the work with excellence.
The post Bangladesh's Longest Padma Bridge is ready to Cut Dhaka-Kolkata Travel Time By Half appeared first on World Tour & Travel Guide, Get Travel Tips, Information, Discover Travel Destination | Adequate Travel.