From medieval castles to industrial landscapes, there is a fascinating range of historic monuments in Finland. These historic sites are a great way to discover the story of a nation together with its museums which have been ruled by the Swedish and the Russians before attaining independence in 1917 among other things. Among the very best are Suomenlinna Fortress, Kastelholm Castle and Raseborg Castle, there's a host of top historic monuments in Finland to visit.
List of Monuments in Finland
1.Hyvinkää Church
One of the best-known landmarks and monuments of Finland is the distinctively modern Hyvinkää Church,  from all directions approaching the city which can be seen. The church was inaugurated in January 1961 designed by Professor Aarno Ruusuvuori, who also designed the altar cross, due to its modernist pyramid style to considerable criticism. While the belry and bells are from 1960, the 35-stop organ was made by Hans Heinrich in 1977.
Read more: Famous Haunted Places in Amsterdam
Address: Hämeenkatu 16, Hyvinkää Finland.
2. Culture Silo
To become a center of community art, Culture Silo is being planned. You can find it at Toppila, Paalikatu 5 and this wood chip silo is designed by Alvar Aalto. Head your steps to Paalikatu 3 for more detailed information. Wood Chip silo was built 1931 for Toppilas pulp mills woodchip storage and it was one of Alvar Aaltos first functional designs. During designing and executioning the silo, the ideas that were born and later served as a base in Aaltos architectural solutions concerning public spaces. This famous monument in Finland is a part of seven preserved buildings.
Address: Paalikatu 5, Oulu, Finland.
3. Jan Karlsgården Open Air Museum
Jan Karlsgården open-air museum is a perfect example of Åland traditions. This open-air gives you an idea of how an Åland farm might have been during the 1800 Century which is a must-visit place to live. Both summer and winter activities are also organized here. It is one of the top monuments in Finland.
Address: Tosarbyvägen 5, Kastelholm Ålands landsbygd, Finland
Read More: Monuments of Chile
4. Kastelholm Castle / Kastelholms Slott
Kastelholm Castle is a well-preserved castle of Finland. The walls of this castle could tell many an exciting tale. The castle is a perfect example of a long and varied history. Construction on what was originally a fortress began in the late 1300s, the only medieval fortress on Åland. But the castle is first mentioned in historical sources in 1388 when exactly construction began is not known. It is an ancient monument in Finland. There is now only water on two sides of the building although the castle was originally located on a small islet. With Kastelholm as its centre, Åland was an independent administrative district at the time of the castle's construction.
Address: Tosarbyvägen 5, Kastelholm Ålands landsbygd, Finland.
5. Halosenniemi Museum
The 'Golden Era' of Finnish art, Pekka Halonen is one of the most beloved artists. He is a versatile artist and master portrayer of Finnish landscapes. He ingeniously applied these to the depiction of Finnish nature and absorbed the latest international trends. The countryside around Lake Tuusula provided him with a beautiful atmosphere to develop creativity and it was the same place that Halonen developed the distinctive style for which he is renowned. It is one of the best monuments in Finland.
Read more: Most Visited Museums in Amsterdam
Address: Halosenniementie 4, Finland.
6. Artists' House Erkkola
On the Tuusla Lake Road, the poet J. H. Erkko's (1849–1906) house Erkkola was built in 1902. Today Erkkola's activities have close ties to music, art theatre and literature. It is counted in one of the old monuments in Finland. Varied events include plays, small-scale exhibitions, club evenings, concerts, and lectures. As Aleksis Kivi Memorial Cottage, Erkkola's parking place is the same.
Address: Rantatie 25, Finland.
7. Michael's Church Turku
At the gateway to Port Arthur, beloved by the people of Turku, neogothic Michael's Church dominates the western cityscape. In 1905, Michael's Church was consecrated. By the famous architect Lars Sonck, it was designed. When he won a competition to design the church in 1894, he was only 23 years old. In a German neogothic style, the church exterior is done. Michael's Church Turku is characteristically beautiful ornamentation and slender spires and makes the church a favourite among many locals. For weddings, Michael's Church is Turku's most popular church and beautiful monument in Finland.
Read More: Famous Monuments of Colombia
Address: Allegatan 16, Åbo, Finland.
8. Helsinki Senate Square
The Helsinki Senate Square is  Carl Ludvig Engel's lengthiest architectural project and one of the most popular monuments in Finland. These most famous monuments in Finland are the oldest parts of Helsinki and present Engel's architecture as a unique allegory of commercial powers, political, religious, and scientific. Today snowboarding happenings and even many art events, concerts, Christmas markets are held at the Senate Square.
Address: 00170 Helsinki, Finland
9. Uspenski Orthodox Cathedral
Uspenski Orthodox Cathedral was completed in 1868 in the district of Helsinki the Katajanokka. In Western Europe, the Uspenski Cathedral is the largest orthodox church. The church is one of the clearest symbols of the Russian impact with its golden cupolas and red brick facade on Finnish history. It is now widely known as one of the most visited monuments in Finland.
Read More: Monuments in Mumbai
Address: Kanavakatu 1, Helsinki Uusimaa, Finland.
10. The Kamppi Chapel of Silence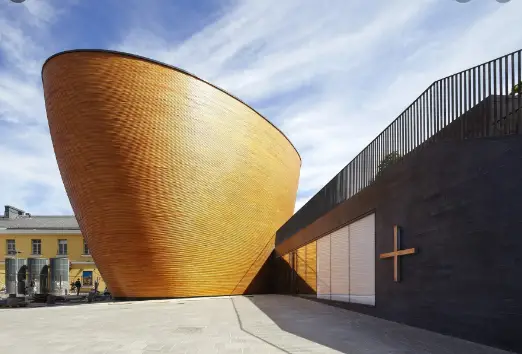 Situated on the busy Narinkka square, the Kamppi chapel of silence offers a space of retreat and encounter daily until late in the evening from early morning. Although staff members of the Helsinki city congregations and social services will be available for conversation the chapel is not meant for congregational services or ceremonies. By having small-scale gatherings, the sense of calm will instead be supported.
Address: Helsinki Uusimaa, Finland.
11. Olavinlinna Castle
The edifice of Olavinlinna, a castle of St. Olaf was begun in 1475. Knight Erik Axelsson Tott, the Danish-born founder of the fortress decided that an authoritative fortification should be constructed to guard the tactically significant Savo region. To keep away Russian attacks from the east, the castle was supposed to pledge control of the Savo region for the Swedish Crown. Cannons roaring and every-day errands inside the security of the castle's thick walls, the history of Olavinlinna is a fusion of medieval arms conflicting. On Olavinlinna, the changes in the possession of the castle left their mark. This most important monument in Finland can be seen in the diverse architecture of the fortress. These days the castle's halls and rooms can be used for all kinds of events and rented.
Address: 57130 Savonlinna, Finland
Read More: Buildings in Jaipur
12. Charming Old Porvoo
The Old Town of Porvoo is exclusive. Dates back to the middle ages, the mosaic-like township plan with its sporadically twisted plots and labyrinth of streets. Since then the township suffered many fires, but on the same foundation always the stubborn citizens rebuilt their houses. Many of the boutiques and services are situated around the cathedral on Jokikatu and Välikatu Streets, but a bit further it's also worth looking. It's easy to take a step back in time and in the side streets and lanes and forget the modern world. Among the houses entice the visitor to loiter and replicate in the past, the small tranquil parks and sleepy cobblestone streets.
Address: Porvoo, Finland.
Read More: Summer Festivals in Finland in July You Can't-Miss
So far we have discussed the best monuments in Finland, which contains the proper information regarding all the most visited monuments in Finland. I hope you might have loved reading this article and if you love to know more about Finland then kindly head to our other articles as well which will help you to get knowledge about.
The post Most Visited Monuments in Finland l Famous Monuments in Finland appeared first on World Tour & Travel Guide, Get Travel Tips, Information, Discover Travel Destination | Adequate Travel.