Washington DC is a city of dreams that makes you feel alive every time you come here. The ambiance of this place is full of energy and very positive. This city has something to offer to everyone. The water parks in Washington DC surely are a treat to visit. Be it the jaw-dropping roller coaster rides or thrilling water slides, everything is full of adventure. Along with that, these water parks even provide you with the facilities of cafes or food stalls inside so that you can have the taste of the local cuisine as well!
Make sure that you don't miss visiting the famous water parks and experience something new if you ever come to Washington. Here are some of the top water parks in Washington DC that you must visit.
List of Water Parks in Washington DC
1. Hurricane Harbor at Six Flags America
This is Maryland's largest water park in Washington. It is the perfect place to beat the summer. You can spend an entire day in the million-gallon wave pool with your family or friends. There is a half pipeline where first you have to make your way to the top and then let yourself flow down with water at the rate of 20 miles per hour. Also, the shark attack and the six-story plunge on Bonzai Pipelines are the main attractions of this water park.
Address: 13710 Central Ave, Bowie, MD 20721, USA
2. Ocean Dunes Water Park
Famous with the name The Blue Bucket, this water park in Washington DC has got one of the largest water dumps.  Here, you just simply stand approx 500 gallons of water that will start pouring down on you all at once. It is highly recommended!  and is a fun thing to experience. There are tamer sprays and cute little fountains for the kids, and wading pools to help them beat the heat. This water park also features miniature golf and batting cages, other than these activities.
Address: 6060 Wilson Blvd, Arlington, VA 22205, USA




3. Kings Dominion
Spread over an area of 20 acres, this water park is one of the largest water parks in Washington DC.  For both adults and kids, this pool features a variety of water slide options. Here you can float by the grace of the gentle current on a quarter-mile river. There is Lil' Barefoot Beach's pool where they can enjoy drenching themselves in water for kids. There are also two wave pools where you can surf even if you are a beginner.  Tornado, the most exciting part is the funnel ride called that will drop you from a certain height, creating a huge splash in the water and then rapidly sliding you from one side to the other.
Address: Doswell, VA 23047, USA
4. Volcano Island Waterpark
The architecture of this water park is based on a Polynesian theme. This amazing water park in Washington DC USA features a swimming pool of variable heights, exciting water slides, and a massive water dumping bucket. Also, for kids, there are short tubes and wades through which they can glide and end up into a one to three feet deep swimming pool. There are a 230 ft. long open twisting water slide or 170 ft. dark twisting water slide for adults. Apart from this gliding down through which they will end up into a huge swimming pool. There is even an 18-hole miniature golf course.
Address: Sterling, Volcano Island Dr, VA 20165, USA
5. Great Waves Water Park
The main attraction of this beautiful water park in Washington DC is the surf and the twisting water slides. Also, there are tube slides of two categories – the dark ones and the open ones. For people who want to up their exciting game to a whole new level, can opt for the dark tube slides. Also, this park is very much kid-friendly. It has slides for kids like crawl throwing fish, climbing equipment, baby water slides and many more. Overall, this park can be a nice place to come with your family
Address: 4001 Eisenhower Ave, Alexandria, VA 22304, USA
6. Great Wolf Lodge America
This is a 79,000-square-ft. a water park that is located in Williamsburg. Features a number of water rides and slides, it is one of the best indoor water parks in Washington DC. All the water slides are enough to pump your adrenaline. The main attraction is the wading pool, wave pool, and the FlowRider. For kids to choose from which are centerpiece tree houses, this park has a variety of slides options, cross rope bridges, slip down slides, kids climb cargo nets. It also has a 19-hole golf course for adults and over 100 different kinds of games for the kids.
Address: Capitol Hill, Washington, DC, USA




7. Water Mine Family Swimmin' Hole
This fun water park in Washington DC is based entirely on the western theme. The main attraction of this park is the lazy river. Also, there are many options available for kids. Big Pete and Little Pete are mostly two kinds of water slides popular among them. There is also a tenderfoot pond in which people are thrown after they glide down from the top of a slide.
Address: 1400 Lake Fairfax Dr, Reston, VA 20190, USA
8. Georgetown Waterfront Park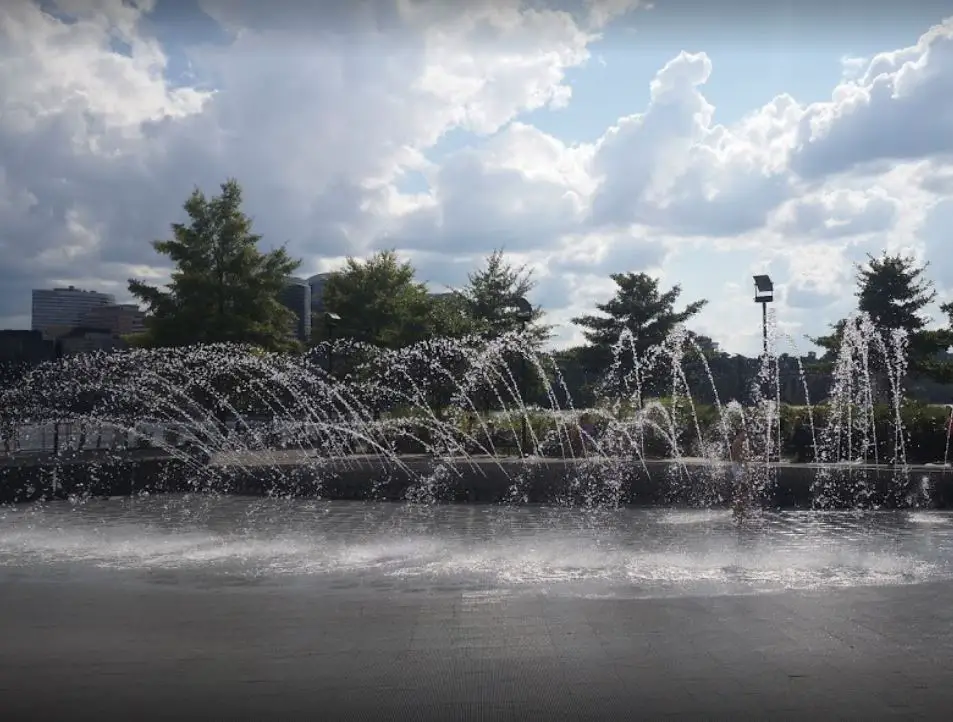 This unique water park in Washington DC was opened in the year 2011. People usually come here to simply chill and relax with their friends and family and enjoy the mesmerizing view of Potomac River. Kids can cool themselves off   in an arcing tunnel of water. This place is great for strolling without getting much wet. It is less crowded and hustle free, this is the perfect option for people who want to go to a water park.
Address: 3303 Water St NW, Washington, DC 20007, USA
9. Splash Park & Mini Golf
This water park is famous for its fountains and miniature golf course as the name suggests. You can find so many creative fountains that will make you dance with happiness. Two giant mushrooms constantly pouring down rain upon you and it is the USP of this family water park in Washington DC. Also, arranged in three concentric circles sprinkling water in a random fashion there is a space in this park that features 280 water jets. In the form of a waterfall, there is one another fountain.
Address: 18056 Central Park Cir, Boyds, MD 20847, USA




10. Cub Run RECenter Aquatics
Among the numerous breathtaking water slides that this park has to offer the most favorite among the people are the swirling vortex and the two tall twisting slides. It is one of the famous water parks in Washington DC. This park also provides swimming classes to both kids and adults. Other than that, there is a fitness area where one can avail of the facility of cardio equipment and exercise classes.
Address: Fairfax County, Virginia, USA
So far we have discussed the best water parks in Washington DC, which contains the proper information regarding all the family water parks in Washington DC. I hope you might have loved reading this article and if you love to know more about Washington DC then kindly head to our other articles as well which will help you to get knowledge about Washington DC.
The post Best Water Parks in Washington DC | Famous Water Parks in Washington DC appeared first on World Tour & Travel Guide, Get Travel Tips, Information, Discover Travel Destination | Adequate Travel.