Are you looking to explore the history of Kochi through the ages? There are a number of historical monuments in Kochi including the time-honored buildings, palaces, and parks where you can learn about the glorious past of Kochi. The presence of these historical sites and museums will take you on a walk through Kochi 's rich history.If you are willing to have in-depth historical information about Kochi, we recommend that you take a wonderful guided tour to cover the major historical attractions. Also, check the opening and closing time for each so that you can organize your time. Make sure that you go through the complete list of important monuments in Kochi for a great trip:
List of Monuments in Kochi
1.Vasco House
Vasco House is said to be the house where until his death in 1524 Vasco Da Gama stayed during his visits to Kochi. The house is on Rose Street at Fort Kochi and is more than 500 years old. The house was one of the pioneering structures that paved the way for the construction of European buildings in Fort Kochi and built in the Portuguese style of architecture. The large glass-paned windows built in typical European style open towards St. Francis Church. The balcony–cum-verandahs stand testimony to the architectural grandeur of the time. Vasco House now woos visitors with its ambience and now this heritage monument in Kochi is converted to a home stay.
Address: Vasco House, Fort Kochi, Kochi, Kerala.
2. Mattancherry Palace
Mattancherry Palace was built by the Portuguese in 1555 and it was gifted to the Raja of Kochi. This was a gesture to compensate for the damage done to a temple nearby. Later on, Dutch came into power and they took control over Mattancherry. This palace was further renovated and extended by the Dutch. Hence it got its name. Soon it was under the governance of British East India Company. After Independence in 1951, this palace became the property of the government and restoration work was undertaken. This popular monument in Kochi was converted into a museum in 1985 and has large exhibits of mural painting as well as weapons, headdresses used by the Kochi Maharajas. In 2007, restoration of this palace was undertaken by the Archeological Survey of India. The idea is to preserve the structure and bring it up to international standards. Visiting hours is between 10 am -5 pm; it's open all days except on Fridays.
Address: Mattancherry Palace, Near Mattancherry Bus Stop, Jew Town Road, Mattancherry, Kochi, Kerala
Read  More: Beaches in Maldives
3. St Francis Church
St Francis Church is one among the ancient European churches to be seen in India and it is situated in Fort Kochi. This religious monument in Kochi looks stunning and its architecture makes it look distinct. The Portuguese followers of Vasco da Gama got permission from Kochi Maharaja to build a fort. Within the premises of this fort a wooden structured church devoted to St. Bartholomew was constructed. In 1506 the church was reconstructed by Franciscan friars using bricks, mortar and tilted roofs. The new church was committed to St Antony and its work was completed by 1516. In 1663 the Dutch captured Kochi and they destroyed all churches except this one. The Portuguese happened to be Roman Catholics while the Dutch were Protestants so the latter renovated it and made it into their church. By 1795 the British were able to establish their control over Kochi and the Dutch had to give away this church to the Anglican Communion. They named it St Francis Church but later on this became the property of the government. In April 1923 it became a protected monument of the Church and later it was passed over to the Archeological Survey of India. But it's currently run by the Church of South India which is a group of Protestant Churches.
Address:  Saint Francis Church Road Opp, Fort Kochi, Kochi, Kerala
4. Jewish Synagogue
Jewish Synagogue is one of the historical monuments seen in Kochi. It was once built by the Jews who came to Kerala for trading in spices. Its architecture is beautiful and it is truly a landmark of this place. This famous monument in Kochi is located in the old Jew town and shares a common wall with the Mattancherry Palace and as such this place is also called Mattancherry Synagogue. Jews who had left their hometown came to Kerala and made this their place of stay. They traded in spices and they had become prosperous in this field. The Jews had built a Synagogue in the 4th century in Kodungallur along the Malabar Coast. Later this community shifted to Kochi and a new one was built here, but alas this was destroyed by the Portuguese in the 16th century. Later in 1568 on land given by the King of Kochi the Jews residing here built a Synagogue that was adjacent to Mattancherry Palace which is also referred to as Paradesi Synagogue as it was built by Spanish spoken Jews. The 400th anniversary of this synagogue was celebrated in 1968 which was attended by then Prime Minister Indira Gandhi.
Address: Mattancherry, Jew Town Road, Kappalandimukku, Kochi, Kerala.
Read More: Monuments in Benin
5. Thakur House
On Dutch Cemetery Road, Thakur House is another building that reflects the glory of a bygone era. It was earlier known as Kunal or Hill Bungalow and was built on Gelderland bastion. The Thakur House has lovely lawns and is cooled by the breeze from the sea below which reflects the opulent lifestyle of the colonial era. The monument of Dutch architecture has characteristic spacious rooms, wooden floors and bay windows all were made in the 1700s. This iconic monument in Kochi is a two-storeyed building, and the perfect symmetry of both floors is astonishing. However, alterations of this building were made to the original structure by its various occupants and the original building consisted of several halls and verandahs; Earthen pottery adorn the shelves and tables and the glass lamps hang from the roof beam, all providing a colonial grandeur to the building. Several Paintings decorate the walls of the rooms.
Address: Thakur House, Kochi, Kerala
6. Pallipuram Fort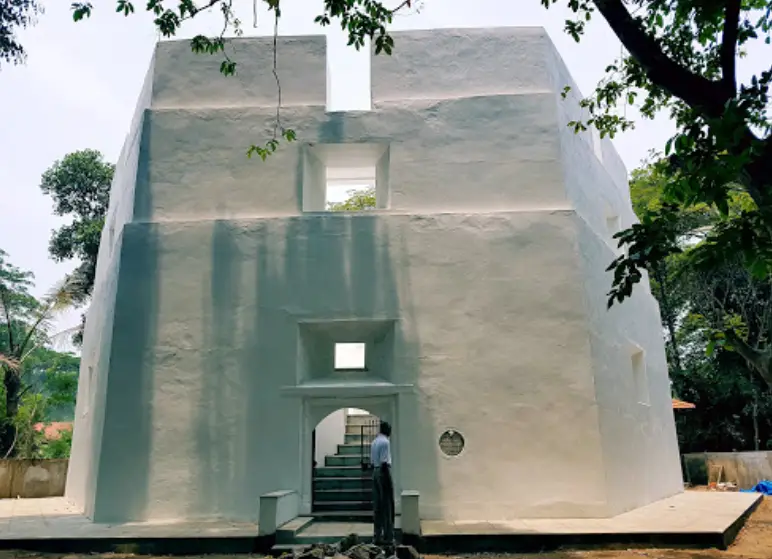 The Pallipuram Fort is one of the ancient European forts to be seen in India. Situated on the Vypeen island this fort is also called the ayikkotta. It was constructed in 1506 by the Portuguese and it was named after a nearby Manjumatha church. In 1663 the Dutch captured this fort and later in 1798 it was purchased by the Travancore kings to safeguard their lands from the Mysore rulers. After independence, this ancient monument in Kochi is administered by the Archeological Department of Kerala. The fort has a hexagonal shape and has been constructed with laterite, mortar as well as wood. The lowest floor has a height of five feet and walls measure 6 feet thick. It has three embrasures on each face and each side approximately measures 32 feet long & 34 feet high. Walls have been plastered with a mortar and there is also a granite slab door. On the northern side, there is a cellar that was once used to stock gunpowder. A well is also spotted in the premises where freshwater is available.
Address: Pallipuram Fort, Vypin, Kochi, Kerala
Read more: Reasons to Visit Amsterdam
7. Santa Cruz Basilica
Santa Cruz Basilica is one of the most remarkable churches seen in India. Its architectural grandeur is splendid and it is truly a landmark of Kochi. This most important in Kochi is situated near the St Francis Church and once you reach Fort Kochi you can get here by any road transport or use the ferry services.
When the Portuguese landed in Kochi in 1500 they were welcomed by King of Kochi Unni Goda Varma Thirumulpad. At a time of war, the Portuguese regiment helped defeat the King's enemy; later they were given consent for a fort. Later under the initiation of the Portuguese Viceroy Dom Francisco de Almeida, a church was constructed next to this fort. The building of the structure commenced in 1505 on the very day the banquet for the 'Invention of the Holy Cross' was organized. Once it was completed it was named as the Santa Cruz Church and it was raised to the rank of a Cathedral in 1558 by Pope Paul IV.
Address: Bastian St, Fort Nagar, Fort Kochi, Kochi, Kerala
8. Bolgatty Palace
Positioned on the Bolgatty Island this palace was constructed by the Dutch in 1744 and later it was leased out to British. Currently, it is a heritage hotel and caters to the needs of the tourists who come to visit Kochi. The palace has a rustic feel with slanting roofs and wooden framed windows. All together this beautiful monument in Kochi looks magnificent and is surrounded by a beautiful garden on its 8-acre property. Now becomes a tourist hub, every year thousands of travelers visit it. Because it is built on the island so nobody misses to visit it especially on weekends.
Address: NH966A, Mulavukad, Kochi, Kerala.
Read more: Reasons to Visit Amsterdam
So far we have discussed the best monuments in Kochi, which contains the proper information regarding all the So far we have discussed the best monuments in Kochi, which contains the proper information regarding all the top monuments in Kochi. I hope you might have loved reading this article and if you love to know more about Kochi then kindly head to our other articles as well which will help you to get knowledge about Kochi.
The post Most Visited Monuments in Kochi l Famous Monuments in Kochi appeared first on World Tour & Travel Guide, Get Travel Tips, Information, Discover Travel Destination | Adequate Travel.