If you want to explore the history of Galway through the ages there are a number of historical monuments in Galway including the time-honored buildings, palaces, and parks where you can learn about the glorious past of Galway. The presence of these monuments in Galway will take you on a walk through the country's rich history. If you are willing to have in-depth historical information about Galway, we recommend that you take a wonderful guided tour to cover the major historical attractions. Also, check the opening and closing time for each so that you can organize your time. Make sure that you go through the complete list of historical monuments in Galway for a great trip:
List of Monuments in Galway 
1. Liam Mellows Statue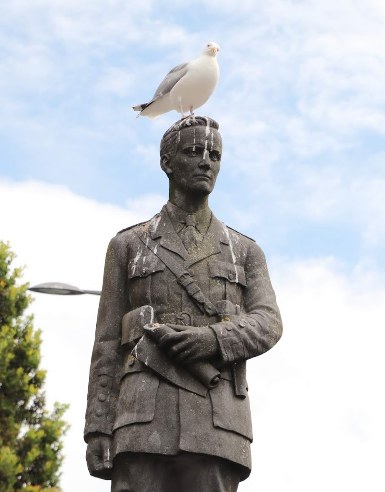 This statue is dedicated to Liam Mellows, the Irish Volunteers, and a member of the IRB (Irish Republican Brotherhood). Mellows was an influential figure in Irish history. During the 1916 Easter Rising, he led the Irish Volunteers in a number of local attacks. He was Director of Supplies during the War of Independence and was elected as a Sinn Fein TD to the First Dáil (1918).  Mellows was executed on 8 December 1922 after he was arrested and imprisoned following the capture of the Anti-Treaty Four Courts garrison. The famous monument in Galway is built to a hero of 1916 Rising and the War for Independence. He was captured and executed by the Free State forces in 1922. It is in Eyre Square in the town center and easy to find by the bus stops.
Address: Liam Mellows Statue, Galway, Ireland.
Read more: Famous Haunted Places in Amsterdam
2. D'Arcy Monument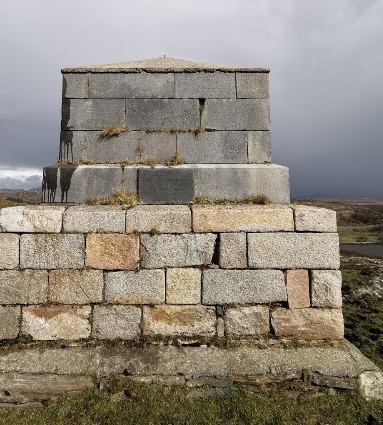 This monument is dedicated to John D'Arcy who was born in 1785 and died in 1839 and is known as the founder of Clifden.  Dating from 1871 various examples of graffiti can be found etched into monuments. If we talk about the location of the monument, it is situated on the peak of a hill providing breathtaking views for tourists and locals to observe Clifden town. This popular monument in Galway stands on a small hill above Clifden town in tribute to its founder, and is known by locals as simply 'The Monument.' Throughout the summer season, visitors take the short trek up Monument Hill because it is one of the best spots to snap a picture of Clifden and the surrounding mountains, The Twelve Bens.
Address: 7 Beach Rd, Cloghaunard, Clifden, Co. Galway, H71 TV26, Ireland
3. Kennedy Memorial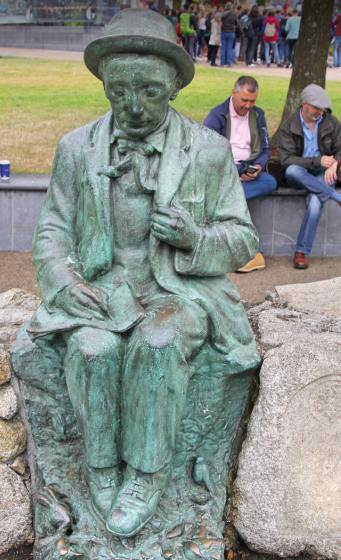 In 1963, US President John F. Kennedy visited Ireland just five months before his assassination and stopped briefly in Galway on the 29th of June before leaving the country.  In 1965, the park in Eyre Square has renamed John F. Kennedy, Memorial Park.  Soon after, a monument with a central bronze profile cast from a wood carving by local sculptor Albert O'Toole was erected but by the new monument as the other had fallen was subsequently replaced in the early 2000s. From the tourism perspective, this beautiful monument in Galway is a fun place to hang out for a while and people watch on a sunny day. Filled with shoppers, tourists, dogs, local drunks, musicians, and lots of kids. Don't forget to visit the Kennedy Memorial plaque to commemorate his visit in 1963.
Address: Eyre Square, Galway, Ireland.
Read more: Best Theme Parks of Amsterdam
4. Kylemore Abbey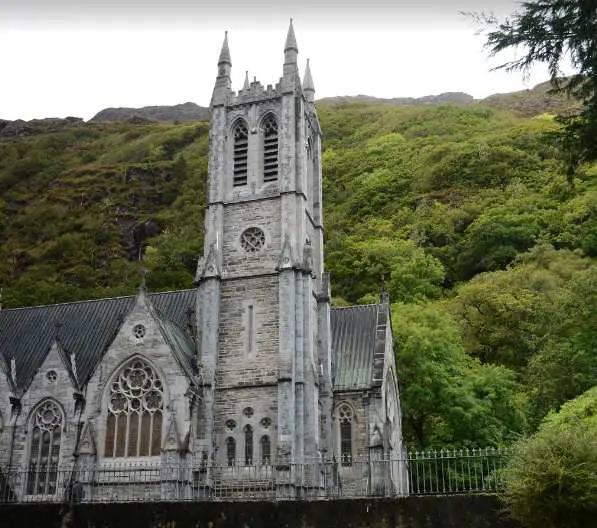 With an exquisite chapel and reception rooms, visit Kylemore Abbey and it is a 19th-century mansion. The oldest of the Irish Benedictine Abbeys, this Abbey is considered one of the most famous monuments in Ireland. Founded in 1920 on the grounds of Kylemore Castle in Connemara, it is a Benedictine monastery in County Galway, Ireland. For Benedictine Nuns, the abbey was founded and then these nuns fled Belgium in World War I. At Kylemore, the nuns established a day school for local girls and their international boarding school. Apart from the school, they also ran a farm and guesthouse and after a devastating fire in 1959, and the guesthouse was closed. A section of the Abbey is not open to the public and is retained strictly for the nuns' monastic life of prayer and work.
Address: Kylemore Abbey, Pollacappul, Connemara, Co. Galway, Ireland
5. St Nicholas' Collegiate Church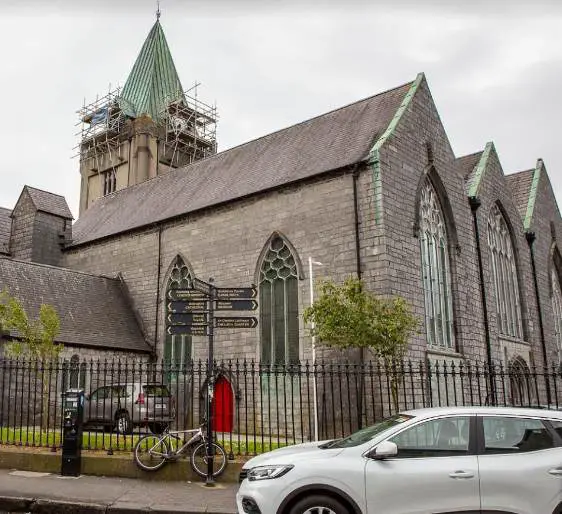 The exact date of construction of St Nicholas' Collegiate Church is unknown, but it is believed to have been built around 1320. It is the largest medieval parish church still in use in Ireland.  There have been several rebuilds and additions to the church throughout the centuries. Most of the notable extensions or construction work of this church was held in the 1600s. These extension works of the church are done alongside the edge of the nave, which gives St Nicholas's its distinctive shape. This religious monument in Galway is dedicated to St Nicholas of Myra, patron saint of children and mariners, but better known as Santa Claus. Today St Nicholas' is not only a place of worship but also serves as a music venue, having played host to a number of choirs and musicians and even Led Zeppelin frontman Robert Plant as part of the 2019 Galway International Arts Festival. 
Address: St. Nicholas Collegiate Church, Lombard St, Galway, H91 PY20, Ireland.
Read more: Most Visited Museums in Amsterdam
6. Fishery Watchtower Museum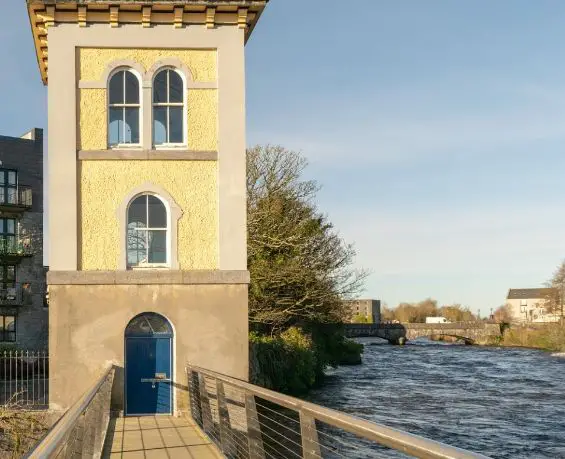 Originally built in the 1850s, the Victorian tower is the only structure of its kind in the country, designed as a station for draft netting (a method of fishing that uses a rowboat and a long net secured to the shore on one side). When commercial net fishing was phased out in the 1970s, the building became obsolete. Inside this important historic monument in Galway today, the history of the local salmon fishing industry is recounted through memorabilia, vintage photographs, and exhibits. From the three-story structure's lookout, guests can bask in the same stunning views of the waterway that fishery staff once used for surveillance. On a stroll along quay street in the west coast city of Galway, Ireland, you'll weave through busking artists and musicians, students, locals, and visitors before reaching Wolfe Tone Bridge. Take Wolfe Tone over the River Corrib, and a path will lead you to the Fishery Watchtower. The building has been restored and converted into a tiny, free museum.
Address: Wolfe Tone Bridge, Galway, Ireland
Visit: Reasons Galway is Known For
7. Dun Aonghasa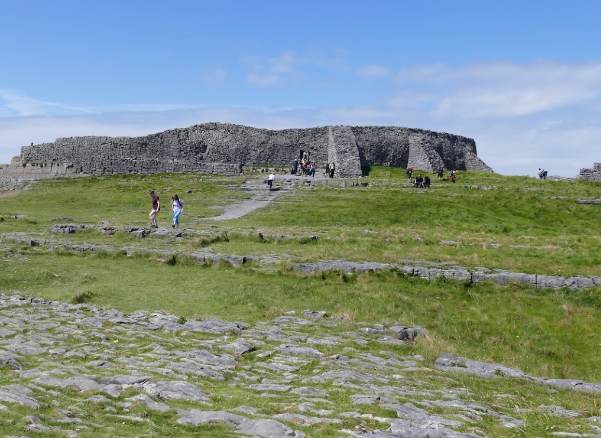 Dún Aonghasa is the largest of the prehistoric stone forts of the Aran Islands that is perched on a cliff overlooking the Atlantic ocean. The fort consists of a chevaux-de-frise, a dense band of jagged, upright stones and three massive dry-stone walls, surrounding the fort from cliff to cliff, designed to impede attackers. It was reconstructed around 700-800 AD, originally built in 1100BC and excavations revealed several houses and burials as well as significant evidence of prehistoric metalworking. This ancient monument in Galway is about 1km from the Visitors Centre and is approached over rising ground.  The last section of the path is very rough because of sliding so care is needed especially when descending.  Strong walking shoes and Boots are recommended and there is no fence or barrier at the edge of the cliff. Please note that Dún Aonghasa is considered as a vulnerable site. Tourists who visited this site are therefore advised to co-operate with our effort to protect this heritage site by not interfering with this site in any way.
Address: Dun Aonghasa, Galway, Ireland.
Read more: Reasons to Visit Amsterdam
8. Lynch's Castle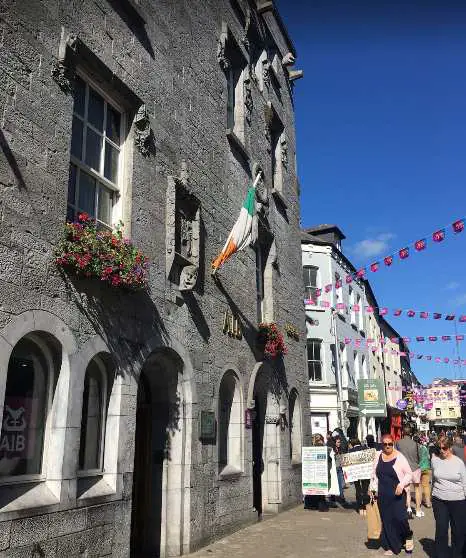 Situated between Shop Street and Abbeygate Street, Lynch's Castle now houses the AIB bank, and could easily go unnoticed. Yet it is a striking example of a medieval fortified house. The old monument in Galway is four stories high with embellished carved windows, gargoyles, and ornamental moldings and cornices. As protection from raids, this historic building was built by the powerful Lynch family and the parts of the limestone building may date back to the 14th century but the bulk of it was built in the 16th century. The Lynches, of Anglo-Norman, were one of the powerful 14 tribes who ruled Galway. The family was influential and featured prominently in Galway's history. The Lynch coat of arms can be seen on the front of the building as well as coats of arms for Henry VII and the Fitzgerald's of Kildare. A large extension was added in 1808 and a carved doorway was added in 1933. Today, you can visit the ground floor during bank opening hours where panels explain the history and architecture of the building in detail.
Address: Lynch's Castle, Galway, Ireland
9. The Spanish Arch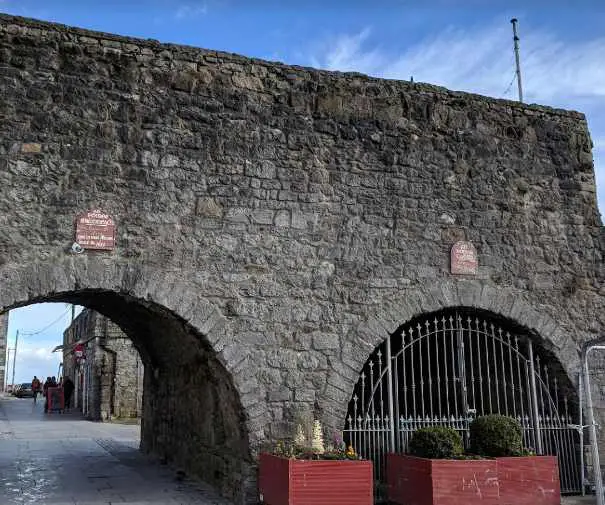 This 16th-century symbol of Galway is now a favourite place for a drink, and to watch kayakers ride the waves as the Corrib makes its way out to sea. The Spanish Arch was built to protect the city's quays from invasion and now stands as a stark, chunky reminder of the city's long history. Dating back to pre-medieval times, positioned on the left bank of the Corrib River, the Spanish Arch is one of the most popular historical monuments in Galway. In 1584, the Spanish Arch was built but is an extension of the 12th century Norman -built town wall, which stretched from Martin's Tower to the riverbank. It used to be a soldier's home who kept watch and manned cannons on the roof. It was constructed by Wylliam Martin, the 34th mayor of Galway, first, it was known as Ceann an Bhalla ('the head of the wall') but later became known as the Spanish Arch. European ships carrying a cargo of spices and wine sold their goods at the docks in medieval times. Christopher Columbus also visited this place in 1477. The Spanish Arch was partially destroyed by a tsunami in 1755. 
Address: Spanish Arch, 2 The Long Walk, Galway, Ireland.
Read More: Buildings in Jaipur
10. Galway Cathedral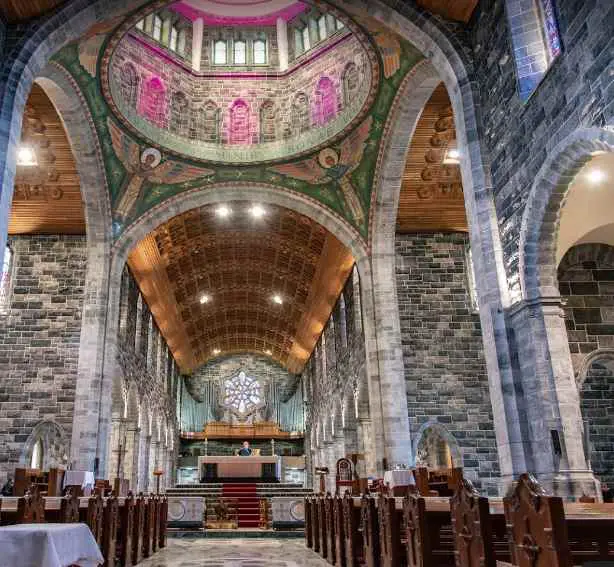 Galway Cathedral's huge octagonal dome is visible for miles around and it is one of the city's largest buildings. It is relatively new, completed in 1965, and unusually for a church of that period was built not of concrete but of stone (Galway limestone), a major project which took almost 8 years to complete. It is a blend of several architectural styles, and while the Renaissance influence is to the fore, there is a Gothic style to the arches in the nave. If you visit Galway you have to find 10 minutes to visit the Cathedral.  About 60 years old, it is certainly a recent building. Well built and decorated with huge mosaics. Despite the internal dimensions, it is a peaceful environment. Traditional, functional, massive, and made with local materials. The beautiful Connemara marbles have been used for decorations. This popular religious monument in Galway stands on one side of the old Galway prison which was acquired by the church in 1941. Incredible to think that most of the costs had been covered by donations.
Address: University and Gaol Rds. Cathedral Square, Galway Ireland 
Read More: Best Beaches in Galway




So far we have discussed the best monuments in Galway, which contains the proper information regarding all the most visited monuments in Galway. I hope you might have loved reading this article and if you love to know more about Galway then kindly head to our other articles as well which will help you to get knowledge about.
The post Most Visited Monuments in Galway l Famous Monuments in Galway appeared first on World Tour & Travel Guide, Get Travel Tips, Information, Discover Travel Destination | Adequate Travel.