If you want to explore the history of Bonn through the ages there are a number of historical monuments in Bonn including the time-honored buildings, palaces, and parks where you can learn about the glorious past of Bonn. The presence of these monuments of Bonn will take you on a walk through the country's rich history. If you are willing to have in-depth historical information about Bonn, we recommend that you take a wonderful guided tour to cover the major historical attractions. Also, check the opening and closing time for each so that you can organize your time. Make sure that you go through the complete list of historical sites in Bonn for a great trip:
List of Monuments in Bonn
1. Beethoven-Haus & Monument
Ludwig van Beethoven is one of Germany's most revered composers and Bonn has done much to nurture its connections with him. A center point of "Beethoven City" is the great music composer's birthplace, Beethoven-Haus, where he was born in 1770. Founded as a museum in 1889, the attraction also has a collection of rare artifacts and documents, a research center (including rare recordings), and the Chambers Music Hall which runs a program of Beethoven-themed concerts and events. People who are interested in the Beethoven Monument, a large bronze statue erected in Münsterplatz in 1845 guided tours are available for them. This famous monument in Bonn is located in the heart of the city, most of the rooms only have reading material on the walls. Although there is a lot of reading it is still very interesting and every classical music lover should visit Beethoven's house when in Bonn. You need to have a basic understanding of German as there are a lot of the writings in German and also there is also a very nice gift shop.
Address: Bonngasse 24-26, 53111 Bonn.
2. Bonn Museum of Modern Art
The Bonn Museum of Modern Art (Kunstmuseum Bonn) hosts numerous temporary and permanent exhibits and was founded in 1947. Highlights of the permanent collection include works in the Rhenish Expressionism school, as well as post-war art from across Germany. It features one of the most extensive collections of August Macke's works, with paintings, watercolors, and drawings, and a collection of works by his contemporary, Max Ernst, a decisive artist in the development of Surrealism. Another drawcard is its collection of more than 5,000 post-war prints, as well as unique video art. From this old monument in Bonn, a seven-minute stroll will take you on the banks of the river Rhine and you will also find the old parliament buildings (Bundeshaus) that is now home to the World Conference Center Bonn, which hosts many national and international conferences and events.
Address: Friedrich Ebert Allee 2, 53113 Bonn.
3. Bonn Minster
The venerable Bonn Cathedral (Bonner Münster), dedicated to Saints Cassius and Florentinus who were thought to have been executed on this site, is one of the finest Romanesque churches on the Rhine. Built between the 11th and 13th centuries, this religious monument in Bonn is also one of Germany's oldest cathedrals. Highlights include its 11th-century east crypt, its attractive 12th-century cloister, and the unique crossing tower. As engineers and archaeologists were assessing structural needs preparatory to major renovation work in 2017, they discovered the long-forgotten tomb of Siegfried von Westerburg behind a slate panel in the west crypt. From 1275 to 1297, he was archbishop of Cologne and first granted Bonn its right to township. It's a great place to visit if you are coming to Bonn. Both Cassius and Florentius are now saints so the church has taken on more significance as a result. The building is undergoing renovation but is still a great place for a photograph.
Address: Gangolfstr. 14 Gangolfstraße 14, 53111 Bonn, North Rhine-Westphalia Germany.
4. Altes Rathaus and Market Square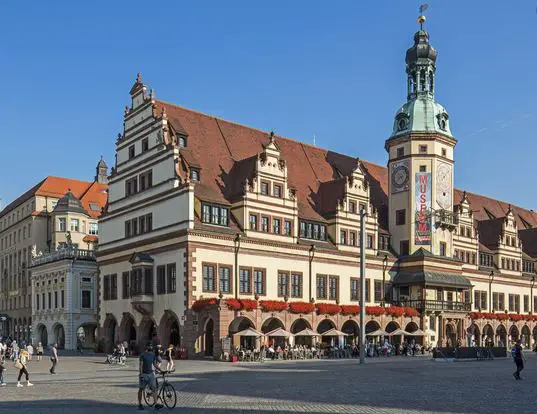 With gold trim, Bonn's town hall, an elegant white building provides a backdrop for Bonn's busy market square. The scene is especially picturesque in December, when the Christmas Market fills the square with light and music. From December 1 through Christmas Eve, the beautiful old town hall becomes a giant Advent calendar, with a new window lighted each day. The surrounding streets and squares make up one of Bonn's smartest shopping areas. It was the seat of the Leipzig city council until the beginning of the 20th century. This popular monument in Bonn has been home to the Museum of City History since 1909. The market square with the Old Stock Exchange of Germany is at the back and via a passageway can be reached. The  entrance of the museum is also located in this area and  City Hall houses a large number of valuable relics of Leipzig's music history, which you can find on a tour of the Leipzig Notenspur.
Address: Altes Rathaus and Market Square, Bonn, Germany.
5. Bonn Botanic Gardens and Poppelsdorf Palace
Bonn Botanic Gardens also known as Botanischer Garten Bonn that is covering some 16 acres and owned and operated by the University of Bonn, in 1340 it is constructed as part of a castle garden. They were transformed in their current Baroque style in 1720, and the Rococo Poppelsdorf Palace was added in 1746. These days the garden is home to more than 11,000 species of plants, including many endangered local species. Highlights of its outdoor gardens include numerous species of woody plants in the large arboretum, as well as plants arranged by geographic region. Guided tours and educational talks are available. This park probably looks very nice and beautiful in spring and summer. But in winter, it is not worth a detour.  This picturesque beautiful monument in Bonn lies near a historical barocco palace, which is used now as one of the Bonn university buildings. The plants and trees collection is astounding and worth visiting. When a gigantic titan arum flower starts blooming it is strongly recommended to visit.
Address: Meckenheimer Allee 171, Bonn.
6. The Art and Exhibition Hall
Established in 1992, the Art and Exhibition Hall of the Federal Republic of Germany offers numerous excellent exhibits relating to the country's rich cultural history, as well as its role in the fields of science, technology, and the environment. Exhibits are brought in from around the globe and change frequently, so be sure to visit the museum's website prior to visiting. The Art and Exhibition Hall of the Federal Republic of Germany (Bundeskunsthalle) on the Bonn has a reputation in Europe and many tourists visit every year. From the fine arts and cultural history to science and technology, the exhibition spectrum ranges from it. This iconic monument in  Bonn relies on widespread national and international cooperation as the Art and Exhibition Hall does not own any collections itself. With a diverse cultural program, a particular highlight is offered by the annual Museum Mile Festival on four days in May/ June.
Address: Friedrich-Ebert-Allee 4, 53113 Bonn




7. Museum Koenig
Museum Koenig – or to give it its full name, the Alexander Koenig Zoological Museum – is one of the largest historical museums in the world. Opened in 1934, it displays a diversity of wildlife and their habitats. A highlight is the excellent "Our Blue Planet" exhibit showcasing ecosystems through a series of fascinating dioramas, including the African Savannah, tropical rainforests, and Polar Regions. This most popular monument in Bonn focuses on researching and explaining the wide range of species on the Earth. In this museum your exciting journey with the exhibition begins in the African savanna and continues through tropical deserts and the polar ice world back to central Europe. In the history of the founding of the Federal Republic, the Museum played a significant role: The celebratory opening session of the parliamentary council was held in the atrium on 1 September 1948.
Address: Adenauerallee 160, D-53113 Bonn.
Read More: Cities in Germany
8. German National Museum of Contemporary History
The first exhibits in the German National Museum of Contemporary History opened to record the painful years when Germany was a divided nation four years after the German capital returned to Berlin. The museum covers the years from the end of World War II to the fall of the Iron Curtain and reunification of Germany. This heritage monument in Bonn compares life in the East and West with films, artifacts, and photos showing how the two post-war German states evolved. Exhibits highlight the Berlin Wall, the Berlin airlift, the iron curtain, and final reunification. Somewhat incongruous, but interesting nonetheless, artifacts from Roman Bonn are displayed on the museum's lower floor. Some signage is in English, and much is self-explanatory, but the free English audio tour is well worth requesting. The museum was once part of the former West German government district and is located on Museumsmeile (Museum Mile) in Bonn.
Address: Willy-Brandt-Allee 14, Bonn.




9. La Redoute
The La Redoute in Bad Godesberg is a hall opened in 1792 and now it is a part of Bonn, North Rhine-Westphalia, Germany. When Bonn was the location of the government of the Federal Republic of Germany, from 1949-1990, state receptions were held at the Redoute. Today, this place is counted in historical buildings and is used for events. To serve Bonn's courtly society as a place for dance and games, this house was commissioned by Max Franz, the youngest son of Empress Maria Theresia. This top monument in Bonn was one of the last structures to be built in the electoral times, and the result is this grand, classical masterwork. The young Beethoven played music here in front of Haydn, and Mozart's Zauberflöte is said to have had one of its first performances here. Today, La Redoute is host to various concerts, functions and grand receptions.
Address: Kurfürstenallee 1, Bonn, D-53177, Germany.
Read More: Water Parks in Berlin
10. Brockemannche (Little Bridge Man)
This ancient monument in Bonn was at first placed on the Rhine Bridge. When it was first constructed, the residents of Beuel were the chief beneficiaries of the bridge and they didn't want to raise such a large amount of cash to finance it. This bridge infuriated the other people who were the citizens of Bonn so much that they erected this 'Little Bridge Man', as it's called, on the bridge just after it opened. After the bridge was destroyed in 1945, the little fellow was moved to the promenade under the bridge.  These days, the residents of Beuel don't mind the episode anymore and the 'Little Bridge Man' is always good for a laugh from passers-by.
Address: Rheinpromenade underneath the Kennedy Bridge, Bonn.
So far we have discussed the best monuments in Bonn, which contains the proper information regarding all the most visited monuments in Bonn. I hope you might have loved reading this article and if you love to know more about Bonn then kindly head to our other articles as well which will help you to get knowledge about.
The post Most Visited Monuments in Bonn l Famous Monuments in Bonn appeared first on World Tour & Travel Guide, Get Travel Tips, Information, Discover Travel Destination | Adequate Travel.