In this article, we are focusing on monuments in Azerbaijan. Azerbaijan got its freedom from the Soviet Union in 1991. The region has been developing fast as a major tourist center and the petroleum boom in the country. Every city in the country has got its own related experiences and testimonials, which focus on the region's ancient history.  Modern technology along with new construction projects are coming together to provide a wonderful blend of contemporary services, also with time entertainment and classic Azerbaijani culture and history. 
Azerbaijan has a medieval Islamic core surrounded by lavish late 19th and early 20th-century European styles and modern skyscrapers and designs. Layers of history can be unraveled by exploring the architecture in Baku as you pass through Azerbaijan's different eras. Here, you can learn about the top historic visits into what the country has to offer and we've compiled the top historic sites to visit in Azerbaijan.
Azerbaijan Monument List
1. Icheri Sheher
The Inner City dates to the 12th-century. Streets twist and branch as the old town rises gently up the hill. You get here  Vendors selling traditional Azerbaijan souvenirs and carpets here. It is the most important monuments in Azerbaijan.
Read More: Monuments in Armenia
2. Ismailiyya Palace
Get Ismailiyya Palace Hotel Deals
Ismailiyya Palace is considered famous monuments in Azerbaijan. Oil exploitation made people rich when Baku became part of the Russian Empire. And the rich liked to show off their wealth with lavish mansions. Baron Agha Musa Naghiyev was no exception. The story of his Ismailiyya Palace is quite sad. His son died, and the baron decided to build a huge symmetrical mansion on Istiglaliyyat Street in honor of his late son. Construction finished in 1913.




3. Azerbaijan State Academic Opera and Ballet Theatre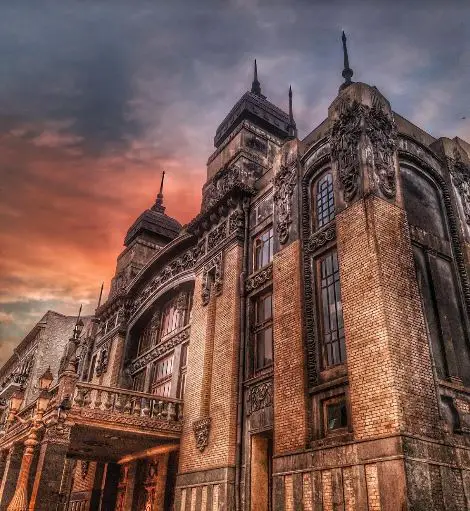 Get Azerbaijan State Academic Opera and Ballet Theatre Hotel Deals
The imposing yellow and black art nouveau Opera and Ballet Theatre, most important medieval sites in Azerbaijan,  typical of Imperial Russian architecture, opened in 1911. As you admire the intricate façade and exquisite design, think about the building's bizarre history. The story goes something like this: a wealthy magnate was upset he didn't get invited to a party at an opera star's mansion. So he decided to build his own, today's theatre. But that's not all. He made a bet with another baron who had to pay if it wasn't finished in 10 months. Construction finished in the time, and the magnate won his bet.
Read about: Famous monuments in Antigua and Barbuda
4. Palace of Happiness
This mansion, historical monuments in Azerbaijan is another example of oil tycoons splashing their cash on architecture in Azerbaijan. The Palace of Happiness took just nine months to build in 1912. Russian Bolsheviks stormed inside in 1920 in which the baron responded by shooting three officers before turning the gun on himself. Today, the five-storied historical building fittingly houses the Palace of Marriage Registrations.




5. Government House in Baku
Get Government House in Baku Hotel Deals
Looking at the gigantic House of Government in central Baku along Neftchiler Avenue, you sense a feeling of architectural beauty. It can be hard to imagine such a beautiful baroque building, which lights up after dark, was commissioned by the same rulers who build endless rows of ugly blocks in much of Eastern Europe. Construction finished holding 5500 people in ministerial positions in 1952.
Tour: Top monuments in Angola
6. Church, Concert Hall
The three-storied gothic Lutheran Church near 28 May Street dates back to the late 19th-century. During Baku's oil boom, Europeans, including many Germans, flocked to get a piece of the action. The church, commonly referred to its German name Kirche, replicates similar versions back in their motherland. When the Soviets arrived, the attendees promised to pray for Stalin if he didn't demolish it. The Soviets executed the Lutherans the following year. The Church later became a concert hall.




7. The Flame Towers
Get The Flame Towers Hotel Deals
Azerbaijan's history and culture intertwine deeply with fire. It is counted in most visited monuments in Azerbaijan.  From the Zoroastrian worship to the modern-day natural gas reserves fuelling the economy and paying for the skyline. Flame Towers are the first stop if you want to experience contemporary architecture in Azerbaijan. The trio of skyscrapers with curved and triangular designs resemble three flickering flames. Built on a hill, the tallest reaches 597 feet making it both an icon of Baku and the tallest skyscraper in Azerbaijan, visit the popular monuments in Algeria. The magic starts after dark when the towers light up and alternate between the colors of the Azerbaijan flag and the color of fire.
8. Heydar Aliyev Center
Get Heydar Aliyev Center Hotel Deals
 Azerbaijan's symbol of modernity, named after the former president, aims to create optimism and romance in today's capital and the most important historical sites in Azerbaijan. And more importantly to use its distinct curves and waves to create a fluid-structure contrasting former Soviet blocks and authoritative designs. Construction finished in 2012 and architect Zaha Hadid has won many awards for her innovate design. The interior holds a conference hall, gallery and museum. If you want to visit this unique style of architecture in Baku, take either the red or green line to Nariman Narimanov metro station. Heydar Aliyev Center is five minutes away on foot. Opening hours are Tuesday to Sunday from 11:00 am to 6:00 pm. It closed on Monday.




9. Gala
Gala is also known as Qala. Gala is a huge historical-ethnographic museum under the open sky. It is situated 40km away from the capital of  Azerbaijan. It is a quintessential cultural legacy of the entire Absheron peninsula. There are gathered and restored exhibits and antiquaries related to the medieval life of Azerbaijan.
10. Gobustan
Gobustan is a historical site in Azerbaijan only 60 km away from Baku. This is a big reserve where wall inscriptions, everyday life items and even shelter remnants of the primitive people who had lived here 10 thousand years ago, had been discovered here. Today Gobustan is included in the list of the frequently visited attractions in Azerbaijan.
Read More: Historical monuments in Afghanistan
11. Ateshgyah
Ateshgyah is a world-known temple of eternal fire and, famous monuments in Azerbaijan. It is situated 30km away from the center of Baku, on the outskirts of the Surakhani village. This territory is famous for its unique natural phenomenon such as flaming natural gas seepage, and in ancient times there appeared a Zoroastrian temple of fire worshipers.
Read More: Most visited monuments in England
12. Yanardag
Yanardag is one of the most visited monuments in Azerbaijan in the surroundings of the capital Baku where there have been fire flames blazing from the ground on the hillside for thousands of years. This place is situated 15 miles to the north of Baku.
13. Absheron towers
Absheron towers was erected in the 11-21th centuries on the Absheron peninsula, around Baku. Then they played the role of the initial defensive line of the city and served as a signaling system. Towers and the Absheron fortress are some of the most interesting architectural sites in Azerbaijan today.
Related Post:




So far we have discussed the famous monuments in Azerbaijan, which contains the proper information regarding all the top monuments in Azerbaijan. I hope you might have loved reading this article and if you love to know more about Azerbaijan then kindly head to our other articles as well which will help you to get knowledge about Azerbaijan.
The post Famous Monuments in Azerbaijan | Most Visited Monuments in Azerbaijan appeared first on World Tour & Travel Guide, Get Travel Tips, Information, Discover Travel Destination | Adequate Travel.