The Maldives offer a plethora of seafood cuisines which are no less than a continental dish due to their rich flavors packed in all of the best foods to try in the Maldives. Since the country is completely surrounded by water you can find the best fishes in their main course meals along with different snack foods all derived from the aquatic source of the sea. These dishes are intricately blended with creamy and fresh coconut from the beaches and myriad spices that provide amazing seasoning into the different popular food to eat in Maldives. The preparation of seafood requires great skills and techniques which is clearly seen in all the below-mentioned list of popular foods to eat in the Maldives.
List of Foods to Eat in the Maldives 
1. Mas Huni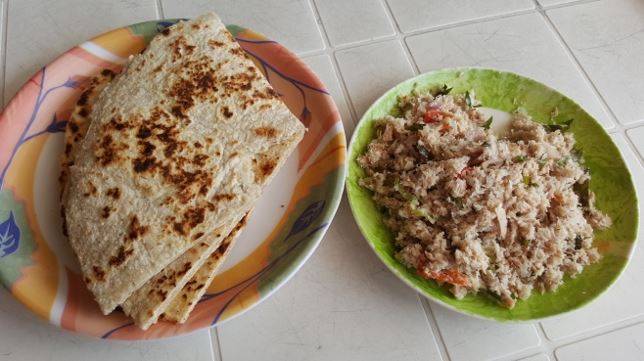 These are Maldive's famous food which is served as popular starters prepared from the shredded and smoked Tuna, served with grated coconuts, lemon and onions. This is one of the popular food to eat in the Maldives especially in the Maldivian breakfast meals by pairing it with chapati bread called Roshi. You can find these almost on every local corner of the Maldives, in the early mornings as it's the significant staple food for fishermen before going into the sea for the tiring task of fishing. Mas Huni serves a great morning nutritional diet infused with the fresh coconuts along with healthy proteinous fishes. 
Read More: Foods of Mexico City
Best served at: The Sea House Maldives restaurant or at the west harbor area in Male, now known as Raaveribe Maizaan has many small restaurants on a line which serve great Mas Huni
Average price: MVR 50 – MVR 250
2. Bis Keemiya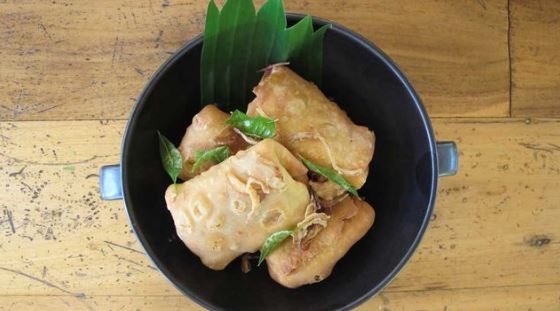 It is the best food in the Maldives that you can never miss. It is basically a fried momo or samosa in the Maldivian form. This pastry is filled with tuna, hard-boiled egg, sliced onions and gently sautéed, shredded cabbage(see told you, a Maldivian momo!).
Best served at: the street cafes of Male and Hulhumale, usually open from 8:00 AM to 10:00 PM.
Average price: MVR 2 – MVR 10
3. Boshi Mashuni (Banana Flower Salad)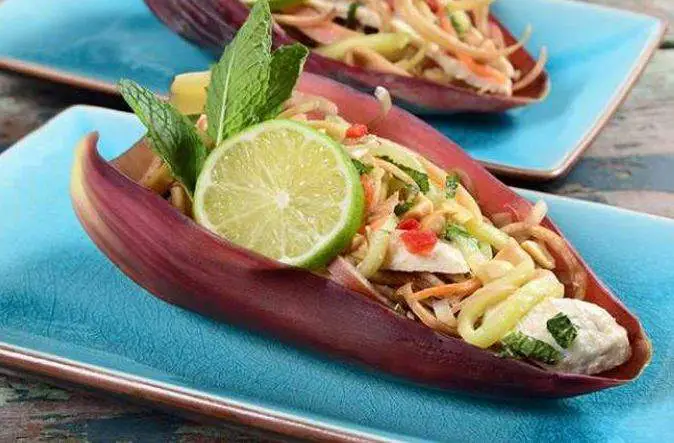 This is a typical Maldivian salad starter which is usually served as a side dish in the Maldivian meal. This top food of Maldives consists of a mixture of crunchy, shredded banana flowers and a fresh coconut topped with curry leaves, turmeric and cumin depending on your taste providing a delightful flavor to the dish. Sometimes, spices, lime, and Maldivian chili are also infused in this famous food of Maldives to give it a tangy twist.
Read More: Famous Food of Jerusalem
Best served at: Iberry Café, Hulhumale (opens 8:00 AM to 12:00 AM); and Crystal Sands
Average price: MVR 50 – MVR 100
4. Garudhiya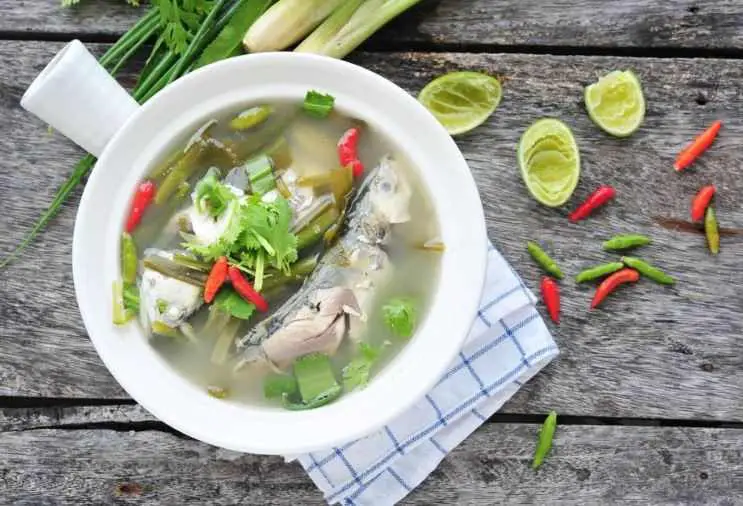 This is one of the most traditional foods in the Maldives.  This food is actually a fish soup based on tuna species such as skipjack (kanḍumas or goḍa), yellowfin tuna (kanneli), little tunny (lațți), or frigate tuna) (raagonḍi) available in the Ocean of Maldives. These are cooked slowly over low flame for long hours to create their signature taste and finally topped with curry leaves and special Maldivian pandan leaves to give the food a traditional touch. Kekkei Garudhiya is a variant of Gaudiya with different spices. Other fishes like wahoo (Kuruman) and mahi-mahi (fiyala) can also be used for the dish. 
Best served at: Iberry Café, Hulhumale, Jazz Café, Male Muraka
Average price: MVR 50 – MVR 200 (depending upon the place)
5. Fish curry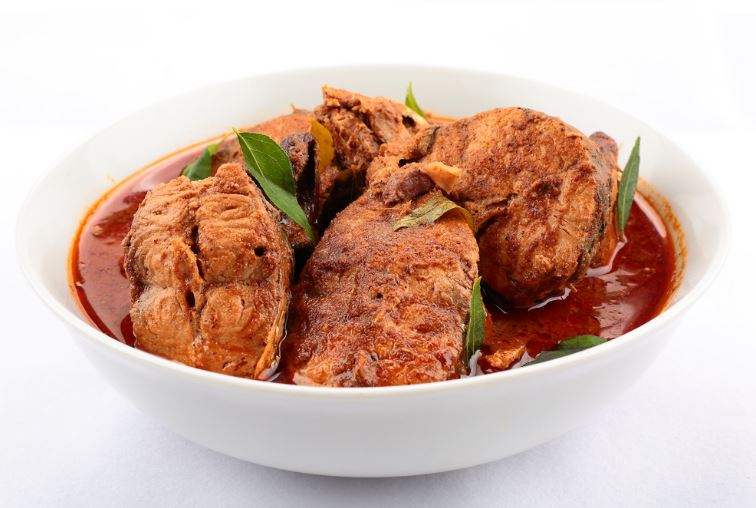 A place where the primary source of earning is the sea can have all the origins of foods from the sea as well, which breaks down all the Maldivian cuisines to fishes which are easily available in Sea or Ocean. Popular food in the Maldives include fish, so how can you not try the very basic fish curry? Which is very tasty and authentic in the Maldives. Some popular fishes include skipjack tuna, little tunny, yellowfin tuna, frigate tuna, bigeye scad, wahoo, and mahi-mahi for the delicious curry preparation. Usually, the curry is served with rice, Roshi, papadhu, and Maldivian poppadoms.
Read More: Famous Food of Paris
Best served at: Sunset Corner, Kaalamaa Restaurant
Average price: MVR 15 – MVR 75
6. Saagu Bondibai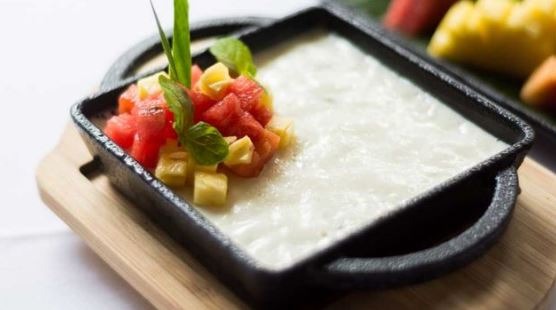 This can be considered as a basic kheer but the major ingredients don't include rice instead,  Sago or sabudana which is a popular ingredient of people's diet in the Maldives is used along with coconut milk, and laced with condensed milk to cook them over a slow heat flame for the blissful and creamy taste of this best food to try in the Maldives. This is one of the best vegetarian food in the Maldives 
Best served at : Sea Fire Salt, Anantara Dhigu
Average price: MVR 200 – MVR 500
7. Gulha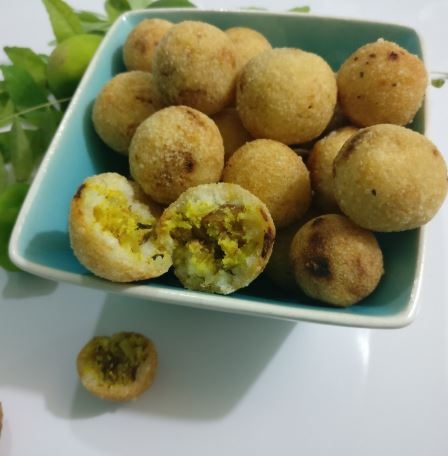 These are the famous foods in the Maldives especially among the 'short eat' or 'evening snack,' which is best enjoyed with tea or coffee. They are prepared as small bite-sized dumplings filled with Tuna fish, onions, chili, and grated coconuts to give this crunchy snack a signature touch that melts in your mouth and provides the zesty freshness of the vibrant coconuts.
Read More: Famous Food of California
Best served at Furama Restaurant, Dhiffushi Island; The Lighthouse Restaurant 
Average price: MVR 2 – MVR 10
8. Kulhi Boakibaa and Aluvi Boakibaa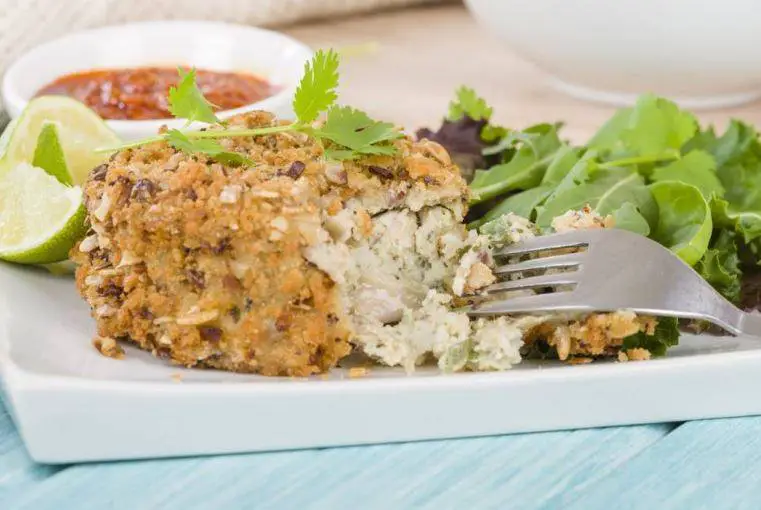 These are the best foods in the Maldives as they fill the place of popular desserts in all the Maldives cuisines. 'Boakibaa' literally means cake hence the Kulhi is a fish cake and must-try Maldivian food. It is cooked on special occasions in Maldivian homes during different traditional festivals of the Maldives. While Aluvi Boakibaa is a sweet cassava and coconut cake that melts in the mouth. It is an integral part of food in the Maldives
(Kulhi Boakibaa)Best served at: City Bakery, Fine Bake by Suzi 
Average Price: MVR 50 – MVR 70
(Aluvi Boakibaa)Best served at: Sea La Vie Café, Ukulhas, Findhandi Restaurant
Average Price: MVR 50 – MVR 100
Hedhikaa is the local word for snacks in the islands.
Bajiya: pastry that is stuffed with fish, coconuts, and onion.

Masroshi: Mas Huni that has been wrapped in Roshi bread and is then baked.

Theluli mas: fried fish cooked with chili and garlic.
All the above-mentioned foods of the Maldives are important traditional cuisines of the Maldives all of them include basic ingredients of fish, coconut and curry leaf to enhance the typical Maldivian flavors which are the next to heaven after experiencing the famous beaches of Maldives. You might wanna explore some of the street foods or snacks available in the Maldives but their normal names might confuse you with their basic ingredients hence here is a shortlist of the popular street foods of Maldives along with their short description to easily choose different kinds of seafood during the trips in the Maldives.
The post Famous Food in Maldives -10 Best Food, Dishes to Eat in Maldives  appeared first on World Tour & Travel Guide, Get Travel Tips, Information, Discover Travel Destination | Adequate Travel.