Summers in Barcelona are very hot. Top water parks in Barcelona may keep you cool. During this time natives and most tourists head to the numerous amazing water parks in Barcelona that are in and around the city of Barcelona. People like to refresh themselves in these water parks. By visiting a water park in summer you can even spend time with your family or friends in a fun way. If we talk about the best water parks in Barcelona then, you are going to be thrilled as Barcelona has a lot in store for you.
List of Water Parks in Barcelona 
1. Aqualeon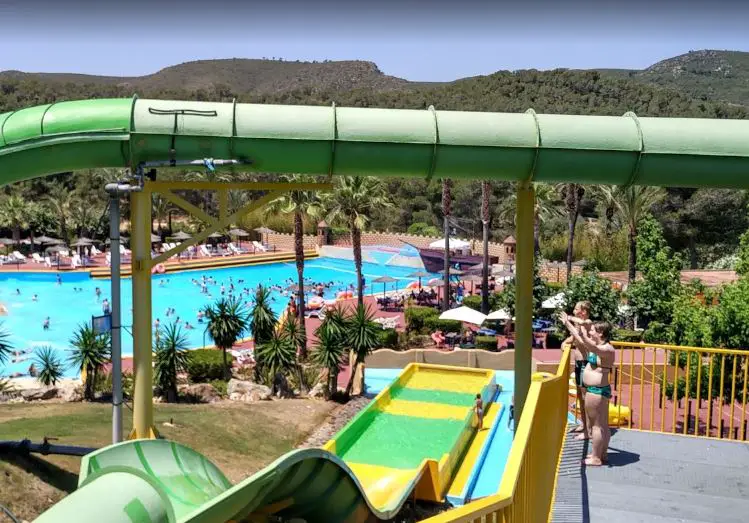 This park is located in Tarragoan which is 80 km away from Barcelona and consists of two parts, a water park, and a safari tour. The park offers the usual rides, games, water activities which include a water roller coaster, free fall rides, slides, swimming pool, etc. After the water park comes to the safari tour where you can sit back and watch lions, bears, jaguars along with other animals. The indoor water park in Barcelona is open from June to September.
Address: Finca les Basses, s/n, 43716, T, Spain.
2. PortAventura Park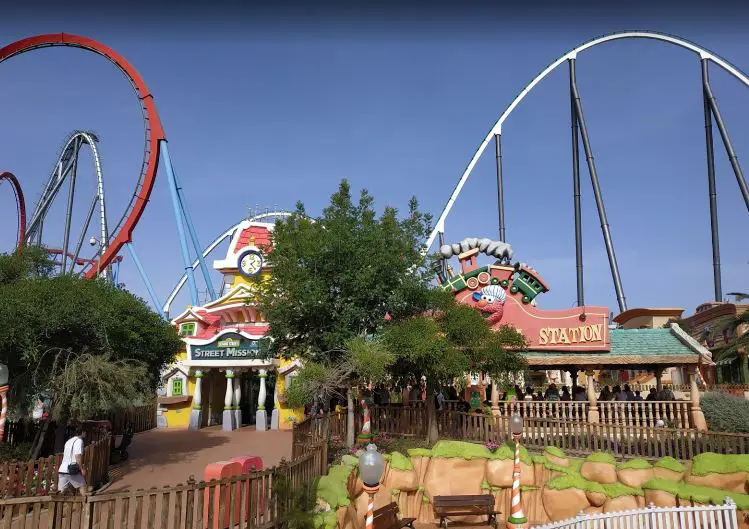 This water park in Spain near Barcelona is located in Salou, Tarragon, only south of Barcelona and is partitioned into two sections, the amusement park and the water park known as the Caribe Aquatic Park. The water park contains around 20 attractions which go from a 31m free-fall slide which is the biggest one in Europe, water games, pools which reproduce waves that you can surf, a beach to unwind on, Indoor water park for kids, a fake stream called lethargically.
Address: Avinguda del Batlle Pere Molas, km 2, 43840 Vila-seca, Tarragona, Spain
3. Illa Fantasia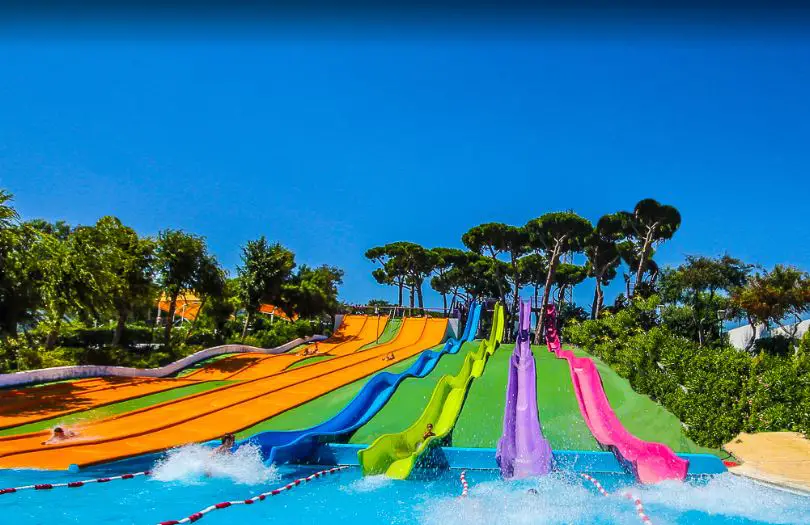 This water theme park in Barcelona is located in Finca Mas Brasso. It is also one of the closest water parks offers a total of 18 rides and attractions with 7 swimming pools, Barcelona is just 30 km away from the city, it  The gigantic waves pool is one of the most popular attractions among other things like the Espirotub and the Espiral which are spiral water slides, the Megatous, the Torpedo, Zigzag and more. The place also has picnic areas, shops, and restaurants. The park opens from June 1st to September.
Address: Finca Mas Brassó, s/n, 08339 Vilassar de Dalt, Barcelona, Spain
Website: www.illafantasia.com
Read More: Water Parks in Bangkok
4. PortAventura Costa Caribe Aquatic Park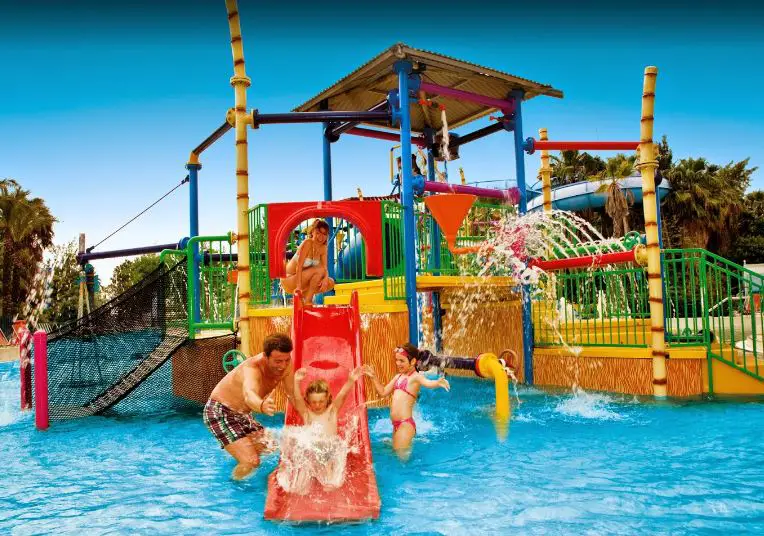 Port Aventura where you can have fun and frolic in the water and it has another water park in the capital. 20 amazing attractions inside the park make this one of the best water parks in Barcelona. It is considered one of the famous water parks in Barcelona. Appreciate an exciting day with your family by either lying in the pool or sunbathing in the shade of palm trees. The whole place has a reggae feel to it. You would enjoy coming to Port Aventura Barcelona.
Address: Avinguda de l'Alcade, Avinguda del Batlle Pere Molas, Km 2, 43480 Vila-seca, T, Spain




5. Aquopolis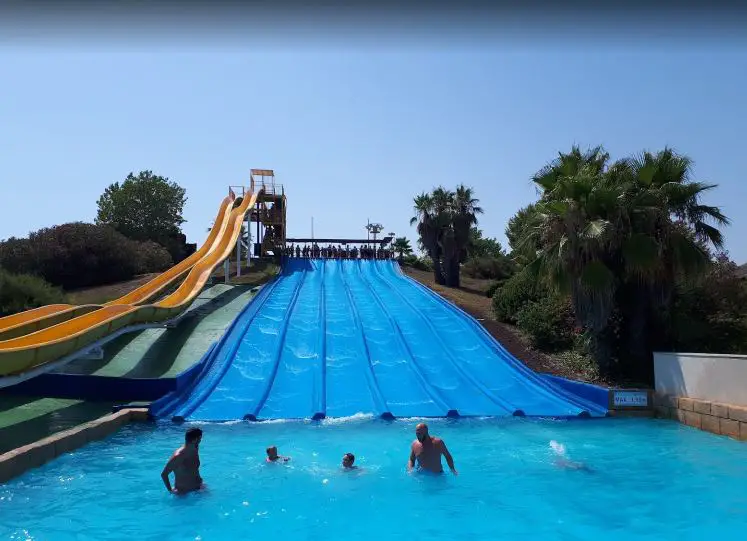 The park which is located in Costa Dorada which is 100 km south of Barcelona consists of two parks where one part consists of a water park and the other one is a Dolphinarium. It is one of the best water parks in Barcelona. The water park offers an aggregate of 6 attractions which incorporate surfing with either a froth or a fibreboard, colossal slides in obscurity, vertical drop either with a gathering or alone and so on. An alternate area for kids is likewise accessible with little rides, water games, and so on. The Dolphinarium gives an opportunity for guests to watch dolphins, seal appears and even participate and play with the dolphins with the supervision of a mentor. 
Address: Passeig de Pau Casals, 65, 43480 Platja de la Pineda, Tarragona, Spain.
6. Water World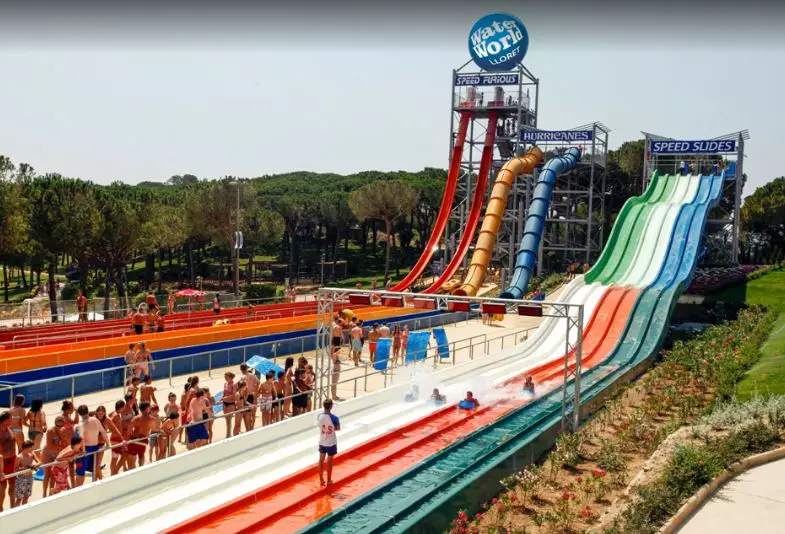 This popular water park near Barcelona Spain is located in Lloret del Mar. From here, Costa Brava has the largest water coaster called the water mountain just 80km away from Barcelona.  This park consists of a 250m ride in the dark. The recreation center additionally has water rides like The Kamicaces which is a slide that arrives at 60km/h speed. There are additionally different attractions in Waterworld in Barcelona for individuals who simply need to loosen up like various pools, counterfeit lakes, a tidal pond even a jacuzzi, etc.
Address: Ctra. Vidreres, Km. 1,2, 17310 Lloret de Mar, Girona, Barcelona
Website: www.waterworld.es
Read More: Water Parks in San Francisco
7. Tibidabo Park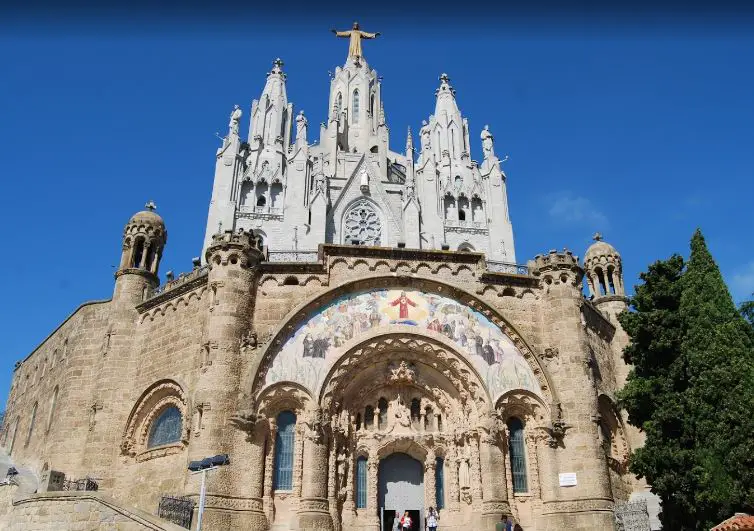 Located on Tibidabo Hill, this amazing water park in Barcelona is 100 years of age where you will discover 25 distinct rides. It is children's preferred park however young people and grown-ups likewise prefer to visit this spot for hanging out and having a great time. The fundamental fascination is the Cami Del Ciel or Sky Walk from where you get the elating perspectives overall of Barcelona. Try not to pass up a great opportunity at all on the off chance that you happen to be in the recreation center. You will likewise discover cafés, cookout regions, and exhibition halls where families can hang out together. The motivation behind why you would adore visiting this park is that the climate is warm and agreeable.
Address: Parc d'Atraccions Tibidabo, Spain
8. Marineland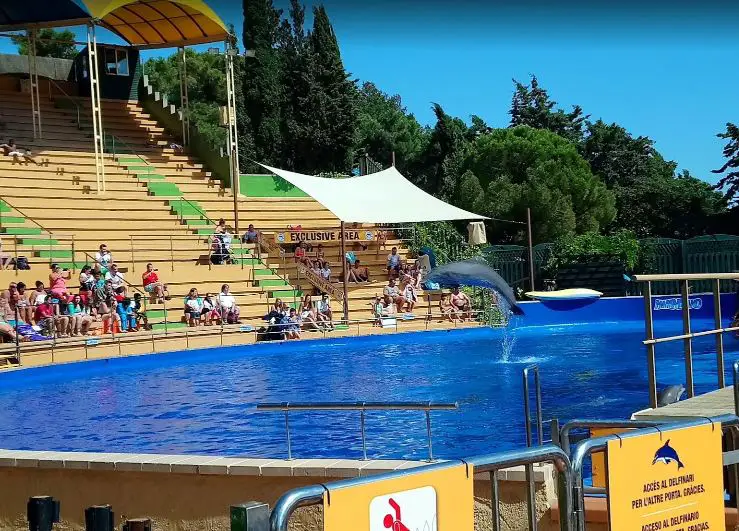 This water park close to Barcelona is located in Palafolls about 70 km from Barcelona. This water park is acclaimed particularly for its dolphin appears and the marine zoo where you can watch ocean lions, penguins, and so forth. A water park that includes rides like the Boomerang which is a 15 m Halfpipe, the Hydrotube which is a 60 m tube that winds up in an enormous bowl, a 12 m vertical dim slide called the Black Hole and a lot more alongside pools for the two grown-ups and kids. The recreation center is open between the long periods of May to September and July to August. It is extraordinary compared to other water parks in Barcelona.
Address: Ctra. Malgrat, 08389 Palafolls, Barcelona, Spain
Read More: Historical monuments in Singapore




So far we have discussed the best water parks in Barcelona, which contains the proper information regarding all the family water parks in Barcelona. I hope you might have loved reading this article and if you love to know more about Barcelona then kindly head to our other articles as well which will help you to get knowledge about Barcelona.
The post Best Water Parks in Barcelona, Spain | Famous Aqua Parks Near Barcelona appeared first on World Tour & Travel Guide, Get Travel Tips, Information, Discover Travel Destination | Adequate Travel.