While in many cities, brunch has exploded into a must-do weekly event for any tourist as well as a resident of this city.  Here in the Czech Republic, the best places for brunch in Prague can be found easily. Brunch is basically a simple meal of cold cuts, cheese, bread, and possibly some eggs to start one's day. But lately, that's all changing and Prague is ready to take its place as an internationally trendy, brunch-loving' European capital. Hundreds of restaurants and café cook up delicacies every weekend to pamper you on your day off. But a vast assortment makes choosing the right place harder. We found some of the most popular brunch spots in Prague to check out on your next brunch date with the city.
List of Famous Brunch Spots in Prague
1. Bistro 8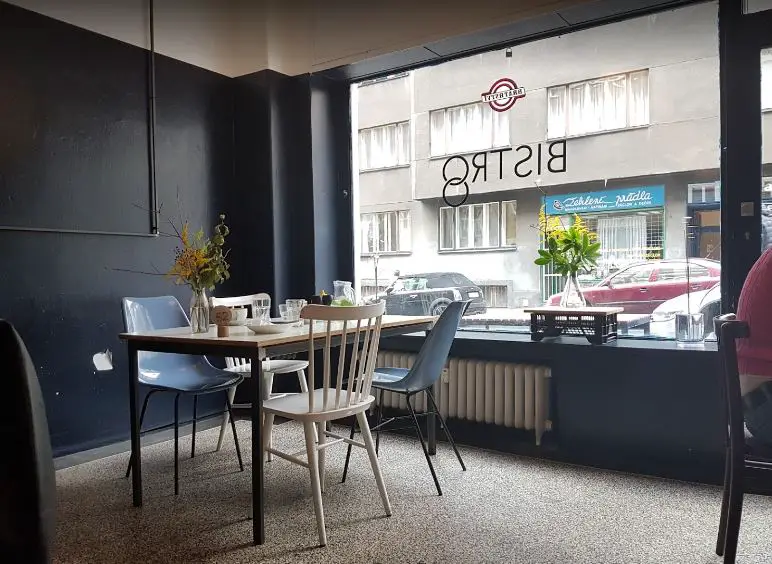 The modern, Bistro 8 yet cozy spot just off busy Jiriho z Podebrad knows how to give you a good start into the day. Our favorite brunch spots in Prague, the team of Bistro 8 start your brunch with expertly roasted espresso beans from London roastery, Climpson, and Sons probably. Besides hearty meals such as Bacon and Eggs (with a twist of fermented red cabbage) or a soft Coconut Milk Rice Porridge, the café also makes people with a sweet tooth happy with their vast assortment of pastries such as Chocolate Banana Bread or Cheesecake.
Address: Ondříčkova 22, Prague 3
Brunch Hours: All-day
Opening Time: Mon – Fri 08.00 – 20.00 / Sat-Sun 10.00 – 16.00
Most loved Dish: Poached Omelette, Crepes with Farmers Curd and Forest Berries.
2. Kafe Francin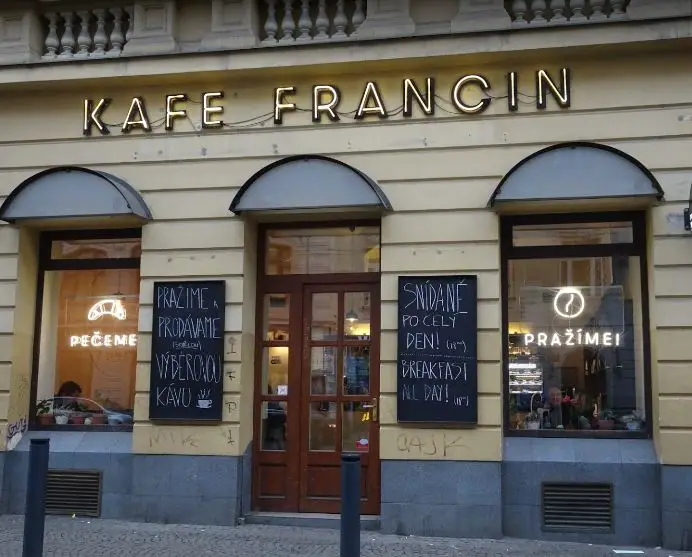 If you get are getting off the tram at a busy city, a small window front beckons us to draw closer. It's Kafe Francin, which newly opened, and charms us with its cozy interior. A coffee or two later, we feel ready to attack their brunch menu. Between omelets and scrambles, bagles and waffles, Café Francin also offers a vast assortment of pastries such as muffins, brownies, strudl and more. Sitting behind this best brunch spots in Prague you just looked into, we get to see the city wake up and getting to its busy nature. All the while sipping our cup of coffee made from their own roasted beans – and start our Saturday off relaxed and happy.
Address: Dukelských Hrdinů 35, Prague 7
Brunch Hours: All-day
Opening Time: Mon – Fri 07.30 – 20.00 / Sat-Sun 09.00 – 19.00
Most loved Dish: Eggs Benedict, Francis Breakfast.




3. Monolok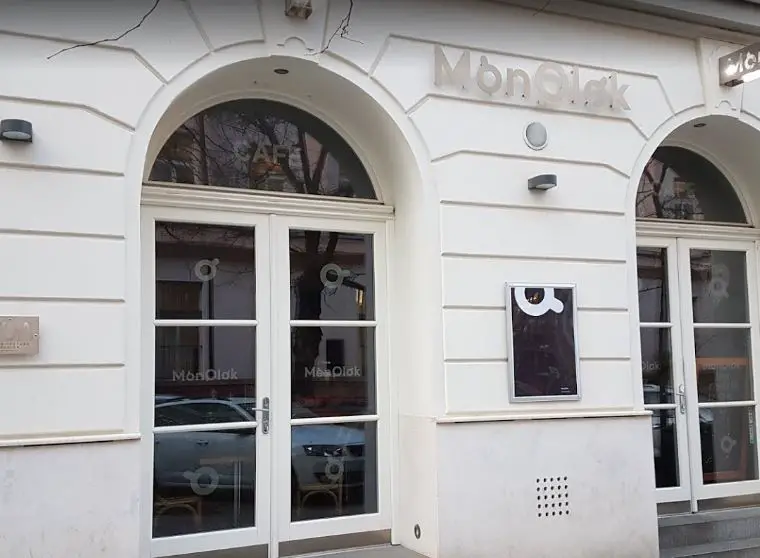 Monolok is one of our all-time favorite and top brunch spots in Prague. This all due to their amazing brunch menu, featuring Avo Bread but also a brunch for two, including a bagel, cheese, and meat platter, croissants, muesli, and two Mimosas is there a better way to start your weekend off? Actually, there is. By gorging yourself on their brunch items while sitting in their little garden area that makes you think you're far away from the city. A brunch experience like no other!
Address: Moravská 18, Prague 2
Brunch Hours: 08.00/09.00 – 12.00 
Opening Time: Mon – Fri 08.00 – 22.00 / Sat-Sun 09.00 – 19.00 
Most loved Dish: Brunch for Two, including a bagel, cheese and meat platter, croissants, Avocado, Müsli, and 2 Mimosas.
Read More: Best city in Thailand
4. Cobra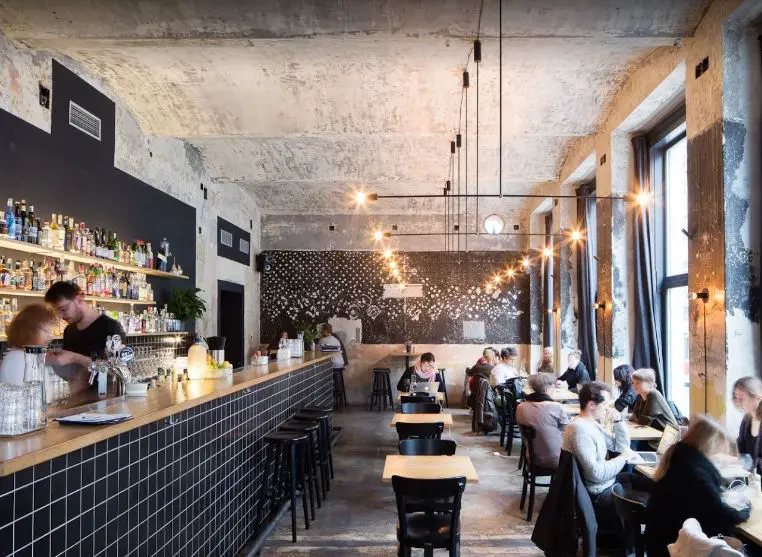 In the kitchen of Cobra, you will find Pancakes, Sourdough bread with salmon or eggs Benedict, etc. This one of the best places for brunch food in Prague located on Milady Horakove, Cobra not only serves kick-ass coffee but also breakfast drinks and of course delicious dishes to go with them. Every day from 8 am until 10.50 am (on weekends until 3 pm), you can gorge yourself on the creations of the talented chefs at Cobra and watch them do their magic. Cobra is a bright and sunny, spacious place in Prague 7 and turns into a great place for lunches and dinner, later in the night even into a bar. A very versatile establishment with lots of gusto. 
Address: Milady Horákové 8, Prague 7
Brunch Hours: Every day, 08.00 – 10.50, weekends until 15.00
Opening Time: Mon – Fri 08.00 – 02.00 / Sat 10.00 – 02.00 / Sun 10.00 – 00.00
Most loved Dish: Pancakes, Eggs Benedigt, changing breakfast items (seasonal)
5. Proti Proudu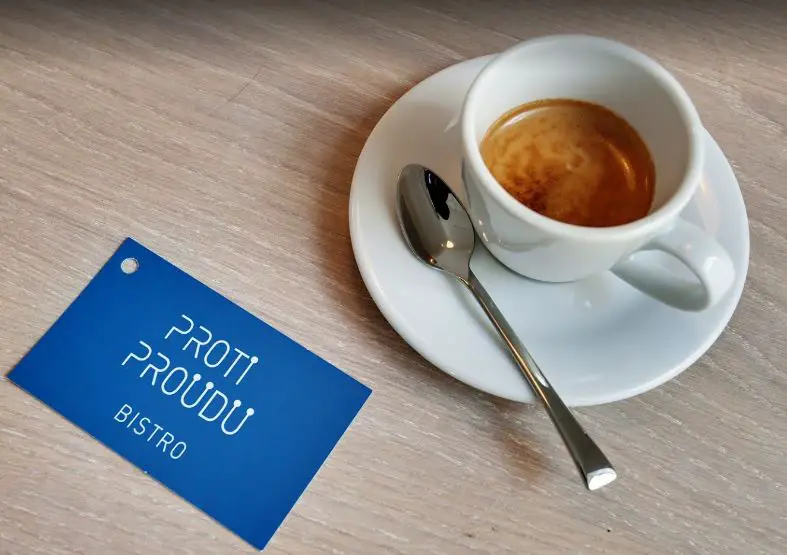 You will definitely love this tucked-away place in Karlin. If you are looking for where to brunch in Prague, just have brunch here. Not only because it's very friendly and forthcoming staff but also because of the well-chosen brunch items on their menu. Whether you want to go big and dig into a huge French breakfast with homemade spread, a buttery croissant, marmalade, and Avos or go for a lighter fare by choosing their Italian Tomato-Mozzarella bread with parmesan flakes. Every bite is a pure delight! Proti Proudu offers both inside and outside seating. Especially on a weekend, when the usually busy Karlin becomes very slow and relaxed district, this is the spot we want to be.
Address: Březinova  22, Prague 8 – Karlin
Brunch Hours: All-day
Opening Time: Mon – Fri 08.30 – 20.00 / Sat-Sun 09.00 – 18.00
Most loved Dish: Big French Breakfast
6. Můj šálek kávy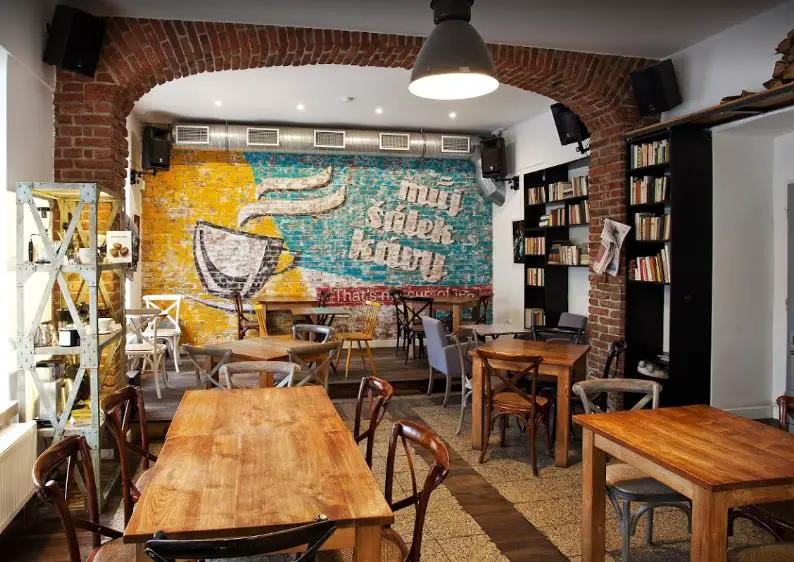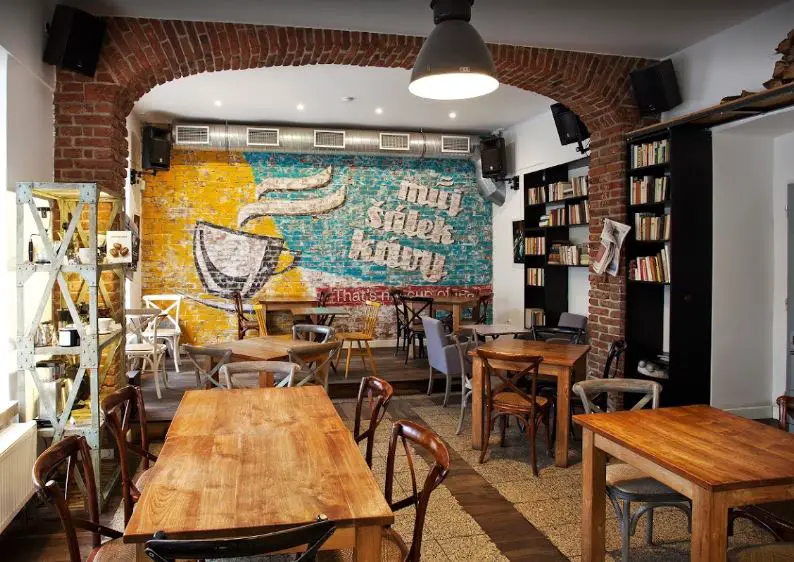 Můj šálek kávy is one of the cool and urban coffee shop not only offers amazing coffee and freshly baked pastries, but also the brunch experience you are craving. With both outside and inside seating, brunching at Můj šálek kávy is a pure delight. It is brunch spots in Prague which loved by all. Some of their items are classics and so good, you might just want to order another one. We especially liked their Apricot Smoothie Bowl with Coconut Milk and Granola. Or how about something savory like their fried eggs with chili butter and dill yogurt sauce? Lounging on their outside seating area, watching Karlin's busy streets come alive while sipping a darn good cup of coffee and munching away, is pure relaxation.
Address: Křižíkova 105, Prague 8 – Karlin
Brunch Hours: All Day
Opening Time:  Mon-Sat  09.00 – 22.00, Sun  10.00 – 18.00
Noteworthy Items: Apricot Smoothie with Coconut milk and Granola, Fried Eggs with Chili butter and dill yogurt sauce.
Visit: Beautiful places California
7. Eska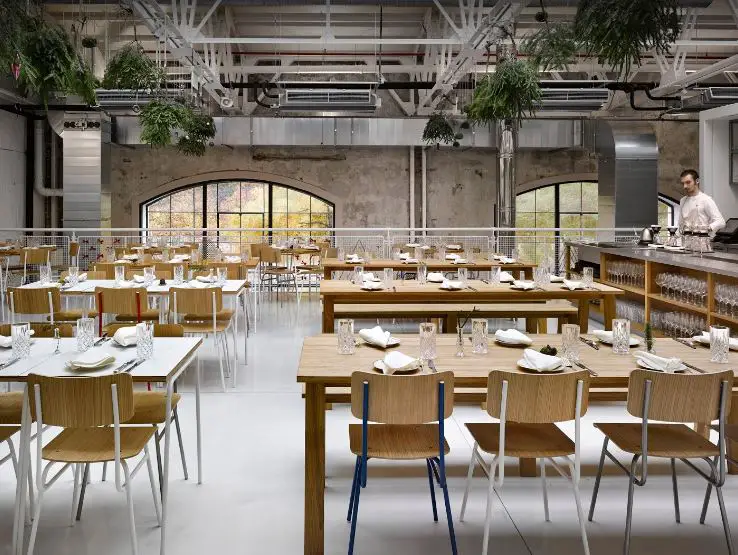 Eska is the perfect place to enjoy a brunch par excellence. A list of top 5 brunch spots in Prague is incomplete without Eska. We also went for a Buchta (a yeast pastry filled with either quark, poppyseeds or plum jam) and ordered another Flat white from the espresso bar for dessert. Here you will find homemade butter and bread, delicious pastries and a cup of coffee that'll definitely wake you up. Eska is a joy to sit in both summer and winter, as they have an outside seating area and a cozy, warm interior, too. If you're sitting inside, you can watch the creative chefs of Eska cook up the lunch menu for the day.
Address: Pernerova 49, Prague 8 – Karlin
Brunch Hours: All Day
Opening Hours: Mon-Fri 08.00 – 23.30 / Sat-Sun 09.00 – 23.30.
Most loved Dish: Changing menus, delicious Buchta
8. Bockem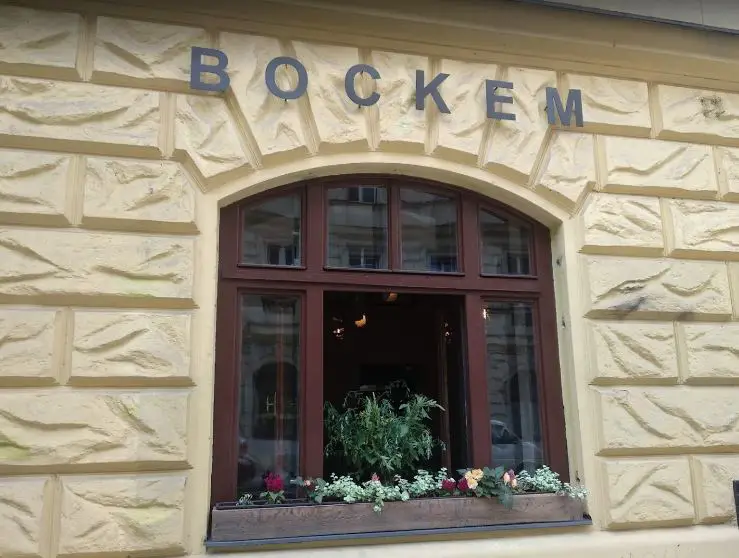 If you want to bring your brunch experience to a new level, you should definitely try the newcomer in the city; Bockem. Instead of one dish, you'll get to munch your brunch in three parts. Bockem is one of the best places for a brunch food in Prague that serves a three-course brunch.  Sitting in the modern space in Smichov will levitate your brunch experience. If you want to get more detailed information on what awaits you at Bockem, simply switch over to this article.
Address: Elišky Peškové, Prague 5 – Smichov
Brunch Hours: See below
Opening Time: Tue – Fri 08.00 – 12.00 / Sat 09.00 – 13.00 / Sund & Mon CLOSED
Most loved Dish: Salmon with crispy Asparagus, Eggs Benedict and Florentine
Don't Miss: Best Cities in Turkey to Visit




Of course, Prague offers a shock more lovely and popular brunch spots in Prague and we are keen to hear about your favorite one. Have you been to the places mentioned above? Did we miss out on favorite places to brunch in Prague and munch at? We want to hear about all the wonderful places in the city that serve a kick-ass brunch in the comments. 
The post Where to Brunch in Prague | Best Places For Brunch Spots in Prague appeared first on World Tour & Travel Guide, Get Travel Tips, Information, Discover Travel Destination | Adequate Travel.