Water parks are so much fun and are a thrilling experience no matter who you are. You don't even need to wait for the summer season to have water fun because there are many famous water parks in London. Each one has a unique mix of thrilling rides and activities. The indoor water parks are open year-round. Cool off with your kids in the thrilling water parks in London. We have picked the best water parks in London. All of them are conveniently located.
List of Top 10 Water Parks in London
1. Serpentine Waterfall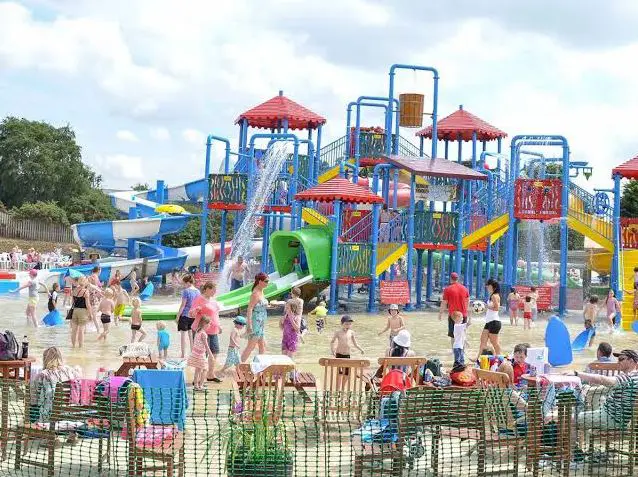 You'll feel like you've stepped into an exotic land thanks to the tropical temperatures at Serpentine Waterfall, where temperatures reach up to 28C. Expect treehouse 'storms', water slides, shallow pools, peaceful lagoons, and an action river, all of which promise plenty of fun and thrills for all ages. This water park in London is also launching the first sensory/quiet room in a UK water park to assist children and young people with additional and complex needs.  Adult tickets from £16, Children 11 and under tickets from £12.75. Family saver tickets are available for families with 3-6 guests. 
Address: Hyde Park, London SW1X 7JX, London, United Kingdom
Timings: Mon-Sun: 8.30 am – 5 pm
Entry cost: $8 – $15 per person
Visit Official Website: www.swerpentinewaterfall.co.uk for more information.
2. Splash Park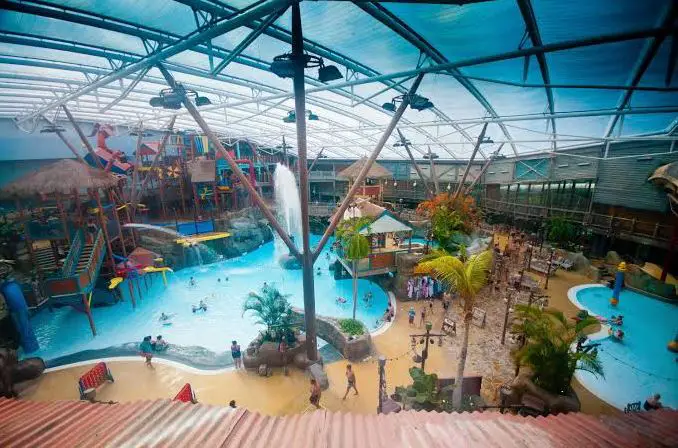 This summer, it's time to put your skills to the test and throw in a bit of friendly competition against your family members. It is one of the best outdoor water parks in London among others. Re-opening on the 26th of May, Splash Park has more than 36 fun obstacles you can climb, jump, crawl, launch, slide and splash your way through, not to mention the inflatable climbing wall 'The Beast', the tallest of its kind in London. This park is perfect for adults as well as for kids aged 6-13 years. So, bring your little champs here and let them participate and win the exciting water challenge. 
There will be dedicated 10 am slots for families with children aged 6-13 too so even your little ones can take on the exciting challenge. Tickets from £20pp for a 50-minute session, which includes a wetsuit, life jacket, and briefing. Call +44 7834 030415 for more information.
Address: Longbridge Road Inside Barking Park IG11 8SS, United Kingdom
Timings: Monday- Sunday: 10am – 6 pm
Website: https://www.splashparkbarking.co.uk/




3. Kensington Memorial Park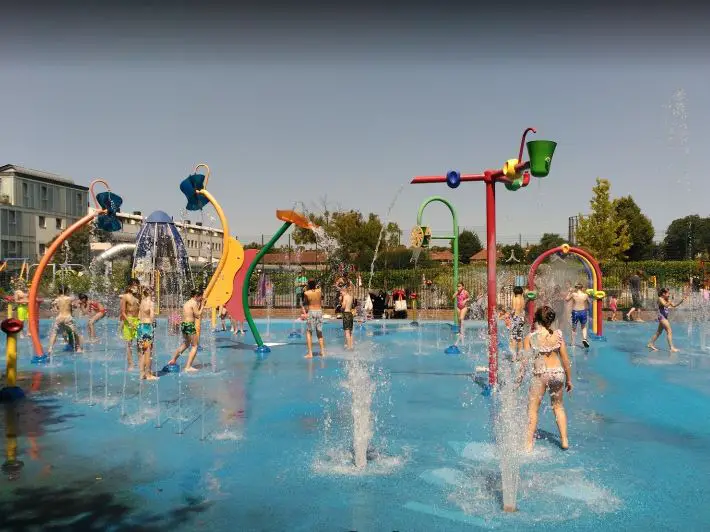 This Kensington Memorial Park offering is the largest outdoor water park in London, boasting five exciting slides that little thrill-seekers will love. Plus its part of Wheelgate Adventure Park where you can also find rollercoasters, animal experiences, and family-friendly rides, so if your older kids really want to check out a theme park, it makes for a great compromise. Adults can enjoy multiple recreational activities here, while young ones can have fun in the water. £14.99 for adults and children over 108cm in height, £6.99 for children 95cm-108cm. Kids under 95cm go free. (Prices based on weekends and holidays). Call +44 20 7361 3003 for more information.
Address: Saint Mark's Road, London W10 6BZ, United Kingdom
Timings: Mon-Sun: 10:30am–5:30pm
How to reach: Bus 7, 316, N7 to stop: Oakworth Road (Stop H)
Bus 7, 316, N7 to stop: St Charles Square St Marks Rd (Stop G)
Bus 7, 70, N7 to stop : Dalgarno Gardens (Stop K)
Official website: https://www.rbkc.gov.uk/parks/kensington-memorial-park
Read More: Famous Monuments in London
4. Waterworld, Stoke-on-Trent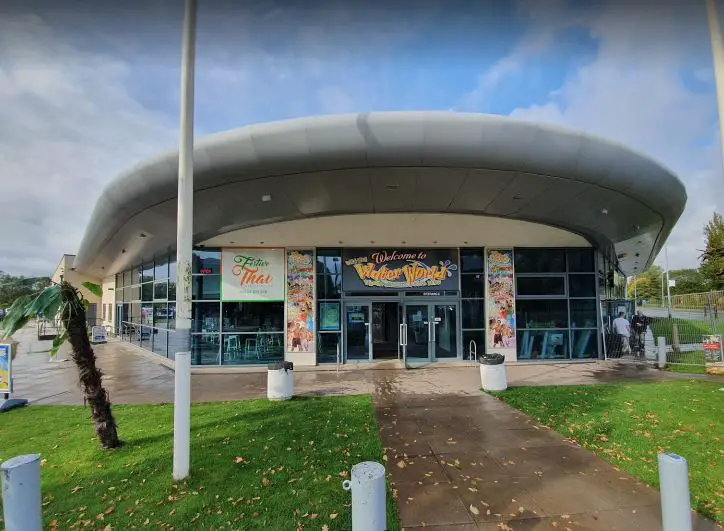 Suppose you are looking for water parks in London for families with slides, whirlpools, bubble pools, rapids, a lazy river, and even an assault course. You have a list of choices to do on Waterworld. There are even dedicated areas for toddlers and little ones, and for those who don't want to get wet, spectator tickets are also an option. Around 400,000 people visit this waterpark every year. So, if you are in Uk or planning a visit there, then you should go to the Waterworld and enjoy yourself with your kids. 
Address: Waterworld Leisure Resort, Festival Park, Festival Way, Stoke-on-Trent ST1 5PU, United Kingdom
Timings: Mon-Sun – 10am–6pm
Tickets: £20.50 per person.
Adventure and Waterworld combo: £25.50
Family special (4 people): £78.00
Family special (5 people):£97.50
Family special (6 people): £117.00
Rides for kids: Thunderbolt, Cyclone, Nucleus, Hurricane, The Python, Twister white knuckle ride
Visit Official Website: www.waterworld.co.uk




5. LC Swansea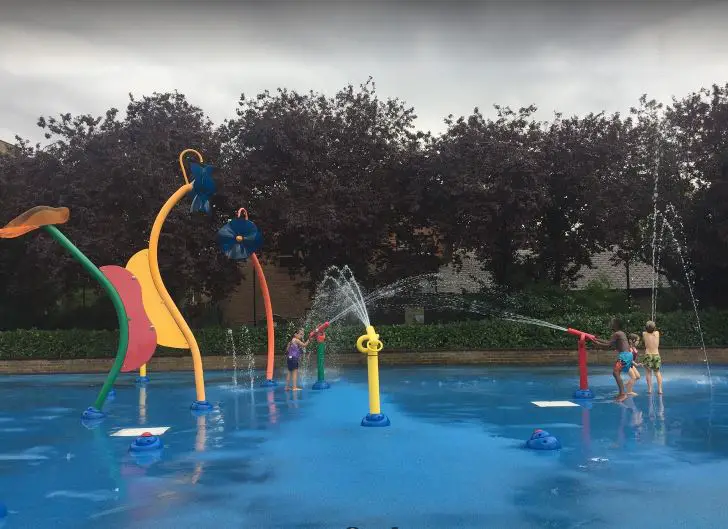 What used to be a leisure center has been transformed into London's largest water park, and it's definitely ideal for kids who love a sense of adventure. Not only just a waterpark, but this place is also a prime spot for the fitness freaks in the town. Take on the 'boardrider', a standing surf simulator, or face their newest attraction Volcano Bay, which literally 'erupts' with water. Adventure-loving kids will get so many adventures to do here. You can either take on the boardrider, a standing surf simulator, or face the newest Volcano Bay attraction that erupts with water. 
Address: Oystermouth Rd, Maritime Quarter, Swansea SA1 3ST, United Kingdom
Entry ticket:
Toddler (1-3yrs) : £2.50
Junior (4-15yrs): £6.00
Adults (16yrs plus): £8.00
Student (id required) : £6.00
Family ticket (2 adults, two children) £25.00
Timings: Thurs & Fri: 4:00PM – 7:30pm
Weekends & Holidays: 10:00AM – 6:30pm
Visit Official Website: www.thelcswansea.com for more details.
6. Thorpe Lakes Aqua Park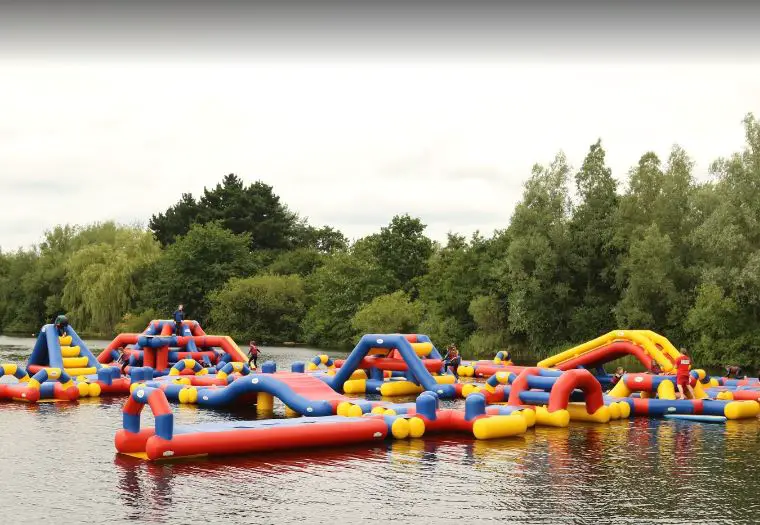 Take a trip to the tropics on the Thorpe Lakes Aqua Park. There are four flumes of varying dare-factor, like the Speed Freak Flume Ride. As the name suggests it's a seriously speedy number that zips the rider around bends while racing to beat the record. It is one of the indoor water parks in London, UK. There are four flumes of varying dare-factor, like the Speed Freak Flume Ride. The name suggests it already that it is a seriously speedy ride that zips the rider around bends while racing to beat the record. This place is for family friends and also has a resort inside the campus. Visitors can sit along with family at this result and have snacks or lunch. Held by the Aiming High group, they've been created for children and youngsters with handicaps and are an exquisite method to appreciate the water park in a chilled domain.
Address: Thorpe Lakes, Thorpe Road, Chertsey, Surrey KT16 8PH, United Kingdom
Tickets: £15 for a 55-minute session at the aqua park.
Timings: Refer to the website on https://www.thorpelakeswatersports.co.uk/opening-times
Read More: Most Visited Monuments in Rio de Janeiro
7. Inverness Aquadome Leisure Waters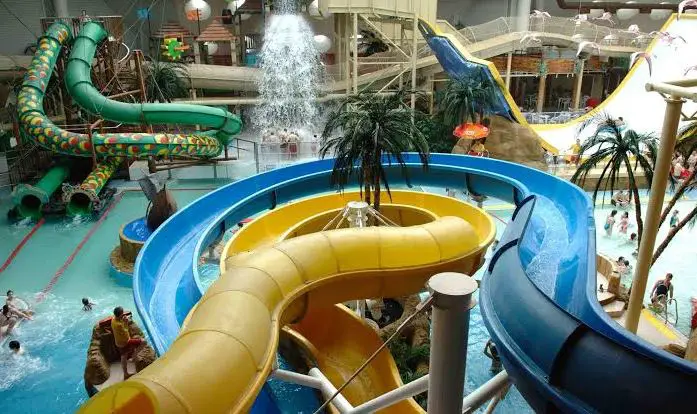 If you're looking for indoor water parks in London England, understandably The Highlands wouldn't be your first port of call.  Inverness Aquadome Leisure Waters has a lovely little indoor beach area, a huge wave pool that is packed with hidden jets and geysers, as well as three fast-moving flumes, floats, and actual water walkers. What we love though, and you really can't get much more Scottish than this: they have an outdoor pool shaped like a thistle. Perfect for any patriots who enjoy a paddle. Rainy day fun. At the point when you're this far up in the Scottish Highlands, the climate is rarely dependable so having a blustery day movement at your disposal is in the same class as gold residue.
Address: Bught Ln, Inverness IV3 5SS, United Kingdom
Timings: Mon- Fri : 05:45 – 22:30
Sat-Sun: 07:30 – 18:00
Entry fees: Depending on activities £3-£10 per person.
Official website: https://www.highlifehighland.com/il/swimming-pool/
8. Splashdown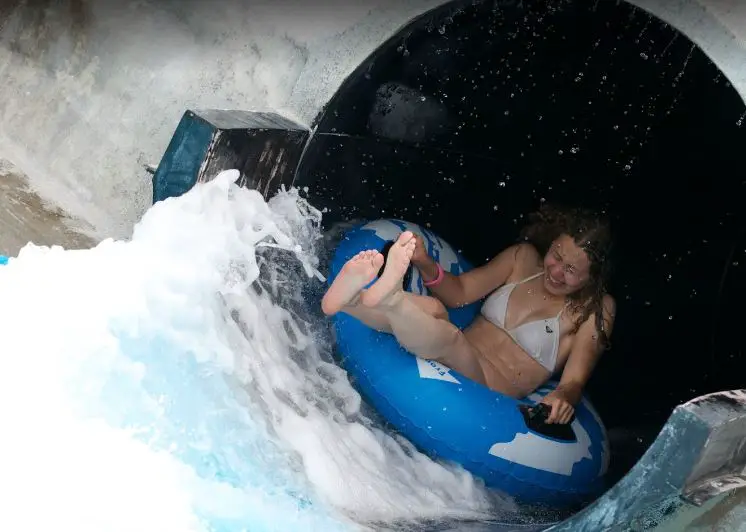 Splashdown is one of the favorite water parks outside London. This waterpark is situated a little outside the country but has never seen a recession in visitors. Incorporated in 1990, more than 1.5lakhs people visit this water park every year since then. There are different types of rides in this park; hence this should be the best place for kids. Adults don't get stressed as this park has something for them too. After dipping into the deep, dark recesses of its den, you'll hear a roar and come face-to-face with the beast itself. For something a little less scary, grab a snorkel and see what you can spot in Ricky's Reef. These activities are great for smaller seafarers under six. There are a total of 16 thrilling, outdoor flume rides and 5's splash zones. Hence this place provides an excellent option for the whole family.
Address: Tower Park, Poole BH12 4NY, United Kingdom
Timings: 9am-9pm
Admission Tickets: £5 -£17 per person
Main attraction: The Screamer, Dragon's Lair, Tennessee Twister & Louisiana Leap, Red River Roller, Ricky's Reef
Official website: https://www.splashdownwaterparks.co.uk/poole/
9. Blue Lagoon Water Park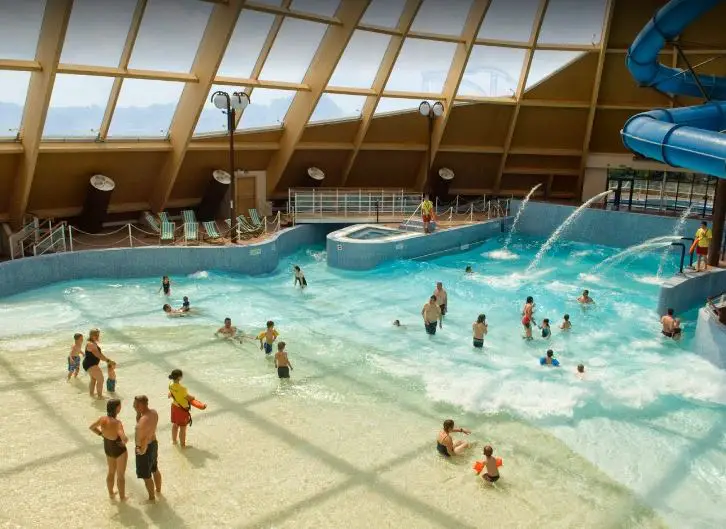 Blue Lagoon Water Park has created all sorts of super-realistic features alongside the flumes, like its famous wave pool with six different styles of wave or the bubbling geyser beneath the water. Located under the Preseli Hills, this place provides a thrilling water ride experience to visitors. If you love water parks with slides, then come here. There is also an indoor beach and numerous fund activities to do for kids. This park uses biomass fuel to heat the water bodies. Also, it's hard to believe that this is the only water park that runs on biomass fuel.
Address: Narberth SA67 8DE, United Kingdom
Activities to do: Adrenaline, Kayaking, Cleddau River Adventure, Skywalk mini, Bubble swimming sessionOfficial website: https://www.bluestonewales.com/resort/blue-lagoon-water-park
Don't Miss: Most Visited Monuments in Brazil
10. Leyton Leisure Lagoon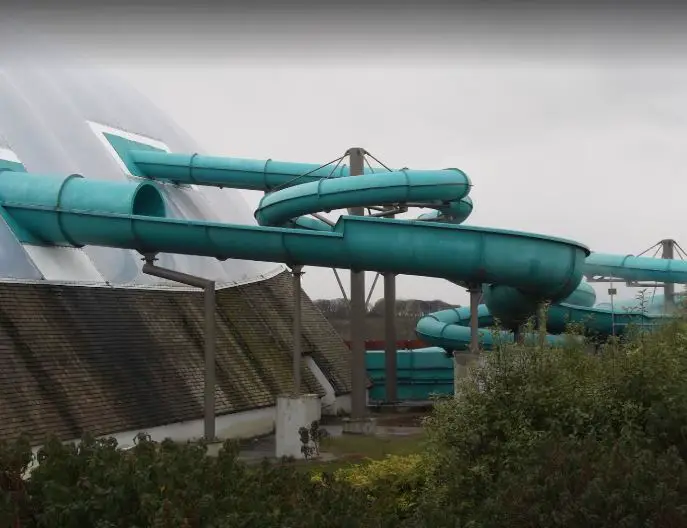 Leyton Leisure Lagoon isn't a regular water park or pool that will fulfill your electrifying desires. It is also a suitable place for fitness lovers to do physical activities in their leisure time. They can join swimming classes, Zumba, and various other activities at this place. Leyton Leisure Lagoon is considered one of the best water parks in London. The team is also always on hand and ensures the safety of the customer. Letting go of those armbands. There is an exercise center along with the waterpark, with qualified swimming trainers.
Address: 763 High Rd Leyton, London E10 5AB, United Kingdom
Timings: Mon – Thu: 07:00 – 21:00
Fri – 07:00 : 20:45
Sat-Sun : 08:00 – 17:00
Official website: https://www.better.org.uk/
11. Archway Leisure Centre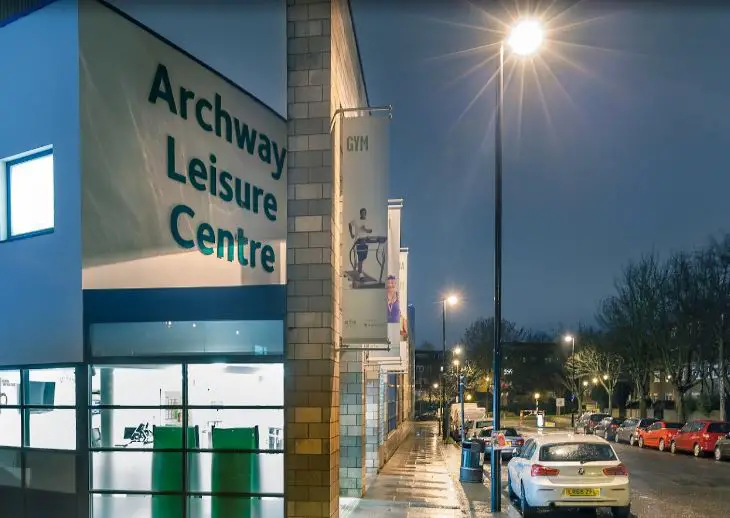 Constructed in 254 square meters of land, Archway Leisure Centre is also a unique waterpark destination in the United Kingdom. This park is equipped with every piece of equipment that a kid or an adult could ask for. There is a large indoor swimming pool to have a bath and a gym for fitness freaks. Apart from this, the authorities keep organizing various recreational activities for kids and parents to keep them engaged.
Also Read: Beaches Near London
Address: MacDonald Rd, Archway, London N19 5DD, United Kingdom
Things to do: Sauna and steam rooms, Fully equipped Gym, Swimming pool, 
Tickets: Gym: £13.80, Swimming: £3.10 -£5.30
Timings: Monday to Friday 06:30 am- 9:30 pm
Saturdays 08:30 am – 18:00pm
Sundays 08:30 am – 21:30 pm
12. Wet n Wild at Waterfront Leisure Centre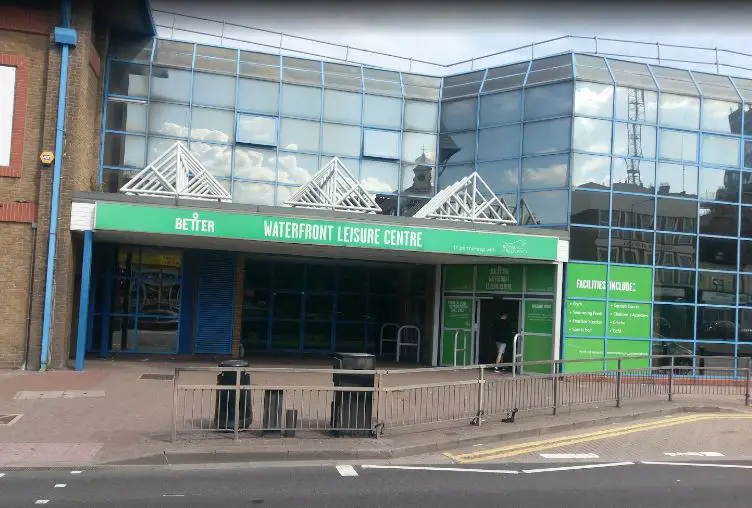 Wet and wild waterfront gives you similar experiences as its name. You can get wet in the pool and do fantastic, reckless things at this leisure center. This park provides equal opportunities for both adults and kids to enjoy their day. A family can swim together in the pool and make a splash, slides, or floats with a wave. If you're looking for a way to make your weekend memorable and joyous, visiting this park would be a great way to accomplish it. Wet n Wild at Waterfront Leisure Centre is completely kid-friendly as they can do dive-bombing on the dive boards, floats on the boat, or play with swim toys. 
Don't Miss: Famous Foods in London
Address: Woolwich High St, London SE18 6DL, United Kingdom
Tickets: Adults from £3.25, Kids from £3.05
Timings: Mon-Fri: 6am–10.30pm, Sat-sun: 8am-8pm
Things to do: Sport and Leisure activity, Swimming, Gymming, Ice skating, Watersports, Yoga, Thermal spa
So far, we have discussed the most popular water parks in London. I hope you might have gathered some information related to the famous water parks in London. If you are planning your trip to London, please go through our other articles and collect beneficial details for the journey. Also, share your views regarding the content explained above and like it too.
The post 10 Best Water Parks in London, England | Aqua Parks in London appeared first on World Tour & Travel Guide, Get Travel Tips, Information, Discover Travel Destination | Adequate Travel.