Imagine its Diwali and you are in the most happening metropolitan Middle Eastern city Dubai you would ask yourself how to celebrate Diwali in Dubai? Don't worry!  In this blog, we will tell you about the Diwali celebration in Dubai. This city hosts a vast number of Indians although it may not be a part of India. Not only have Indians built themselves a secure life, but they also affected the culture and food in the city. Though the official religion of Dubai is Islam, the country is still tolerable and welcoming to other faiths. Despite the small Hindu population, its impact on the city is evident with the festivities of Diwali in Dubai. Here we will tell you the information regarding where to celebrate Diwali in Dubai.
Background of Diwali In Dubai 
Diwali in Dubai is the most significant Hindu Festival that celebrates Good over Evil. Known as the Festival of Lights, where "light" is a metaphor for knowledge. The days are highly celebratory, with lots of music, dancing, and dining, along with some Hindu traditions. It is celebrated around the world by not only Hindus, Sikhs, and Jains but many Arabs take part in this auspicious occasion. 




It's a 5-Day Celebration of Diwali in Dubai
Day 1: Dhanteras
The first day of Diwali in Dubai begins with buying a utensil of brass/silver/gold. It is considered a very sacred day to shop the markets of Dubai for decorations, lights, sweets and materials of daily use. Markets of Dubai are filled with people; sweet shops flourish with hustling customers. People also buy gifts for family and friends, ranging from sweets to gold/silver jewelry. 
Day 2: Choti Diwali
A day preceding the main festival, this day is used to make all the arrangements for the next day. This includes making sweets at home, visiting close family and friends and sharing gifts. Households and buildings are lit up with lights, Diyas, and candles.




Day 3: Diwali
As the main day arrives, Everyone dresses up in their best traditional Indian attire, worship Laxmi-Ganesh, Hindu Gods of wealth and protection. It is an evening spent with family and friends, playing indoor games like cards and dancing and singing. Using fireworks is not permitted to the households in Dubai; however, one can see the sky lit up with fireworks by the Emirates. 
Read More: Diwali Celebration in United Kingdom
Day 4: Goverdhan Pooja
The day after Diwali in Dubai, Hindus prepare a large vegetarian meal and offer it to Lord Krishna. Langars are held across the city where Hindus will be serving home-cooked vegetarian meals. Special menus are made in several Indian restaurants. 
Day 5: Bhai Dooj
Bhai Dooj is the day of siblings and cousins. A sister offers sweets to his brother, and in return, the brother gifts his sister with presents and vows to protect her. 




Places To Visit During Diwali in Dubai
Deepavali celebration in Dubai takes as a pumping festival. Indian community celebrates this festival with lots of Arab and other Asians. So following we will tell you about the places where you can make your Diwali more memorable: 
1. Dubai Fountain Show
Add charm to your vacation in Dubai. By seeing the Dubai Fountain show during Diwali, the most wonderful choreographed fountain in the world. Get a chance to see the Dubai Fountain from Boardwalk or in a Lake Ride or dining out in a restaurant near the Dubai Fountain and many more.
Read More: United Kingdom Facts and Information
 2. Lightning at Burj Khalifa
How come the ever-popular Burj Khalifa doesn't come under the Diwali celebration in Dubai 2018? Well, Burj Khalifa Dubai is an attraction that you cannot miss. Spend your Diwali evening while admiring the lightning show of the iconic Burj Khalifa. Apart from that, Burj Khalifa is especially known for visiting the sunset from its observation deck from 148th. Book your Burj Khalifa fast track pass and skip the line near the booking counter while reaching directly at the observation deck using the world's fastest elevator in the world.




3. Fireworks at Dubai Creek
Fireworks light up each occasion of Diwali celebration in Dubai creek; this also happens to be the only place fireworks are allowed in the city throughout this festival. Thousands of people witness a fantastic fireworks display with their family and friends.
4. Take a Tour of Bollywood Parks
A Bollywood themed park, the place is a host to various shows and festivals that happens for one whole week. Numerous Bollywood celebrities perform at shows here, along with multiple concerts by famous singers. The theatre airs some of the favorite Bollywood movies, and there is a street food festival serving authentic Indian cuisine. 
Festivities of Diwali in Dubai @Al Seef
If you want to witness Diwali in Dubai just like how it is celebrated in India, Diwali Mela at Al Seef is the place to go. This place offers everything in one place. There is a Diya lighting ceremony that illuminates the whole area symbolizing good over evil. Diwali Mela is also organized, where several stalls sell and showcase handmade Diyas, decorative items, beautiful jewelry, and traditional clothes. You can get henna designs on your hand, and make colorful rangolis. Al Seef also witnesses various Bollywood performances and concerts with lots of music and dancing that you can enjoy.




1. Dance of lights at the Dubai Mall
Witness a floating art showcase on boats that use water as a canvas and display a beautiful scene to its viewers. Diwali in Dubai is one of the most popular festivals that is enjoyed not just by the Indian community in the city, but all residents and tourists as well.
2. Burj Al Arab dinner
This Diwali, treat your family and friends with a luxurious dining experience at Burj Al Arab, the ever-popular 7-star hotel in Dubai. If you are talking about luxury and royalty, nothing beats the Burj Al Arab dinner. Well, if you are willing to have other courses of meals, that is also a feasible option, as you can get an exciting Diwali celebration in Dubai Burj Khalifa.



3. Dubai Glow Garden
Since Diwali is the festival of lights, Dubai Glow Garden is the perfect place where you can see amazing lightning in the midst of nature. Get amazing Dubai Garden Glow deals and pave a visit with your family. Dubai Glow Garden is always the first choice by people of all ages as it has amazing scenery.
4. Dhow Cruise of Dubai
If you are thinking about where to celebrate Diwali? Just come to Dhow Cruise of Dubai. You can spend your Diwali night in the most famous traditional Dhow Cruise of Dubai for creating unforgettable memories with your family. Here you a chance for having a luxurious fine dining experience along with live entertainment shows on the cruise. There is nothing more extravagant than celebrating Diwali is one of the most famous cruises in Dubai.
5. Elephant Parade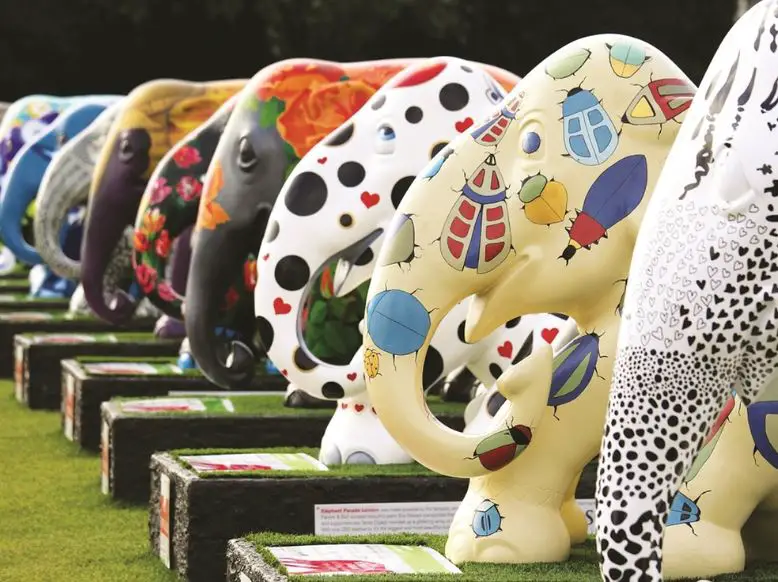 Elephant Parade is a social enterprise.  most surprising it runs the world's largest art exhibition of decorated elephant statues. Created by renowned artists, the life-size statues are exhibited globally and help raise awareness for conservation.




So after reading you must be thinking when is Diwali celebrated in Dubai. Like every year Dubai will celebrate this festival of light with pomp and this festival symbolizes forgiveness, goals, euphoria, love, reflection, learning and light. The lights commend the triumph of light over the murkiness, symbolizing great prevailing upon insidiousness.
The post Diwali Celebration in the Dubai I How Dubai Celebrates Diwali appeared first on World Tour & Travel Guide, Get Travel Tips, Information, Discover Travel Destination | Adequate Travel.