From Nice's Mediterranean seaside breeze to Strasbourg's sauerkraut and Christmas markets, these beautiful cities of France offer a diverse array of culture, history, and picturesque beauty. If you're planning to visit France, we recommend making a list of the French cities you would like to visit. This will help you to plan out your travel itinerary. Start with the cities, then research the small towns and villages you would like to visit between each city, and then plan your driving route. Discover the unique character and personality of each of these top cities in France, then start saving up for a plane ticket.
List of Cities to visit in France
1. Paris
Do you really think Paris needs an introduction? No! At any time of year, the capital of France is worth a visit! You might like to visit in the summer when it's hot but Parisians are out of the city on vacation, so it's less busy. Christmas is also a lovely time to visit when the city twinkles with lights and the smell of mulled wine fill the air. Of course, the most popular tourist attractions will be quite busy at all times of the year, so here are a couple of tips: visit the Eiffel Tower first thing in the morning, the last thing in the evening or at lunchtime, when there are fewer people. If you're visiting the Palace of Versailles, book a tour of the King's Apartment at 9.30 am. You'll get quick entry into the palace and avoid the long queues. If you're visiting this major city in France in the springtime, don't miss the Paris Carnival. This annual event dates back all the way to the 15th century. The parade starts at 14.00 from Gambetta Square in the 20th Arrondissement, continues along with Rue de Belleville all the way to the Place de la Republic, where the festivities go on until 21.00. 
Read More: 10 Best Places to Visit in Paris
2. Lyon
After Paris, France's second-largest city, Lyon lies at the intersection point of the Rhone and Saone rivers. The city is filled with Roman ruins, and medieval, Renaissance-era architecture and has a rich history of over 2,000 years. Lyon has a very classy and sophisticated food, shopping, and nightlife scene. Foodies must ensure visiting Les Halles de Lyon, a highly renowned indoor food market. Don't miss out on sampling traditional French dishes at a Bouchon (traditional restaurant). This must-see city in France is quickly emerging as one of the best places to visit in France, especially for food lovers.
3. Nice
Located in the Cote d'Azur (French River) region of France, Nice is a really nice city. Sporting a mixed Italian and French culture, Nice is considered as the crown jewel of the French Riviera and is known for being the playground of famous celebrities, artists, and chefs. This city is blessed with rich art museums, a vibrant street food scene, lovely year-round climate, Franco-Italian architecture, and a stylish waterfront with scenic walkway – Promenade des Anglais.  Art lovers must visit the Musee Chagall, Musee Matisse, and Museum of Modern and Contemporary Art (MAMAC). Top points of interest of Nice are Nice Cathedral, Cours Saleya, Nice Castle, Vieux Nice (Old Town), and Palais Lascaris. Nice is among the most popular south of France cities and is among the top 10 cities in France.
Also read: Visiting Paris in Two Days
4. Bordeaux
The Bordeaux city of France is famous for its high-quality wines since the 8th century. The world's wine capital, Bordeaux is also known for its well-preserved historic architecture and UNESCO World Heritage Sites. This beautiful city in France has a laid-back vibe with plenty of charming cafes, bars, restaurants, and vineyards. Visiting the vineyards and wineries are among the top things to do in France. Some of the most popular wineries of Bordeaux are Sauternes, Medoc, and Saint-Emilion. Wine lovers must visit Cite du Vin Museum, a world-class museum dedicated to the history and culture of French wines and vineyards.
5. Marseille
Marseille is the third-largest city in France, located on the Mediterranean coast. The city has a rich history of to 600 BC, all the way to the Greek age. Marseille's Vieux-Port (Old Port) is still the main attraction of the city. You can enjoy street music, street dancers, delicious street food, cafes, and art exhibitions in the area. Marseille is also known for its stylish and contemporary museums like the Musée d'Histoire de Marseille and MuCEM. The top attractions of Marseille are Le Panier (Old Town), Notre-Dame de la Garde, Chateau d'If, Palais Longchamp, Fort Saint-Jean, and Marseille Cathedral. Top things to do in Marseille must include a trip to the nearby Calanques National Park. This popular city in France is ideal for relaxing excursions, boat tours, rock climbing, hiking, swimming, and kayaking. Marseille is also a great place to savor some delicious French seafood and Mediterranean cuisine. One of the trending cities of France, Marseille is gaining a steady fan following and is certainly among the best south of France cities. 
Visit: monuments in Australia
6. Nantes
Nantes lies on the banks of the Loire River in western France and the sixth-largest city of France. During the 19th and 20th centuries and continues to be a highly developed economic region of the country, it used to be an important inland port in France. Nantes is blessed with rich cultural treasures featuring the historic Nantes Cathedral, which took 457 years to complete and has a reputation of being a "forward-thinking city"!  Major attractions of Nantes are Jardin des plantes de Nantes, Chateau des ducs de Bretagne, and Machines of the Isle of Nantes. Nantes is rapidly progressive and one of the major cities in France. 




7. Strasbourg
The city of Strasbourg is the seat of the European Parliament and several other EU institutions and is situated in the Alsace region of France, near the border of Germany. The city boasts of a rich history that dates to the Roman and Celtic times. It is blessed with half-timbered houses, and cosy winstubs (Alsatian taverns), wonderful medieval architecture, Franco-German culture, and delicious food. Owing to plenty of students and EU delegates and staff, it also gives out some cool, and progressive vibes. The city also offers delightful Christmas markets and plenty of cultural treasures such as Place Kleber, Parc de l'Orangerie, Palais de l'Europe, Musée Alsacien, Strasbourg Cathedral, La Petite France, and Palais Rohan. One of the most beautiful cities in France, Strasbourg is among the top tourist places of France.
Read: Things to do in Paris with Toddlers
8. Montpellier
Lies in the south of France, the fastest growing and stylish city of Montpellier and a highly cosmopolitan city known for its wide boulevards, and serene nearby beach and elegant buildings, grand hotels and mansions. Montpellier also boasts elegant public squares like the Place de la Comedie and has the most stylish trams in France. As the city is the gateway to several top beaches of France like Carnon Plage, Plage de L'Espiguette, and Plage de Maguelone, beach lovers will love Montpellier. Montpellier is certainly among the famous cities in France to visit.   
9. Toulouse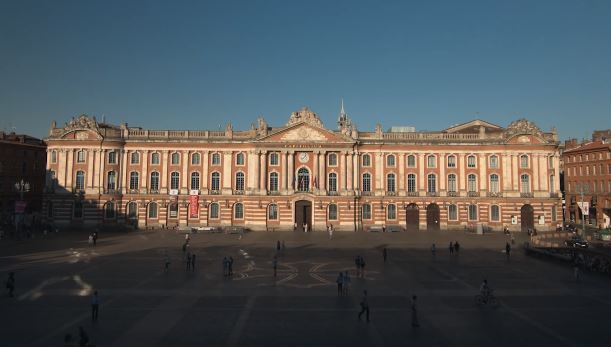 Toulouse is considered as one of the fourth-largest city in France and known as La Ville Rose (the pink city) for its beautiful ochre-colored rooftops and historic European architecture. Perched between the Garonne River and the Canal Du Midi, Toulouse is also home to the French aeronautical company – Airbus, and has a large student population. Toulouse has charming food markets, jazz, techno, and rock bars, and a wonderful public square, the Place du Capitole. Top attractions of this amazing city in France include Toulouse Cathedral, Canal du Midi, Basilica of Saint-Sernin Pont Neuf bridge, and Musee des Augustins. This city is surely in your bucket list of the top 10 destinations to visit in France. 
10. Lille
Lille is an important transport hub of western Europe and lies close to the Belgian border. It is the center point of major rail networks and connects like Eurostar, TGV, and Thalys, to the capital and forming a prime transport hub between London, Paris, and Brussels. With lots of food markets, spacious public squares, museums, cafes, and restaurants, Lille sports a very vibrant outlook. The historic center of Vieux Lille, the old city is known for its Renaissance-era buildings, Flemish (northern region of Belgium) and French artworks, and stylish shopping avenues. Some of the major points of interest of Lille are Place Charles de Gaulle, Vieux-Lille, Citadel of Lille, Palais des Beaux-Arts de Lille, Lille Cathedral, and Vieille Bourse. The large student population of this important city in France makes in one of the most vibrant, energetic, and certainly puts it among the most visited places in  France. 
11. Aix-en-Provence
Aix-en-Provence is a picture-perfect but a small city is known for its little public squares, charming pavement cafes, colorful mansions, winding medieval alleys and lanes, beautiful avenues, and fountains. This city exists in the south of France and has a large student population. Because of the student population doesn't make it cheap, Aix is known to be the costliest French city and perfect for couples looking for charming, romantic things to do in France. Adorned with fountains, Baroque and Rococo buildings, and pristine public square, Vieil Aix (Old Town) is the most beautiful place in Aix. Other major and beautiful places to visit in Aix are Cathedrale Saint-Sauveur, Pavillon de Vendome, Musee Granet,  Atelier de Cezanne, and Cours Mirabeau, Quartier Mazarin. Exploring Aix-en_Provence is like exploring one of the best cities in France.
Don't Miss these Post
Here we listed the Best Cities in France, which are mentioned as per the visitor's requirements. I hope you have gathered information about the  Best Cities to visit in France. If you are planning a trip to Paris then read on my other articles as well because from there you will be able to get the best tourism places in Paris, restaurants in Paris and other related things as well. If you liked our post please like it and comment in the below comment section.
The post 11 Best Cities to Visit in France | Most Beautiful Cities in France appeared first on World Tour & Travel Guide, Get Travel Tips, Information, Discover Travel Destination | Adequate Travel.