Pattaya is an eastern Gulf coast city in Thailand and is incredibly famous for its beaches. But, the monuments in Pattaya are worth visiting due to their fabulous construction and engaging history. As in many other countries, memorable people and achievements are celebrated by the building of monuments. The history of this part of the country has been rather shorter than other destinations as detailed in the Regional overview. Not to be denied, many organizations throughout our area have erected statues and monuments to historical figures and deities. The most striking being Khao Chee Chan which was carved out of bare rock rather than constructed. Here are some of the important monuments in Patrata:
List of monuments in Pattaya 
1. Big Buddha
There is an enormous 18 metres tall Buddha statue that is located at the very top of Pratumnak Hill.  This Big Buddha is situated within the premises of the Wat Phra Yai temple and is the largest statue in the region. The statue is also called Luang Phor Thai by Thai people and was established in the year 1977.  The Big Buddha, extremely popular with tourists is revered by the locals who come to pray at the temple. Do check out the intricate design on the statue while there. It is one of the religious monuments in Pattaya. Please maintain the tranquillity of the place because it is an active place of worship. Keep remembering because dressing in conservative so clothing is recommended.
Address: Bang Lamung District, Chonburi Province, Thailand, Pattaya 
Read More: Why the Maldives famous For
2. The Sanctuary Of Truth
If you are searching for a serene, calm and meaningful tourist destination then this monument in Pattaya Thailand worths a visit. This destination is an amazing representation of the culture and architecture of Thailand. The tall structures made of wooden houses remind you of ancient times. This popular monument in Pattaya was built due to a specific reason which was to convey a message of peace through a pristine shrine. This shrine also preserves the eastern wisdom architecture of Thai people and is built as an ode to all the legendary architectures in the city. The wooden sculptures depict numerous famous elements from their mythologies descending from Hindu and Buddhist gods. Each section intricate awe-inspiring carvings and is full of symbolism.
Address: 206/2 Moo 5, Soi Naklua 12, Naklua, Bang Lamung District, Chon Buri 20150, Thailand, Pattaya
3. Ripley's Believe It Or Not Museum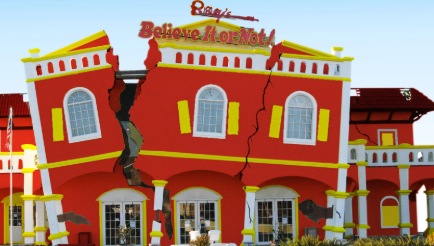 If you want to explore some extraordinary historic world of Pattaya then the Ripley's Believe It Or Not Museum owns one of the weird and bizarre memorabilia from all over the world that you can explore and it is part of a chain of museums. Ripley's collection may be known from the popular television show and is one of the most intriguing in the world. The Ripley's Museum is like a giant circus show from shrunken heads to stuffed versions of weird animals, with amazing abilities and two-headed cows to people. A huge range of unbelievable things here and you are sure to come across.  It is just the main exhibit. On the premises, there are several other attractions. It is counted in one of the old monuments in Pattaya. If you dare to take it and there is a very creepy haunted house tour. You can also feel a 4D movie experience which is a must-try. Infinity Maze is the best part about this place where with state of the art technology you can experience amazing illusions. This one is sure to amaze and daze you.
Address: 218 Garden Park Royal shopping center. Plaza. , Room No. C 20-21 Moo 10, Pattaya beach. Tambon Nong Prue, Banglamung, Chonburi 20260., Pattaya, Bang Lamung District, Chon Buri 20150, Thailand 
Read More: Why Denver is famous
4. Louis Tussaud's Waxworks
Who would have not thought of visiting this place? This beautiful building in Pattaya is one of the frequently visited destinations where if you want to catch out top celebrities and click photographs with them, Louis Tussaud's Waxworks is the place to be! On display, there are 68 wax statues of Thai and international celebrities which are very finely designed so that they barely look like a wax statue. It is considered as one of the beautiful monuments in Pattaya. The displays are divided into zones such as- Pop Stars, Chamber of Secrets, Celebrities in Character, British Royalty, Horror Den, Political & Humanitarian Leaders and Batman & Friends. You can find your icons and celebrities and click pictures with them.
Address: Royal Garden Plaza, Beach Rd, Pattaya, Bang Lamung District, Chon Buri 20150, Thailand 
5. Love Art Park
A destination with 'Love' in its name can't be a horrible place afterall. Contrary to that this place is known for its beautiful landscapes in Pattaya. But it also accounts for being a bit quirky tourist attraction which has on display hundreds of erotic body sculptures that might be a little uncomfortable for you if you are travelling with your family. Each statue depicts a romantic, funny, wacky or erotic story sculpted by professional artists. This is one of the most famous monuments in Pattaya which can be an outdoor erotic journey for you to spread across a huge area which also has live cafés, childcare centres, a conference room, restaurants, and video arcade to explore.
Address: M.8 T.Huaiyai A., 129/5-7, Banglamung Chonburi, Thailand, Pattaya.
Read More: Why Kochi is Famous
6. Sunthorn Phu Statue
In the field of Thai literature, Phra Sunthorn Phu (1786-1855) is held in very high esteem. He is highly honoured just like William Shakespeare or Geofrey Chaucer in English Literature. Phra's mother lived just adjacent to the royal palace of King Rama as believed according to various mythologies and his father's family were from Klang where Sunthorn was born. His parents soon divorced and his father later became a monk. Phra's mother joined the court as a wet-nurse to the royal children tos serve further. It became and is counted in one of the oldest monuments in Pattaya you can explore more about the epic life and short tales about Phra's life by visiting this popular landmark
Address: Kram, Klaeng District, Rayong 21190, Thailand.
Address: Kram, Klaeng District, Rayong 21190, Thailand.
7. Pattaya Floating Market
Regions Floating Market or Pattaya Floating Market is one of the most amusing marketplaces of Pattaya. Located in the middle of a huge pond, this market is quite popular among tourists. Not only you get to buy top souvenirs from the most authentic traditional sellers but you can also enjoy the ambience surrounding this admirable place. The 4 Regions Floating Market is a hub of commerce holding, that is spread across a huge area of 100,000 sq. meters. It is a great experience of culture and local lifestyle, especially for tourists. For locals, it is just a market but among the tourists, it is known as one of the ancient monuments in Pattaya. You can watch the oldest versions of shop designs at this landmark of the city.
Address: 12 451/304 Sukhumvit Rd, Pattaya City, Bang Lamung District, Chon Buri 20150, Thailand
Read Ab0ut: Monuments in Berlin
8. Mimosa Pattaya
This building in Pattaya provides an oriental European touch to explore Pattaya's history. Mimosa Pattaya is the place to visit for experiencing the rich culture and past of the town. Spread out over a vast area this place is styled beautifully. The designer outdoor shopping malls with bold and bright colours and boutiques with beautiful and varied collections of items being sold are some of the best experiences you can enjoy especially if you are a shopping geek. One can experience its vibe by taking a stroll in this market and the Thai lifestyle that is always engaging and tempting to dwell upon.  Mimosa Patrata is one of the most popular monuments in Pattaya that you must explore if you really want to see the joyous, vibrant lifestyle of Pattaya.
Address: Sukhumvit Rd, Na Chom Thian, Sattahip District, Chon Buri 20250, Thailand
Read more: coolest water sport in Pattaya
9. Nong Nooch Botanical Garden
For science geeks you can spend your whole day here still it will be left to explore as this garden spreads across a vast area of 2.4 sq. km and it is more of a small village with well-manicured gardens that are host to a variety of amusement options. Since Pattaya is a busy city you might feel stressed sometimes under the city hustle therefore, this garden is also best for relaxing under the soothing shades of trees and later continuing your travel explorations. This place also accounts for being one of the major tourist attractions of Pattaya. This place is home to numerous flower species and a plethora of plants, which makes it a  must-visit for nature lovers. It is one of the natural monuments in Pattaya that you must explore once. 
Address: 34 Na Chom Thian, Sattahip District, Chon Buri 20250, Thailand
Get About: Famous Monuments in Bangkok
10. Mini Siam
Mini Siam is one of those places that gives you a short miniature exhibit of famous sites to explore in the city. There are a lot of detailed miniature versions that are tremendous in their detailing and resemble exactly like their real monuments. They own a large collection of landmarks, therefore, you won't be bored! You can even find the miniature versions of Grand Canyon, New York's Statue of Liberty, Paris' Arc de Triomphe, Sydney's Opera House, London's Tower Bridge and the Leaning Tower of Pisa among several such buildings on display. It is now one of the iconic and most visited monuments in Pattaya. This can be an adventurous ride especially for your kids who can explore various wonders of the world just at one place.
Address: 387 Sukhumvit Rd, Pattaya City, Bang Lamung District, Chon Buri 20150, Thailand
Hope you enjoyed the mentioned best monuments in Pattaya, which contains the proper information regarding all the top monuments in Pattaya. The popular destinations in this city own a lot of epic tales and folktales which makes every traveller interested till the end. In fact, the tourism department encourages various creative tours and establishments to attract more travellers every year. I hope you might have loved reading this article and if you love to know more about Pattaya then kindly head to our other articles that will deliver you, more adventurous ideas about different trips in Pattaya. If you are really excited you can check our latest Adequate Travel app for booking such trips, read more engaging blogs, chat with new travellers and earn rewards from your posts to gain a big discount on your travel packages.
The post Most Visited Monuments in Pattaya l Famous Monuments in Pattaya appeared first on World Tour & Travel Guide, Get Travel Tips, Information, Discover Travel Destination | Adequate Travel.