If you are looking to explore the history of Shenzhen through the ages there are a number of historical monuments in Shenzhen including the time-honored buildings, palaces, and parks where you can take a glimpse of the glorious past of Shenzhen. The presence of these historical monuments and museums will take you on a walk through Shenzhen's rich history and if you are willing to have in-depth historical information about Shenzhen, we recommend that you take a wonderful guided tour to cover the major historical attractions. Also, check the opening and closing time for each so that you can organize your time and make sure that you go through the complete list of important monuments in Shenzhen for a great trip:
List of Monuments in Shenzhen 
1. Shenzhen Dapeng Fortress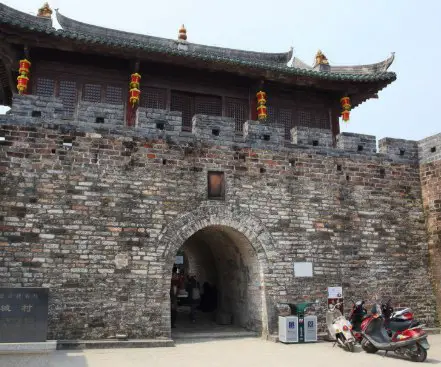 Dapeng Fortress is defending an old ancient town from around 600-years, that's why it is known as the protector of this town, this famous monument in Shenzhen is one of Shenzhen's most hallowed historical treasures. In the country's infamous opium wars, the fortress was the site of one of the key battles. Though it takes a while to get to, it's worth the effort and the fortress and the houses there are worth a visit. Inside the walled city, there are some signs to guide you. Some of the old houses are converted into restaurants and it gives you amazing feelings after seeing the original architecture of these houses and you may feel you are back to the old days, some of the houses are quite run down, unfortunately in some parts of this walled city. The place lit up us very beautifully and day time also has its own unique beauty.
Read More: Famous Monuments of Colombia
Address: Dapeng St, Longgang Dist, Shenzhen 518120 China.
2. Chiwan Ancient Temple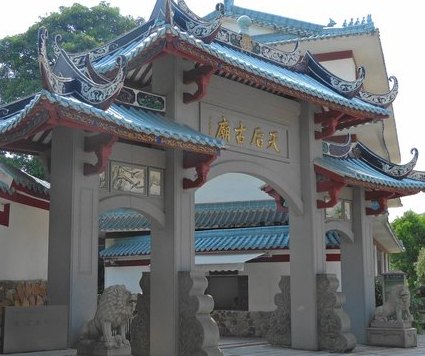 Chiwan Ancient Temple is a beautiful monument in Shenzhen, located about 15 minutes away from Shekou by taxi or cab. Inside the temple you would see the amazing colors, candles, and artwork that really fascinates you. Furthermore, only a few minutes away from the temple by a taxi, the Chiwan Opium War Fort and the Tomb of the Boy Emperor are located. These cultural relics are not to be missed while visiting Shenzhen and the tiny museum located in Tianhou temple in Chiwan and Some nice artifacts but very small. You may as well look since you'll already be in the temple and the main temple area is pretty nice but otherwise the exhibits were not very well maintained and the place was a little dark because of poor lighting
Address: Chiwan Village, Nanshan District, Shenzhen 518068 China.
3. Tai Fu Tai Mansion
Close to Sheung Shui, it is nestled in New Territories in a small village of San Tin, one can also visit the huge ancestral hall. Renovated last 1988, it is well preserved and gives a good insight on the history of Shenzhen at that time. It is easy to reach by green minibus from Sheung Shui, this ancient monument in Shenzhen is a perfect excuse for an outing. Another highlight, is the nearby Hong Kong coffeeshop, serving a good spread of local delicacies. The manorial house has extensive Hong Kong grounds and a lake, set off from a road. At the various rooms fascinating to look at that were used, the peanut oil press and learn some of the history behind the lord with his two wives and their children who lived here.
Read More: Monuments in Mumbai
Address: N/A
4. Window of the World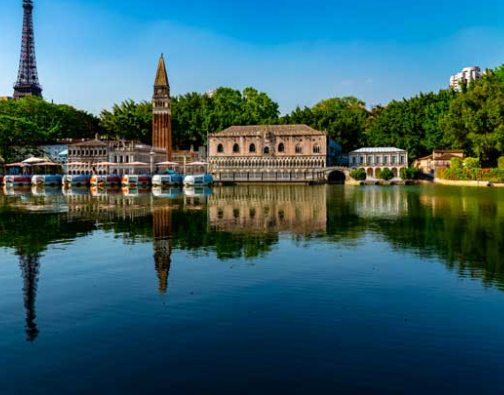 Located in the western part of the city of Shenzhen, Window of the World is a theme park and one of the most famous tourist attractions in the world squeezed into 48 hectares, it has about 130 reproductions. The sight of the Pyramids and the Taj Mahal and the 108-meter tall Eiffel Tower dominates the skyline, all in proximity to each other are all part of the slightly kitsch appeal of this theme park. On famous figures from world history, there are also a wide selection of international restaurants and mini exhibitions. This iconic monument in Shenzhen allows you to see the Niagara Falls then wander around Angkor Wat and to taste Mexican food. Every day ends with a firework and laser show and the site takes at least half a day to explore. At the 'Alps Indoor Skiing', skiing and snow tubing are available then visitors can enjoy 'Fervorous Paris Nights' at 'Caesar's Palace' in the evening
Address: No.9037 Shennan Road, Nanshan District EXit J Window of the World, Shenzhen 518053 China.
5. Hongfa Temple
If you have the time the temple is worth seeing as you need to take bus 468 from Hua Qiang Bei to the final stop Xian Hu (Fairy Lake) Park, it's a bit hard to reach. At least half a day to visit it, you should reserve, so not that convenient than the temple itself, the area and nature around the temple are more impressive.  Shenzhen is a little short on temples etc, being a new city. This top monument in Shenzhen and temple are well worth a visit if you are in  this beautiful city. Looking round the park and temple, you could easily spend half a day here. 
Read More: Buildings in Jaipur
Address: Luohu District, No.160 Liantang-Xianhu Road, Shenzhen 518004 China.
6. Shenzhen Civic Center
The complex has two exhibitions that can be visited and Shenzhen Museum is definitely worth a visit. It's entrance is on the west side of the complex, you get to the industrial Exhibition on the north side. Exhibits provided by the companies. Not old enough to be regarded as industrial heritage, not modern enough to be exciting. With some nice views and a good feel for the size of the structure, the building itself is kind of spectacular, the roof terrace on the 4th floor is an open space.  Unfortunately nothing much was copied from the Singapore urban Planning museum but Shenzhen urban planning may be a copy of Singapore. Free entry though and the aircon works perfectly in the best monuments in Shenzhen 
Address: No.1 Fuzhong 3rd Road, Futian District, Shenzhen China.
7. Dapeng Dongshan Temple
The religious monument in Shenzhen  is your next stop especially as it's only 10 minutes away when you visit Dapeng for the city. No photos of the Buddhas or people praying, there is much more to see anyway, consider it is a working temple and respect those in there. The architecture is so colourful and ornate, don't forget when walking around to look up, the ceilings are great too. When you walk through the main doors you are hit with a superb panoramic image and from there you just walk around and up and up and up. Take the steps up the hill and get a great view of Dapeng, provided of course 400 ish steps is ok for you and you wont stay here all day, couple of hours at most and they will be well spent. No charge for entrance although they do have a shop or take donations if you want to give 
Read More: Monuments of Chile
Address: East of Pengcheng Village, Dapeng Town, Longgang District, Shenzhen China.
So far we have discussed the best monuments in Shenzhen, which contains the proper information regarding all the So far we have discussed the best monuments in Shenzhen, which contains the proper information regarding all the top monuments in Shenzhen. I hope you might have loved reading this article and if you love to know more about Shenzhen then kindly head to our other articles as well which will help you to get knowledge about Shenzhen.
The post Most Visited Monuments in Shenzhen l Famous Monuments in Shenzhen appeared first on World Tour & Travel Guide, Get Travel Tips, Information, Discover Travel Destination | Adequate Travel.