The berlin wall stretched over 1.4 kilometers around more than 1 mile of its foundations. In this article, we will guide you with the best hotel near Berlin Wall Memorial. This whole free memorial is the first stop for them who interested in Berlin's separated past must-visit, boasting a variety of fascinating exhibitions along with an opportunity to experience the Wall.  Berlin war memorial honors the victims of the GDR regime and explains the varied methods that the GDR regime cruelly used to keep its citizens from escaping. It also defines the many ways that its citizens tried to escape, including tunnels, jumping from windows and roofs and particularly for Bernauer Strasse. Here we will tell you about the pocket-friendly and best hotels close to Berlin Wall Memorial you can feel comfortable like never before.
List of Hotels Close to Berlin Wall Memorial
1. Gorki Apartment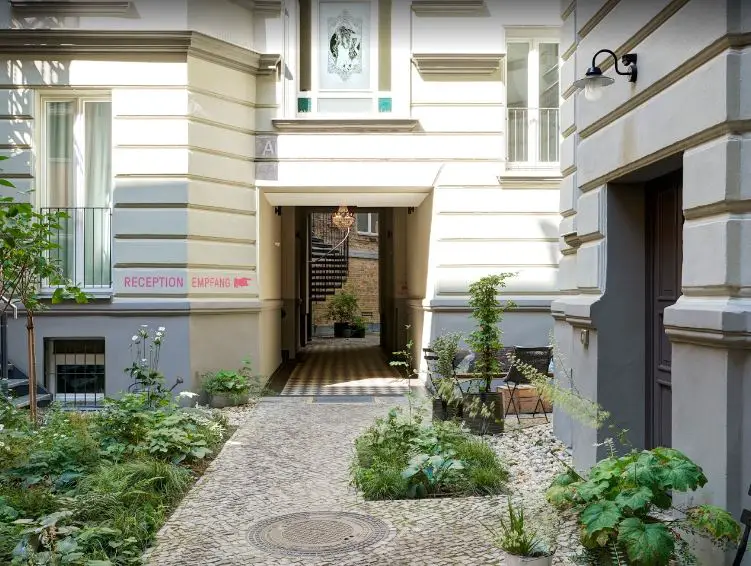 Gorki Apartment, a luxury hotel near Berlin Wall Memorial is located in Berlin's trendy Mitte district. This beautiful hotel surrounded by numerous bars, cafés, galleries, and shops. You can relax in the elegantly furnished apartments. Gorki Apartment housed in an attractive 19th-century building, near Rosenthaler Platz.  The accommodation of this hotel consists of individually furnished apartments and 2 very spacious penthouses. The hotel combines famous design names with quirky flea-market items and contemporary elements. All rooms include a flat-screen TV, a box-spring bed and a fully equipped kitchen with Nespresso coffee machine, a kettle, a dishwasher, and a fridge. WiFi is also provided free of charge. Champagne, wine, and soft drinks can be purchased on site. You can also purchase a voucher on-site for breakfast at nearby cafés.
Price: €183 per Night
Address:Weinbergsweg 25, 10119 Berlin, Germany
Get Gorki Apartment Hotel Deals
2. Honigmond Boutique Hotel
Honigmond Boutique Hotel, beautiful hotel near Berlin Wall Memorial is situated in Berlin's Mitte district. It is just 500 m from Nordbahnhof railway station, this hotel is close to the historic Berlin war memorial, vibrant Alexanderplatz and Hackescher Markt district, the Museum Island and the Brandenburg Gate. The Honigmond's well interior and furnished rooms offer an undisturbed night's sleep after an exciting sightseeing trip in this world-famous city. The Honigmond is just a 5-minute walk from an S-Bahn, city railway underground station, and a tram stop too. It makes all of Berlin's most popular areas easily accessible.
Price: €96 per Night
Address: Tieckstraße 11, 10115 Berlin, Germany
Get Honigmond Boutique Hotel Hotel Deals
Also Read:Best Hotels Near Museum Island Berlin
3. The Circus Hostel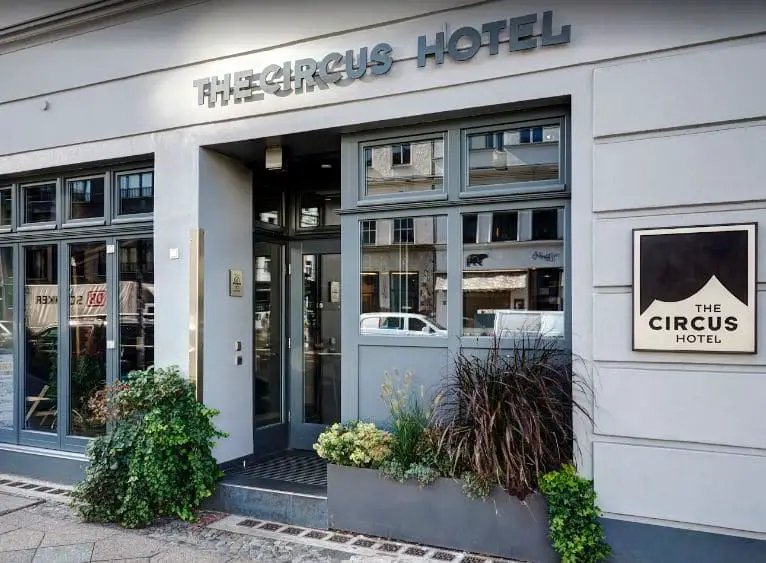 Located in Berlin city center, this trendy hostel features bicycle rental facilities, free Wi-Fi, and rental iPads and laptops. It is only 50 m from Rosenthalerplatz U-Bahn Underground Station. The Circus Hostel offers you private rooms as well as shared dormitory rooms. All rooms brightly decorated in a contemporary style. Each room at the Circus Hotel offers safety deposit boxes and access to shared bathroom facilities. A buffet breakfast can be booked at the hostel. You can relax in the lounge area, which is equipped with books. Guests can also rent iPads from reception. From Rosenthalerplatz U-Bahn, guests can take the metro to both Alexanderplatz Square and the Brandenburg Gate in less than 15 minutes. 
Price: €95 per Night
Address: Weinbergsweg 1A, 10119 Berlin, Germany
Get The Circus Hostel Hotel Deals
Also Read:Best Hotels Near Brandenburg Gate, Berlin
4. 25hours Hotel Bikini Berlin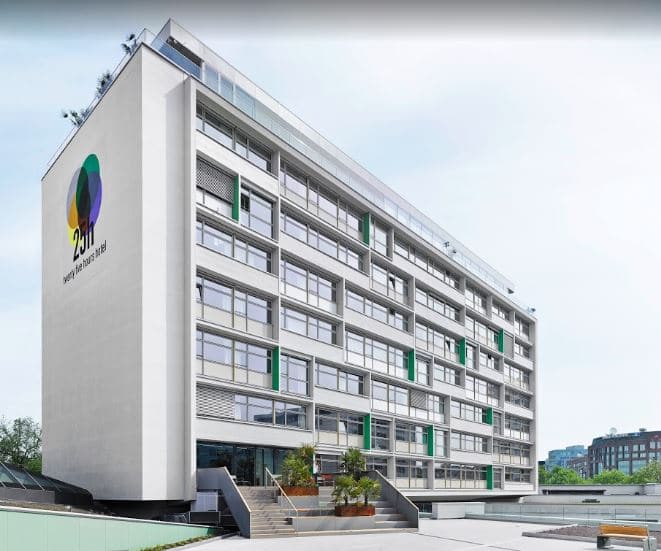 25hours Hotel Bikini Berlin is situated at Zoologischer Garten Station and it is hotels near Berlin War Memorial. You will enjoy the hotel's trendy bar and the sauna overlooking Tiergarten, set in Charlottenburg-Wilmersdorf. It was opened in 2014.  This hotel offers individually designed rooms featuring air conditioning, free WiFi and a UE Boom Bluetooth speakers. Some rooms have floor-to-ceiling windows and offer a panoramic view of the lively city center or of the zoo. You can enjoy oriental cuisine served at the hotel's Neni Restaurant. A variety of drinks and music are on offer at the hotel's Monkey Bar. You can also relax on the rooftop terrace and enjoy the city view from the 10th floor. From the hotel, the famous Memorial Church on Breidscheidtplatz as well as the Berlin Zoo is each only a 2-minute walk away.
Price: €125.65 per Night
Address:Budapester Str. 40, 10787 Berlin, Germany
Get 25hours Hotel Bikini Berlin Hotel Deals
Don't Miss:Best Hotel Near TV Tower Berlin
5. Hotel Adelante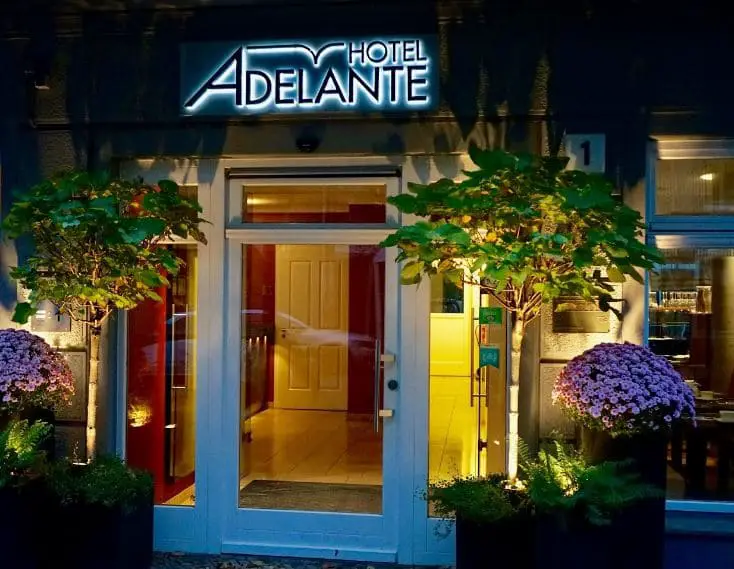 Hotel Adelante, popular hotel near Berlin Wall Memorial is a 4-star hotel in Berlin's Mitte district is just a 5-minute walk from the Friedrichstraße shopping mile. It offers elegant rooms with free WiFi, a sound system with a Bluetooth receiver and a tablet PC. At the Hotel Adelante, all rooms feature air conditioning and floor heating. All the modern bathrooms are fitted with a rain shower. A breakfast buffet is provided at Hotel Adelante, and tea and coffee facilities are available. Drinks can be served in the lobby lounge. It is a 5-minute walk from Oranienburger Straße Underground Station and Nordbahnhof S-Bahn, a city railway station. You can purchase a parking permit at the reception for nearby parking.
Price: €79 per Night
Address: Borsigstraße 1, 10115 Berlin, Germany
Get Hotel Adelante Hotel Deals
6. Downtown Apartments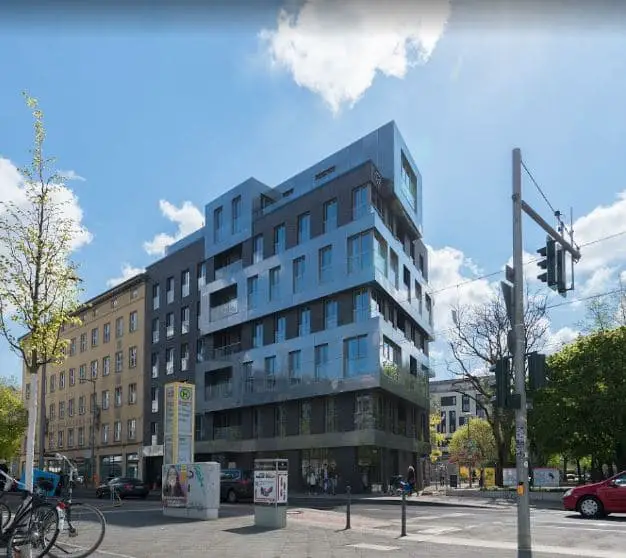 These modern and luxurious hotel is located in the central Mitte district of Berlin. List of the hotel near Berlin Wall Memorial is incomplete without this hotel. Each one offers a covered balcony or a terrace with the vibrant city center and views of greenery. Downtown Apartments are also close to ministeries, companies, and institutions as well as many bars and restaurants in this business district. It is within easy walking distance of many other cultural attractions and the Natural History Museum in the heart of the German capital. Downtown Apartments comprises of up to 7 different sizes of apartments. Each one features clear forms and top-class furnishings as well as the chic design.
Price: €155 per Night
Address: Invalidenstrabe 129, 10115 Berlin, Germany
Get Downtown Apartments Hotel Deals
Read More:Hotel Near Berlin Brandenburg Airport
7. Casa Camper Berlin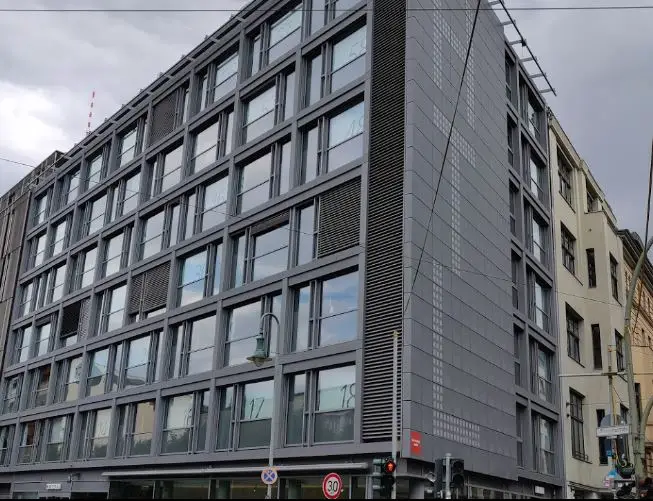 Casa Camper is very close to UNESCO Museum Island and the historic Unter den Linden boulevard, just a 10-minute walk. There are many bars, restaurants and art galleries nearby locations. This hotel near Museum Island in Berlin gives you relax. This hotel is located in Berlin's popular Hackescher Markt area and Alexanderplatz is just a 10-minute walk away. The designer rooms of this hotel provide you air- conditioning, a TV, a spacious seating area and a bathroom with natural daylight. Natural soaps, toiletries, and slippers are provided. You can also enjoy free use of the Finnish sauna and gym at any time.
Price: €184.44 per Night
Address: Weinmeisterstraße 1, 10178 Berlin, Germany
Get Casa Camper Berlin Hotel Deals
8. Circus Hotel Berlin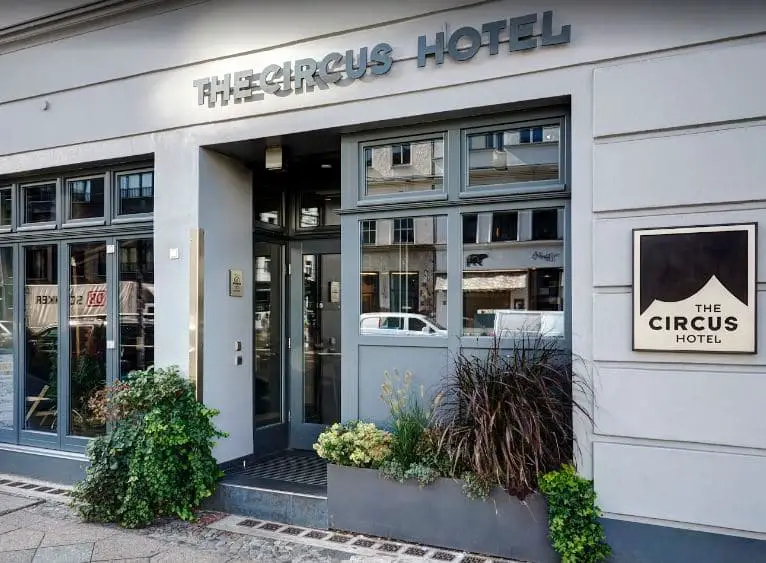 This fascinating and charming hotel and cheap hotel near Berlin Wall Memorial exists in the heart of Berlin. It is between the popular districts of Mitte and Prenzlauer Berg. It is directly opposite Rosenthaler Platz Underground Station after 2 underground stops from Alexanderplatz. Rooms at the Circus Hotel Berlin feature modern décor with free Wi-Fi and a flat-screen TV. All have an en-suite bathroom with a shower, and some have an extra living area. Have a delightful à-la-carte brunch at the Commonground, partners of The Circus Hotel. Breakfast and lunch served from 7.30am to 4 pm but 8.30am to 4 pm on weekends. You get also bar service and snacks until late.  The Circus Hotel is a 5-minute walk from the historic Berlin war memorial, the trendy shops, cafes and galleries of the Hackescher Markt area. At the Circus Hotel, a 24-hour reception offers rental bicycles. 
Price: €20 per Night
Address: Rosenthaler Str. 1, 10119 Berlin, Germany
Related Post:




So these are the hotels near Berlin Wall Memorial, with respect to its price and hospitality. You can choose according to your pocket and comfort zone. You get also a cheap hotel near Berlin Wall Memorial as well as a luxury five-star hotel.
The post Hotels Near Berlin Wall Memorial | Hotels Close to Berlin Wall Memorial appeared first on World Tour & Travel Guide, Get Travel Tips, Information, Discover Travel Destination | Adequate Travel.