Planning for a beach vacation? Well, I am sure that Goa must have crossed your mind. But you all must be a bit confused about which beach in Goa is best for adventure sports or which one is best for a lively nightlife experience. To help you with this and plan a perfect Goa vacation for you, we are here with a list of all the wonderful beaches in Goa to include in your itinerary. 
Goa, despite being the smallest state in India, never seeks introduction. Everyone is aware of the mesmerizing beauty of Goa's beaches. Goa beaches are perfect for a vacation with family, friends, or even solo because they offer a variety of activities for all types of travelers. From the breathtaking beaches to the lively nightlife, Goa has something for everyone. 
Its beautiful white sand, pristine blue water, and panoramic horizon make it one of the most beautiful places on the planet for those seeking peace and quiet. So, let's move ahead and dig into the most favorite beaches in Goa that are dedicated to offering a fantastic vacation experience to everyone.
Popular Beaches in Goa for a Fun Vacation:
1. Palolem Beach
Palolem Beach is located in southern Goa and is well-known for its crystal-clear waters and scenic beauty. It is an ideal spot for swimming, fishing, and kayaking. There are many shacks and restaurants on the beach that serve a wide range of tasty local foods.
If  you are looking for serenity in Goa, then you can head to Palolem Beach without a second thought. Spend some leisure time here or indulge yourself in swimming or sunbathing. This beach is no less than a paradise for swimmers, as it doesn't get hit by fast currents.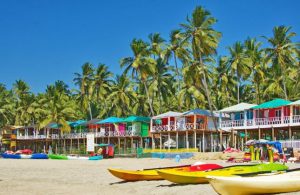 Location: Canacona
Famous for: swimming, sunbathing, and serenity
2. Baga Beach
Baga Beach in Goa is famous among beachgoers for its stunning nightlife and beach parties held here every night. It is located in North Goa, and the lively atmosphere around Baga Beach will truly mesmerize you. Apart from enjoying the Goa nightlife to the fullest, you can taste mouth-watering seafood delicacies, participate in adventure watersports activities, and enjoy stunning views of nature.
Well, believe it or not, it is one of the most popular beaches in Goa, with a vibrant atmosphere and amazing nightlife experiences. So make sure to include this beach in your itinerary if you want to get the most out of your trip.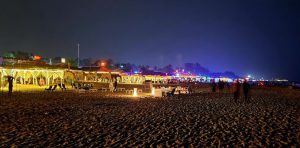 Location: Bardez, North Goa
Famous for: Nightlife, partying swimming, sunbathing, or relaxing 
3. Calangute Beach
Goa must be dotted with hundreds of impressive beaches across the coastline, but the crowd you get at Calangute Beach is impressive. It is also known as the "queen of beaches" in Goa, of course, for its crowds, golden sand, and calm waters. 
Calangute Beach is the place to go in Goa if you want a beach with a vibrant nightlife. People will be participating in a plethora of water sports activities to test their adrenaline.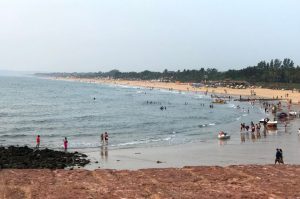 Location: Bardez
Famous for: water sports and partying
4. Butterfly Beach 
Butterfly Beach is a hidden beauty in Goa, located to the north of Palolem Beach. This place is now gradually turning into a famed spot. It is a good place to go if you want to get away from the busyness of Palolem Beach.
The place is very much inspired by its name, and you will get to see an abundance of butterfly species on the shore. So be ready with your camera to click alluring pictures of colorful butterflies. Apart from watching butterflies, the view of the sky during sunset looks jaw-dropping. 
Location: North of Palolem Beach 
Famous for: Butterfly watching, dolphin watching, and sunset views
5. Anjuna Beach
Anjuna Beach is one of the most beautiful beaches in Goa, with its picturesque cliffs and white sand. This lovely beach is located in North Goa on the western coast of the Arabian Sea. there is a popular flea markets on the shore of Anjuna beach where visitors can find an array of trinkets, jewelry, and clothing.
For those who don't know, Anjuna Beach in Goa is famous for its natural beauty, clean white sand, swaying palm trees, vibrant nightlife, trance parties and plenty of water sports activities.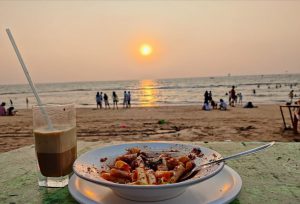 Location: Bardez, North Goa
Famous for: Anjuna beach is famous for water sports such as parasailing, banana boat rides, and jet skiing. Apart from this, there are a variety of restaurants, cafes, and bars nearby where you can explore seafood. 
6. Arambol Beach
Arambol Beach is a popular spot among vacationers arriving in Goa for a budget-friendly vacation. This pristine beach is situated on the northern part of Goa at the mouth of the Tiracol River.  
If you are planning for a short weekend trip from Goa then Arambol Beach has everything to satisfy your needs. The serene environment of this beach is the most favourite thing for which people visit here. However, if you are a hippie and backpacker you can take part in swimming, sunbathing, beach volleyball, and windsurfing here.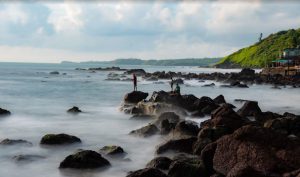 Location: Arambol, North Goa
Famous for: breathtaking views, unique rock formations, swimming, paragliding, scuba diving, and kite surfing.
7. Agonda Beach
The tranquillity and natural beauty of Goa's Agonda Beach have made it a tourist hotspot. It is a popular spot for travelers who are looking to relax and unwind in a serene setting. The beach is also known for its cleanliness, palm trees lining the shore, and crystal-clear waters, making it a great spot for swimming and other water activities.
Additionally, many travelers come to enjoy the local seafood restaurants and beach shacks. The beach is also surrounded by several small villages, which add to its charm.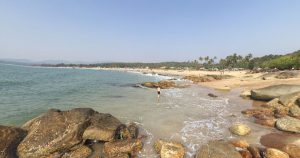 Location: Canacona, South Goa
Famous for: local seafood restaurants, peaceful atmosphere and a laid-back vibe
8. Candolim Beach
Candolim Beach is a popular tourist destination in Goa, located in the North Goa district. Guests flock there to enjoy the stunning beauty of the white sand beaches and azure water. A lot of people go to the beach to swim, sunbathe, and engage in other water-based activities. In addition to being a beautiful place to spend the day or evening, the beach is also home to a wide variety of dining options, retail establishments, and nightlife hotspots.
Candolim beach is famous for the Sunburn Festival hosted by Percept every year. Millions of people arrive in Goa to attend this popular festival in Goa, which is also known as the world's largest electronic music dance festival.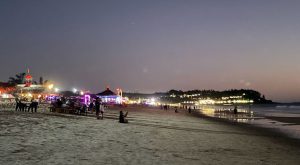 Location: Bardez taluka
Famous for: Sunburn Festival
9. Morjim Beach
Morjim Beach in Goa is one of the most stunning places to go with family and friends for a short trip. It is situated along the northern side of the state and is renowned for its stunning white sands, relaxed atmosphere, and stunning view of the Arabian Sea. Through its lush, tropical surroundings and its exciting water sports, it is truly a paradise for travelers looking for a fun and relaxing beach holiday in Goa. 
This beach has plenty of activities to offer like sunbathing, swimming, and kayaking. It is a popular spot for birdwatchers as well, who come here to observe migratory birds.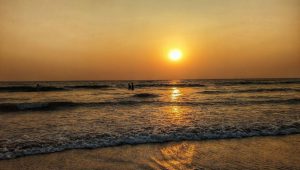 Location: Pernem, Goa,
Famous for: Birdwatching, watersports and natural scenery
10. Mandrem Beach
Mandrem Beach is a secluded beach in North Goa. It is located just 26 km from Panjim and is known for its soft white sands, crystal clear waters and lush palm trees. People come here to relax and take in the stunning views of the Arabian Sea. The beach is filled with shacks and small huts where people can enjoy a freshly cooked meal or sip a cold drink under the stars. The beach also has a small market where visitors can buy souvenirs, snacks, and other items. Despite its quiet vibe, Mandrem Beach can get crowded on weekends.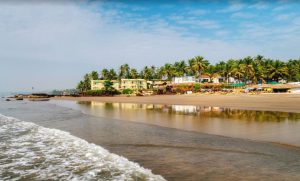 Location: Near Chopdem, Mandrem, Goa
Famous for: Fine Goan feni
11. Vagator Beach
Vagator Beach is one of the most famous beaches in Goa, India. The beach is located in Anjuna and has glorious white sand and crystal-clear waters. It is a great place to relax and enjoy the views. 
Vagator beach in Goa is famous for its stunning scenery, with high red cliffs and lush green surroundings. There are also a lot of restaurants, shops, and bars near the beach, so people can choose from a variety of places to eat and participate in their kind of things to do in Goa.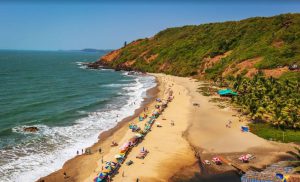 Location: Pernem, Goa
Famous for: Adventure Sports, Leisure Activities, rave parties
12. Cavelossim Beach
Cavelossim Beach is one of the nicest beaches in Goa, famous for its picturesque beauty and tranquil surroundings along the Arabian Sea. It is a long, wide beach with sparkling white sand and crystal clear waters. There are several good restaurants and bars in the area which makes Cavelossim Beach an ideal place to go with friends for hangout.
The area is a great spot for swimming, snorkelling, and exploring, and there is an array of things to do in and around the beach. Take a boat tour along the river, stroll down the nearby lanes discovering the local cuisine, and relax in.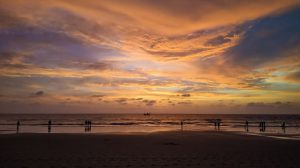 Location: South Goa
Famous for: Adventure watersports such as jet skiing, kayaking, parasailing, Dolphin spotting and a lot more
Goa beaches are so popular because they offer a unique combination of natural beauty, cultural attractions, and activities, making them a top choice for beachgoers. Beaches are the first thing for which people visit Goa and the list goes on. Other than visiting beautiful beaches in Goa you can plan a cruise holiday in Goa for a fun vacation with family, visit beautiful hill stations or attend summer festivals in Goa to make the most out of your trip. 
The stunning white sand beaches, crystal clear waters, and lush green foliage create a picturesque backdrop that can't be found anywhere else in the world. Goa is also one among the best places in india to experience a buzzing nightlife, diverse culture, and friendly locals. No matter what type of traveller you are, a trip to Goa make it an ideal holiday destination for all. So if you are planning a holiday trip to Goa anytime soon then make sure to read this blog and include all the popular beaches of Goa in your itinerary. I am sure that visitors will have a chance to enjoy a beautiful beach holiday full of sun, sand, and surf.
The post Famous Beaches in Goa appeared first on World Tour & Travel Guide, Get Travel Tips, Information, Discover Travel Destination | Adequate Travel.