Travelers wondering the beauty of the 2000-year-old Pantheon, the former Roman temple on the edge of Rome's Piazza della Rotonda, and encircle the streets of Rome, since we are discussing about the Restaurants near Pantheon Rome, so I must tell you that Romans take their food and wine very seriously, and you will never be stuck for somewhere to enjoy the good   in the city. Therefore to reduce your difficulty of finding a better place to eat near Pantheon Rome, here are some highly recommended best restaurants near Pantheon Rome.
Best Places, Restaurants Near Rome Pantheon
1. Armando al Pantheon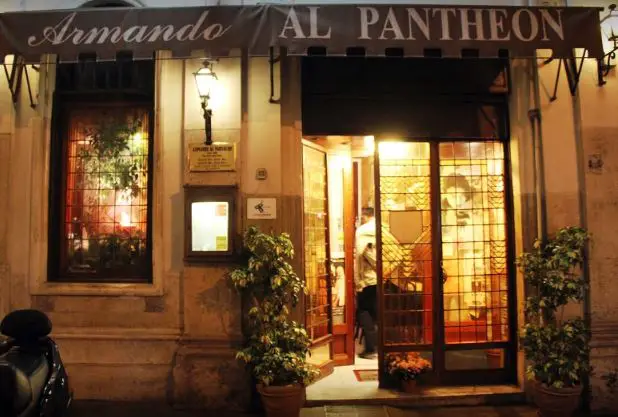 Armando is a local Roman restaurant, with typical Roman cuisine.  Founded in 1961 by Armando Gargioli (whose sons Claudio and Fabrizio now run the place), it's a traditional restaurant near pantheon Rome.
You can eat here whenever you want to, including for lunch. They have all the classic Roman pasta and have wonderful, simple soups. But no matter what you do just try their ricotta pie.
Details and hours: lunch and dinner provided on Mon-Fri, lunch only at Sat, and closed on Sunday. Closed mostly in  August and also over the Christmas and New Year holidays.
Average cost: 40-45 Euros per person.
Outdoor seating: None
Booking: Reservations are must, and usually in advance. </span
Phone no: 06 6880 3034.
How to get there: While facing the pantheon close with the fountain to your back, look to your right. You will find a little street with a newspaper kiosk.
2. Osteria del Sostegno, Rome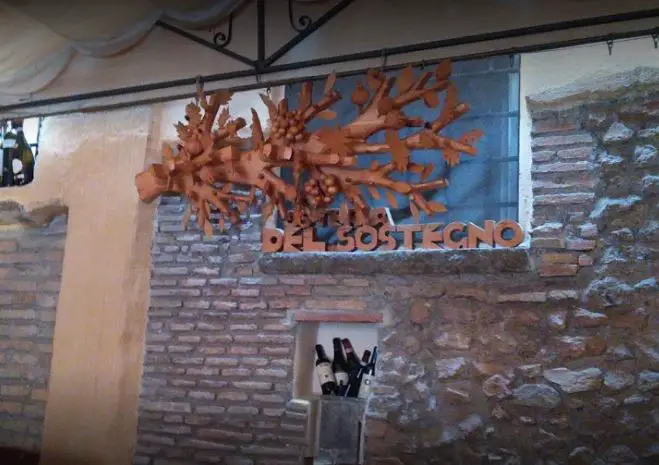 It is not only one of the best restaurants near Rome Pantheon, but it is also one of the absolute favorite places to eat in Rome. Locals almost never come here without getting a pasta loved to have more better pasta then visit these pasta restaurants in Rome.
A Warning: Be prepared for the slow service, they get very busy especially during high season, so you might feel little ignored so just relax and enjoy the food.
Details and Hours:  Open on Tue-Sun for lunch, Tue-Sat for dinner. Closed for Sunday night and all day on Monday.
Average Cost:  35-40 Euros per person.
Booking: Bookings are strongly recommended here and a must during high season and on weekends.
Phone No: 06 679 3842.




Outdoor Seating: There is outdoor seating but, you either sit in the covered space next to the main restaurant, which is not outside (except people feel they can smoke, and do) or, you can sit in one of the two-top tables they put along the lane leading up to the restaurant.
How to get there: With your back to the pantheon, you will find two streets leading straight in the other direction from it. Take the right one, via del Pantheon.
3. Settimio al Pantheon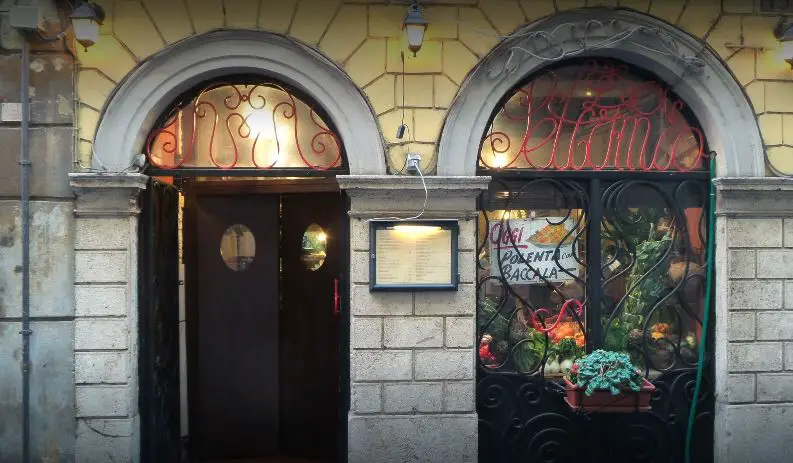 One of the last of the old-fashioned best places to eat near pantheon Rome, Settimio is a hidden gem. At Settimio, you will find a family-run place with a Roman menu which includes some typical fall-winter items like game and polenta. They are mainly known for their pasta with white truffles.
Also Find: Best Pizza Restaurants in Rome
Details and hours: Open on Tue-Sat for lunch and dinner. Closed on Sun and Mon. Closed in the month of August and some days around Christmas.
Average cost: 30-50 Euros per person (depending on whether you order truffles!)
Outdoor seating: None
Bookings: Reservations strongly suggested especially in high season.
Phone no: 06 678 9651
How to get there: See the directions for Del Sostegno which is explained above,  Settimio is literally next door.




4. Da Fortunato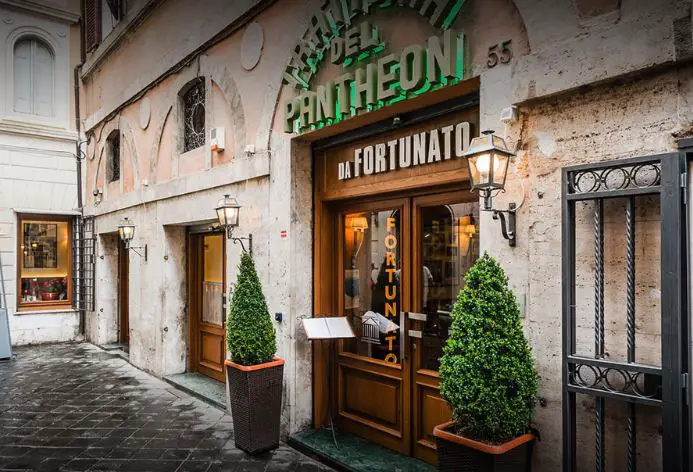 I'd almost insist you to eat here just to have that old-world Rome experience. The restaurant has been stable on the local must-eat-at scene, since 1975. The dining room is fancy, old-fashioned and spacious. The outdoor area is not so big but it's literally a stone's throw from the pantheon.
Details and Hours: Open on Tuesday – Sunday for lunch and dinner. Open for dinner only on Monday.
Average cost:  35-45 Euros per person.
Outdoor seating: Yes and with a nice partial view of the pantheon
Booking: Reservations are highly recommended, especially for outdoor dining.
Phone no: 06 679 2788.
How to get there: With your back to the pantheon, walk a little way up the street which leads directly away from the pantheon on the right side.  
5. Dal Cavalier Gino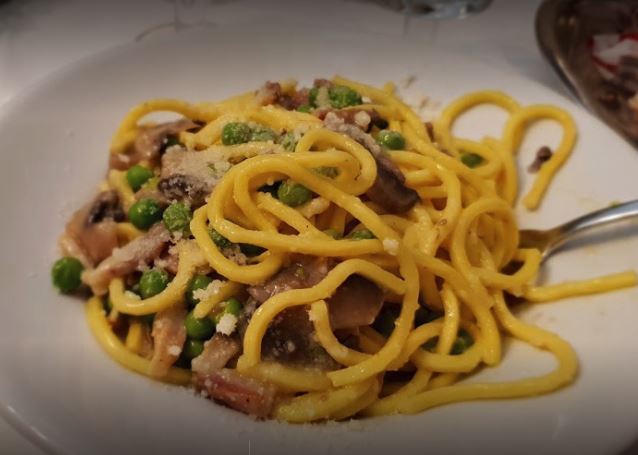 This is another one of the best restaurants near pantheon Rome for the Roman dishes like spaghetti cacio e pepe, amatriciana or carbonara.  On each Fridays, they have classic Roman fish specialties, like oven- baked baccalà with potatoes. The price is very reasonable
Details and hours: Open on Mon-Sat lunch and dinner (from 8 pm.) Closed on Sundays and most of August and during the Christmas holidays.
Average cost: 30 Euros per person.
Outdoor seating: None
Booking: it is a must, even at lunch.
Phone no: 06 687 3434.




How to get there: With your back to the pantheon, take a walk straight away from it, up Via del Pantheon, and continue through the Piazza Della Maddalena, and walk to the end of this street. At the end, on via degli Uffici del Vicario, make a quick right and then left on via di Campo Marzio. Walk up to the end, and you will see a tiny lane on your left. That would be the Vicolo Rosini.
Don't Miss
So far we discussed the places to eat near pantheon Rome, which clearly explains all the best restaurants near pantheon Rome. Also, we discussed all the details about those restaurants, interested know more about other restaurants like pizza restaurants in Rome then visit our other blogs as well. Hope you have gathered the proper information regarding these restaurants near pantheon Rome. like the post and share your views to us in the comment section.  
The post Best Restaurants Near Pantheon, Rome appeared first on World Tour & Travel Guide, Get Travel Tips, Information, Discover Travel Destination | Adequate Travel.