The southern Indian state of Kerala is home to three of the Western Ghats' highest peaks. If we say that Kerala is home to the most beautiful Ghats and that Munnar is where you can see them in all their glory, we wouldn't be wrong. If you happen to be in Munnar during the month of May, you're in for a real treat. Nothing beats escaping the summer heat and seeing all the top attractions in Munnar. 
There is plenty of things to do in Munnar for visitors of all ages. From lush tropical forests to low-lying mountains, and coffee farms to tea gardens, lakes, and caves to rivers and national parks, Munner has everything that a tourist could ask for. You can also consider Munnar as one of the best places in India to spend your summer vacation. If you are planning a trip to Munnar, then take note of our suggestion and plan your trip for the month of May, right before the rainy season begins. It is the best time to visit Munnar.
Here is a list of all the famous tourist spots in Munnar that every nature lover should visit at least once. 
1. Trek to the Anamudi Peak
The summit of Anamudi Peak is South India's highest point, rising to a height of 8,842 feet above sea level. Unlike all other mountains, Anamudi Peak doesn't have the typical pyramidal shape. This peak's rocks date from the Cenozoic era, between 100 and 80 million years ago. 
The place looks somewhat similar to an elephant's forehead; hence, it was given the name Ananimudi. You can see this mountain from the area around Eravikulam National Park. In May, the place is no less than a paradise for nature lovers.
Location: Kothamangalam Taluk Border, Ernakulam district and Devikulam Taluk, Idukki district, Kerala, India
Distance from Munnar: 13 km
2. Shout Out Loudly at the Echoing Rock
Scream your name now, and it will echo back to you in just three seconds! This is the allure of Munnar's Echo Point. It is one of the must-see attractions in Munnar  that anyone can experience throughout the year. 
Here you will get a beautiful combination of cool weather with a pleasant breeze, green slopes, and a rejuvenating environment altogether.
Address: Mattupatti Dam to Top Station Rd, Kannan Devan Hills, Kerala
Distance From Munnar: 15 km
Perfect For: Trekking, camping, Nature walks, picnicking, and boating.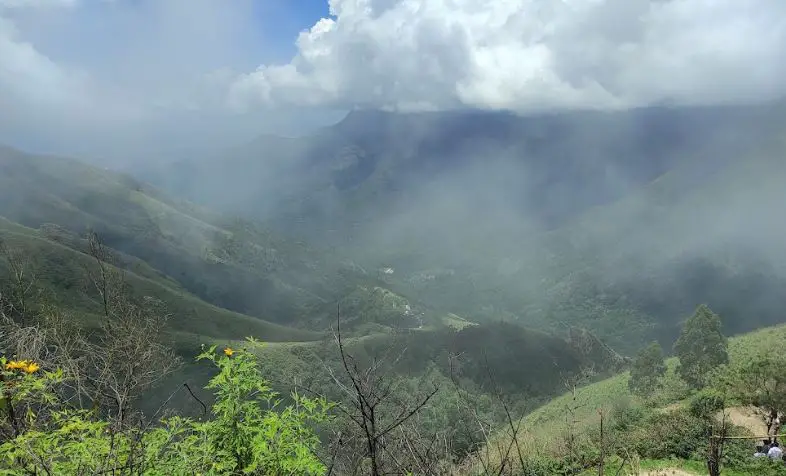 Top attraction: The rare Neelakurinji flower (strobilanthes) blooms here
Timings: 6 AM – 7:30 PM
3. Experience the Furiously Gushing water at Atukkad Waterfalls
The Attakud waterfall is one of the most well-known places to visit in Munnar. This beautiful waterfall is situated between Munnar and Pallivasal in the Idukki district. During the rainy season, the view of Atukkad Waterfalls is breathtaking as the fall flows to its brim. If you are planning to visit this Munnar sightseeing place during your trip, then you have to cross a delicate wooden bridge. 
Address: Attukad Waterfall Rd, Pallivasal
Distance From Munnar: 9 km
Perfect For: Photography, Trekking, and picnic with your closed ones 
Top attraction: The cascading water flowing down from a height of over 1,500 meters
Timings: 10 AM – 6 PM 
4.  A Kids' Delight: Elephant Lake / Elephant Arrival Lake
Elephant Lake in Munnar is an idyllic picnic spot to go with your kids. The serene surroundings, with an unending array of tree plantations around the lake, just look amazing.
You will see a herd of elephants come down to the lake in order to drink water and take a bath, which is fascinating to watch for the tourists visiting the lake. I would strongly recommend everyone to visit elephant lake as it is one of the best places to visit in Munnar with kids
Location: Munnar, Kerala
Distance From Munnar: 22 km
Perfect For: Kids and Family Picnic
Top attraction: Discover a herd of elephants that regularly visits this area
Timings: 9 AM – 5 PM 
5. Top Station: Where the forest meets the sky
Another beautiful tourist attraction in Kerala is Top Station, which was named after a train station in Kundala Valley. This place is famous for its mesmerizing vistas of nature. 
The hill is blanketed with cotton clouds, the bluish hue of the area is caused by the presence of the rare Neelakurinji flowers, and the breathtaking views of the Western Ghats all combine to make this a must-see place to visit in Munnar. 
Distance From Munnar: 17 km
Perfect For: Photography, Trekking, camping, and Neelakurinji Sanctuary
Top attraction: Stunning views of the Western Ghats on one side and the valley of Theni district on the other.
Timings: 6 AM-6 PM 
6. Tata Tea Museum
Originally opened by Tata Tea, the museum has been around for a long time and is dedicated to the history of the Munnar tea industry. Since Munnar is home to some of the world's finest tea estates, the museum is a fitting tribute to this fact and a must-see for any traveler to the area.
Address: KDHP House, NH 49, Nullatanni, Munnar
Distance From Munnar: 1.3 km
Perfect For: Tea plucking and tasting
Top attraction: You can enjoy a cup of the best tea here. 
Timings: 9 AM – 4 PM | Mon: Closed
7. Visit Devikulam for Spirituality And Divinity
Devikulam is one of the best hill stations in Munnar, and everyone who comes there to see nature should go there. The town of Devikulam is a haven for religious tourists as well as a beautiful place to see Pallivasal Falls and Sita Devi Lake. 
There is an abundance of temples in the area, including the Ganesh Temple, Mariamman Temple, and Ayyanar Temple, which make Devikulam one of the most significant places to visit in Munnar for religious pilgrims.
Distance From Munnar: 9 km
Perfect for: Trekking, hiking, Rock climbing, fishing, picnic, & photography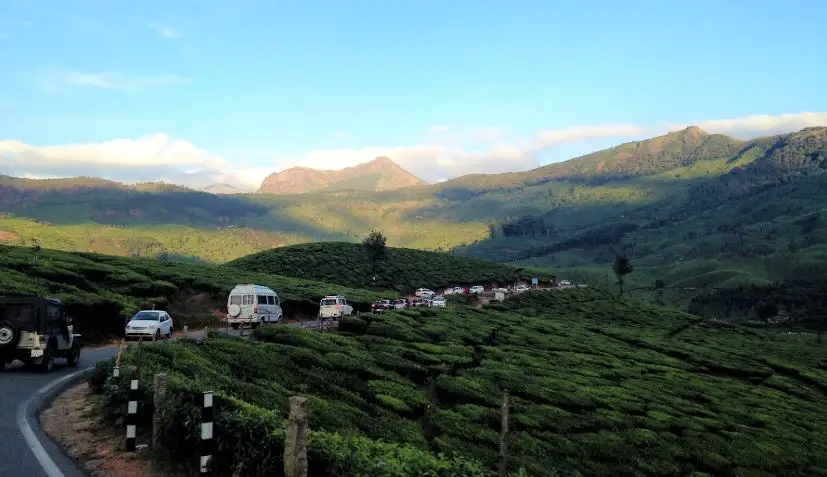 Top attraction: You will feel cleansed and rejuvenated after taking a dip in the holy water of the Sita Devi Lake.
Timings: Open 24 hours
8. Explore Eravikulam National Park on Foot
Those interested in seeing animals and birds in their natural habitats should plan a jungle safari to Eravikulam National Park in the month of May. This park is home to some of the world's last surviving species, which explains why you will get to see many unseen species here. Also, you will get to see the largest number of endangered Nilgiri tahr in this park. 
Both the Anamudi Peak and the Naikolli Mala Peak are visible from this park, and if you trek a little more, you can also have a magnificent view of the Kanan Devan Hills.
Address: The Wildlife Warden Munnar PO, Kerala
Distance From Munnar: 15 km
Perfect For: Wildlife spotting, wildlife photography, nature photography, and trekking 
Top attraction: The Nilgiri Tahr
Timings: 8 AM – 4 PM 
9. Visit Rose Garden for a vibrant treat.
The Rose Garden by Mattupetty Lake is a popular destination for nature enthusiasts. This breathtaking garden attracts nature lovers, rose lovers, and bird watchers due to the fact that it features a sea of nearly every color of rose known to humans. Apart from roses, you will see cardamom plantations, spices, vanilla plantation and many other tropical flowersin the garden. 
Address: Aluva – Munnar Road, Rose Nagar, Mattupetty, Munnar
Distance From Munnar: 2.6 km
Perfect for: flower sightseeing, nature photography, a picnic, and bird watching. 
Highlights: variety of rose species
Entry fee: INR 20 per person (both Indian and Foreigners)
Timings: 8 AM – 5 PM
10. Meesapulimal: a miniature version of heaven.
The third-highest mountain peak of the Western Ghats Mountain Ranges will make you feel as though you are in heaven on earth. Despite its moderate difficulty, this peak is easy to reach. Located at an altitude of 8,661 feet above sea level, Meesapulimal is entirely for nature lovers. 
The best time to plan a trek to Meesapulimala is during the winter, specifically between October and February. Clouds at this time of year literally brush against your feet before disappearing. If you want to see the sun rise above the sea of clouds at your feet, this is the place to do it.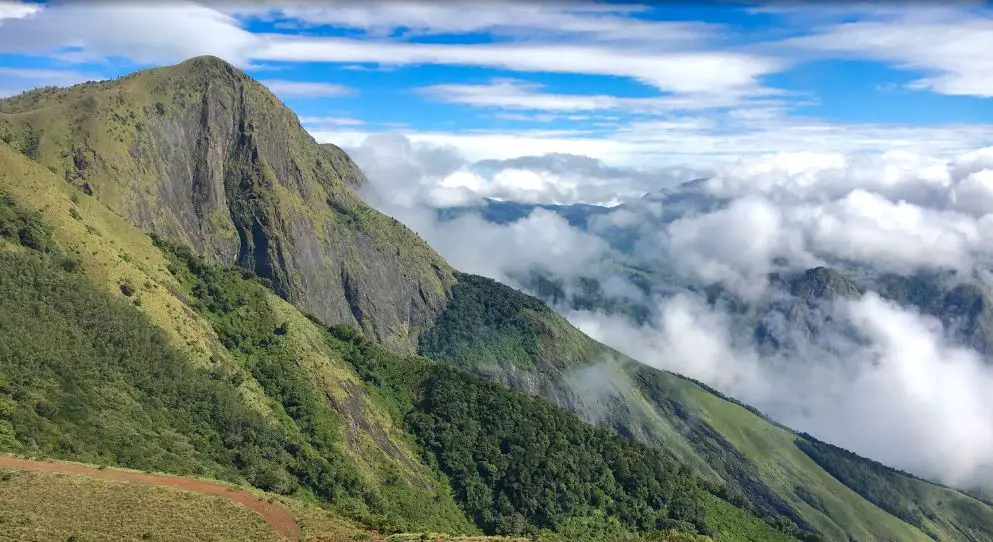 Location: Border of Idukki district, Kerala state
Top attraction: Sunrise and sunset
11. Chinnakanal: Untouched, Well-Preserved Nature
If you are planning your trip during the monsoon, then it is a must to visit Chinnakanal. It is a small village near Munnar that is still unperturbed and well-preserved. The popular Chinnakanal waterfalls is the best place in Munnar to visit during the monsoon. The water pours from 800 meters up and forms a pale, frothy stream. The best part is that few people know about the splendor of these falls.
Distance From Munnar: 21 km
Perfect for: Trekking, taking a dip in the falls, and nature photography 
Top attraction: Pristine Chinnakanal waterfalls
12. Pallivasal: Paradise of Calm Seekers
Pallivasal is another unspoiled, unpolluted, and tranquil area in Munnar, famous for its beautiful. Pallivasal Falls is also famous as the state's first and most successful hydroelectricity project. 
The town is proud to be one of the best places to visit in Munnar due to its abundance of natural beauty.
Location: Chithirapuram, Kerala
Distance From Munnar: 8 km
Perfect For: Photography, Meditation, Picnic, Peace, and relaxation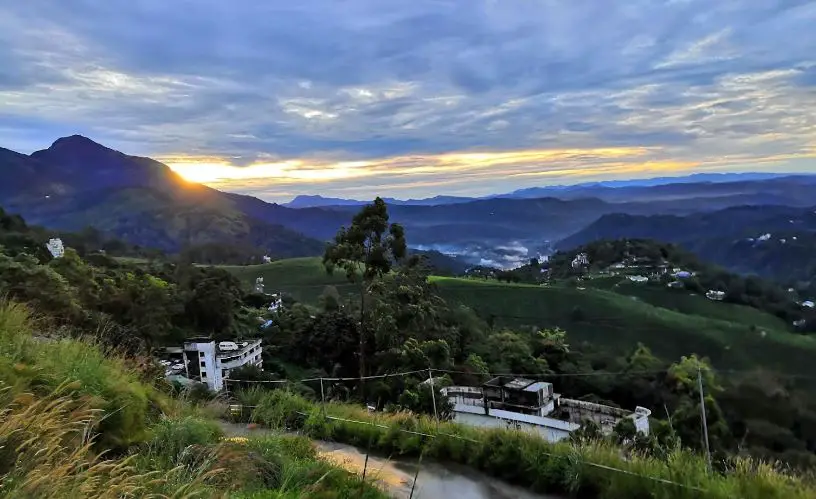 Top attraction: Kerala's first Hydro Electricity Project
Timings: Open 24 hours
13. Take a leisurely stroll at Wonder Valley Adventure & Amusement Park
We are not exaggerating when we call Munnar one of the most naturally beautiful places on Earth. What truly sets this vacation spot apart is the diversity of its natural offerings. It is the best place to visit in Munnar for adventure lovers. You will get plenty of time to enjoy nature while enjoying water rides and natural scenery. 
This eco-friendly place is in the middle of nature and has managed to keep the natural beauty around it. It's the best way for tourists to reconnect with nature while also quenching their thirst for adventure. There are activities that people of all ages can participate in and enjoy. 
Address: No. 89, Chithirapuram, P.O. Anachal, Munnar, Kerala 685565
Distance From Munnar: 14 Kms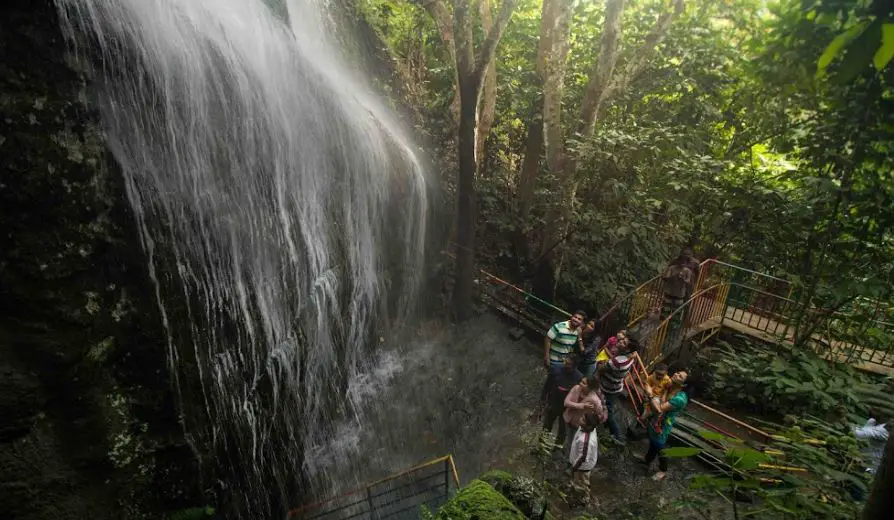 Perfect For: A quality weekend trip with Kids and family
Timings: 8:30 AM – 6 PM
14. Take in the intense aroma of Sandalwood at Marayoor
While you are in Munnar, how can you miss seeing the beautiful sandalwood land? Yes, Marayoor is famous for its pure sandalwood trees and romantic scenery laced with velvety green tea plantations. It is among the top places to visit in Munnar and is also an integral part of Munnar tourism. 
Marayoor has a wide variety of attractions, from quaint villages to expansive sugarcane fields, from gushing waterfalls to bizarre bamboo groves. So make sure to visit Marayoor when you are in Kerala to explore Munnar's famous places. 
Distance From Munnar: 39 km
Top attractions: massive sugarcane fields and sandalwood trees.
Perfect For: Nature lovers, trekkers
15. Kumily
Kumily in Kerala is already popular among tourists for its spice and tea plantations. It is located in the middle of the dense forests of the Ghats and is often referred to as the "gateway to Thekkady." 
It is one of the most popular tourist places in Munnar for nature lovers, as they will get to see a lot of plantations and wilderness near the location. 
Distance: 90 km
Time taken from Munnar: 3 hours
Hopefully, I have curated a list of all the beautiful places to visit near Munnar. All of these locations are well-known as famous Munnar places, and tourists will find plenty of natural beauty here. The sheer pleasure of these places will knock your socks off. 
These incredible locations will inject an extra dose of excitement and new experiences into your Munnar trip. Visiting the famous tourist places in Munnar is the best way to get in touch with nature and restore your inner peace. Also, it will bring a lot of fun and rejuvenate your inner spirit.
The post Best Places to Visit in Munnar appeared first on World Tour & Travel Guide, Get Travel Tips, Information, Discover Travel Destination | Adequate Travel.