Korean cuisine is trendy and there is no shortage of restaurants serving barbecues served with bibimbap, bulgogis, or other soju. Speaking of Korean food there must be bibimbap, kimchi, budae jjigae, Korean barbecue, spicy fried rice. No matter whether you have the nostalgia for Korean cuisine, or if you want to offer an exotic flavor to your taste, you can definitely find some nice  Korean restaurants in Paris. Here you will find the best Korean restaurants in Paris.
Find Famous Korean Restaurants in Paris
1. Soon
This restaurant is situated near the Avenue des Champs-Élysées. The interior decoration is quite simple and elegant with a pretty color combination. Although this restaurant is a little bit small this can be a sweet place to have a meal with friends and family. They provide various dishes, like japchae, bibimbap, barbecue etc.
Address: 20 Rue Jean Mermoz, 75008 Paris
Opening hours: 12:00-14:30, 19:00-22:30
2. Bong
This restaurant is particularly famous for its barbecue. Accompanied by the aroma of grilled porc, their kimchi cake, fried vegetables are also worth trying. I bet you will step in this restaurant with plenty of expectations and go home with lots of happiness. In return of good business, I suggest you make a reservation first before going.
Address: 42 Rue Blomet, 75015 Paris
Opening hours:  12:00–14:00, 18:30–22:00 (except Sunday all day and Monday noon)
3. Sodam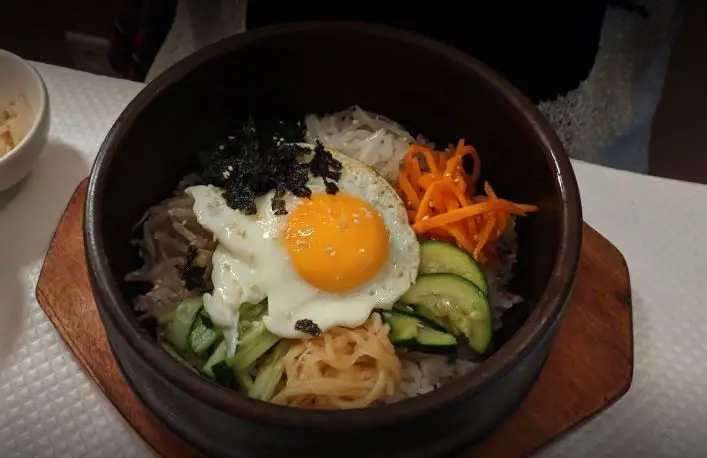 It is a Korean restaurant near Montparnasse Tower. It will be a good choice after enjoying the wonderful city view of the Montparnasse Tower or hanging out in the quarter.  As an authentic restaurant, it is highly recommended by one of the most famous French food, Lafourchette. Barbecue, fried dumplings, bibimbap, whatever you are looking for, surely you can find it here.
It is said that the owners of Sodam are twin sisters from Korea, so you can taste real Korean food with family recipes just like the hometown.
Address: 39 Rue de Gergovie, 75014 Paris
Opening hours: 12:00–14:30, 19:00–22:30 (except Monday)




4. Hwarang
Recently opened, this new Korean restaurant has won soaring popularity. It is located at the junction of the 5th and 13th district. As the owners, a Korean couple promised, they use only fresh ingredients in this restaurant. The environment of this restaurant is very sweet, just like at home. In this restaurant, you can take the main Korean cuisine and barbecue, the taste is authentic. And the thing is that the price is also very reasonable.
Address: 11 Boulevard Arago, 75013 Paris
Opening hours: 12:00-15:00, 19:00-23:00
5. Shingane
Tasty food, elegant decoration, friendly service, what else can we expect more for a restaurant? Shingané is situated near Cimetière du Père-Lachaise. After a stroll in the Cimetière, you will enjoy another nice moment in this restaurant. Although it is larger than most Korean restaurants in Paris, so need to worry about the reservation.
Address: 63 avenues Gambetta, 75020 Paris
Opening hours: 10 :00-14 :30, 19 :00-22 :30 (except Monday)
Read More: Most Visited Landmarks in Paris
6. Dokkebi
The first time I heard about Dokkebi, it was from a Korean friend who came to Paris on vacation. Since the place is small, there are just a couple of times downstairs and upstairs.
However, everything tastes exactly like it in Korea. With a lot of choices and reasonable prices, you can visit here with your friends to relive the tastes of dishes made by mom.
Address: 33 Rue des Petits Champs, 75001 Paris
Opening hours: 12:00-15:00, 19:00-22:20




7. Somec
It is a Korean restaurant full of modern art, in restaurant decoration and food presentation both.  BBQ, grilled pork dumplings with a secret recipe, traditional bibimbap and other classic Korean food, basically you can find everything about Korean cuisine. If you decide to organize a group meal, it'd be better to place a reservation in advance.
Address: 80 Rue de la Procession, 75015 Paris
Opening hours: 12:00 –14:30, 19:00–23:00 (except Saturday noon and Sunday noon).
Suggested: Popular Summer Festivals in Paris
8. Jeongane
It is located in a corner of the street, small but definitely a good and sweet Korean restaurant in Paris. You can't deny that the service is very comfortable and fast. If you order the barbecue, you will find that the meat is already macerated, which gives it succulent taste.
Address: 60 Rue des Morillons 75015 Paris France
Opening hours: 11:30-14:30, 19:00-22:30 (except Monday noon)
9. Bap Bars
Let's start with the choice at Bap Bar, a restaurant that offers you typical Korean food that loves Korean food. The Bap Bar is located 100 meters from Les Halles and welcomes you in a warm and friendly atmosphere. The main course they offer is, of course, homemade bibimbap vegetables! Since most of their food is made from vegetables, vegans can come and dine at this restaurant.
Address: 55 Rue Quincampoix, 75004 Paris
Opening Hours: Lunch: from 12 pm to 6 pm (except on Saturdays and Sundays)
10. Dolsotbap
This small Korean restaurant in Paris serves traditional Korean food to discover delicious food, all at low prices. In fact, the price of a menu is around € 15. This best Korean restaurant in Paris serves delicious soups; in addition, you will have the opportunity to drink delicious Korean beers. Due to its warm and traditional atmosphere, we recommend ordering vegetarian dishes.
Address: 77 Rue Taitbout, 75009, Paris
Opening Hours: Lunch: from 12 pm to 6 pm (except on Saturdays and Sundays)
11. Joayo Bastille
This Korean restaurant in Paris explores the best, typically Korean, grilled dishes. Whether it's beef, chicken, or pork and squid, you'll find something for everyone. We recommend it because of its attractive prices and cuisine, which everyone likes.
Address: 239 Rue du Faubourg Saint-Antoine, 75011, Paris
Opening Hours: Lunch: from 12pm to 2:30pm (everyday), Dinner: from 7pm to 10:30pm (everyday)
12. XQ
This brand new Korean restaurant, located near the Père-Lachaise Cemetery, has already captivated many people. This restaurant again offers a lot of Korean food at very reasonable prices. In addition, XQ offers vegetarian dishes. We recommend this restaurant for its tranquility and excellent value for money.
Address: 28 Rue de la Cour des Noues, 75020, Paris
Opening hours: Lunch: Monday to Sunday from 12 pm to 3pm; Dinner: Monday to Tuesday and Thursday to Sunday from 7 pm to 11 pm




Here we have provided you with a list of all Korean restaurants in Paris in this blog. I hope you all liked reading this blog. If you need some more information regarding restaurants in Paris, kindly visit our other blogs, it will be helpful for you. If you liked our blog please like it, comment in the below comment section and share it.
The post Best Korean Restaurants in Paris, France appeared first on World Tour & Travel Guide, Get Travel Tips, Information, Discover Travel Destination | Adequate Travel.