"If there is a paradise anywhere on the earth, it is here, it is here, it is here." These beautiful lines were composed by Mughal emperor Jahangir while discovering the striking beauty of the Kashmir valley. Annually this Paradise on Earth located in North India has been receiving millions of tourists locally and from around the globe. The lush valley offers a great opportunity to play golf in the summers, while the same valley during the winters turns into the ice skating grounds for the visitors. Now again J & K is going to Paradise after discarded Article 370 of the Indian constitution. Article 370 came into existence since November 17, 1952. Article 370 in Part XXI of the Indian constitution grants special status to Jammu and Kashmir. It was the only Indian state which has its own separate state constitution and National Flag, till August 4, 2019. But now the Jammu & Kashmir will neither have separate Constitutions of state nor separate National Flag of the state.
Glimpse: Article 370 and Its Provisions
Maharaja Hari Singh of Kashmir signed the 'Instrument of Accession', in October 1947 which specified three subjects on which Jammu and Kashmir would transfer its powers to the government of India: 1.Defense, 2.Communications, 3. Foreign affairs. Maharaja appointed an interim government in the state in March 1948, with Sheikh Abdullah as the prime minister. Sheikh Abdullah and three other colleagues joined the Indian Constituent Assembly and negotiated the special status of J&K, leading to the adoption of Article 370, on July 1949. The controversial provision was drafted by Sheikh Abdullah.
Main Provisions:
-Parliament needs the Jammu & Kashmir government's nod for applying laws in the state except defense, foreign affairs, finance, and communications.
-Citizens from other states cannot buy property in Jammu & Kashmir and the Centre has no power to declare a financial emergency, under Article 370.
Now let's read in detail that what would change in the J&K after the abolition of article 370 in the Indian constitution. In this blog we are going to tell you the impact on tourism of Jammu & Kashmir after removing Article 370:
1. Change in Transformation in Lifestyle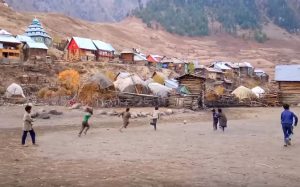 The dwellers of the mountainous and hilly state of Jammu and Kashmir are generally tradition-loving, conservative people. They respect their cultural values appreciably. However, society has transformed into the areas of tourists' interest. There is a strong preference of the rich people for the lux­ury and foreign goods. The presence of tourists makes society more liberal and tolerant. Tourism will also reduce suspicion and exclusiveness among the guests and hosts after this great change.
2. International Understanding will Increase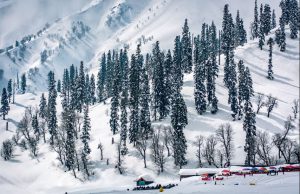 Tourists in the Jammu and Kashmir state gain an insight into the customs, traditions, and way of life of the people, and home the feeling that man is one in human society. It leads to world peace and promotes international understanding. Tourism can be the best remedy to curb insurgency and violence in the state as it draws people and nations closer to each other. It may help to dissipate preju­dice and correct misunderstanding.
3. Cultural Exchange Will Flow
A tourist arrives with the history of his country and treasures of his civilization of which he is an ambassador. Tourism is the best way for estab­lishing a special unwritten and unspoken relationship with people of different countries and different times having different modes of life. Tourism promotes cultural enrichment and cultural exchange of those who travel as well those who are the hosts. A social exchange takes place when a tourist comes in contact with the place he visits and its population. He, in turn, is affected by it and many a time carries back home new habits and ways of life. The culture of a destination attracts people to architectures and historical monuments.
4. Cultural Heritage will be Secured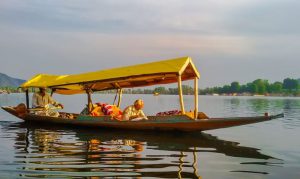 Tourism has been increasingly recognized for its role in saving many of the world's cultural values and treasures. In Jammu and Kashmir, tourism brings good reve­nue and helps the government in maintaining archaeological sites. For example, Parihaspora, Pandrathan, Martand, Takht-e-Sulaiman, Pari Mahal, Vaishno Devi. Woodcarving and Weaving in the ancient style have been reju­venated.
5. Tourism and Infrastructural Development will Increase
Tourism helps in the development of social amenities. All the cultural sites and the hill stations are well connected with metalled roads, post, and telephone services. The power and water supply are also more regular in the places of tourist interest. With the improvement of these social amenities, rural products (fresh fruits and vegetables) have quick access to the mar­kets.
6. Local Arts and Crafts will get International Recognition
Tourism is one of the significant factors which keeps arts and crafts of the underdeveloped and developing societies alive. In the state of Jammu and Kashmir tourism is a blessing for the local and regional handicrafts, music, woodwork, carpentry, paper mache, and shawl-making. The scenic splendor and aesthetics of Jammu and Kashmir have reflected specimens of art and handicrafts.
Tourism is a socio-cultural event for the hosts and tourists. It plays a vi­tal role in social change and brings gradual and radical changes in the cultural values and traditions of the people. The impact of revoking Article 370, however, more marked in the lesser developed societies of the developing countries. Tourism in Jammu and Kashmir often has significant cultural implications, social and political understanding.
The post Article 370/35A Repealed: Impacts of Article 370 on Tourism in Jammu & Kashmir appeared first on World Tour & Travel Guide, Get Travel Tips, Information, Discover Travel Destination | Adequate Travel.