It is one of the country's most significant and popular tourist places, Agra city holds an important place in the Indian history as it houses many structural wonders from the Mughal era and many more things that make Agra famous in every aspect. Located on the banks of river Yamuna, this is one of the ancient cities in India and is having a glorious Past. The fascinating charm of the Taj Mahal seeks the attention of tourists to Agra city like honeybees towards the flower. It is visited by tourists from each and every corner around the globe. Agra city is a part of the Golden Tourism Triangle and the other members of this are Delhi and Jaipur. Agra has been honored as the country's only city with 3 UNESCO World Heritage Sites. Agra city comprises the largest footwear manufacturing industry in the country. Agra was one of the most famous cities in the world during the Mughal dynasty. Here is a complete of what makes Agra Popular.
Agra is Famous for 
1. Taj Mahal
The Taj Mahal is a white marble tomb on the bank of the Yamuna river in the Indian city of Agra and is definitely a thing that makes Agra Best Known for. The Taj Mahal was entitled as a UNESCO World Heritage Site in the year 1983. It is popular as the jewel of Muslim art in India. Mughal emperor Shah Jahan constructed this in memory of his beloved wife Mumtaz mahal. The Taj Mahal is treated as the greatest structural accomplishment in the entire range of Indo-Islamic structures and landmarks. It was Constructed over a period of 20 years. Shah Jahan was a ruler of the Mughal dynasty and his wife Mumtaz Mahal died after giving birth to their 14th child and after that Shah Jahan decided to construct Taj mahal in her remembrance. The beautiful Taj Mahal is among the seven wonders of the world.
Read More: Why Rio De Janeiro is famous
2. Petha
Petha is definitely one of the popular things in Agra. It is a well-renowned sweet all around the country. Agra is famous for its Panchi Pethas. Petha is a translucent soft candy, it is made from the ash gourd vegetable which is known as the winter melon. Many flavored variants are available like Kesar petha, angoori petha. when Shah Jahan ruled over the Agra city he told his chefs to make a unique dessert that is as pure and white as the Taj Mahal. The royal chef invented this unique sweet. And if you are visiting Agra then you must try these amazing Pethas
3. Agra Fort
Agra Fort is a classical fort in the city of Agra in the country of India.  It was the major accommodation of the emperors of the Mughal Dynasty and is a reason why Agra is so popular. The fort can be more meticulously illustrated as a walled city. The Agra fort was carved as a UNESCO World Heritage site in the year 1983. It took more than 4000 workers and more than 8 years of hard work to complete this beautiful fort. The fort is divided from its sister structure Taj Mahal which is just 2.5 kilometers. The fort is the main tourist place and draws the attention of many tourists from all over the world. Agra Fort is popular for its rich past.
Read More: Why Paris is Famous
4. Kinari Bazar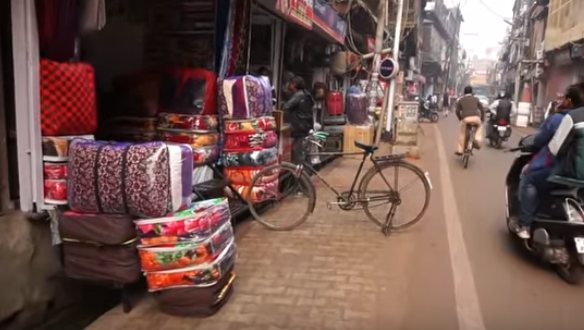 Kinari Bazaar is situated near Jama Masjid of Agra. It is the extensive market of the city with an amazing past. It is a bright market sequenced with a number of shops. Kinari Bazar is cherished to both the natives and the visitors. It is one of the places in Agra where you can find the finest jewelry. Kinari Bazaar has many lanes fans out from the Kinari Bazaar road. Agra's famous marble-work can be found in Kinari Bazaar. Even if you are not interested in purchasing anything, you can simply stroll down the streets as it will be an amazing experience to relish and cherish for the lifetime
5. Mehtab Bagh's
Mehtab Bagh is a garden in Agra, a city in the state of Uttar Pradesh. Mehtab Bagh was originally constructed as the final exploring place of the Taj Mahal and makes Agra famous to visit. The past of the Mehtab Bagh is barely told by tour guides and natives of Agra, but it does have a story many would love to hear. It was constructed by Emperor Babur around the 1500s. Visit Mehtab Bagh and take an ideal picture of the marble dome from nearly every point and corner of the garden complex. when it was originally constructed then it was done in Persian style with four parts, beautiful walkways, fountains but in 1900 it got destructed because of heavy flooding in the area.
Read More: What is Beijing Known For
6. Jama Masjid, Agra
This beautiful Mosque in Agra is opposite to the Agra fort and overlooking the Agra Fort Railway Station and defines Muslim culture and past. It is known as Friday Mosque. It is one of the largest mosques in the country. It was constructed by Shah Jahan and is dedicated to his beloved daughter Jahan Ara Begum. It is constructed with red sandstone and adorned with white marble in a simple design. The design of Jama Masjid is exclusive and has a fountain at the center. The interior walls have scriptures in the Persian style. Special prayers are conducted at this mosque which is attended by more than thousands of believers on Friday
7. Tomb of Akbar
The Tomb of Akbar is a significant architectural milestone of the Mughal era. It is located in Sikandra, which is on the outskirt of the city. The Mughal gardens around it present a gorgeous and bright facade and make Agra Popular. It is constructed fully by sandstones and marbles. The main tomb is surrounded by an alluring garden that was devised by Akbar himself. His wife's tomb is also situated in Sikandra about a kilometer away from Akbar's Tomb. Akbar got his tomb structure constructed up while he was alive as his final resting place. The tomb is facing toward the rising sun.
Read More: why Mumbai is famous for
8. Fatehpur Sikri
It was constructed by Akbar during the 16th century. It is located 40 km away from the Agra. It is an ideal place for a one day trip from Agra. You will get to see an exclusive blend of architectural greatness, as well as religious acceptance, sums up Fatehpur Sikri and answer to a question that what is Agra Famous for. It is a UNESCO world ancestry site and a popular tourist attraction, it is a fine example of Mughal architecture. It is home to Jodha Bai's palace, Jama Mosque, Buland Darwaza. It is a town in the District of Agra of the state of Uttar Pradesh, India 


9. Wildlife SOS
Wildlife SOS is preservation unprofitable in the country. It is presently one of the greatest and largest in terms of Wildlife Organisations in South Asia. Attract to discovering tenable livelihood measures, and the movement makes detailed efforts to protect the diminishing climate and makes Agra popular to must-visit. The organization works endlessly to rescue wildlife in distress. It works against animal brutality and associates with various communities to enlighten them about conserving and preserving the rich wildlife.
Read More: why Dubai is famous For
10. Guru ka Tal
Guru ka Tal is an ancient Sikh excursion place devoted to the remembrance of ninth Guru Sri Guru Tegh Bahadur Ji. It is near Sikandra in Agra. It consists of a tal which is a water reservoir and it has some special historical significance. It initially had 12 towers but 8 of them survived only. Guru ka Tal is a red stone structure bearing resemblances to many other excellent Mughal structures. More than Thousands of admirer from all religions not only from the city but also from different places visit gurudwara every year
what is Agra famous for is explained here clearly as you can see this, we have been also discussed the best part regarding what makes Agra famous. I hope you might have loved reading this article so kindly share your views in the comment section as per the content.
The post Discover Why Agra is Famous for | What is Agra Known for appeared first on World Tour & Travel Guide, Get Travel Tips, Information, Discover Travel Destination | Adequate Travel.