Water parks are so much fun and are a thrilling experience no matter who you are. You don't even need to wait for the summer season to have water fun because there are many famous water parks in New York City. Each one has a unique mix of thrilling rides and activities. The indoor water parks are open year-round. Cool off with your kids in the thrilling water parks in New York City. We have picked the best water parks in New York City. All of them are conveniently located. 
List of Top Water Parks in New York




1. Enchanted Forest Water Safari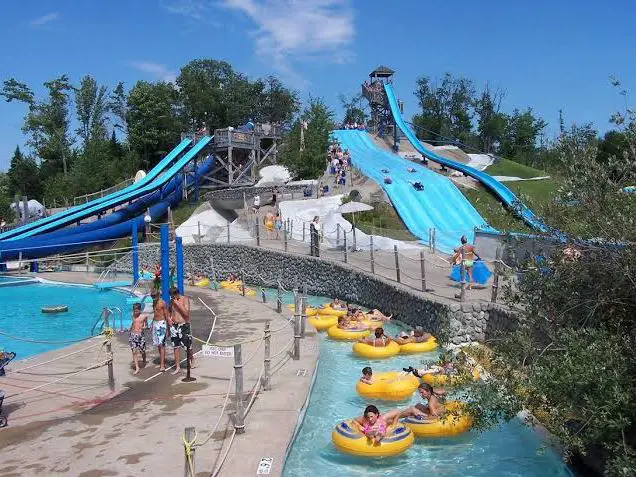 It is one of the largest indoor water parks in New York. Enchanted Forest Water Safari is more than just a water park. Offering visitors more than 50 rides, including 32 heated outdoor water rides, this park offers something for everyone. For those who seek adventure, Killermanjaro is the tallest and fastest ride which reaches speeds of over 30 miles per hour. From their ¼ acre tidal wave pool to their Serengeti Surf Hill, kid-friendly water slides to a calming Lazy River, there is something for everyone.
Address: 3183 New York 28, Old Forge, NY
Tip: With more than 60 years of experience, this award-winning park offers packages for parties and discounted rates for groups.
2. Splish Splash Water Park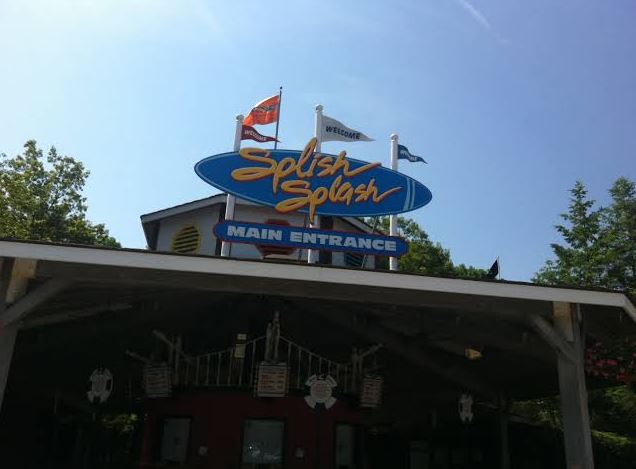 This featuring 96 acres of rides and water fun, Splish Splash Water Park offers more than 20 water slides and attractions, including two large wave pools, a range of thrilling water rides, and so much more. Visitors love Bootleggers Run, which features a four-man raft that actually goes uphill using hydromagnetic technology. If you're feeling really daring, the thrill-seeking Cliff Diver allows you to drop 8 stories in 3 seconds. It undoubtedly deserves amazing water parks in New York. For the little ones, there are plenty of options, including the unique Octopus Pool, Pirates Cover, the Monsoon Lagoon, and the Yellow Submarine.
Address: 2549 Splish Splash Dr, Calverton, NY
Tip: This will allow you to make a reservation for any attraction and when it's your time to ride, you go to the front of the line.




3. Zoom Flume Water Park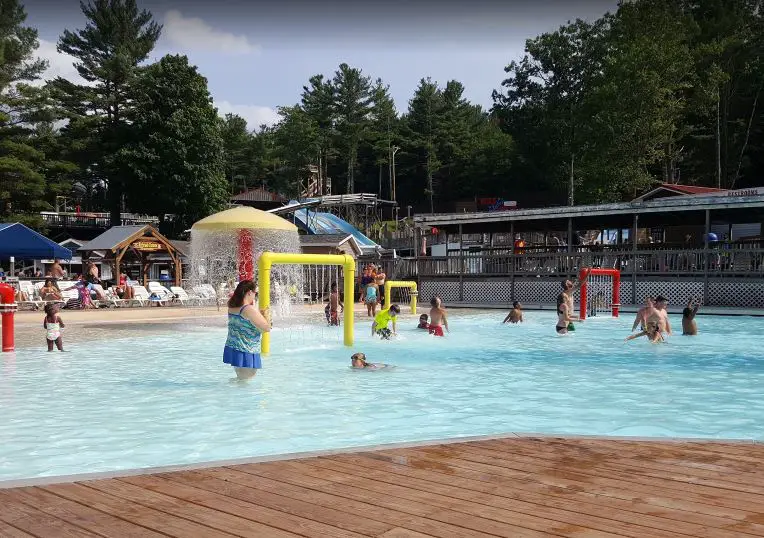 When it comes to top water parks in New York, Zoom Flume Water Park definitely tops the list for family-fun. Located in East Durham, this park got its name from the first ride ever featured at the park. With its eight slides, four restaurants, and five play areas, this park operates from June to September, making it the perfect day out. From the twisting, turning Mighty Anaconda to the Typhoon Twister, when the summer heat has you beat, this is the place to come.
Address: 20 Shady Glen Rd, East Durham, NY
Tip: You can enjoy beach parties, complete with a live DJ, interactive games, and more if you are visiting on any Sunday throughout the summer.
Read More: Things to do in New York in Winter
4. Six Flags Hurricane Harbor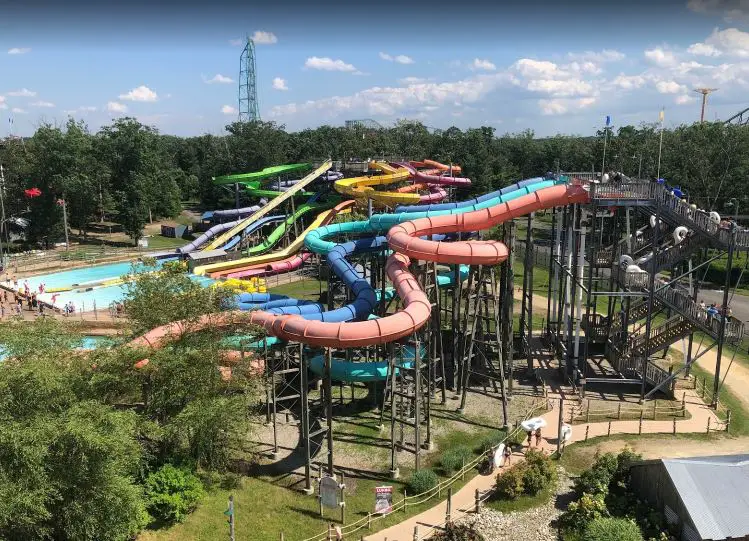 Relax as you float down the lazy river or soak in one of the hot tubs. Looking for more of a thrilling adventure? It is one of the best water parks in New York. There are plenty of water slides and even a water rafting attraction that is sure to please. If you're bringing your kids along, they will love the action-packed 'Discovery Bay' area. This tiki village-themed play place is certainly one of the more popular areas within the park, offering kids everything from a pirate ship with climbing nets to a long (yet gentle) tube slide.
Address: 1 Six Flags Blvd, Jackson, NJ.
Tip: From New York, you will need to drive approximately 1 hour and 25 minutes. Take the George Washington Bridge, Holland Tunnel, or Lincoln Tunnel to New Jersey.  




5. SplashDown Beach Water Park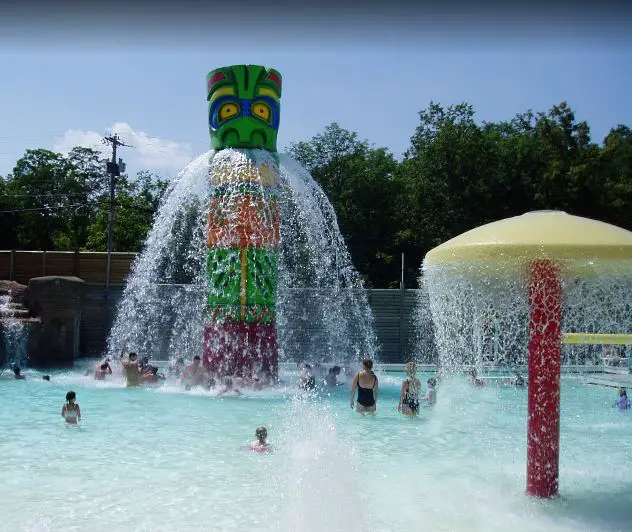 This water park in upstate new york known as "America's Biggest Little Water Park," SplashDown Beach offers guests a wide range of "Thrill-O-Meter" rides and attractions. It is considered one of the awesome water parks in New York. For those seeking a thrilling adventure, The Megalodon will send you straight into a near-vertical, zero-gravity experience. More moderate rides include the Bullet Bowl, Cowabunga Falls, Pirates Plunge, and much more. For those of you who enjoy a more calming, mild water park experience, you'll love the Croc Creek Wavy Lazy River, the Water Whirler, the Coconut Pool among many others.
Address: 2535, 16 Old Rte 9 W, Fishkill, NY.
Tip: To save $5 and avoid ticket lines, purchase your tickets online before you arrive.
6. Great Wolf Lodge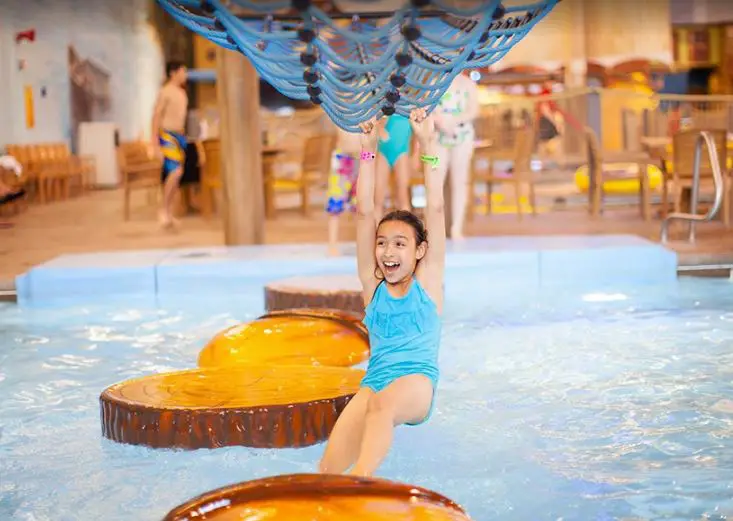 By car, you will arrive at Great Wolf Lodge in approximately 90 minutes when traveling from Midtown Manhattan. There is also a Great Wolf Lodge location in Niagara Falls (on the Canada side) if you are in that area of New York state. Come to this beautiful water park near New York City for their incredible experiences, this 79,000 square-foot water park knows how to cater to people of all ages. You can even rent a Cool Cabana rental for the day, allowing your family to rest, retreat, hydrate, and then repeat the fun-filled activities all over again.
Address: 1 Great Wolf Dr, Scotrun, PA
Tip: You can also sign-up to be a member for free. This will provide you with special perks, such as 20% off the best possible rate when you stay and play.
Don't Miss:Romantic Things to do in New York City
7. Rocking Horse Ranch Resort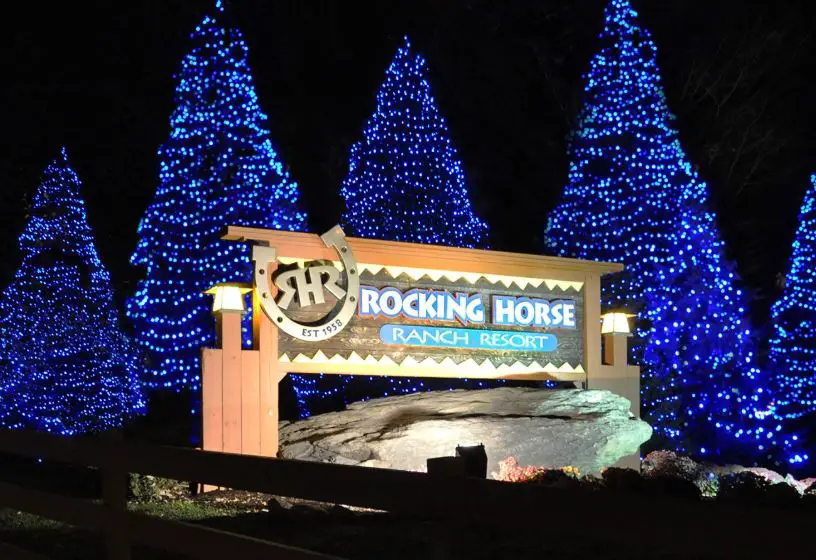 Although this resort provides visitors with an opportunity to explore beautiful horse riding trails, there are also plenty of all-inclusive indoor activities, including the Big Splash Indoor cheap water park in New York. As they say, "enjoy year-round 85° summer in our indoor waterpark."From their famous 250-foot long Gold Rush Flume ro their exciting Dynamite Alley Water Walk Challenge, this is certainly a unique water park. Visitors will also enjoy live shows entertainment, spa access, all-inclusive dining, and so much more. 
Address: 600 State Route 44/55, Highland, NY. 
Tip: There is a lot to discover at the Rocking Horse Ranch Resort, so plan ahead to ensure that you get the full experience.
8. Six Flag Great Escape Lodge & Indoor Waterpark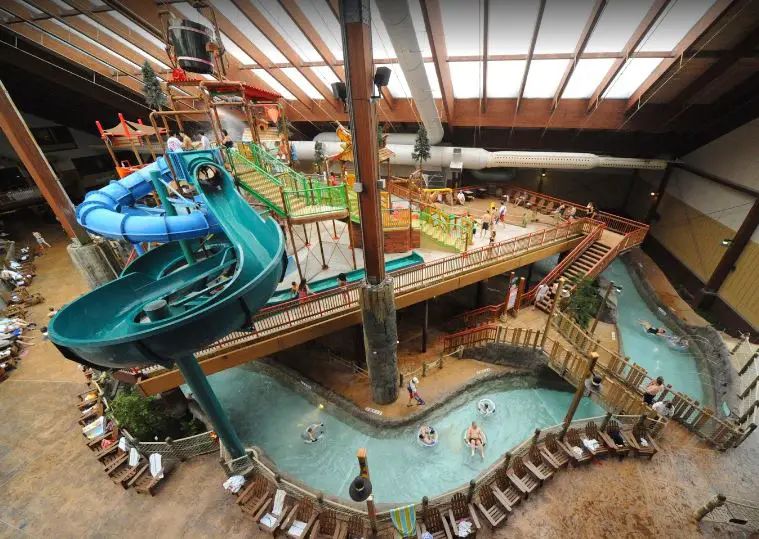 Both kids and adults will have a fabulous time, as there are attractions for all ages. If you or your kids have ever wanted to learn to surf, the Boogie Bear Surf experience, wonderful outdoor water park in New York offers lessons. There is also the Tall Timbers Treehouse which is jam-packed with over 160 features including a gigantic water bucket that soaks those below. Looking for more of a relaxing couples retreat? The Soakum Spring warm water spa is for those who are 18 years and older.
Address: 89 Six Flags Drive Queensbury, NY.
Tip: When you stay and play, you can gain access to lodging specials.



9. Cascades Indoor Waterpark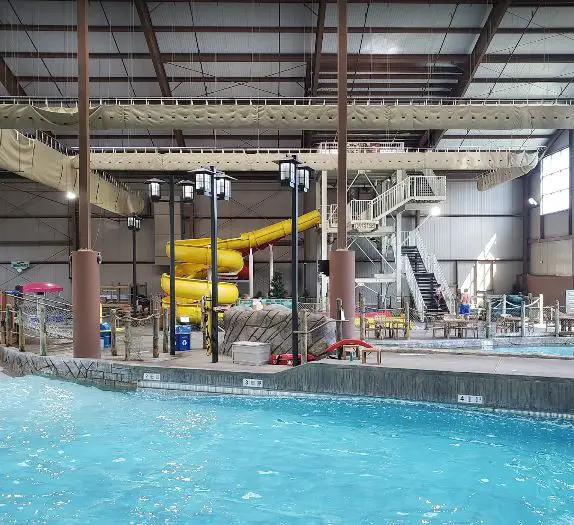 Cascades Indoor Waterpark is attached to the Hope Lake Lodge a "green" hotel with panoramic views. This famous water park in New York itself is 41,000 square-feet, offering guests everything from a wading pool to a 3-story tube water slide. Although there's plenty of action-packed slides, many families simply enjoy the 35,000-gallon outdoor swimming pool (which is open year-round and, of course, heated). After enjoying the activity pool, hot tubs, or one of their other attractions, grab a bite to eat at the Edgewater Cafe.
Address: 2177 Clute Rd, Cortland, NY
Tip: If you book an online ticket on Monday can get an amazing deal from 4-8 pm for $22.
Visit:Best Places to Visit in New York
10. H20ooohh Water Park at Split Rock Resort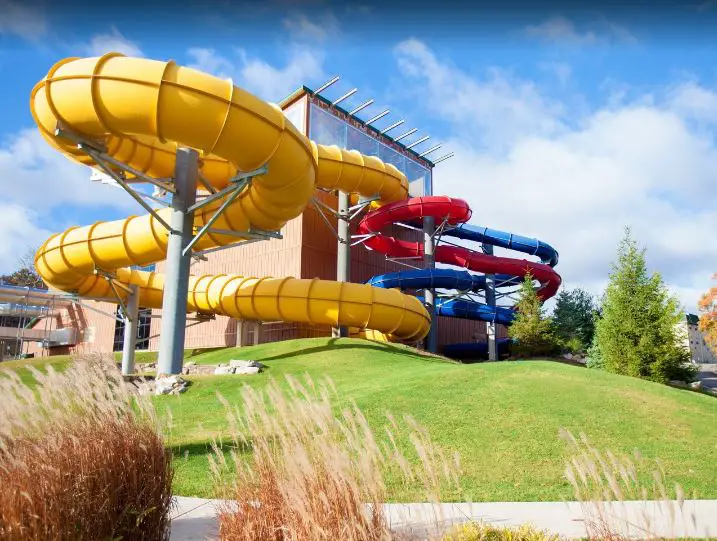 This popular water park in New York City is located approximately two hours from Midtown Manhattan. Kids love to play in the Jungle Falls, while adults can enjoy a relaxing getaway in the Lava Springs hot tubs. For those who are more adventurous, there is also a massive wave pool and water slides that are four-stories high. This park also offers unique experiences, including late-night pool parties, family fun nights, and even adults-only nights. If you're coming with friends or family, there are overnight packages that include your water park passes.
Address: 428 Moseywood Road, Lake Harmony, PA
Tip: Although you can purchase towels in the gift shop, it's recommended that you bring your own.




So far we have discussed the most popular water parks in New York. I hope you might have gathered some information related to it. If you are planning your trip to NY then kindly go through our other articles as well which will be quite beneficial for you. Please share your views regarding the content explained above and liked it too.
The post 10 Best Water Parks in New York City | Top Aqua Parks in New York City  appeared first on World Tour & Travel Guide, Get Travel Tips, Information, Discover Travel Destination | Adequate Travel.