There are many historical monuments in Honduras that you can learn about from the past of different cultures that will change the way you see the world. It truly opens up your eyes. While you are visiting their most important monuments in Honduras, it is one of the best ways to learn about local history. Honduras has great weather if you are planning to visit this country you must go through its monuments where you can get an insight into the local culture and history.
List of Monuments in Honduras
1. Plaza Los Dolores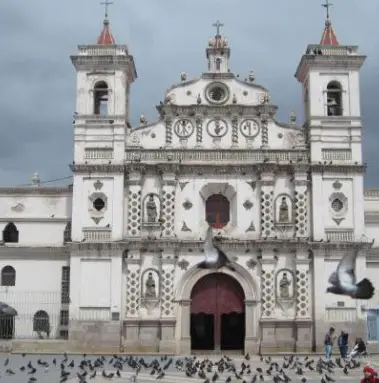 If you visit Gracias, Lempira, this place is absolutely a must-see. Just getting up there is an adventure especially at night because you get to see an impressive view of the lights of town. This is a beautiful plaza and famous monument in Honduras in the middle of an old town. There is a striking statue of St Michael Archangel in the square, the oldest church in Honduras at the end of the square and a marketplace nearby. In front of Los Dolores Church, it is located in downtown historical Tegucigalpa. It's a tourist spot to go to on your visit to Tegucigalpa and right next to it you have Los Dolores market where you can taste local cuisine like baleadas, Plato típico and a great variety of freshly made soups.
Read More: Famous Monuments of Colombia
Address: Plaza Los Dolores, 5a avenida, 6a y 7a calle,
Tegucigalpa, Honduras
2. Fuerte San Cristobal
On our visit, there was an art exposition of a local artist, very beautiful paintings and sculptures welcomed us. Another room explains the history of this monument and the importance of Gracias during the Spanish colonization. Your favorite part may be taking pictures with your family, this old monument in Honduras has colorful lights that will make your pictures unique and beautiful. With stunning views over Gracias and beyond, the fort has been kept in outstanding condition. It is a must-see and beautiful, clean, easy access if you are in the city
Address: Loma en el centro de Gracias, Gracias LM3100 Honduras.
3. Hieroglyphic Stairway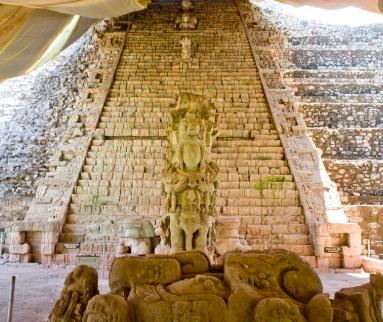 The most amazing ruins in Copan is the stairway. With a tour guide if you visit  they will even teach you a bit of hieroglyphics. It is said that the people who reconstructed the stairway were not Mayan and did not understand the written language. So the messages are jumbled. Nonetheless, it is a must-see that is highly recommended. Nothing compares to seeing it in person but you can look at pictures. On the face of it, almost every step had carvings. The staircase can not be walked on and it is for viewing only. This ancient monument in Honduras belongs to the Copan Ruinas area. With amazing stories, the great history behind it.
Read More: Monuments in Mumbai
Address: Ca 11 Dentro de las ruinas de Copán, no en el pueblo, Copan Ruinas CP 1103 Honduras.
4. Main Square (Copan Ruinas)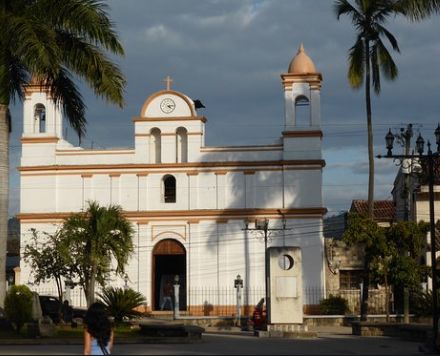 With multiple hotels, restaurants, street vendors, souvenirs stores, the plaza is of course very centrally located.  Here you will find many coffee shops around it. It's an area where you feel safe to be at all times and it's mainly the hangout spot for locals and tourists. We really enjoyed walking around because the climate mid-evening was very pleasant with lots of wind blowing. Over all the city central plaza was a great place to be at. If you are a coffee lover, definitely recommend going to San Rafael Cafe. It is one of the best monuments in Honduras. The coffee is freshly brewed every day and the coffee beans are locally grown in Copan, which means it's super tasty
Address: Copan Ruinas Honduras.
5. Villa San Miguel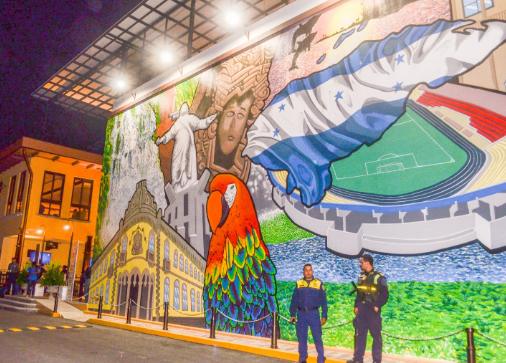 Your trip to Tegucigalpa is not complete if you don't make it to Villa San Miguel. This cultural/shopping/dining center was completely renovated but they kept the original charm and a lot of the original floors and elements intact. All of the stores are locally grown, so you won't find any American chains here which is so refreshing. It is counted in one of the popular monuments in Honduras. As you walk around, you also learn about the history of the place as they have information in English and Spanish on the walls. One of the most unique things is the mural in the parking lot.. It's definitely a great picture spot. 
Read More: Buildings in Jaipur
Address: One block south of the Metropolitan Cathedral and Central Park, Tegucigalpa FM1100 Honduras.
6. The Ruins of Copan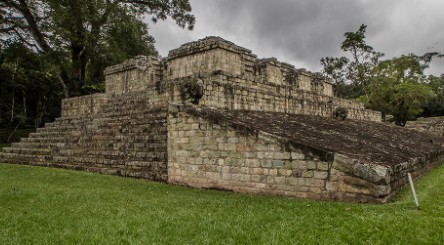 You have probably read about this Mayan Archaeological site if you have done any research about places to visit in Central America. To understand the Mayan history and culture because of how well preserved they are, its buildings and stelae are very important. Every piece of art tells a story about this ancient culture of this famous ancient monument in Honduras. Near the border with Guatemala, you will find it in northern Honduras. Near a small colonial town, the ruins are also a lot of fun to explore
Address: Copan Ruinas, Honduras.
7. Santa Barbara Fortress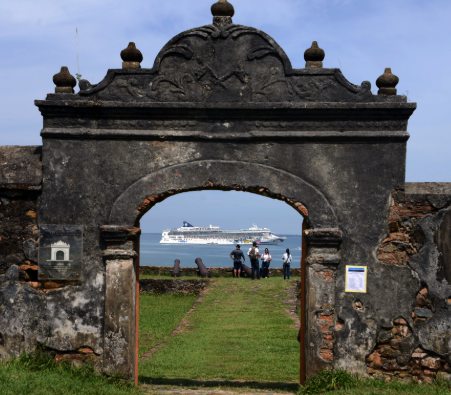 Santa Barbara Fortress is located in the Trujillo town and this one is actually a fortress. In 1550 during the colonial days of the country, it was built by Spaniards. Its function nearby coasts from raiders and pirates was to protect the port. It was the scenario for several battles. These battles were against pirates, being one of the most famous the one from 1860 against William Walker. This was declared a National Historical Monument in Honduras by the Honduran government in 1990. It makes a fun day trip if you are in the area but isn't a large place.
Read More: Monuments of Chile
Address: Trujillo, Honduras.
8. San Fernando Fortress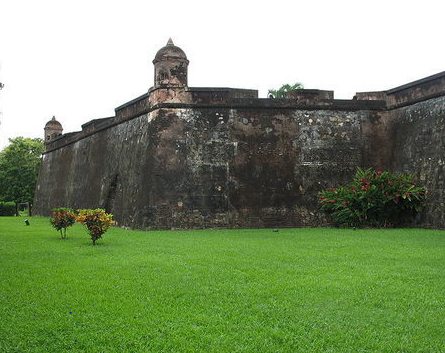 During the pre-Columbian times and in the XVI century, Omoa was an indigenous town and was abandoned. Again by Spaniards, years later it was founded with its current name and the fort was built. The reason behind building this most important monument in Honduras is to protect the nearby port and town from pirates. During colonial times it became known as one of the most important defenses of all Central America. It is open for tours every day and was declared a National historical Center in 1959
Address: Omoa, Honduras.
9. The Cayos Cochinos National Marine Monument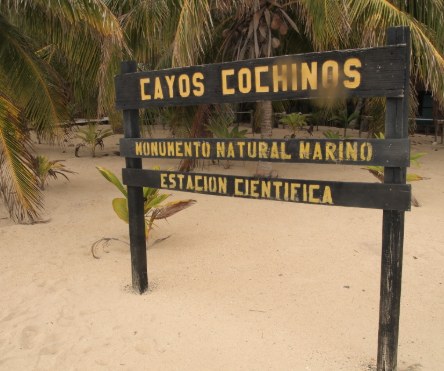 A 30km south of the bay islands, you will find this monument on the northern Caribbean coast of Honduras. What makes this place so special is its biodiversity. Over 66 species of animals that only live in coral reefs, it is home to them plus other common fish and shark species. It is open to visitors all year long. You must follow a series of rules in order to get here and be allowed to spend some time on it. It is counted in one of the most famous monuments in Honduras. These measures assure that during their visit each visitor leaves the least amount of impact. 
Read More: Monuments in Madrid
Address: Cayos Cochinos, Roatan, Honduras
10. Comayagua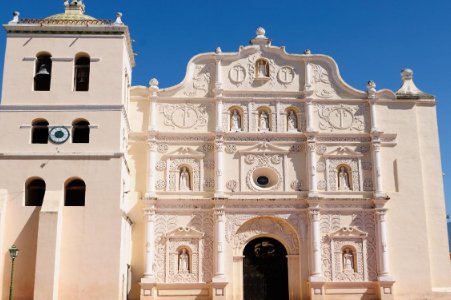 Due to its rich colonial-style architecture, the whole city is a monument. It was the capital of the Honduran territory and was founded in 1537. The capital alternated between Comayagua and Tegucigalpa from the time when independence happened in 1880. For a couple of days, it is a great place to explore. During your visit to explore this iconic monument in Honduras in the central square is one of the things you can't miss. Basically it is just a giant clock and the oldest ones in the Americas
Address: Comayagua, Honduras.
So far, we have discussed the best monuments in Honduras, which contains the proper information regarding all the most visited monuments in Honduras. I hope you might have loved reading this article and if you love to know more about Honduras then kindly head to our other articles as well which will help you to get knowledge about.
The post Most Visited Monuments in Honduras l Famous Monuments in Honduras appeared first on World Tour & Travel Guide, Get Travel Tips, Information, Discover Travel Destination | Adequate Travel.