Visiting Rome means to go hand-in-hand with good food, good wine, and good company. So here are some  Best places to eat in Rome, Over the last 10 years, Rome has been reclaimed its title as the best food city Italy. The eternal city has a brilliant constellation of new restaurants by talented young chefs from all over the world. And don't worry, In this article, I will tell you the most affordable and best Restaurants in Rome so you can make the most of your time in the city no matter what your budget will be.
List of Top 10 Best Places and Restaurants in Rome
1. Cesare al Casaletto
It is a Restaurants in Rome, you can visit here if you want to enjoy the Roman food and is situated  20 minutes from the center city, in a residential neighborhood worth the cost of the cabin spades. The beverage list spotlights splendid affordable natural wines from Italy, France, and Slovenia. Cesare isn't close to any monuments, though don't rule out a post-lunch stroll through nearby Villa Pamphili, a vast public park.
Address: Via del Casaletto, 4500151 Roma, Italy
Contact: +39 06 536015
2. Otaleg
If you not even a huge fan of chocolate gelato and this would be the best chocolate gelato you can have. The texture and flavor would be perfect. There you can also have hazelnut, which was equally as impressive. Definitely  one of best gelato spots in Rome
Address: Viale dei Colli Portuensi, 59400151 Roma RM, Italy
Contact: 338 651 5450
3. Pizzarium
Gabriele Bonci's landmark pizza al taglio shop near the Vatican Museums entrance isn't a restaurant per se. There's no table service, and a few benches are there. But in the decade since it opened, Pizzarium has become a globally renowned landmark where cold-fermented, heirloom wheat-based dough is topped with exquisite produce from biodynamic sources and artisanal cured meats and cheeses. Most toppings change from day to day or even hour to hour, but Pizzarium's signatures are always available.
Address: Via Della Meloria, 4300136 Roma, Italy
Contact:+39 06 3974 5416
4. Panificio Bonci

Situated not far from the Vatican, Panificio Bonci is a bakery which was opened by internationally renowned baker and Pizzarium founder Gabriele Bonci in 2012. Bonci trades in Roman bakery classics like loaves of bread, cookies, cakes, pastries, and some prepared foods, such as roasted chicken.
Address: Via Trionfale, 3600195 Roma RM, Italy
Contact: 06 3973 4457





5. L'Osteria di Birra del Borgo Roma
The newest venture from local brewery Birra del Borgo pours plenty of beer but they also serve a full food menu from Luca Pezzetta, a pizza baker known for his creative "third wave" approach to Italy's famous food. There are a handful of front-row seats by the pizza station, where Pezzetta and his team prepare "trrranch" pizza in teglia, and pizze tonde. The menu includes pasta dishes, as well as cured meats and cheese plates. The drink is split between Birra del Borgo-brand beers, an assortment of domestic and imported craft brews, and beer-based cocktails designed by the Jerry Thomas Project, Rome's top craft cocktail bar.
Address: Via Silla, 26a00192 Roma RM, Italy
Contact: 06 8376 2316

6. Antico Arco
Located on the Janiculum Hill between the panoramic terrace of Fontanone and the Villa Pamphili park, Antico Arco serves refined and restrained contemporary cuisine that highlights Italian ingredients. As an added bonus, Antico Arco is open 365 days a year and it does not close between lunch and dinner services.
Address: Piazzale Aurelio, 700152 Roma, Italy
Contact: +39 06 581 5274



7. Litro

Visit the Fontanone, then head over to Litro for some refreshment. This cafe and wine bar serves natural wines with light snacks and a few hot dishes. Litro is a famous spot for aperitivo in the early evenings and has a fully stocked bar specializing in Italian liqueurs and mezcal. Don't miss the butter on toast, perfect with a glass of funky sparkling white wine.
Address: Via Fratelli Bonnet, 500152 Roma, Italy
Contact: +39 06 4544 7639

8. Mostò
Mostò, was opened in 2015, is one of the growing numbers of natural wine bars in Rome. Set on a residential street in the Flaminio district which not far from Renzo Piano's Auditorium and Zaha Hadid's MAXXI.
Address: Viale Pinturicchio, 3200196 Roma RM, Italy
Contact: 392 257 9616



9. Il Goccetto
Great atmosphere and an extensive wines-by-the-glass list make this wine bar a cult favorite among oenophiles. Look for the painted "Vino e Olio" sign above the entrance, and push through the crowd of smokers to the wood-accented inner sanctum. There's a small menu for cold plates, including salads and canapes.
Address: Via dei Banchi Vecchi, 14, Rome Latium 00186, Italy
Contact: +39 06 686 4268
10. C'è Pasta… e Pasta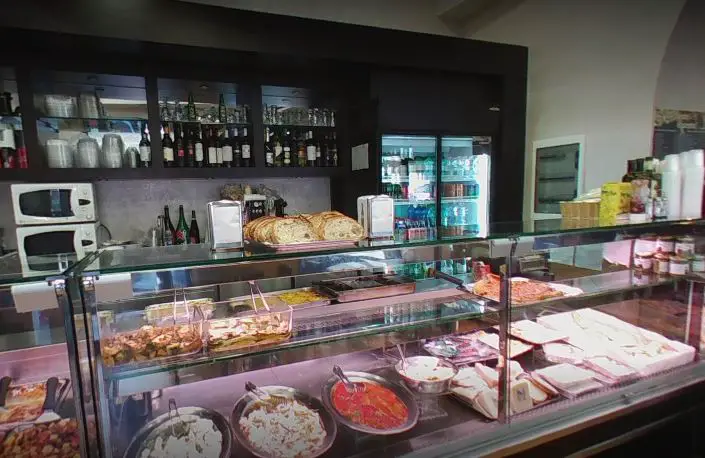 Situated at a short distance from Stazione Trastevere, C'è Pasta… e Pasta which serves delicious kosher meals to eat in or take away. Order at the counter and don't miss Roman Jewish classics like filetti di baccalà , aliciotti con l'indivia, and concia.
Address: Via Ettore Rolli, 2900153 Roma, Italy
Contact: +39 06 5832 0125




Don't Miss
In this article, we have told you about the best restaurants in Rome. These best places to eat in Rome are going to help you a lot if you are planning your trip to Rome and also go through our other blogs as well because we have provided all the information needed as per the visitor's requirement about the Restaurants in Rome. If you liked our article please like it, comment and share it.
The post Best Restaurants in Rome – Best Places to Eat in Rome appeared first on World Tour & Travel Guide, Get Travel Tips, Information, Discover Travel Destination | Adequate Travel.