There are a lot of delicious things you can easily spot over the narrow stoned streets of Athens but finding the best food to eat in Athens is really an art where you have to glorify every stroke of your brush to reveal the best shades of different flavours. You might think it's just a food who cares, I mean just a reminder you paid some lakhs to reach this destination, you still think what's important? It's obviously your food duh! So, here it is the famous foods in Athens that can blow your mind and kill your heart. Commonly it's just food, not a serial killer( I know a P.J.).
List of Foods to Eat in Athens
1. Briam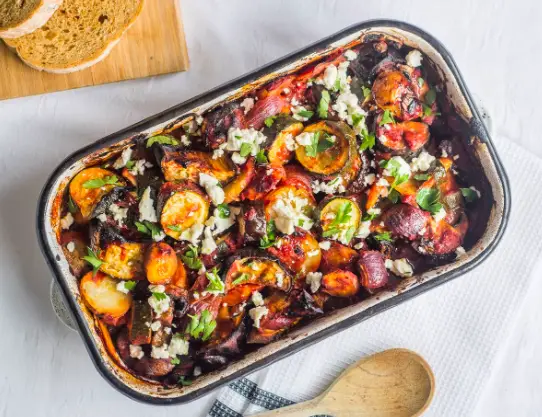 A quick tip before starting, you'll find most of the foods in Athens as flexible meals that you can eat whenever you want after all you are with Greeks do whatever you like. Similarly, Briam can be consumed both during lunchtime and dinner. This is also perfect for vegetarians as there's no meat in this masterpiece. You will find a mix of potatoes, eggplant, onions, zucchini, garlic, tomatoes, peppers, and parsley in this delicious masterpiece of food.
2. Tomato Keftedes
As the title says its main ingredient is tomato. These are some of the famous foods in Athens that are loved by vegetarians because they lack meat and still give a similar appearance and flavour of juicy meat. The main ingredient of this amazing dish is the tomato covered with different herbs and they are a perfect appetizer for everyone.
Read More: Summer‌ ‌Festivals‌ ‌and‌ ‌Events‌ ‌in‌ Greece Not to Miss
3. Horiatiki Salad
For most of the fitness lovers, this is the most typical Greek Salad. This is a very nutritious meal that you can consume anytime and it's really simple in preparation that it suits perfectly for every taste. Horiatiki is a mix of tomatoes, cucumbers, lettuce, onions, peppers, feta cheese, and olives. You must include this food to try in Athens in your all-time go-to meal lists whenever you are in a hurry.
4. Octopus Meal
Okay, lots of people are not 'this much adventurous regarding their foods' I completely get that. But If you ever tried fish meat then it's somewhere closer to its texture still its flavour is way more interesting than the fish. You must try this food from Athens, Greece. Since Octopuses are not always easy to cook, therefore please specialize an authentic seafood restaurant if you want to get the full experience of this strange food choice.
5. Gyro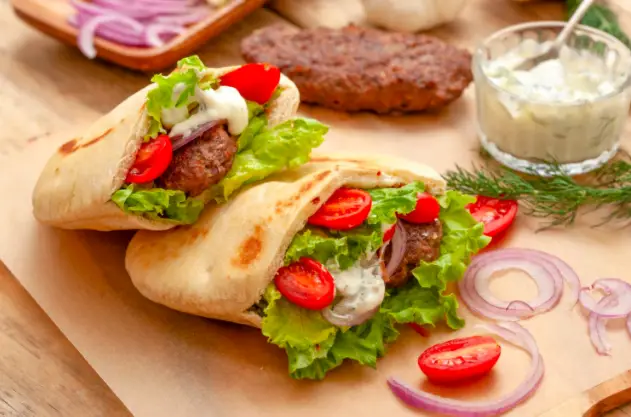 For all the hasty travellers it's a lifeline. These are some of the famous street foods in Athens that you can get anywhere. Gyro is popular in various cities but the Greek gyro is something far more different in taste than those regular wraps. It's a wrap that has packed some delicious juicy meat sauteed with fresh tomatoes, cucumbers, lettuce and the typical gyro sauce. If you do not want to try the weird seafood of Athens then try the ''street'' made with gyro. I am sure it's going to calm your senses and provide a great touch of Greek taste.
6. Cod Fish
Greece is a huge importer of cod and the freshest cod that you can eat can be found in Athens. Then it's obvious you can have the fresh supply in your meal which is intricately cooked by the skilled chefs. There are a lot of restaurants to try this spectacular food of Athens, Greece that has turned down most of the meats due to its creamy texture and crispy seasoned coatings.




7. Moussaka
Time for some luxurious meals! I mean Greeks always look luxurious even when you punish someone back in ancient times with their luxurious well-thought equipment. Moussaka is basically a Balkan food, but the best flavors of moussaka are truly embellished by the Greek versions. It's amazing that you can find this popular food in Athens in both regular restaurants and luxurious ones. The dish comprises minced meat, onions, tomatoes and béchamel sauce.
8. Gemista
Gemista simply means 'stuffed.' There are a lot of 'stuffed' things you can find in Athens ranging from stuffed capsicums till stuffed minds of philosophers(you can't eat their minds; it's a joke or is it!). There are different varieties of Greek cooking, such as stuffed tomatoes, zucchinis, and bell peppers filled with rice, herbs, spices, pine seeds, and tomato sauce. These all come under the best foods in Athens that you can try out as a refreshing lunchtime meal.
9. Saganaki
For all the cheese admirers this is your chance to spread those elitist lines where the cheese is served over the plates with toothpicks and you say here is the 'fine quality cheese from Greece'. This is a type of hard cheese ( such as kasseri or gruyere) which is fried in a specific way that creates a crunchy crust. So if you were thinking this top food in Athens was going to be among the most elite foods then sorry for that. They just made it among the street fries. It's Athens after all as when you bite into saganaki, the melted cheese inside will fill you with ecstasy.
10. Tzatziki
These are some famous salads and a dip for Greeks. They just love it with all the famous foods to eat in Athens. You can join the band of these favourite Greek dishes too. Just say 'Gia parti mou' meaning 'My Party' in Greek slang.  This combination of diced cucumbers, yogurt, and garlic with some freshly baked bread from some of the local small bakeries in Athens is one of the best ways to pass out an afternoon during football matches.
I hope you enjoyed these top 10 foods in Athens, Greece that is super delicious and mouth-watering. You can even recognize these foods from a distance because most of the above-mentioned foods are some of the famous street foods in Athens that always own a big line outside the food trucks or restaurants due to their heavy demands. Just try out your luck and enjoy the delicious cuisines in Athens. Do comment if you have any more tasty snacks to taste from Athens and follow our other blogs for info regarding such incredible cities.
The post Top 10 Food to Eat in Athens Greece | Best Foods to Try in Athens appeared first on World Tour & Travel Guide, Get Travel Tips, Information, Discover Travel Destination | Adequate Travel.