Synopsis: Maharashtra government approved INR 370 crore for the development of Lonar Lake in Maharashtra. This lake was never been so popular among tourists since its formation but recently gained immense popularity when its water turned pink for the first time due to the presence of 'Haloarchaea' microbes.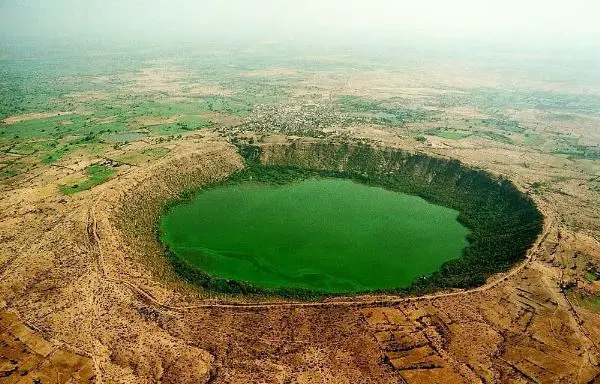 Maharashtra in India is a beautiful place and it is quite famous as a tourist destination, especially for the one who resides in the western central region of the country. Though many places in Maharashtra are not as famous among tourists as they should be even if they are there for more than 52,000 years. The lunar lake is one of those landmarks in Maharashtra that recently gained fame when visitors witnessed its not-so-usual pink water. 
This oval-shaped saline lake often referred to as Lonar Lake was declared as a National Geo-heritage Monument long ago. Lonar lake is the result of a meteorite collision that happened during the Pleistocene Epoch. It is also one of the only four known craters in basaltic rock that exist on Earth. According to the tourist, they have witnessed that the water of the lake start turning pink, and after research, the scientists revealed that it's due to the presence of 'Haloarchaea' microbes in the water. 
Lonar Lake is an important natural wonder created over 50,000 years ago in Pleistocene Epoch. But it was never so famous among tourists as it become in the past few days. The reason behind this might be that it's not so usual pink water that we rarely see in any lake in India. But this time government is taking a deep interest in this matter to bring this place on the tourist radar. Recently, the Maharashtra government approved an INR 370-crore fund for the development and conservation of this lake. 
The officials said that the allocated funds would be used for different purposes that lead to the development of the lunar lake in nearby areas. A part of the received funds will be used to maintain forests and wildlife in the area. The lunar lake is famous for its unique biodiversity and it is important to preserve it for tourism. 
Government has decided to provide new and improved facilities to the tourists under this modified scheme. They have planned to lay a new footpath on the lake boundary for tourists to see this wonder closely. Apart from this, an old temple which is located close to the lake will be renovated under the scheme.
Former CM of Maharashtra Uddhav Thackeray visited Lonar Lake in 2021 and approved the development plan of INR 200 crore at that time. But as of now, present CM Eknath Shinde and Deputy CM Devendra Fadnavis reapproved the funds allocated for this project and increased it to INR 370 crore.
The post Maharashtra Government approved funds of INR 370 crore to develop Lonar Lake as a tourist spot appeared first on World Tour & Travel Guide, Get Travel Tips, Information, Discover Travel Destination | Adequate Travel.