When summer comes,  just as restaurants and cafés are pushing out cooling treats like Kakigori and Hiyashi Chuka (cold ramen) to help hot and sweaty Tokyoites cope with the heat, many best water parks in Tokyo are kicking into high gear. So when the heat gets unbearable, grab your swimsuit and sunblock and go a-splashing at these aqua parks in Tokyo. They feature jumbo-sized pools, twisting and turning slides, elegant fountains and spectacular man-made waterfalls, providing a fun day out for adults and kids alike. However, do note that tattoos, even fake ones, are prohibited at all water parks. Read about some thrilling exciting and top 10 water parks in Tokyo.
List Of Water Parks in Tokyo
1. Yomiuriland – Pool WAI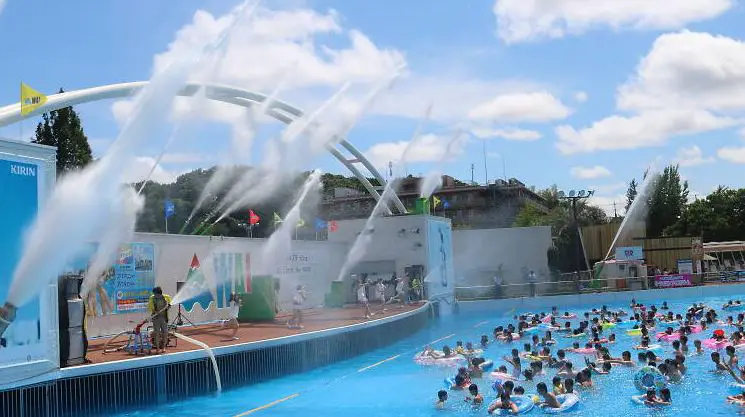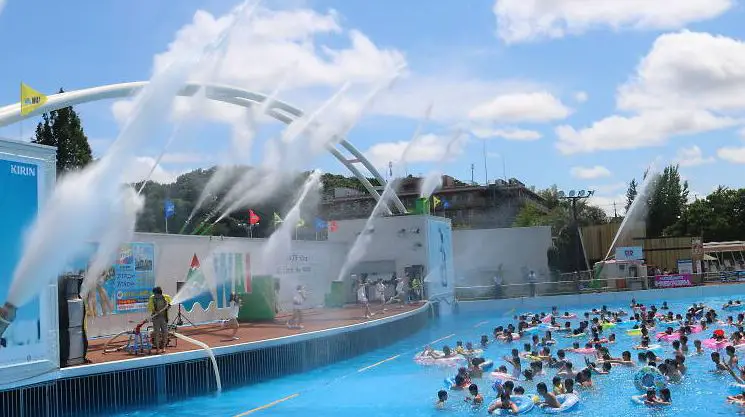 Yomiuriland aqua park in Tokyo opens its five outdoor pools for some wet and wild fun in summer. You can pretend you're swimming in a particularly choppy sea in the giant wave pool (complete with a sandy 'beach'), or hurl yourself down one of three different slides. The Giant Sky River may feel a bit intimidating as your scale its stairs, but it is undoubtedly the highlight for thrill-seekers: the 25m-high and 386m-long mega-slide is navigable only with the reassuring presence of a large rubber float. Kids will love the adorable Soreike. Anpanman pool features the rosy-cheeked heroes of the popular comic series. Late-night bathers, meanwhile, will appreciate the beer garden. This garden opens during the Night Pool events.
Address: 4-1-4015-1 Yanokuchi, Tama-ku, Inagi-shi, Kanagawa
2. Tokyo Summerland  Adventure Lagoon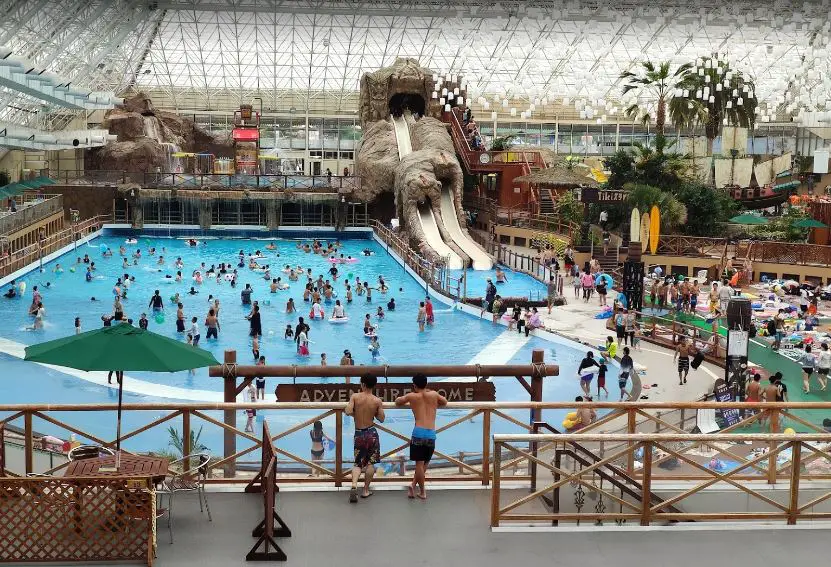 This popular water park in Tokyo on the western fringes of the city boasts not just an indoor pool (March-November) but also a vast summer outdoor area with multiple pools, water slides, fountains, and manmade waterfalls. The dazzling Dekasla will hurtle you through a tube while you sit in a rubber boat if you're feeling bold. The next time you see daylight you'll be spiraling around a giant zebra-colored funnel, until you emerge safely, if somewhat breathlessly, at the bottom. Adventure Lagoon is nicely lit up at night, providing some Insta-worthy photo ops.
Address: 600 Kamiyotsugi, Akiruno-shi, Tokyo.




3. Toshimaen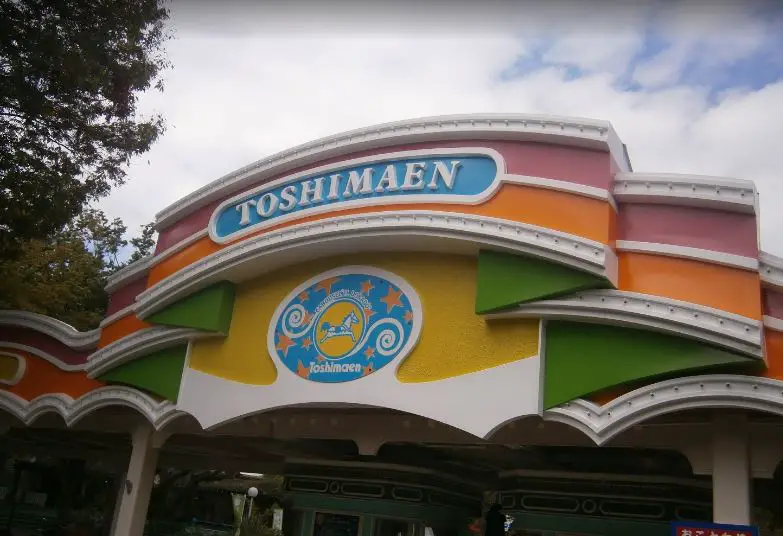 Including a wave pool, a kids' pool and a lazy river to choose from at Toshimaen's summer waterpark, there are several pools or you can prepare for splashdown on one of the elaborate water slides of Hydropolis. Whether you're after speed or slalom, tunnel or open-air, this colorful complex features five different slides. It is one of the top water parks in Tokyo. Toshimaen stays open until 9 pm for its Night Pool events on weekends in the middle of summer. And as expected, beer and cocktails are on hand to help keep you cool.
Address: 3-25-1 Koyama, Nerima-ku, Tokyo.
Read More: Water Parks in Venice
4. Tobu Zoo – Tobu Super Pool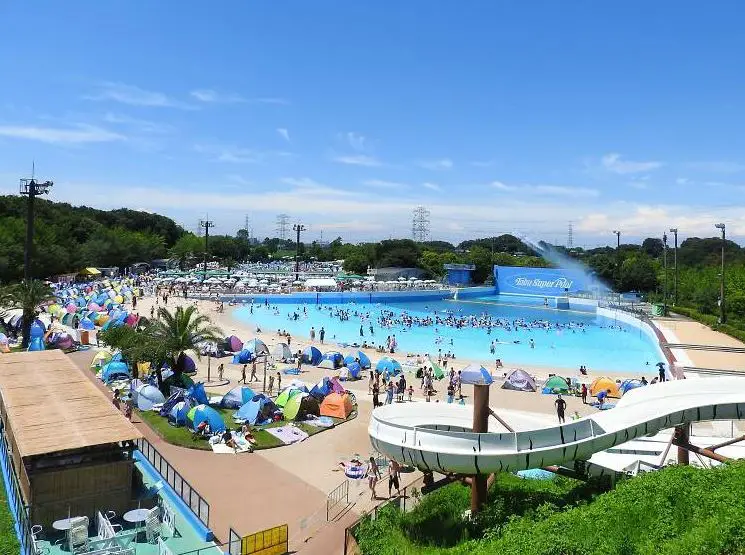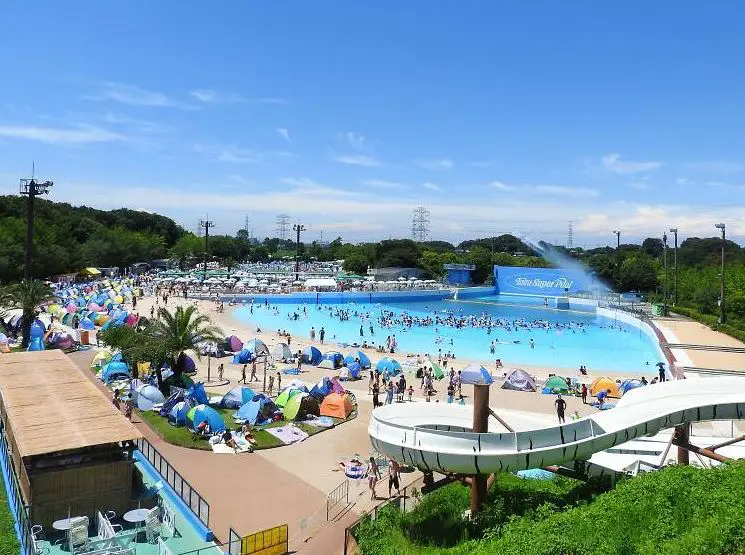 Visiting this famous water parks in Tokyo? Pack a swimsuit and make a detour to its large summer-only best aqua park in Tokyo. Here you can take an unhurried float along the lazy river, splash around to your heart's content in the giant wave pool, watch the impressive fountain shows – and, if you're not of a nervous disposition,  ride a ring-float and let gravity do its thing on Tobu's rapid river-style waterslide. Kids, meanwhile, can frolic in the pleasant Jabu Jabu Adventure area, complete with mini slides, shallow pools and a huge splash bucket, which releases a torrent of water every five minutes.
Address:110 Suka, Miyashiromachi, Minami-Saitama, Saitama. 
5. Kawagoe Aquatic Park – Summer Pool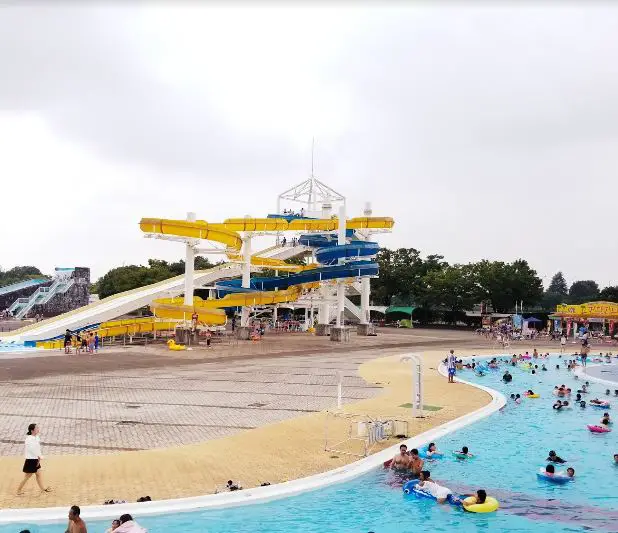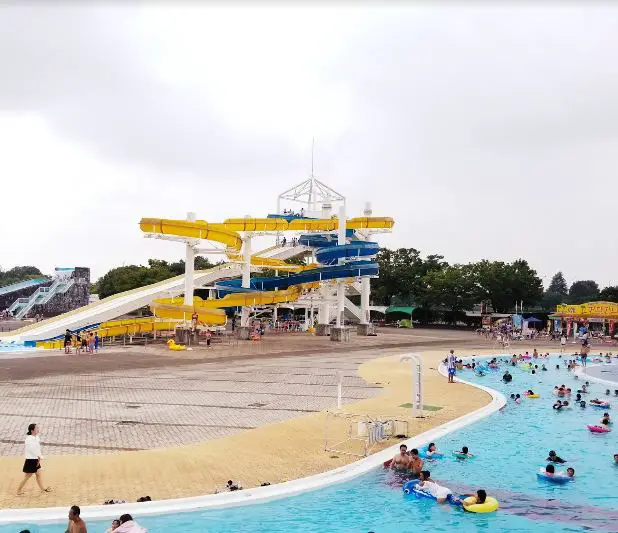 Kawagoe's Aquatic Park is considerably more pleasant and one of the crowded water parks in Tokyo than it sounds.  Dive from the platform of a giant ship protruding from the middle of the pool. You can get 'slammed' by 2m-high waves. Make sure to pull out some cool moves, your friends can view your plunge into the pool from the boat's large underwater windows. Also, don't miss the colorful curvy slides, perfect for racing against your friends. Note that the diving pool and slides are only accessible to primary school students and older.
Address: 800 Ikenobe, Kawagoe, Saitama. 
6. Showa Kinen Park Rainbow Pool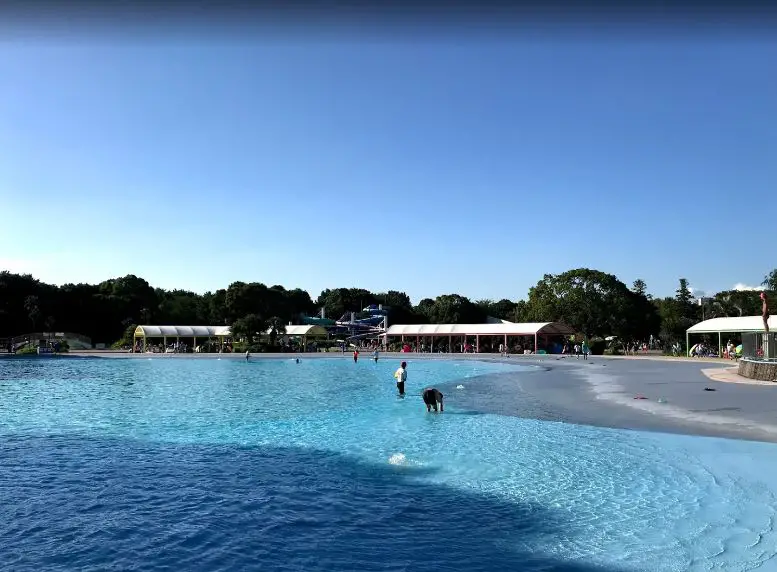 Showa Kinen Park is so vast that it's split into five separate zones. It is one of the indoor water parks in Tokyo. The Rainbow Pool houses nine different pools, as well as an impressive selection of water slides and wave machine anyone after a refreshing dip in an outdoor pool, should head straight for Zone C. While this is an attractive proposition for boisterous teenagers and overgrown kids, families will probably prefer the less raucous Water Playland a selection of five pools better suited to smaller children (though anyone who can keep dads off the Tarzan rope deserves a medal).
Address: 3173 Midori-machi, Tachikawa-shi, Tokyo. 
Visit: Water park of Tuscany
7. Yokohama Pool Centre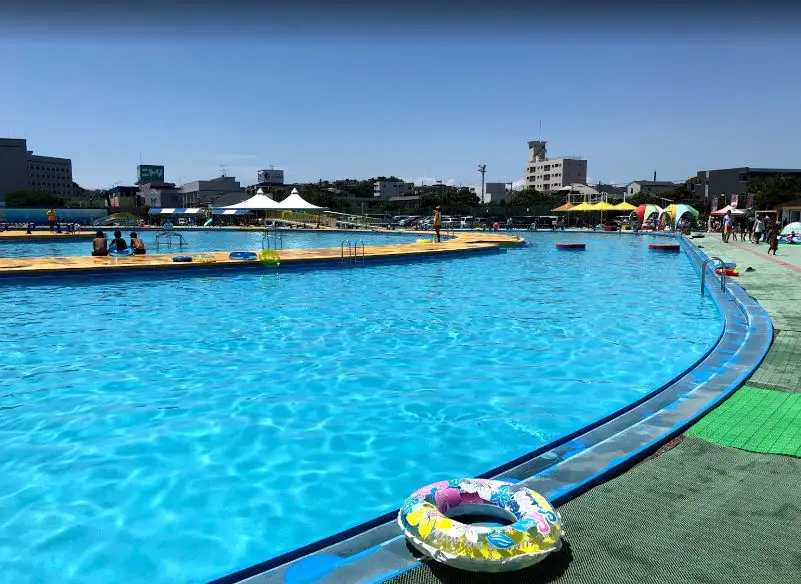 If slides, chutes, and plunge pools are a bit energetic for your tastes, this water park at Tokyo in Yokohama's Negishi neighborhood offers simple old-fashioned summer swimming sessions. The lazy river has depths ranging between 0.6m to 1.5m, so it can cater to younger and older bathers. Children can play in the two small pools filled with tiny slides, while toddlers can get their first taste of the water park experience in the shallow area fitted with little fountains. Note that toddlers still wearing diapers are not allowed to enter the pools.
Address: 14-1 Haramachi, Isogu-ku, Yokohama, Kanagawa.
8. Oiso Long Beach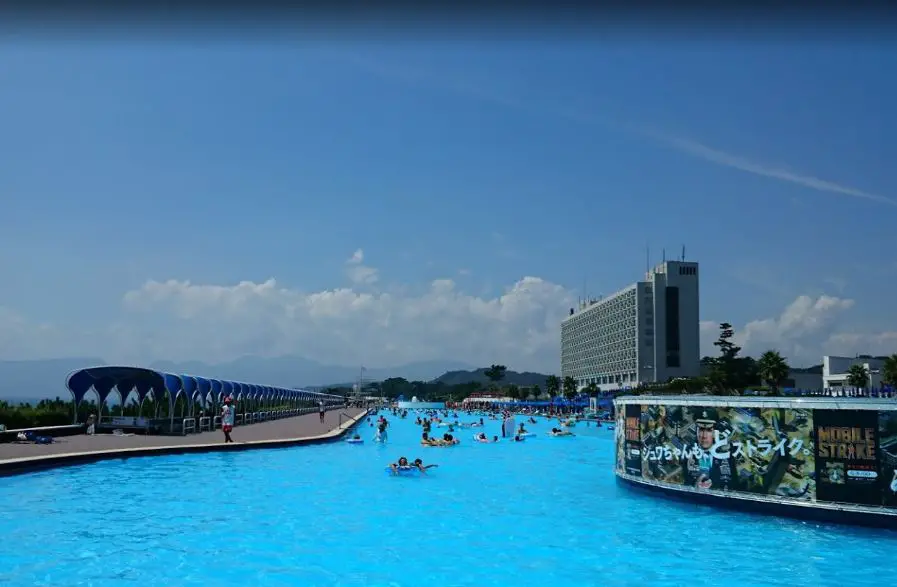 This kid-friendly attraction on the Shonan coastline offers a water park experience with sea views to boot designed to look like a tropical holiday resort. The facilities here are aimed more at young families, with a tame 140m-long water slide, a wave pool plus a 500m-long lazy river-style pool at the center of the park. It is considered one of the most famous water parks in Tokyo. 
Address: 546 Kokufu Hongo, Oiso-machi, Naka-gun, Kanagawa, Tokyo.
Don't Miss: Best Water Parks in France
So far we have discussed the water parks in Tokyo. I hope you might have gathered some information related to it. If you are planning your trip to Tokyo then kindly go through our other articles as well which will be quite beneficial for you. Please share your views regarding the content explained above and liked it too.
The post Famous Water Parks in Tokyo Japan | Aqua Parks in Tokyo appeared first on World Tour & Travel Guide, Get Travel Tips, Information, Discover Travel Destination | Adequate Travel.